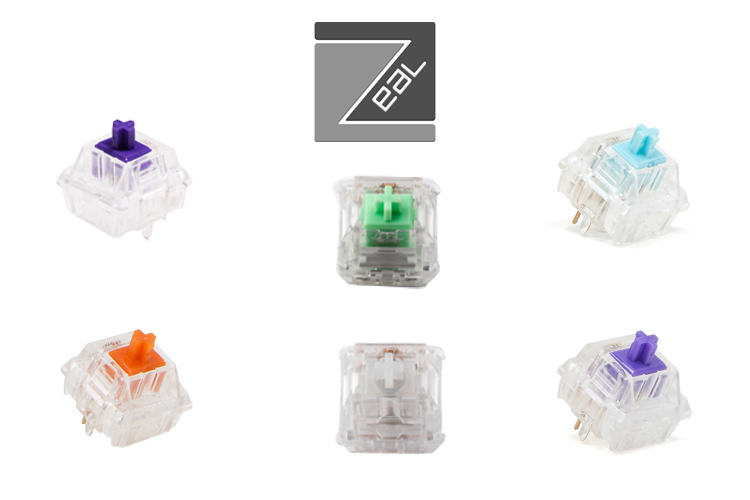 As a part of the community deep in the rabbit hole of mechanical keyboards, building your custom keyboard and picking custom parts is a massive element of the hobby. Like how people prioritize their motherboards when building a PC, switches are also a priority in building a custom keyboard. As the prices go higher, the quality tends to increase. Thus, if you want to get a quality switch worth spending on, try checking out ZealPC mechanical switches.
ZealPC mechanical switches have been available for more than three years now, yet the hype train for their switches is not stopping. ZealPC is known for its tactile Zealios and its linear Tealios. They offer different switches with various spring weights, giving consumers tons of options according to their preferences.
Regardless of ZealPC's popularity, the keyboard community is divided; on whether their mechanical switches are worth the hype and the price. The ZealPC hype train is not stopping sooner or later, so why not see for yourself if you would like what they offer. Luckily, in this article, we will discuss and guide you through the ins and outs of ZealPC mechanical switches. 
ZealPC Mechanical Switches

ZealPC started as a brand catering to mechanical keyboard cable enthusiasts during the 2010s. Later on, they further branched out their offerings and proceeded to sell custom mechanical keyboard parts, such as stabilizers, plates, and mechanical keyboard switches. ZealPC gained full recognition from their Zealios switches. Now, they are keeping up with the community's trends and interests while improving their brand switches.
The structure of their switches is familiar for many as it is also a Cherry MX clone. The company Gateron produces the overall composition of the Zealios switches, as well as the most well-known ZealPC switches. However, ZealPC improved the base design by using non-corrosive golden springs in their switches.
In the community, ZealPC mechanical switches are both loved and disliked. ZealPC switches are loved due to the brand constantly delivering quality and feedback-driven switches. On the other hand, ZealPC is disliked by other enthusiasts because some say that the price of ZealPC switches is too high for what it's worth. 
Knowing that they will naturally spend more bucks on the hobby, most enthusiasts say that ZealPC switches are worth it. ZealPC's switches are known to have the best tactile bump out of any mechanical switch on the market. 
But, it is important to note that those who disagree with the switch's pricing tend to change their mind when it is modded according to their preferences. Eventually, they would acknowledge that a modded ZealPC mechanical switch is worth its price.
Popular Choice/s
Zealio V2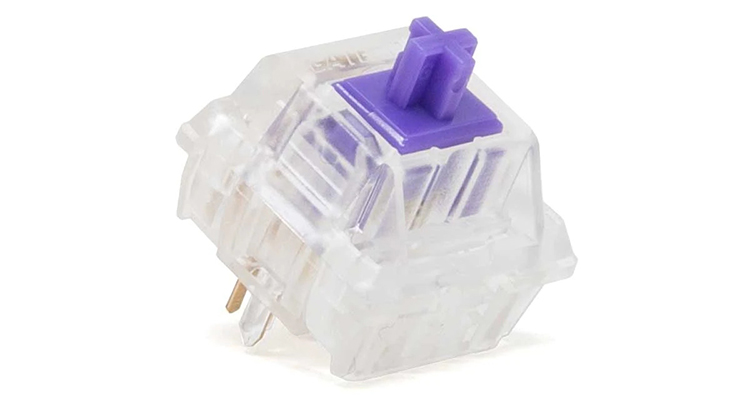 Zealio V2 Specifications
Switch Feel: Tactile

Bottom-Out Force: 62g / 65g / 67g / 78g

Mount Type: PCB-Mount

Sound: Moderate 
Zealio V2 is one of the best tactile switches in the keyboard mechanical switch market. It features the standard Cherry MX structure with a purple stem, a transparent bottom housing, and a unique gold-plated spring to prevent corrosion. Zealio V2 switches provide a large satisfying crispy tactile bump while still providing smooth travel when bottoming out. It also has a thocky sound profile, especially when lubed. Its V2 also improved on its wobble, wherein its stem wobble is reduced compared to the first versions of Zealio switches.
The Zealio switch comes in four different weight variants, the 62g, 65g, 67g, and the heaviest force, the 78g. Each weight variant has a different tactile experience for various tactile-loving users to enjoy in delight. The 62g is the lightest, making it the easiest pick for light typists. It has a crisp bump, giving the typists a genuinely tactile experience. If you're a light typist, you should go for the 62g weight variant or the 65g, as both are light and deliver the quality tactility you'd like in a switch.
While for heavy typists, we recommend the 67g and the 78g of Zealio switches. The 67g variant's tactile bump feels significantly larger than the two lightweight variants. It also has more cushion in bottoming-out than the mentioned two variants. On the other hand, the 78g of Zealio switches are described as an absolute tactile switch. 
The only downside of the 78g is that it is too heavy for light to moderate typists, but for heavy typists, the 78g is a must-recommend tactile switch. Additionally, the heavyweight variants of the Zealio switch are much louder in sound profile because of their spring weight.
Zilent V2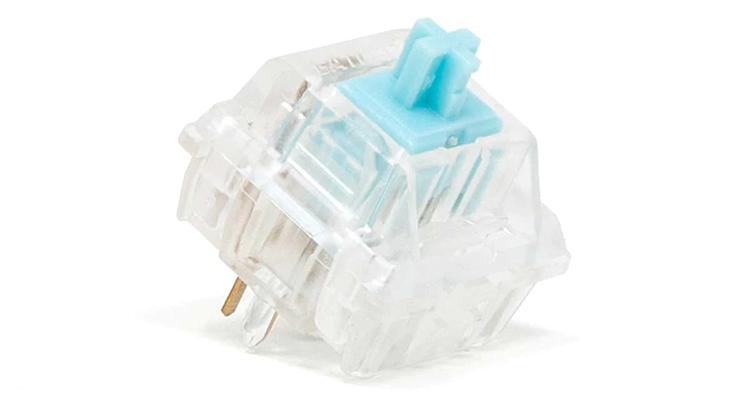 Switch Feel: Tactile

Bottom-Out Force: 62g / 65g / 67g / 78g

Mount Type: PCB-Mount

Sound: Low
The Zilent V2 is a unique silent tactile switch that excels in being both a tactile and silent switch. Its typing experience is highly similar to the tactile experience of Zealios but is relatively toned down to provide a silent sound profile for the users. The bump of Zilent V2 is also found at the start of the keypress, eventually following a smooth keystroke until the bottom. 
Again, like the 62g and 65g weight variants of Zealio V2, these Zilent V2 switches are perfect for light typists who wish to experience tactility in silence. In contrast, the 67g and 78g have rounder and snappier tactile bumps that you can already feel on the tip of the keypress. All in all, the Zilent V2 is a great take for a unique silent tactile switch without compromising quality, tactility, and snappiness.
Tealio V2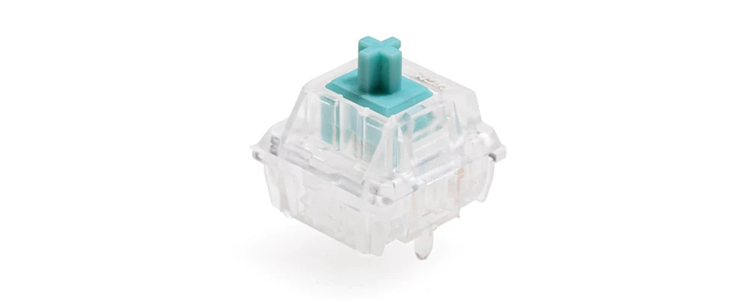 Switch Feel: Linear

Bottom-Out Force: 67g

Mount Type: PCB-Mount

Sound: Low
Tealio V2 is one of the popular switches of ZealPC that is not a tactile switch. Tealio V2 is a linear switch praised by keyboard enthusiasts for its smoothness and poppy sound profile. Moreover, its smoothness and less wobbling surpass the linears of the brand Gateron. It also features a transparent housing, a gold-plated leaf, a gold-plated spring, and a light teal-blue stem that makes the switch's aesthetics pop. The Tealio V2 only comes in one weight variant- the 67g, a variant perfect for catering to both lightweight and heavy typists as it does not come off as too light or too heavy of a bottom-out force. 
Premium / Unique Switches
Healio V2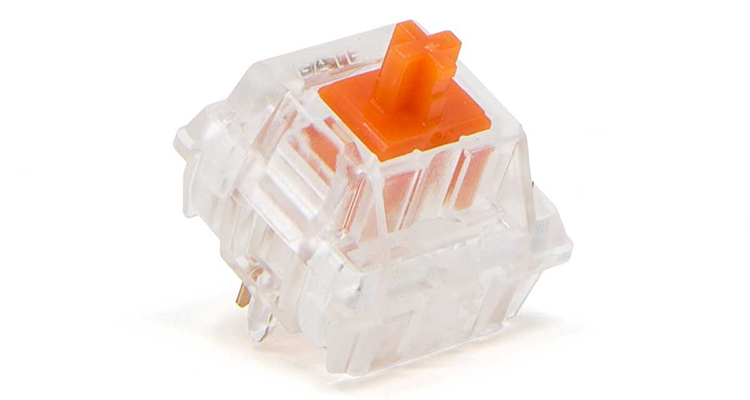 Switch Feel: Linear

Actuation Force: 63.5g

Mount Type: PCB-Mount

Sound: Low
Healio V2 is one of the linear switches that ZealPC offers that are also up to par with other popular linear switches in the keyboard mechanical switch community. Like other ZealPC switches, the Healio V2's structure is like a typical Cherry MX with a transparent housing and a silent orange-translucent stem. Also, the stem used in the Healio V2 is the same switch stem used in the Zilent V2; thus, it follows the same typing feel, along with the reduced wobble, provided by Zilents but in a linear manner. 
Other than that, a silencing dampener is also present within the switch to fulfill its role as a silent linear switch. Due to its dampener, enthusiasts feel that it slightly interferes with the smoothness of the travel of the Healio V2. Said issue can be remedied through a bit of lubing. But if you're not overly picky about a slight interference in a silent linear switch, we recommend checking out Healio V2 switches for your next build.
Pearlio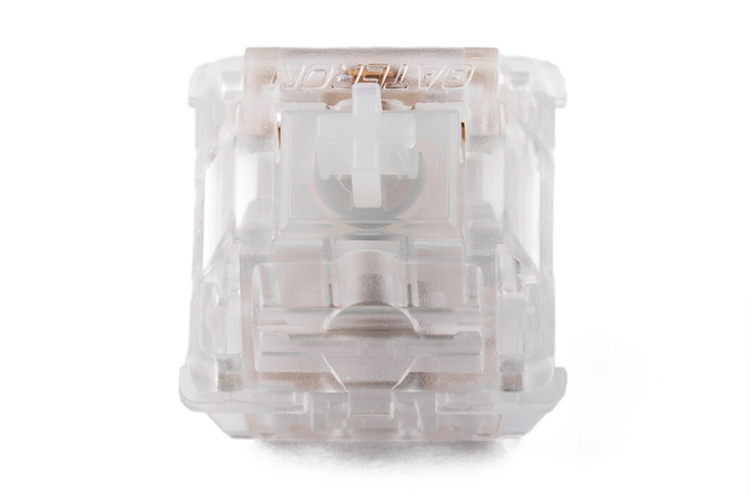 Switch Feel: Linear

Actuation Force: 60g

Mount Type: PCB-Mount

Sound: Low
Pearlio is a newly released linear of the ZealPC brand as it started for pre-order on December 25, 2021. Currently, it is expected for the Pearlio to be received in late April 2022. However, ZealPC has already provided the specifications of the structure of the Pearlio switch. And so far, it seems to promise improvements in quality regarding smoothness and lube compatibility. 
For starters, Pearlio switches have nylon bottom-housings, a polycarbonate transparent top-housing, and a gold-plated spring. It features a UHMWPE stem, which ultimately lowers friction, resulting in a much smoother typing experience in a linear switch and enhancing its sound profile. Aside from that, the stem also self-lubricates, making it convenient for those who wish to have lubed switches without exerting effort.
The Pearlio switch is designed with the Gateron's CAP series, which reduces wobble and enhances the stability of the switch's stem. Most importantly, the design also highly decreases the possibility of the lube seeping into the bottom pool, especially if over-lubed.
Clickiez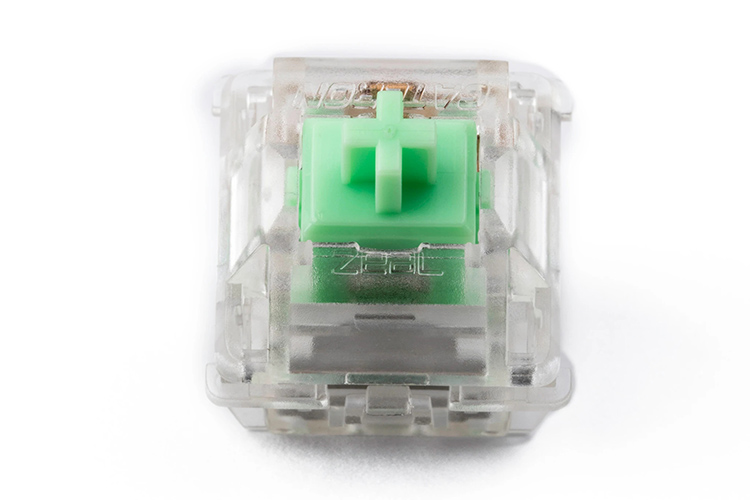 Switch Feel: Clicky

Actuation Force: 40g / 75g

Mount Type: PCB-Mount

Sound: Loud
Clickiez is a recently released clicky switch from the ZealPC mechanical switch lineup. The switch is currently well-received by the keyboard community, especially those who enjoy clicky switches. Most even say it is a fierce competitor for two of the most well-known clicky switch, the Box Jades, and the Box Navy. This primarily stems from its unique take on a Cherry MX structure as it also combines the switch engineering of the Alps. 
The Clickiez switch's most distinct characteristic is its multi-mode click leaf design. It enables the users to switch from a standard clicky switch to an ultra tactile switch incorporated into its typing experience. It takes the whole "customization" in the mechanical keyboard hobby to a whole new level as it features a 3-in-1 typing experience in a clicky switch. Also, it comes in two weight variants, providing more options for the users to buy a light switch for 40g or a heavyweight switch for 75g.
Recommended ZealPC Switches for Gaming
For gamers who prioritize fast and quick key registers once pressed, lightweight linears are their best picks. First off, we recommend Tealio V2 for a gamer switch since it has a high response to keystrokes, it is a linear switch, and it delivers the smoothest typing experience out of all the linears ZealPC offers.
However, if you tend to game in a quiet environment, maybe in a room wherein you share the space with numerous people, Healio V2 is a smooth linear gaming switch that may also cater to your use case and preference in typing feel. And lastly, if you're the opposite of a quiet gamer, you may choose to buy Clickiez. Aside from being a versatile clicky switch, it also provides a lightweight and responsive typing experience for the user incorporated with tactile and clicky characteristics with its 40g variant.
Recommended ZealPC Switches for Typing
In the use case of typing, you may prefer Zealio V2 switches for the best typing experience. Due to their tactility, they provide the most satisfying bumps when typing. They are also flexible in their switch feel because of their available weight variants. And again, since Zealio V2 are highly renowned as one of the best tactiles, if you're a tactile-loving typist, we highly recommend buying the Zealio V2 switch.
But Zealios often make moderately loud clacks as a tactile switch. Thus, most heavyweight variants of the Zealios are not suitable for workspaces and quiet environments. In this case, we recommend using Zilent V2 switches. Zilent V2 switches offer the same satisfying tactile experience brought by Zealios but with a silent sound profile. Like Zealios, Zilent V2 switches also offer various spring weights that suit lightweight to heavyweight typists.
Recommended ZealPC Switches for General Use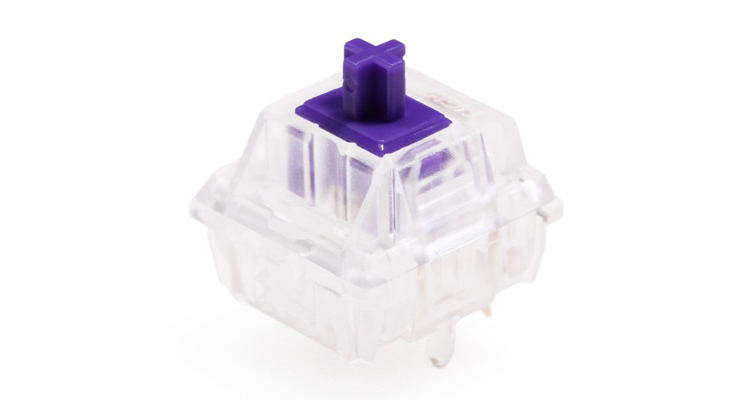 Tealio V2 switches are perfect for general use since linear switches are not too extreme or underwhelming in typing feel. More so that the weight variant available for Tealios is an average spring weight suitable for everyone, no matter their rate of typing weight. Because of its smoothness, Tealio V2 guarantees its user to provide a non-fatiguing butter-like typing experience accompanied by a poppy sound profile.
If you're not a fan of linear switches, try to check out Zealio V2 switches, for it is an outstanding choice for your next mechanical switch. Its tactility will provide a satisfying and clacky feel to your fingers. It will enhance your typing experience and reduce typing fatigue, especially in general use. Its versatility as a tactile switch with different spring weight variants also proves its full capability to cater to your preference and use case as much as possible. 
Modding ZealPC Switches
ZealPC switches out of the box have a decent sound profile and typing experience. Some say that after breaking in the stock ZealPC switches, the sound profile worsens slightly. Due to this reason, we recommend lubing ZealPC switches. According to the community, Zealios V2, Tealios V2, and Healios V2 all benefit from lubing, enhancing their typing feel and sound profile. 
Filming is also recommended for the ZealPC switches but is more optional than lube. All current versions of the ZealPC switches are made to reduce the wobble presented in their earlier versions of the switches. Thus, the experience of stability would be much enhanced than before. However, if you feel like a switch needs to be more secure, filming is always an option for you.
Lastly, most ZealPC switches available in the market are PCB-mounted. So, to make it compatible with plate-mounted keyboards, all you have to do is clip the two plastic pins of the switch, and it will work and fit just fine on your board.