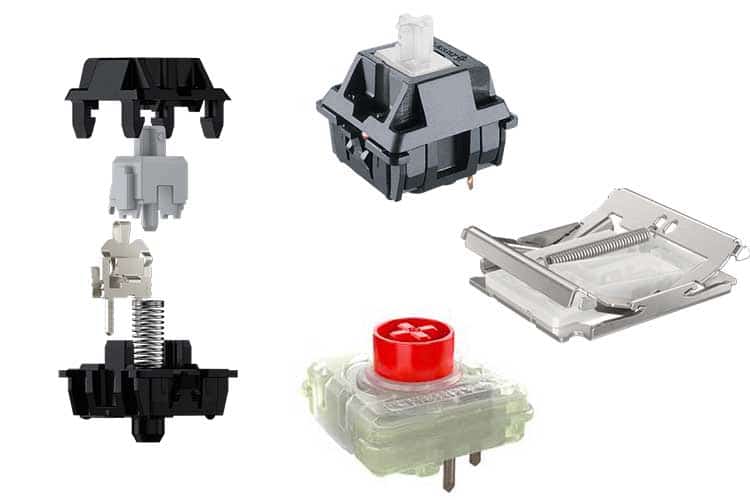 In the current limelight of mechanical switches, brands like Gateron, Kailh, JWK, Glorious, and Zealios invade the market scene. Due to their success among keyboard enthusiasts, most keycaps and keyboards are compatible with the mentioned brands. However, when you trace back the history of these switches, you would see that they all came from and were influenced by the "classic switch," the Cherry MX.
Cherry MX switches are the origin of the most sensational switches in the market. The standard they set for the industry, from their structure, design, and sound profile raised the bar. However, they are not simply pioneers, for they have more aces up their sleeves, like the Ultra and Low-Profile switches.
Up until now, Cherry MX is one of the first choices by the keyboard community, especially for newcomers. According to Cherry, more than 60 partners integrate their mechanical switches into their products, and the company sells more than 6 billion switches. However, with that said, do you really know Cherry MX switches? 
If you are not sure, then you are in the right place. In this article, we will discuss in-depth the history of Cherry MX, its structure, design, popular selections, and compatibility with your personal use cases and preferences. 
Cherry MX Mechanical Switches
Cherry, a German company, was established in 1953, and since then, they have been known for providing the market with electronic switches, both components and products. By 1984, the company had patented the MX switch, which we all know today. Since the patent expired in 2014, several Cherry MX switch clones are currently available to keyboard switch consumers.
The Cherry MX's switch structure became the ground-breaking design for keyboard switches. It features a POM cross-shaped stem with a nylon material top and bottom housing. Additionally, an industry-standard stainless steel spring is provided for its inner structure.
Compared to other competitors in the switch market, Cherry MX is most similar to their clones, Gateron switches. Both switches are almost identical to each other regarding their structure. However, as the two switch brands progressed, they obtained more distinct features and unique offered options. An example of this is Cherry Violas. 
Compared to Kailh's low-profile switches, Cherry Violas are different in terms of structure. Cherry Violas feature a box-like stem, whilst Chocs have a circle-like structure for their stems. Additionally, Violas' housing contains eight-pillar guidance providing more stability. On the other hand, both feature a different pin layout compared to their brand's standard switch options.
In line with this, Cherry MX also provides Ultra Low-Profile Switches and Low-Profile Switches. These are designed for people who prefer an overall lower switch height while still maintaining the typing feel and the sound profile than standard Cherry MX switches provide.
Popular Choices 
Cherry MX Reds

Cherry MX Reds Specifications
Switch Feel: Linear
Actuation Force: 45cN

Actuation Point: 2.0mm

Mount Type: Plate-Mount and PCB-Mount

Sound: Low
Needless to say, Cherry MX Reds are one of the all-time favorites of keyboard enthusiasts. As it provides the classic standard typing and gaming experience, MX Reds are one of the first choices of keyboard consumers to buy keyboards in partnership with Cherry MX switches. Due to its characteristic of being the lightest out of the three- the Blues, Browns, and the Reds, it is usually the go-to switch of people used to membrane keyboards. We recommend this switch for users who wish to type for a longer period of time without getting fatigued.
Cherry MX Silent Black

Cherry MX Silent Black Specifications
Switch Feel: Linear
Actuation Force: 60cN

Actuation Point: 1.9mm

Mount Type: Plate-Mount and PCB-Mount

Sound: Low
Silent Blacks are on the heavier side of the Cherry MX switch lineups for the silents. It also features a deeper actuation point than the standard classics and the Speeds. As the name suggests, its sound profile is definitely silent, in a good way, as it lowers the volume of the switch output by 78%. For people who wish to use mechanical keyboards in a professional or quiet environment, Silent Blacks are highly recommended. Furthermore, if you wish to have more accuracy when typing with a heavier actuation force, the Silent Black switch is suitable for your use case. 
Cherry MX Speed Silvers

Cherry MX Speed Silvers Specifications
Switch Feel: Linear
Actuation Force: 45cN

Actuation Point: 1.2mm

Mount Type: Plate-Mount and PCB-Mount

Sound: Low
MX Speed Silvers are linear switches that provide their user a lightweight and fast typing feel and experience. Even though its actuation force is comparable to normal MX Reds, its actuation point of 1.2mm makes it deserving of the title, "Speed." Due to its 1.2mm actuation point, it becomes faster to register keypresses. However, its cons include the extreme increase of its sensitivity, making it more prone to typing errors. Contrary to others' beliefs, the speed silvers feature a standard structure of Cherry MXs and not their low-profile MX switches. We recommend this switch for users who do not mind typing accuracy but are more mindful of the typing speed. 
Cherry MX Browns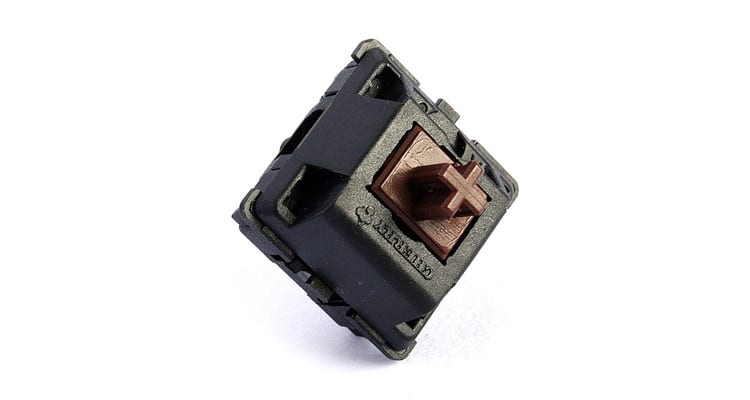 Cherry MX Browns Specifications
Switch Feel: Tactile

Actuation Force: 55cN

Actuation Point: 2.0mm

Mount Type: Plate-Mount and PCB-Mount

Sound: Moderate
Cherry MX Browns are also one of the standard classic tactiles, frequently cloned by numerous switch brands in today's market, all from its structure, switch feel, as well as its sound profile. The switch feel features a tactile round bumpy feedback when pressed by the user. However, even with a tactile stroke, it still delivers smoothness provided by linears after the bump. Thus, if you want to experience a heavier switch with noticeable bumpy feedback, Browns are your go-to keyboard switch.
Special Options 
Cherry MX Green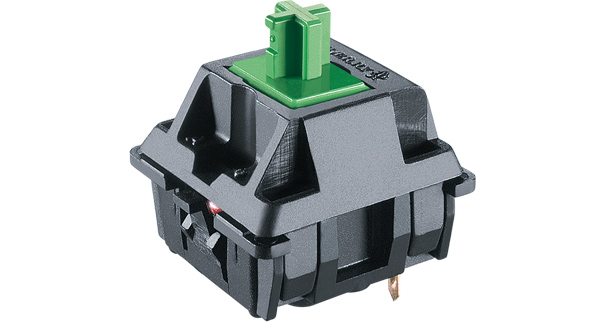 Cherry MX Green Specifications
Switch Feel: Clicky
Actuation Force: 80cN

Actuation Point: 2.2mm

Mount Type: Plate-Mount and PCB-Mount

Sound: Loud
When talking about loud Cherry MX switches, Cherry MX Green is always at the top of the list. Similar to Cherry MX Blues, The special option, Cherry MX Greens, are known for their fulfilling clicks when pressed. However, it provides acoustic feedback, but it also provides a similar tactile feel when actuated on. Additionally, its actuation force and actuation point are heavier than the Cherry MX Browns and Cherry MX Blues, we therefore recommend this switch for people who wish to maintain the typing feel and sound profile of the classic Browns and Blues but with a heavier touch to the switch.  
Cherry MX Clears

Cherry MX Clears Specifications
Switch Feel: Tactile
Actuation Force: 65cN

Actuation Point: 2.0mm

Mount Type: Plate-Mount and PCB-Mount

Sound: Moderate
If you find the Cherry MX Browns as a "mid" switch in terms of typing feel and actuation force, then Cherry MX Clears could be one of your next keyboard switches. Its tactile feel and heavy actuation force give the user notable feedback in each keystroke. Even with Clears having the same actuation point as the Browns, keyboard enthusiasts state that Clears are more satisfying than the latter in the tactile field. However, because of its heavy actuation force, light typists may feel easily fatigued when using MX Clears; thus, we recommend this switch for heavy typists or casual typists who do not frequently use their mechanical keyboard.
Cherry MX Low-Profile Switches

Cherry MX Low-Profile Specifications
Switch Feel: Linear
Actuation Force: 45 cN

Actuation Point: 1.0mm – 1.2mm

Mount Type: Plate-Mount

Sound: Low
Cherry MX Low-Profile switches are 11.9mm in vertical length, and when compared to a normal MX switch with 18.5mm in length, it is 35% shallower than standard MX switches. Because of its low-profile nature, it has high sensitivity and response, and thus, it is easy to activate and register keystrokes. 
Additionally, it provides flexibility in the product design without requiring much too space. It has also proved its durability by being improved to withstand 100 million actuations for its lifespan rate. The options include MX Low-Profile Red with 1.2mm actuation point and the MX Low-Profile Speed with 1.0mm actuation point.
Cherry MX Ultra Low-Profile Switches

Cherry MX Ultra Low-Profile Switches Specifications
Switch Feel: Tactile
Actuation Force: 65 cN

Actuation Point: 0.8mm

Mount Type: Surface-Mount

Sound: Moderate to Loud
Ultra Low-Profile switches feature a brand new unique technology unlike other standard Cherry MX switches, the gold crosspoint contact system. It does not have the standard housings and stems since it uses two sheets of steel that act as a keycap mount combined with a spring to connect the said components. 
Because of this structure, it provides users with an ergonomic overtravel and a highly precise actuation point that is 0.8mm. On the other hand, despite its tactile typing feel, Cherry provides Ultra Low-Profile switches with an audible clicky characteristic for satisfying feedback, both through touch and sound. 
Its design mainly allows the switch to be integrated into notebooks and laptops. For example, the Alienware M15 R4 and the M17 R4 partnered with Cherry MX to include MX Ultra Low-Profile mechanical switches into their products. With this being said, the switch is only available on partnered laptops featuring MX Ultra Low-Profiles.
Recommended Cherry MX Switches for Gaming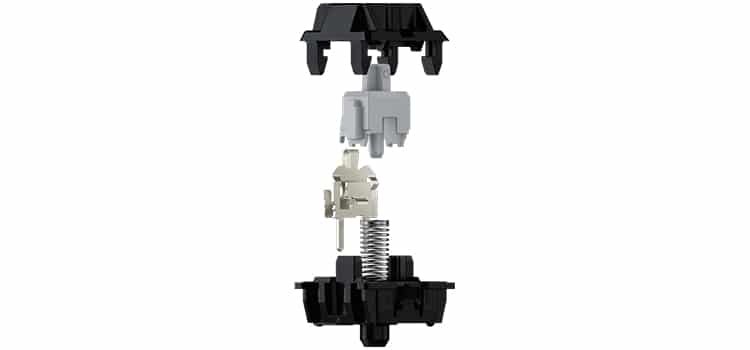 If you prioritize high responsiveness for gaming, the first Cherry MX switch we recommend is the all-time classic Reds. With it being a familiar and vanilla switch for both long-time keyboard enthusiasts and newcomers, gaming with MX Reds has not failed to satisfy their users because of its lighter actuation force than the others. 
However, Speed Silvers is your best choice if you want to speed it up a little more while maintaining the same lightweight actuation force of 45cN. These switches are specially designed for high response due to their lighter actuation point of 1.2mm, increasing keystroke registration sensitivity. 
Lastly, you can also try out the MX Low-Profile Switches. Both the Red and Speed Variant offers a lighter actuation point than Speed Silvers and classic MX Reds. Thus,  you can expect more active reflex gameplay when using an MX Low-Profile keyboard switch. 
However, the downside of the MX Low-Profile Switches is its difficulty to find in the market as it is mostly only available for partnered keyboards of Cherry MX, such as Corsair K70 Low Profile Keyboard, which features a slim design, unlike most mechanical keyboards. 
Recommended Cherry MX Switches for Typing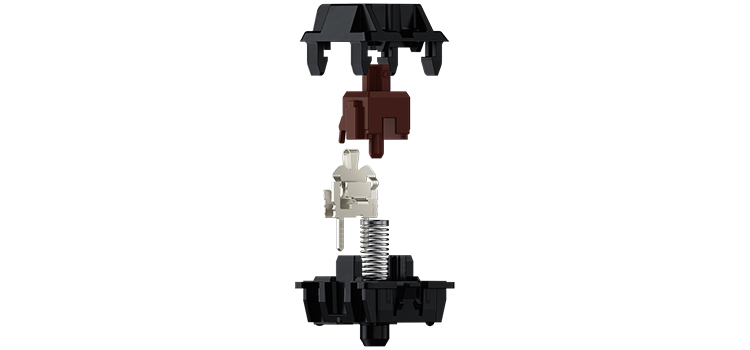 Cherry MX Browns are the tactile switch you would want to get if you do not want to feel easily fatigued from typing within a long time. Light typists and normal casual typists should pick MX Browns since they are the best average choice for a mechanical keyboard switch out of all the Cherry MX switches. 
On the contrary, we recommend Cherry MX Greens for heavy typists who want to get the extra click in each keystroke. Due to their satisfying acoustic feedback of clicks and the touch feedback similar to tactile switches, Cherry MX Green is a solid choice. 
Whereas for people who wish to experience a mechanical keyboard switch when typing but are used to a laptop keyboard, you can consider buying a laptop with the MX Ultra Low Profile switches. Having that precise accuracy when actuating a key and its low-profile increases the chance of upping your typing speed without requiring you to over-fatigue your fingers to use a mechanical switch. 
Recommended Cherry MX Switches for General Use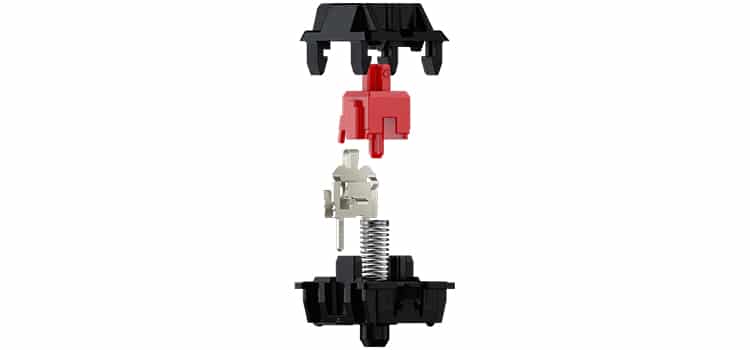 Cherry MX Reds is highly recommended out of the three options, as it gives the user a casual smooth typing feel, especially when lubed. Also, you can be assured that even with general daily use, Cherry MX Reds will remain a quality switch as it has a lifespan of 100 million keystrokes. Its light actuation force, as mentioned earlier, would also benefit its users to lessen finger fatigue when using their mechanical keyboard with MX Reds.
If you are a heavy typist, the Silent Blacks and Clears are other choices you should look out for. These two switches are meant for heavy typists for general daily use. However, the Silent Blacks have a linear typing feel, whilst the Clears have a tactile switch feel. 
The Silent Blacks are recommended for general use for heavy typers without causing much fatigue despite its heavy actuation force due to its linear characteristic. Since it has a low decibel sound output, it can be used in pretty much any setting, whether in a professional or a casual environment.
The Clears are a great choice for heavy typers in general use if you prefer a sound profile that will not overwhelm nor underwhelm you when you initiate a keypress. Along with its audible feedback, the Clears' tactility and heavy actuation force can also secure the deal, especially when you prefer notable feedback in your typing experience.
Modding Cherry MX Switches
Clipping for PCB mount Cherry MX switches for plate mount keyboards is not prohibited. However, it is advised to purchase the right option for your keyboard, whether Plate Mount or PCB mount. Luckily, most Cherry MXs provide both PCB and Plate Mount options for their consumers.
As for lubing the switches, it is definitely recommended for all Cherry MX switches, excluding clicky switches. This is due to the notorious scratchiness and spring pings of Cherry MXs out-of-the-box. Thus, to get your desired sound profile and a smooth typing experience, lubing you should do the Cherry MX switches. 
Lastly, filming Cherry MX switches are not a necessity; thus, if you do not wish to spend time filming your MX switches, the typing experience, and sound profile without films would remain as advertised. However, if you want to further improve on its sound profile, all in all, it would be best to apply films to the Cherry MX switches as well.