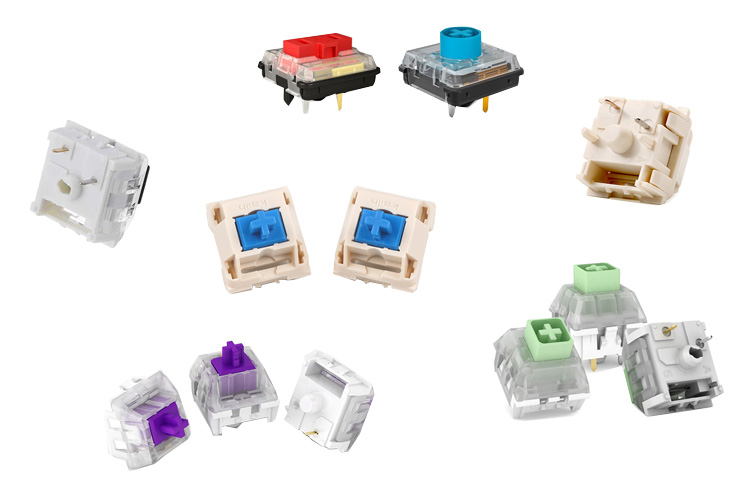 When talking about mechanical keyboard switches, we cannot afford to miss out on the offers provided by Kailh Mechanical Switches. Just like Gateron, Kailh switches are also Cherry MX clones. However, Kailh switches have several improvements and innovations that separate them from Cherry's offerings. Plus, even with their additional features, they are still more affordable than Cherry and competing switches. 
Kailh switches have a unique structure and sound profile in their variety of products. One of the most popular choices, the Kailh Box features a box-stem that provides stability when typing. All of which you can avail for a lower price than most quality switches in the market.
In this article, we will discuss the different types of Kailh mechanical switches. This article aims to ultimately guide you in selecting the best switch that fits your preference from Kailh's offerings. 
Introduction to Kailh Mechanical Keyboard Switches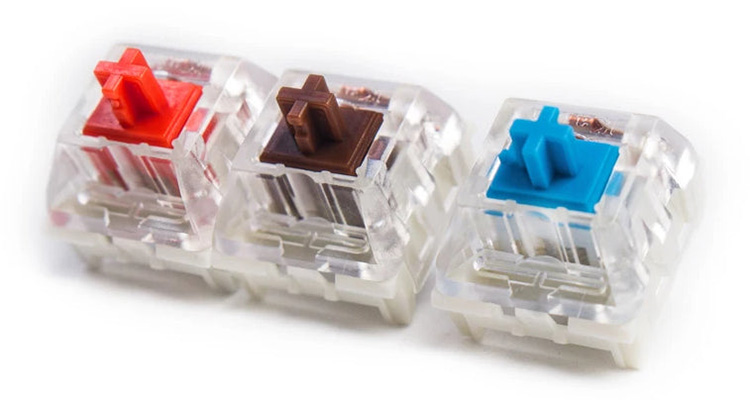 Basic Specifications of Kailh Switches
Switch Feel: Linear, Clicky, and Tactile

Actuation Force: 50 – 60gf

Actuation Point: 1.9mm

Mount Type: Plate-Mount

Sound: Low to Loud
Kailh is from Dongguan Kaihua Electronics, a Chinese electronics manufacturer. Despite being a clone of MX, they did not limit themselves, for they also created unique designs like the structure featured in the Kailh Box Switches. 
Kailh switches have a 50 to 80 million keystroke lifespan rate, making them more durable than other MX clones like Gateron, which currently has only a 50 million lifespan rate for all of their switches. All in all, because of the uniqueness and adequate durability compared to other clones,  Kailh switches became popular within the mechanical keyboard community as affordable and decent quality switches.
The basic lineup of Kailh switches is highly similar to Cherry MX's blues, reds, and browns. However, its price is much more affordable compared to MX switches, making it worth buying if you simply want to try out the vanilla of switches.  
Regarding its structure, the default Kailh's stems are shaped in the MX-stem cross-compatible with Cherry-stem keycaps. The brand features the default lineup with the same specifications with MX as well- with blues as clicky switches, reds as linears, and browns as tactiles. 
Kailh's linear switches have an actuation force of 50gf, while their clicky and tactile switches have an actuation force of 60gf. Their linear and tactile offerings are noticeably heavier than other standard brown and red switches. So, if you dislike the sensitivity of other red linears and brown tactiles, Kailh switches are your best bet. 
Kailh Switches Lineup
Kailh Box Switches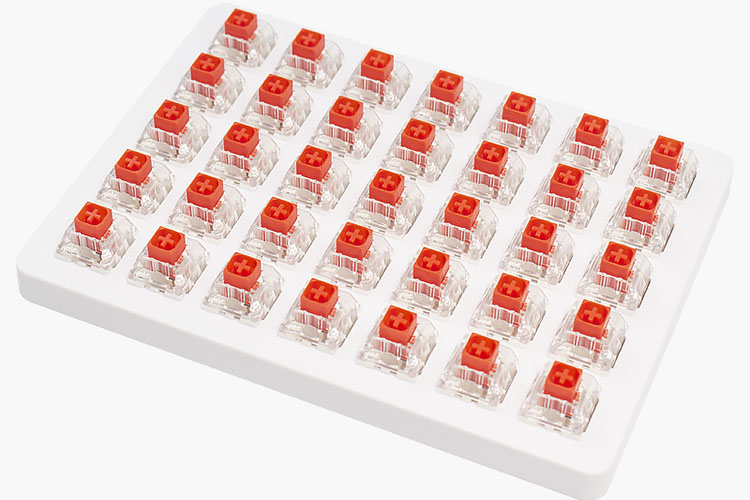 Switch Feel: Clicky, Tactile, and Linear

Actuation Force: 60gf

Actuation Point: 1.8mm

Mount Type: Plate-Mount

Sound: Low to Loud
Kailh Box Switches have a distinct feature in their stem, as it features a box-stem instead of just the normal MX stem. The box stem structure securely holds the keycaps, eliminating any wobble feel when typing. Additionally, its structure makes it waterproof and dustproof. 
However, its performance slightly drops than the default switches in typing feel and sound profile compared to the tactile and linear lineup. But, if you fancy satisfying clicky switches, Kailh Box is a bang for the buck, especially for the Kailh Box Jades, as it is widely known as one of the loudest and most satisfying switches in the market.
Kailh Speed Switches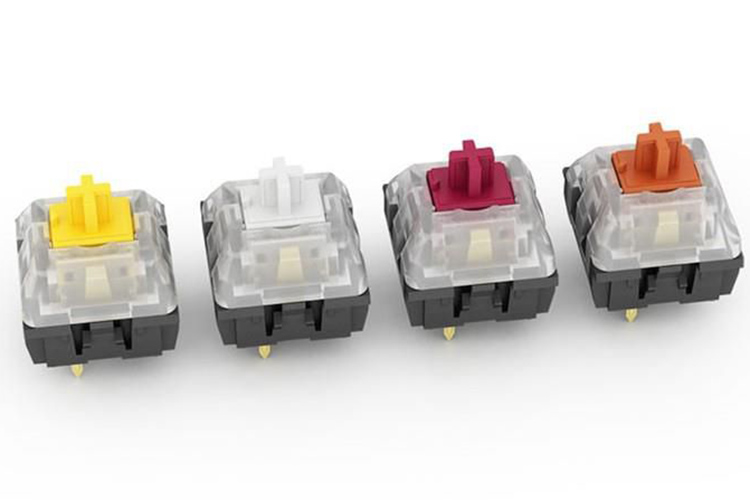 Switch Feel: Clicky, Linear, and Tactile

Actuation Force: 40 – 60gf

Actuation Point: 1.1 – 1.4mm

Mount Type: Plate-Mount

Sound: Low to Loud
Kailh Speed switches compete with Cherry MX's speed Silver switches, and it features the following colors: Silver, Copper, Bronze, and Gold.
These mechanical switches have a shorter actuation force and point than the normal Kailh switches, living up to its name as a Kailh Speed switch. 
Bronze and Gold are clicky switches with an actuation force of 60gf and an actuation point of 1.1mm and 1.4mm, respectively.
In contrast, Silver is a linear switch with the lightest actuation force of 40gf among all Kailh Speed switches. Lastly, Copper is a speedy tactile switch that has an actuation force of 50gf while maintaining the bumpy texture feedback tactiles are known for.
Kailh Low Profile Switches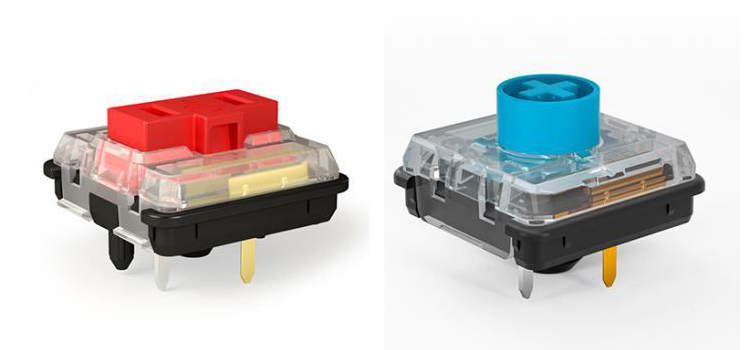 Switch Feel: Linear, Clicky, and Tactile

Actuation Force: 50-70gf

Actuation Point: 1.5mm

Mount Type: PCB

Sound: Low to Loud
Kailh Low Profile switches commonly come in colors: Red for linears, White for clicky, and Browns for tactiles. Other versions include Jade, Navy, Pale Blue, Burnt Orange, and Dark Yellow. They are also called Kailh Choc switches in the keyboard switch market.
The structure of a Kailh Low Profile switch is shorter than a traditional switch. This enables users to type for an extended period without easily getting tired and is suitable for people who are used to laptop keyboards. Gamers also tend to prefer these low-profile switches because of their easy-to-press short structure and low actuation point of 1.5mm. 
Finding keycaps for the V1 switches is challenging since they do not fit the normal Cherry-stem compatible keycaps. However, the V2 switches modified their stem and are now fit for Cherry-stem compatible keycaps.
Additionally, most PCBs that support Cherry MX switches do not support Kailh Choc switches as their pins and support legs have different layouts.
Premium Kailh Switches 
Kailh Cream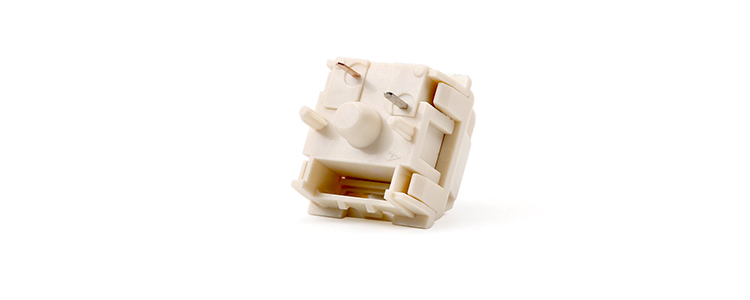 Switch Feel: Linear

Actuation Force: 55gf

Actuation Point: 2mm

Mount Type: PCB

Sound: Low
Kailh Creams, a collaboration with NovelKeys, are one of the most popular premium options of Kailh switches. As it is named, the Kailh Cream switches are white cream-colored due to their unique plastic material, while its housing is structured like the Cherry MX-style. 
Also, it features a self-lubricating POM housing and stem, resulting in a satisfactory creamy sound profile out of the box. However, most enthusiasts recommend lubing the switch to get that perfect creamy and smooth sound profile, and typing feel.
Kailh Pro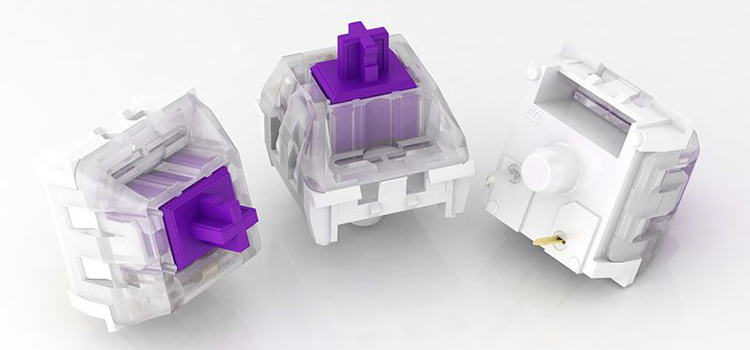 Switch Feel: Linear, Tactile, and Clicky

Actuation Force: 50gf

Actuation Point: 1.7mm

Mount Type: Plate-Mount

Sound: Low to Loud
Kailh Pro offers all three switch feels, the linear, tactile, and clicky, in this premium lineup: the Pro Purple, the Pro Light Green, and the Pro Burgundy. Kailh Pro combines the lightness and speed offered by Kailh Speeds and the ergonomic feedback that Kailh Box produces.
Despite having different typing feels, all of these three switches have the same actuation force and actuation point of 50gf and 1.7mm, respectively. This enables users to choose the typing feel they prefer without sacrificing its lightness. 
Kailh Blueberry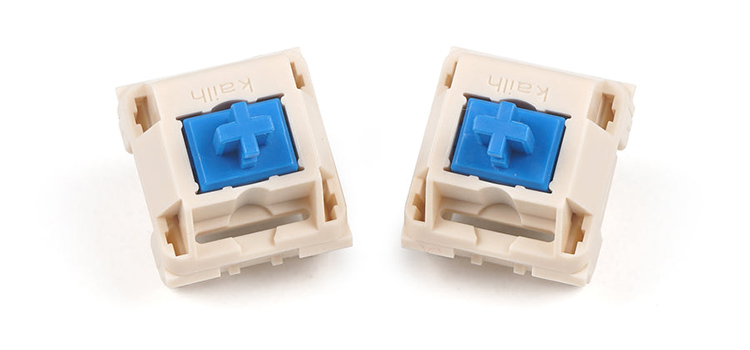 Switch Feel: Tactile

Actuation Force: 55gf

Actuation Point: 3.0mm

Mount Type: PCB

Sound: Moderate
Kailh Blueberry shares a similar material type of housing with the premium option, Kailh Cream. However, Blueberry differs in the shape of the switch's inner legs. Because of this peculiar leg structure, it produces a unique feel of tactility in each keystroke. 
Unlike normal tactile switches, keyboard enthusiasts say that Kailh Blueberry offers double of a standard switch's tactile bumps. Now, when it comes to its stock sound profile, the Blueberry needs lubing to suit one's taste as it may sound scratchy due to the pinging springs. If you like "thock," the Kailh Blueberry can achieve a deep sound profile once lubed and modded properly.
Recommended Kailh Switches for Gaming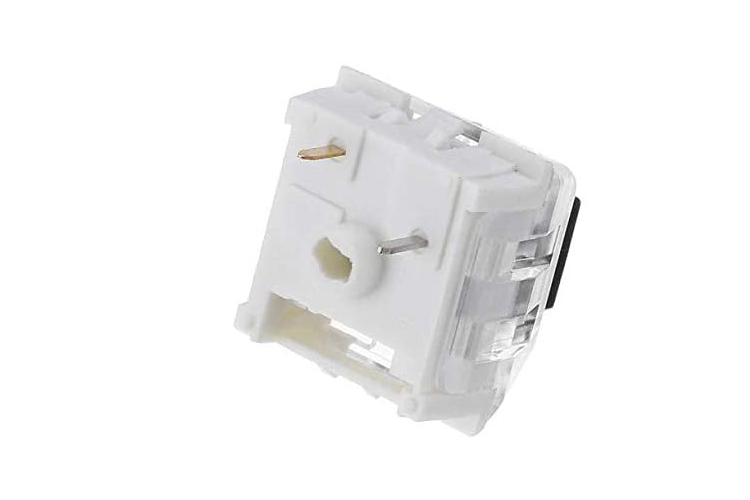 In the BOX line of Kailh, it is recommended for most gamers to buy the Kailh BOX White clicky switch if you are into click-clacks and lightweight gaming. For people who prefer tactile feedback, we recommend Kailh BOX Pale Blues. 
However, if you want to spice things up, we encourage you to buy Kailh low-profile switches since they are specifically designed for gaming. Lastly, another great choice is the Kailh Speed Copper if you want to improve your speed in gaming or pressing keys. 
Recommended Kailh Switches for Typing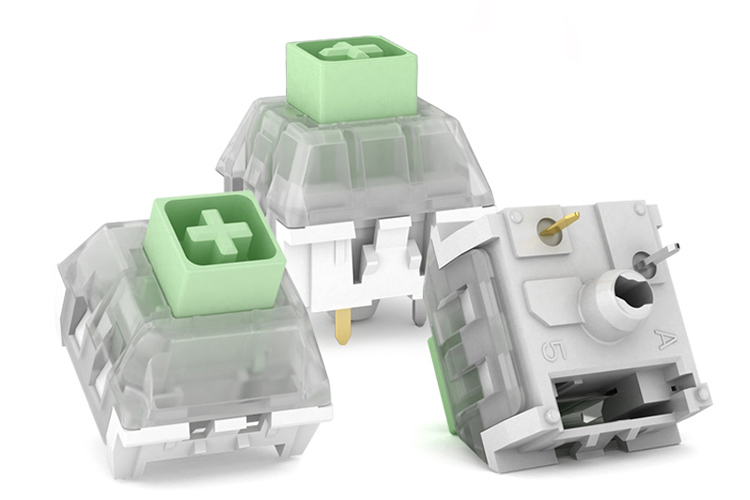 For typers that wish to have clicky feedback on each keystroke, Kaihl BOX Jade is the switch for you. However, if you use your mechanical keyboard around people, we recommend the Kaihl BOX Browns, which are much quieter than the Jades but producees a satisfying tactile bump on each keystroke. 
If you wish to become more comfortable typing, we recommend Kailh's low-profile tactiles to improve accuracy without bringing fatigue to your fingers.
In premium choices for typing, Pro Purple is recommended for those who wish to have light tactile switches involved in their typing experience.
Whereas Kailh Blueberry should be your best pick if you like to experience an extremely satisfying tactile switch.
Modding Kailh Switches
Some Kailh Switches come in pre-lubed, such as the BOX switches. However, they only factory-lube it onto their legs. Along with this, the Kailh Pro Purples also come in pre-lubed from the market. 
When modding other Kailh switches, lubing is recommended as there is noticeable friction between the switch's slider and the stem. However, lubing BOX switches is not advisable since they can leak and seep outside the housing due to their material and ruin your board's PCB.
Filming these switches is not recommended since it wouldn't make a noticeable difference. Kailh Switches have tight tolerances between their inner housing and structure. Thus, there is no need to reduce the stem wobble as it is already stable.
Stephen is the head content creator of Keyboardsexpert. His mechanical keyboard journey began in 2014 when he got his Razer Blackwidow. Since then, he has been fascinated with all things mechanical keyboard-related. He later discovered the custom keyboard hobby and fell in love with the vast customization options. He is currently searching for his endgame and is very excited to share his journey and educate other keyboard enthusiasts.