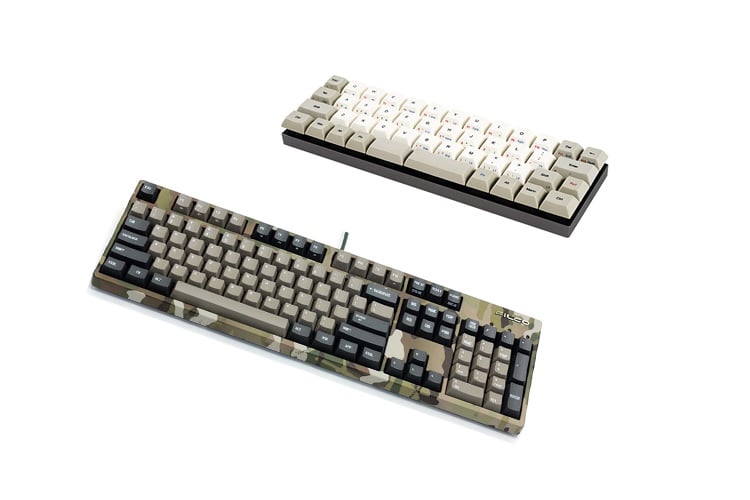 We have seen in recent years a sudden rise in popularity for both pre-built and custom small form factor keyboards in the market. Both new and veteran keyboard hobbyists have seen the appeal and promise of these minimalistic keyboard iterations as space-saving additions to their workspaces and gaming stations. One of the lesser-known form factors that are slowly gaining traction even among loyal 100% layout enthusiasts is the compact 40% keyboard. 
The 100% keyboard layout and the 40% form factor are on opposite ends of the keyboard size spectrum, with the latter being second only to the standalone number pad. With this massive difference in footprint comes a big difference in the number of keys, available functionalities, and even the weight of your keyboard.
This article teaches more about the differences between the 40% form factor and the full-size keyboard. As we discuss the pros and cons of both layouts, readers can assess the features and advantages that they wish to prioritize when making their purchase. By the end of this article, potential customers will have a clearer idea of which layout might be the better pick for their needs!
Why are there Different Keyboard Sizes?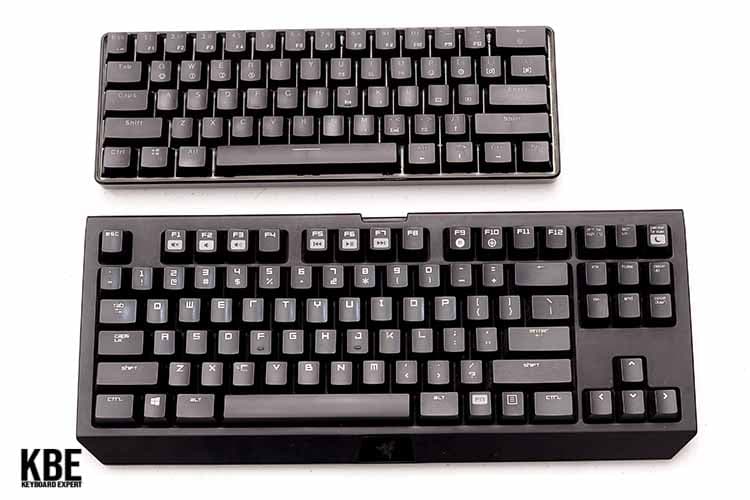 In recent years, smaller keyboard form factors have quickly risen to rule the market. Some may even say that these more compact brethren of the classic 100% layout have dethroned it from the top spot in popularity, if not sales. Reasons for the sudden shift in favor may depend on who you ask. 
Users across various forums can provide reasons that range from increased desk space and mobility to the minimalist aesthetics that a smaller keyboard can provide. It certainly helps that these smaller keyboard types tend to be more economical, providing the same functionalities of a full keyboard for a smaller price tag. Of course, some smaller form factor keyboards demand a sacrifice for the smaller footprint and lower price. 
While layouts such as the TKL and the 75% keyboards feel much more like the classic full-size board, form factors at 60% and below begin to remove valuable key rows that might prove essential to certain professions and programs. Even so, the popularity of these keyboards has continued to persist for their price, accessibility, and adequate keys and functionality. However, among these smaller keyboard iterations, the 40% layout has lagged behind – at least until very recently.  
Summary of 40% Keyboards
The popularity of 40% keyboards has been a little slower on the uptake compared to its more conventional counterparts. The 40% keyboard is a big jump from a full layout, and many users may find it too limiting, which prevents them from making the switch.
40% keyboards have roughly 45-50 keys which is a huge reduction from the 104 total of a traditional full-size layout. However, avid gamers and typists are slowly transitioning to this barebones keyboard layout because of its compact size and portability.
If you are considering a 40% form factor keyboard, a few advantages will make this keyboard worth the risk and investment. Gamers, office workers, and typists that require the additional desk space will love the freedom of movement and extra desk space that switching to a 40% layout will give them. Avid FPS gamers will love the extra mouse space for full swivels and easier headshots when aiming. In another perspective, professionals that work from home will love the additional space for a handy notebook or perhaps a graphics tablet if you work in creatives.
Digital nomads and laptop users who are always on the go will also appreciate the 40% layout's compact size, making it more convenient. Packing this keyboard in a backpack or tote bag should be no problem, as 40% keyboards won't be much bigger than your average notebook or organizer. Whether you pick one up as your daily grinder or as a travel-friendly alternative, a 40% keyboard is a worthy investment for anyone constantly on the move for work or play.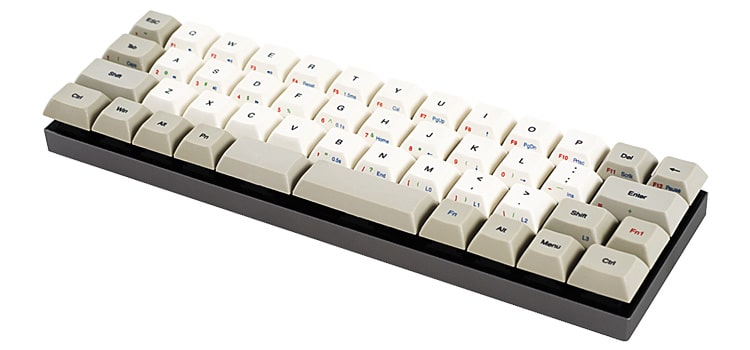 This lightweight convenience and portability come at a price that others may not appreciate. Keyboard users transitioning from large boards like a full-size keyboard or a TKL may find themselves struggling with the steep learning curve. Accessing function keys and numbers that used to be readily available with a keystroke will have to be performed with key binding or Fn combinations. 
Professionals, gamers, and students who frequent the number pad, function keys, and number rows may find themselves struggling with their absence. If you feel that you are one of these users, you should think twice about making such a sudden switch. If you are transitioning to the 40% keyboard for its convenience and space-saving potential, you could start by downsizing to a more conservative form factor.
75% layout or even the 60% version are both good starting points fit you if you want an experience of a smaller form factor before committing to a 40% board.
Interested users might also find that some 40% keyboards run more expensive than standard small form factor layouts like the 75 or 60% versions despite their smaller size. This is because the 40% is a relatively rare and specialized layout.
Pros of 40% Keyboards
Significantly smaller than 104 Full-size and other layouts in the market

Lighter and more compact for greater portability

Provides bigger desk space and prevents finger strain from prolonged typing
Cons of 40% Keyboards
Steep learning curve

Limited keys available

May run more expensive than standard layouts
Popular 40% Custom and Prebuilt Keyboards
YMDK Tiramisu 

VortexGear Core 40% Keyboard

Qisan 40% Mechanical Gaming Keyboard
Summary of Full-Size Keyboards

Perhaps the most common and readily-available keyboard variant out in the market, the classic 104-keyboard layout still favors seasoned keyboard hobbyists because of its complete set of keys and functionalities. The full-size keyboard is not as popular as it used to be due to the dawn of more compact form factors that still get the job done with function keys and number rows like the TKL, 75%, and 65%. 
However, the full-size keyboard is still a staple in office workstations, programming and accounting setups, and even gaming rigs that require the full array of keys during operation and productivity.
Based on the pioneering design of the IBM keyboards, most, if not, all computer users are familiar with typing on a full-size layout. This makes it an excellent choice for households with shared computers and multiple users, as a full-size keyboard has no learning curve for efficient use. Users sharing the computer will have no problem operating a 104 layout as normal because the function keys, number pad, number row, and even the arrow keys are all within striking distance.
Full-size keyboards have plenty of real estate for manufacturers to pack on extra features. While these features are usually just bells and whistles that are nice to have, their addition can completely transform the experience of a regular board into one that feels specialized and premium. These features can range from media buttons like volume knobs or rollers and dedicated media controls to comfortable and convenient additions like touchpads and wrist rest.
That being said, the largeness of your full-size keyboard does come with a trade-off. Desks that hold a full-size board will feel cramped and cluttered because of how much space it takes up. If you are determined to sport a full-size keyboard in your gaming rig or workstation, it would be best to have a deep desk so you can keep it out of sight and out of the way if you need to perform other tasks like graphic art or note-taking in your workspace.
If you are a freelancer or student that is frequently on the go, then these full 104 layouts are not the keyboard for you to take for the ride. Their size and weight alone can make packing them a nightmare, and the risk of breaking your precious board only grows if you cannot store it securely. It is best to keep your full-sized board at home as your daily grinder and keep a smaller form factor on hand when you need to step out or work beyond your usual environment. 
Pros of 100% Keyboards

Complete set of keys, including function keys, number pad, and number row

Space for extra features is available

More readily available in stores compared to other form factors
Cons of 100% Keyboards
Take up too much space

Not travel-friendly

Can make a desk look cramped and cluttered
Popular 100% Custom and Prebuilt Keyboards
Corsair K95 Platinum XT

Akko 9009

Royal Kludge RK918
Full-Size and 40% Keycap Compatibility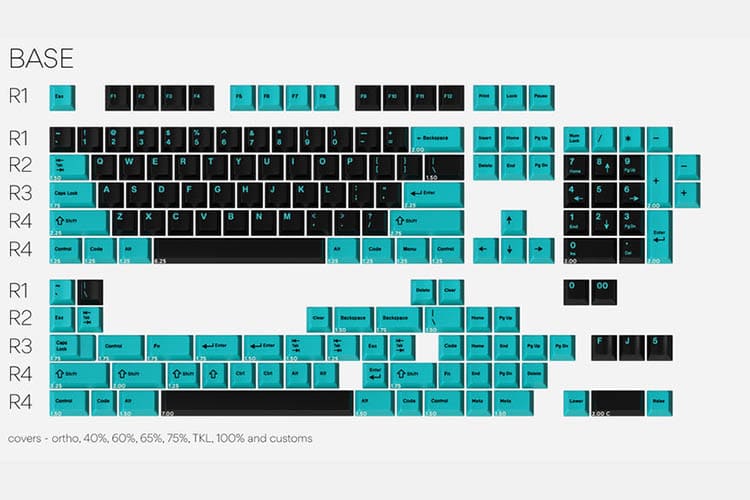 For keycap compatibility, full-sized keyboards will almost always be easier to modify and find compatible keycaps. This is because the 104-key layout is the standard, so you will not have to worry about picking out specific sets to account for the exact keyboard plates and allocation. 
Smaller form factors like the 40% layout may require more intensive research, as the space allocation for certain buttons may be smaller than more common layouts like the full-sized and TKL boards in the market. An example of this is the 1.75U right shift adjustment that 75% keyboards require.
Reputable suppliers like GMK and YMDK will usually have keycap sets universally compatible with most layouts. However, you should still do your due diligence when asking the seller if your desired keycap is compatible with your existing 40% keyboard model to avoid purchasing mistakes.
Which is the Better Keyboard Form Factor?
The full-sized keyboard and the 40% form factor have their fair share of pros and cons. Full-sized keyboards offer the maximum functionality and then some, while 40% keyboards provide a more compact and pared-down experience that may require a bit of practice to get used to. 
Users that need the full array of keys when working should stay with the classic 104-key layout. However, users who wish to do away with everything but the basics that they use daily might enjoy the straightforwardness and desk space that a 40% layout brings to the table. 
Choosing a 40% layout will undoubtedly require a bit more investment in terms of time and money because of the learning curve and price of both the keyboards and modifications they want, but part of the fun that being a keyboard hobbyist brings is being able to bring your dream board to life. Opt for a full-sized keyboard instead if you prefer a more classic typing experience and an easier time hunting modifications.
Ultimately, the choice boils down to you as the user, so assess your needs and aesthetic preferences to pick the best board for you!
Still not sure which size – check out 60% vs. 75% Keyboards