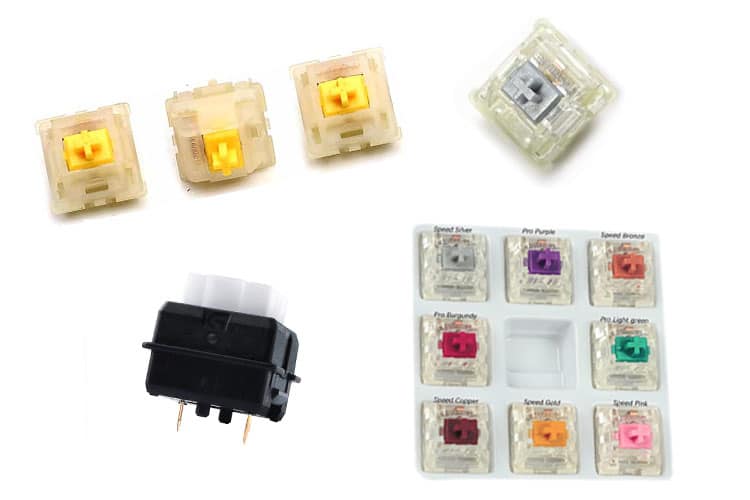 Mechanical keyboards have become incredibly popular in the last decade, and they have pretty much made other keyboard types, such as membrane keyboards, obsolete. However, the concept of mechanical switches isn't new and has been around since the 1970s and 1980s. Throughout the years, they have evolved and become what we use today. 
Mechanical switches are the direct successors to typewriters. They originally aimed to reproduce the tactile feel of typewriters. Mechanical switches have evolved and now offer various models with a unique feel. Also, different brands have adopted the mechanical switch design and modified them to suit their needs. 
In this article, we will be giving a quick recap on some of the early mechanical switches that were available during the early years of the mechanical keyboard. We will also be tackling some of the newer switches used in today's custom and pre-built mechanical keyboards. And lastly, we will be talking about the switches that gaming manufacturers specifically manufactured for their gaming keyboards. 
Early Mechanical Keyboard Switches in the Late 70s and 80s
The first keyboards had been, essentially, typewriters that ran on electricity. But as the invention race goes, iterations only led to further development and advancement until the early models of keyboards resembled what we use today. The earlier models of keyboards had all used mechanical switches. 
Buckling Spring Switches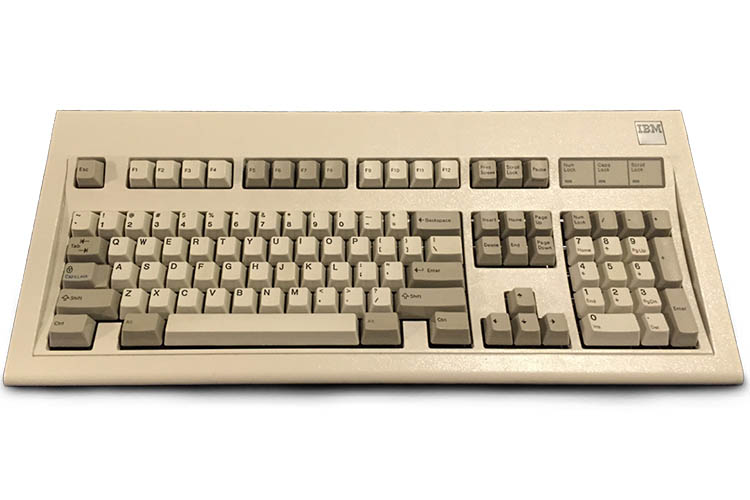 Buckling spring switches, colloquially known as BS switches, were invented by Richard Hunter Harris and were later patented by IBM in 1977. The name was derived from how the switch itself operated. Simply put, pressing on the key exerts force down on a spring mechanism underneath until it buckles to the side and triggers a switch.
Within IBM, the BS switches were used in the IBM Model F and IBM Model M keyboard lines. Model F had been the first line to come out, produced, and used for most IBM boards in the mid-1980s, but by 1983, the Model M was introduced as an improvement and replacement. IBM keyboards were one of the earliest examples of the QWERTY layout of the modern keyboard.
However, IBM has stopped producing both models, rendering them increasingly rare. Most can't buy the original keyboards without a friend in the know or scouring the internet for auctions. Presently, Unicomp designs and produces IBM Model M keyboards with buckling spring switches, all without straying far from the original model.
Cherry Switches
Cherry had initially been part of the automobile industry, producing switches for various machinery. However, they started making keyboards in 1967, and are still doing so to this day, lending credence to their claim of being the oldest keyboard manufacturers still in business. When they received the patent for their mechanical keyboard switches in 1984, Cherry eventually introduced the switch that put their name on the market; the Mechanical X-Point Switches. Also known as the MX switches for short.
The MX switches were used for the M6 keyboard line, with the first switch being the MX Black. It was a simple, linear switch and required about 60 g of force to actuate. The early keyboards were in use for home computers.  However, Cherry also manufactured keyboards for narrower markets, like terminals, or at present, high-pressure environments like the hospital.
The earliest switch, the Cherry MX Black, is still made today. That said, there are several more variations to the MX Switches at present. The switches are color-coded, ranging from linear to tactile, while others are quiet or clicky. Cherry switches are the standard on the market and are the most commonly used in mechanical keyboards.
ALPS Switches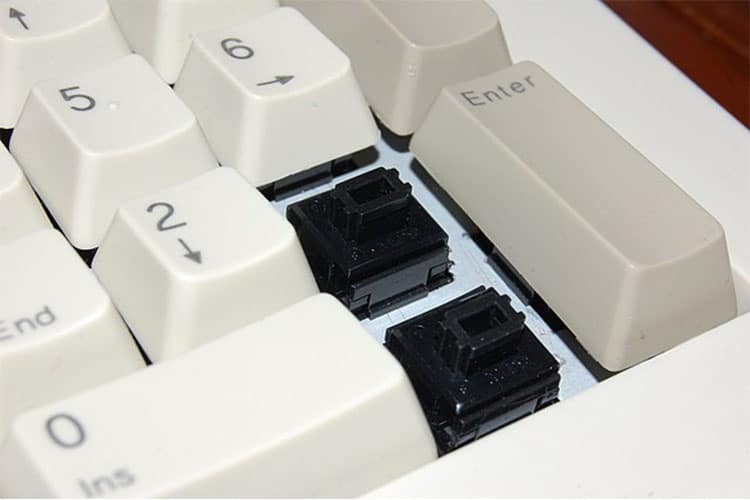 The keyboard was used on the first computer at UCLA. Made from Alps Electric, and first introduced in 1983. It was one of the first commonly used compact-design key switches available. The several variations of switches had tactile and linear switches, and all designs had a high number of parts, and their sense method involved metal contact. Each switch had 10-11 parts, leading to some calling them complicated Alps.
The earliest Alps switches didn't have logos, but Alps Electric had their logo molded into the base of the switch. Alps switches had been used exclusively with Alps keyboards. While Alps are no longer producing keyboard switches, having stopped in 2012, they had been produced en masse for nearly twenty years. They aren't impossible to obtain, but at this point, you'll mostly find them in auctions.
Modern Mechanical Keyboard Switches 
Custom Keyboards and Prebuilt Keyboard Switch Brands
Manufacturers have stopped using mechanical keyboards in the 1990s. However, they reappeared in 2010 and have since been the go-to keyboard switches for gamers, professionals, and casual consumers. And since Cherry's patent expired in 2014, there has been a boom in mechanical switch brands in the past couple of years. Here are some of the most notable switch brands for both custom and premade keyboards.
Cherry
Cherry has been the go-to switch manufacturer for most gaming and professional keyboards from 2010 to 2014. However, even after their patent expired, Cherry remained one of the top dogs in the mechanical keyboard switch market. Many big-name brands, including Corsair, still rely on Cherry MX switches.
In addition, Cherry has expanded on its lineup of switches. They now have many different switch types geared for specific tasks, such as the Cherry MX Silver gaming. They have also pioneered silent mechanical switches and low-profile mechanical keyboard switches.
Gateron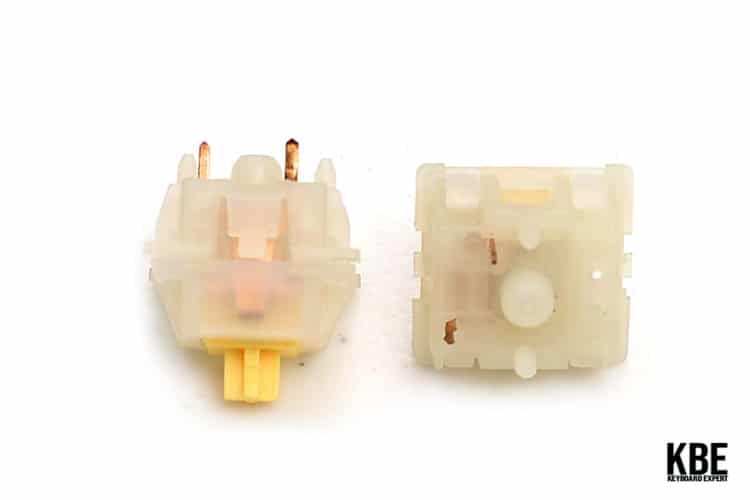 Gateron initially started as a Cherry MX clone manufacturer. Most of their early mechanical switch designs were direct copies of Cherry MX switch models. However, over time, they developed unique switches that the community has grown to love.
The most notable creations of Gateron include the budget-oriented Gateron Milky Yellow and the fan-favorite Gateron Ink Black V2. Gateron has also produced various optical switches based on their mechanical switches. Gateron's offerings can be found on pre-built mechanical keyboards and are common for custom keyboard builds.
Kailh
Kailh is very similar to Gateron. They also started as a manufacturer of Cherry MX clones. But through that experience, they created unique switches that appealed to both custom keyboard enthusiasts and casual users. They have also worked with various brands, including Razer and Logitech G.
Some of the most well-known switches from Kailh include their Box series. As its name suggests, the metal contacts are enclosed in a box that gives it a unique look and increases its stability. You can find Kailh switches in both premade and custom keyboard builds.
Gazzew
Gazzew is one of the newer names in the mechanical keyboard switch market. However, their products have been making waves and have become top-tier choices for custom mechanical keyboard builds.
Some of their most notable switches include the Boba U4 and U4T. These tactile switches have become instant fan favorites, and some even consider them more tactile than the legendary Holy Panda switch. Gazzew switches are manufactured by Outemu, which many users will recognize as a manufacturer of budget mechanical keyboard switches.
Topre
Topre is a Japanese switch that is based on capacitive keyboard switch technology. They offer a unique feel that mechanical key switches cannot replicate.
Unlike mechanical switches, you cannot purchase Topre switches separately, which means that you cannot use them in custom mechanical keyboards. The only manufacturers that utilize these key switches are Happy Hacking Keyboard and Cooler Master.
Gaming Keyboard Switch Brands 
If you don't fancy building your keyboard, which usually involves equipment and money that aren't easy to get, you can always buy a pre-assembled keyboard. Out-of-box keyboards are usually plugged and play, simple to use and replace if need be. These brands are only some of the known names in the mechanical keyboard market:
Logitech G
Logitech G is one of the most renowned gaming peripherals manufacturers. They have been dominating the market, even before they rebranded into Logitech G. To this day, they have sponsored several esports players and sold lots of gaming peripherals throughout the years. 
In terms of mechanical switches, Logitech G has been manufacturing its switch models since 2014. They started with the Romer G switches, which were completely different from the MX style switch. They later switched to the Logitech GX switch, much closer to the standard MX switch design. Like most gaming switches, Logitech G's GX switches prioritize speed and help gamers achieve the fastest and most responsive key switch in the market.
Razer
Razer is another big name in the gaming peripheral market. They are one of the first companies to produce dedicated gaming peripherals and are one of the earliest competitors of Logitech G (known as Logitech Gaming in the early 2000s).
Like Logitech G, Razer is one of the first brands to manufacture their gaming switch in 2014. They came up with the Razer switches manufactured by different companies over the years, such as Kailh.
Recently, Razer started venturing into other switch types, and they currently offer the Razer optical switches and their traditional Razer mechanical switches.
Steelseries
Steelseries has been collaborating with Cherry for the majority of their keyboards. However, Steelseries has ventured with other switch types in recent years. Their most recent flagship model featured hall-effect switches.
These switches offer a very similar feel to mechanical switches. However, they utilize magnets instead of the usual metal-to-metal contact. In addition, they feature variable actuation points, meaning the user can set the sensitivity of the switches.
Hyperx 
Hyperx is another big name brand that has decided to manufacture its own mechanical keyboard switches. Like all other gaming switch brands, they offer maximum speed and accuracy, and everything from the weight to the actuation points has been tailor-fitted for gaming.
In addition, Hyperx switches are found exclusively on Hyperx keyboards. The only other keyboard brand that features Hyperx switches is Ducky's keyboards. The two brands have been collaborating to create special limited edition models that are part of the Ducky One 2 Mini Series.

The KBE team is dedicated to sharing our knowledge and creating useful resources about computer keyboards. This article was written as a team collaboration, combining our knowledge and years of experience using, building and modding keyboards. Meet the team here.