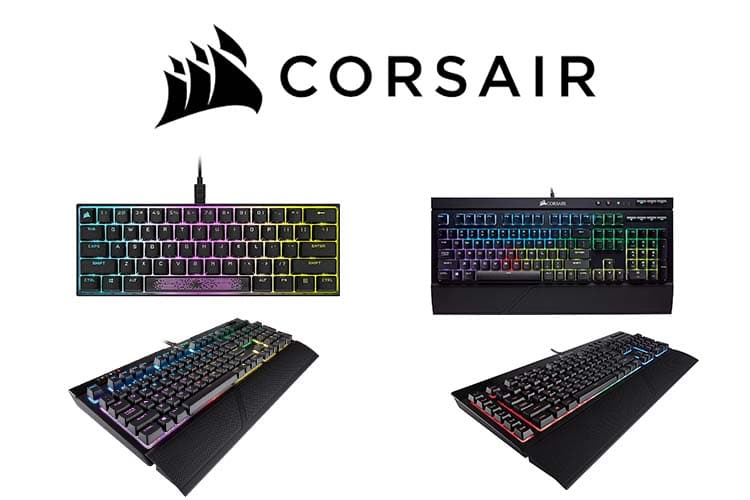 Corsair is one of the most recognizable brands in the PC enthusiast market. They produce everything from RAM to gaming peripherals. They also have various sub-brands under their belt, including Elgato, SCUF Gaming, and Origin PC.
Corsair has built a name for itself in the gaming peripheral market. They have been releasing mechanical gaming keyboards since 2014. Today, they offer a variety of gaming keyboards in all sorts of mechanical switch configurations and sizes. They are a brand that is trusted by both regular consumers and professional gamers. 
Throughout the years, Corsair's K series of keyboards have become the go-to for many gamers. This is because they offer everything from class-leading RGB to reliable Cherry MX mechanical switches. Their keyboard designs are also versatile and fit almost all PC game genres.
In this article, we will be further talking about Corsair's gaming keyboard lineup. We will also be going through their history and partnership with Esports organizations. And by the end of this article, consumers will be able to tell whether or not Corsair's keyboards are a good fit for them.
Brand History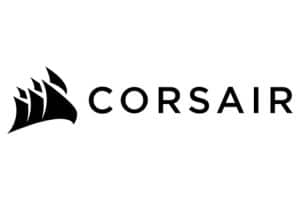 Early Years
Andy Paul, Don Lieberman, and John Beekley founded Corsair Microsystem Inc. in 1994. They first developed level 2 cache modules called cache on a stick (COASt) modules. Later on, Corsair changed their product and focused on creating Dynamic Random-Access Memory (DRAM), led by one of their first employees, Richard Hashim.
Corsair then began to ship their DRAM product worldwide, which immediately took the attention of different computer enthusiasts. Because of the success of their DRAM memory module, Corsair continued to produce quality computer memory modules and other computer components too.
Mainstream Success
The success of Corsair's DRAM memory module enabled them to expand the production of their memory modules to Corsair Vengeance Pro series and Corsair Dominator Platinum series. These ignited the interest of different PC enthusiasts because these memory modules are made for overclocking. 
With the success of Corsair's products, the company expanded its offerings into other fields, including PC coolers and gaming peripherals. Corsair's PC gaming peripherals were a smash hit.
They became one of the most fierce competitors of other PC Gaming giants such as Razer and Logitech G. Even to this day; Corsair is considered to be one of the best and most reliable brands for PC gaming.
Venture Into Esports
View this post on Instagram
Given how successful Corsair's peripherals are, it only made sense for them to further expand their reach by teaming up with various esports entities. Over the years, Corsair has sponsored a number of different teams. One of the most notable teams that they have sponsored was SKT T1 (now known as T1), who is known for winning three League of Legends World Championship titles with their star midlaner Faker.
Corsair still continues to support various esports organizations. Some of the teams included in their current roster include Berlin International Gaming (BIG), Envy, FC Schalke 04, Rox Gaming, Team Secret, and Vitality.
Corsair Keyboard Line-Up 
Corsair K70 Series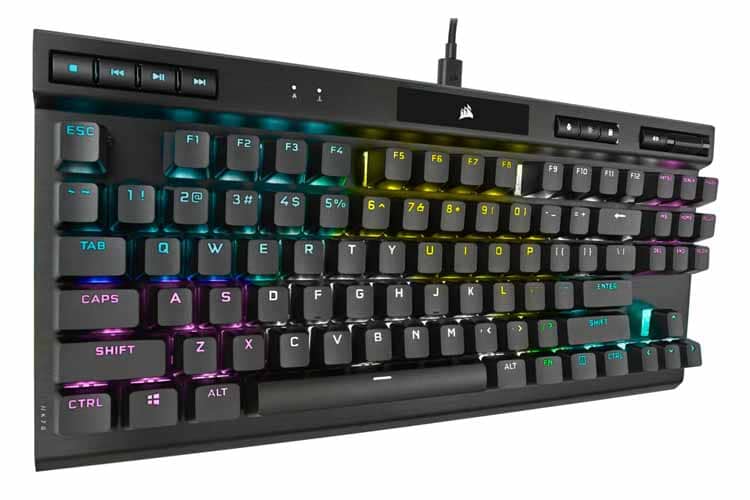 The Corsair K70 series is Corsair's long-running mechanical keyboard series. Some of the standard features that can be found on these keyboards include Cherry MX switches, RGB illumination, dedicated macro keys, media keys, and a volume wheel, an aluminum frame, USB Passthrough, and a configurable gaming mode via the Corsair iCUE software. 
The K70 comes in two flavors: full-sized and TKL. With these two models, gamers can choose which form factor suits them best. The full-sized layout benefits those who need the Numpad, while the TKL version is for gamers who need to take their keyboards on the go.
In addition, the K70 series comes with a variety of Cherry MX switches. These include Cherry MX Red, Speed, Brown, Blue, and Silent. There are also Cherry MX low-profile switches, which are perfect for those who want a slimmer keyboard or those who are used to typing on chiclet/laptop keyboards. Overall, the Corsair K70 series has all the bells and whistles and all the essential features that any gamer would need.
K70 RGB Champion Series Highlights
Cherry MX Switches

Durable Aluminum Frame

Dedicated Multimedia and Volume Controls

Comes in various Form Factors (TKL, Full-Size)
Corsair K65 Mini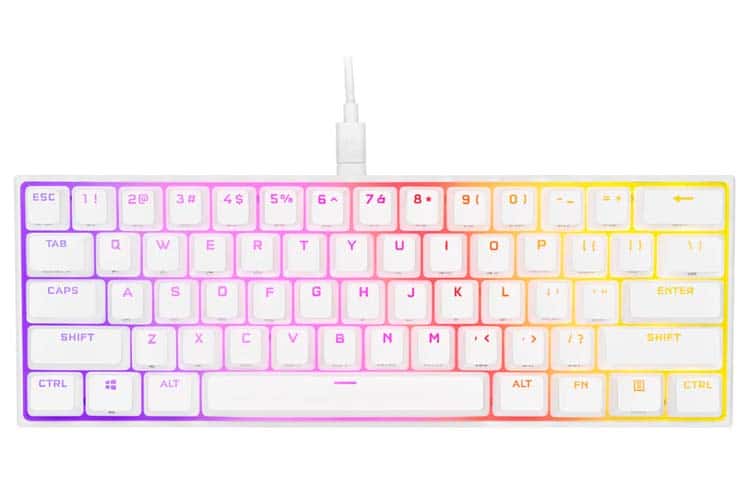 The Corsair K65 Mini is Corsair's take on a small and lightweight gaming keyboard. It sports a 60% form factor, meaning it only has the main keys. The F-keys, Numpad, and arrow keys are not present on this keyboard.
While this may seem odd for many, being a small keyboard has lots of perks. It lets gamers position their mouse and keyboard easier since it has plenty of space. It also eliminates all the keys that are not needed for gaming.
The only possible downside with this keyboard is that it does not have Corsair's signature media keys and macro keys. However, this is something that gamers must be willing to lose in order to achieve the smallest form factor possible.
Aside from its smaller size, the K65 Mini has all the features that you would expect from a Corsair keyboard. It is equipped with either a Cherry MX Red or Silver switch, built-in memory, and per-key RGB. It is also the only Corsair keyboard that is offered in a white colorway. Overall, the Corsair K65 Mini is perfect for those who want a compact gaming keyboard as well as for gamers who want to try something new.
Corsair K65 Mini Highlights
AXON Hyper-Processing Technology

60% Form Factor

Detachable USB Type-C Cable

Anti-Ghosting

Full N-Key Rollover
Corsair K68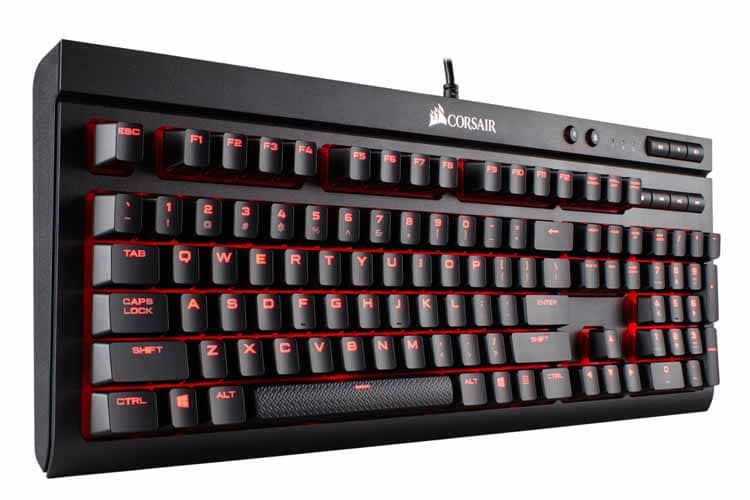 The Corsair K68 is very similar to the K70 in terms of its design and feature set. However, what sets this model apart is its IP32 dust and spill resistance rating. This means that this keyboard is protected from accidental spills and sweat.
Mechanical keyboards are generally not water-resistant. If you spill a drink on them, they would be in a very bad situation. But with the K68, gamers should not be worried about any potential accidents.
And the best part about this is that the K68 does not compromise on its internals. The K68 is still utilizing Cherry MX switches. The choices this time around are more limited to the Cherry MX Red and Blue.
It would have been nice to see other switch variants, but these two are already proven to be very capable switches for gaming. Overall, the Corsair K68 is perfect for gamers who are looking for a very durable gaming keyboard that can withstand any accident or any harsh condition.
Corsair K68 Highlights
Dust and Spill Resistance (IP32 Protection)

Per-Key Backlighting

8MB Onboard Memory

Windows Key Lock Mode

Dedicated Volume/Multimedia Controls
Corsair K95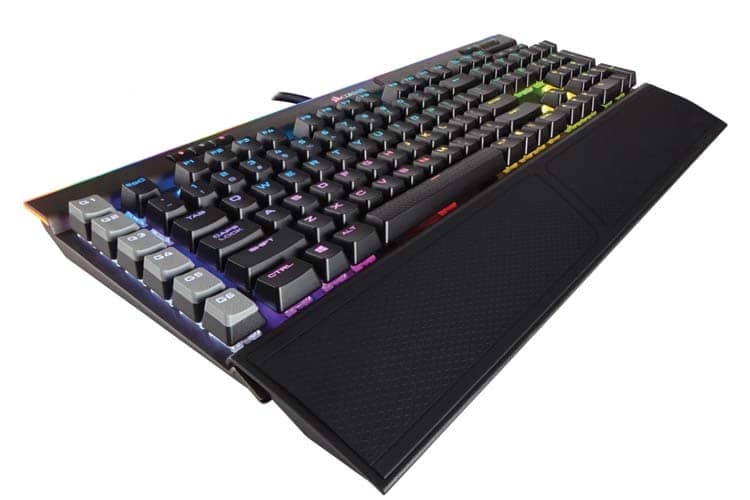 The Corsair K95 is the evolution of the K70. It sports a very similar design and has all of the features of the K70. But what makes this keyboard a step above the Corsair K70 is the addition of six dedicated macro keys/G keys to the left of the keyboard. This allows users to quickly store and execute macros without having to do complex key combos.
Another difference between these two keyboards is that the K95 is more specific when it comes to the switches that it offers. The only switches that are available on this model are the Cherry MX Speed and Cherry MX Brown. In contrast, the K70 offers more switches, such as the Cherry MX low-profile switches.
The Corsair K95 is also only available in a full-sized layout. This is unfortunate since it means that gamers who need macro keys must stick to the full-sized layout.
Aside from these, the K95 isn't too different from the K70. Overall, this keyboard is recommended for those who need macro keys and do not mind having less variety in terms of mechanical switches and sizes.
Corsair K95 Highlights
Cherry MX Switches
Dedicated Macro Keys
Aircraft Aluminum Construction
Onboard Storage
Corsair Strafe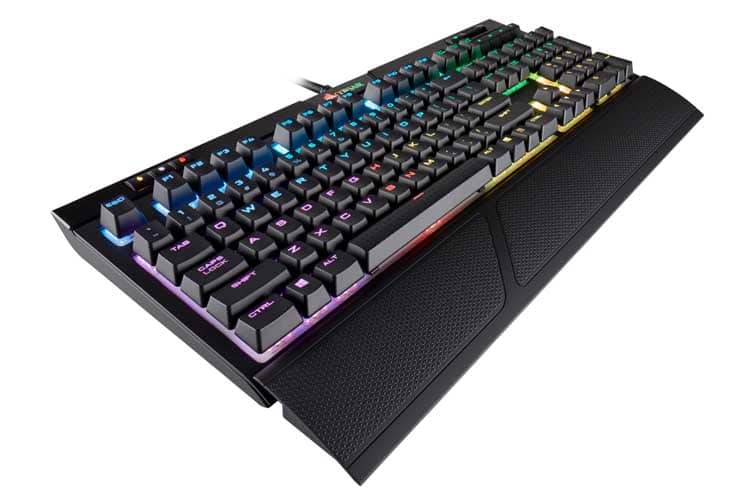 The Corsair Strafe shares the same DNA as any of Corsair's gaming keyboards. It has full RGB backlight support, onboard storage, durable keycaps, and Cherry MX switches. However, compared to the likes of the K70 and K95, the build quality of the Strafe is generally lower. 
It has an all-plastic build and is overall not as premium as Corsair's higher-priced keyboards. One perk that this keyboard has is that it can be purchased with Cherry MX Silent switches. This switch is perfect for those who do not wish to annoy people around them or for those who are not fans of the sound that mechanical keyboards produce. Overall, the Corsair Strafe is perfect for those who want a more budget-priced keyboard that still has all the bells and whistles found on Corsair's more expensive offerings.
Corsair Strafe Highlights
Stealth Mode Engaged

8MB Onboard Profile Storage

Stylish Brushed Aluminum Trim

Dedicated Volume/Multimedia Controls

FPS and MOBA Keycap Sets

Detachable Palm Rest
Corsair K63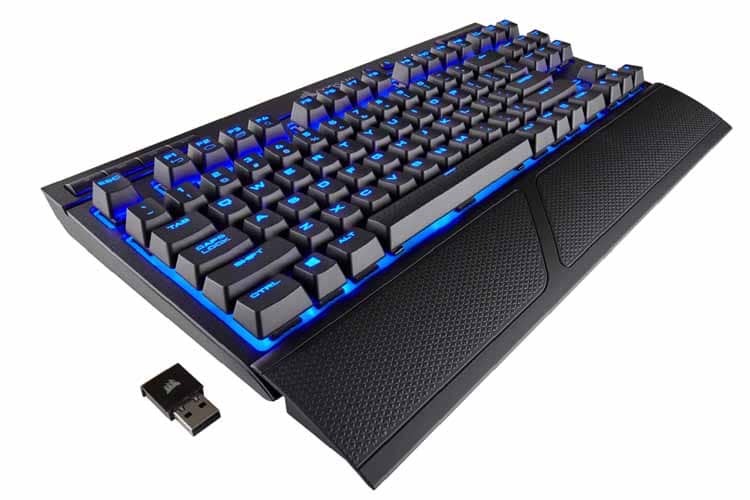 The Corsair K63 is the only wireless gaming keyboard in Corsair's gaming keyboard lineup. It shares the same design elements as the media keys found on top of the keyboard. It also has onboard storage and various RGB effects.
However, despite all these features, the K63 is not Corsair's highest-end keyboard. This is most likely due to its lower quality plastic construction which is essential in order to achieve optimal wireless transmission.
But aside from its build quality, the K63 succeeds in giving an excellent wireless experience. It has long-lasting battery life as well as a TKL form factor making it perfect for taking outside. The K63 is also compatible with Corsair's lapboard, making it perfect for use on the couch. Overall, the k63 is highly recommended for those looking for a wireless version of Corsair's keyboards.
Corsair K63 Highlights
Ultra-Fast Wireless and Wired Mode

Strong Wireless Encryption

Compact and Portable

Long-Lasting Battery

100% Anti-Ghosting with Full Key Rollover
Corsair K55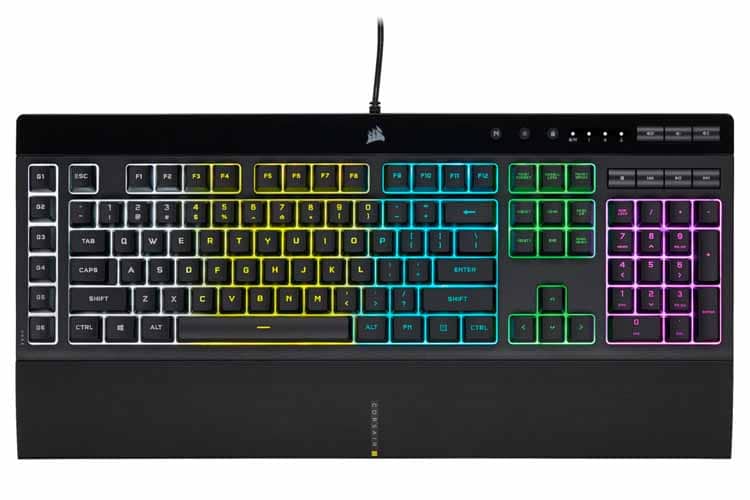 The Corsair K55 is Corsair's entry-level keyboard. Its design is still based on Corsair's flagship gaming keyboards. However, there are a number of compromises made to accommodate its more affordable price tag.
Like Corsair's K95, the K55 features media keys, a detachable wrist rest, and dedicated macro keys. However, the K55 utilizes membrane keys instead of the usual Cherry MX mechanical switches.
This means that the experience will be a step below mechanical keyboards. It also means that this keyboard may not feel too different from regular membrane keyboards. However, the perk with these keys is that the K55 is spill-resistant. The internals and switches of the keyboards won't get damaged during an accidental spill.
Another limitation of this keyboard is its RGB backlighting. Per-key RGB isn't supported, meaning users can only set the color on specific zones. But aside from these limitations, the K55 is still a solid keyboard that is perfect for anyone who wants a taste of the Corsair experience.
Corsair K55 Highlights
RGB Backlit

Full-Sized

Come with Six Macro Keys

IP42 Spill Resistance

Quiet Keys
Do Pros Use Corsair Keyboards?
As we have mentioned earlier, Corsair has sponsored lots of well-known professional gamers and gaming organizations. This means that their keyboard designs are tried and tested under the most intense situations. Here are some more details about the Esports organizations that Corsair currently sponsors.
Team Secret
View this post on Instagram
Team Secret is a European Esports team best known for their Dota 2 roster led by the legendary Puppey (TI 2011 Winner). The organization has further expanded their reach and are now participating in other titles such as Valorant. 
Some of Team Secret's achievements include winning the 2020 Esport Team of the Year award, Omega League: Europe Immortal Division (1st place), DreamLeague Season 13 (1st place), and many more.
Envy 
Team Envy (Parent Company: Envy Gaming Inc) was originally founded as a Call of Duty team in 2007. In just a short period, Envy managed to be one of the largest and most successful Esports organizations in the world. Today, the organization is involved in the following titles: Valorant, Overwatch, Call of Duty, CS: GO, PUBG, Street Fighter V, Paladins, FIFA, and Fortnite.
Some of their most notable achievements include winning the 2019 Overwatch Contenders: North America West Season 1 Championship, 2018 Esports Superstars: Paladins Championship, 2017 Overwatch Contenders: North America Championship, and more. In line with their achievement, Envy was named the Esport Team of the Year in 2016.
Vitality
View this post on Instagram
Vitality is a French Esports organization that participates in a wide variety of games. They are quite popular and have over 20 million followers on their social media platforms. They are also sponsored by large brands such as Adidas, Orange, RedBull, and more. Some of Vitality's achievements include bagging 1st Place in the BLAST Premiere: Fall 2020, 1st Place in the Intel Extreme Masters XV – Beijing Online: Europe, and more. 
Berlin International Gaming (BIG)
View this post on Instagram
BIG is an organization that hails from Berlin, Germany. Some of their recent achievements include bagging 1ST Place on the Funspark ULTI 2020, 1ST-3RD Place on the BLAST Premier: Spring Groups 2021, and 3rd Place on the BLAST Premier: Spring Groups 2020. 
Why Buy Corsair Keyboards?
View this post on Instagram
The main reason to buy Corsair's keyboards is their reliability. Corsair has been in the game for a very long time. Their products have been tested by the best players around the world under the most intense tournaments.
In addition, Corsair is one of the few brands that are still utilizing Cherry MX switches. These switches have been in the market for decades and have proven to be very reliable switches.
Corsair's designs are also meant to combine maximum performance and cool looks. They have class-leading RGB that can be programmed by their iCUE software.
Corsair's gaming keyboards may not be the most revolutionary. However, they tick all the essential boxes that gamers are looking for in a gaming keyboard.
Why Should You Look for Alternatives?
Despite how good Corsair's keyboards are, they are starting to fall behind today's mechanical keyboard market trends. Companies are now moving towards features similar to custom keyboards. These include higher levels of customizability and switch options.
With Corsair's keyboards, you are pretty much stuck with their Cherry MX switch offerings. Consumers will also be stuck with the limited number of sizes and layouts that Corsair provides.
Corsair's keyboards are without a doubt great keyboards for those who are looking for something reliable out of the box. But for those who want to explore more mechanical switch types or for those looking for a more customizable and interesting-looking keyboard, make sure to check out what custom mechanical keyboards have to offer.
Where to Buy Corsair Keyboards?
Corsair keyboards can be bought directly from Corsair's website. Their products are also available in most mainstream online stores such as Amazon. You can also find them in most physical retail stores.
Corsair Keyboard Warranty
Corsair offers a 90-days warranty for their gaming keyboards. Check out Corsair's Official Website to learn more.

The KBE team is dedicated to sharing our knowledge and creating useful resources about computer keyboards. This article was written as a team collaboration, combining our knowledge and years of experience using, building and modding keyboards. Meet the team here.