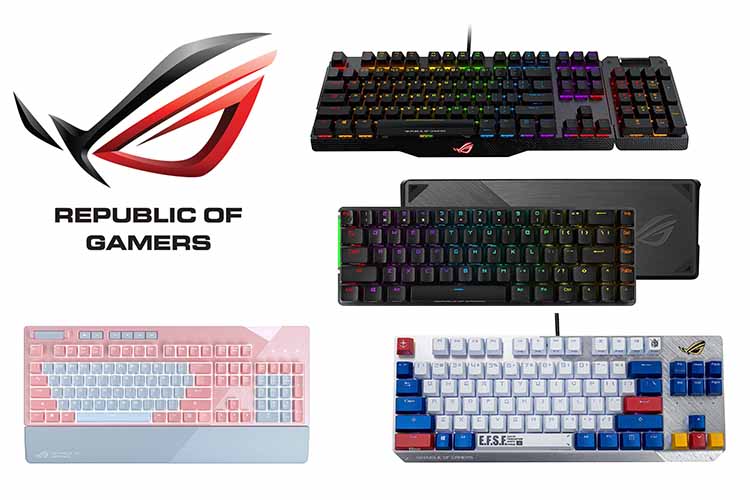 Asus ROG is one of the most popular gaming brands in the industry. They make everything from gaming laptops and pre-built gaming desktops to peripherals such as keyboards and mice. In the many years that they have been in the industry, they have established themselves as a major player creating tools that both gamers and professionals can rely on. 
Asus ROG is pretty much synonymous with high-performance gaming gear.  Their gaming laptops and monitors are trusted by professionals and gamers around the world. In recent years, they have also entered the mechanical keyboard market and are showing dominance just like in every field that they have entered in the past. 
Like Razer, ROG brands their products as "for gamers, by gamers". Although not explicit, the vibe is clear in their aesthetics. Each one of them outright gives off the impression that they were designed for the consumption or enjoyment of gamers or e-sports professionals.
Their marketing schemes are also hinged on this principle. ROG peripherals are neither for the casual user, nor the office worker. It is for hardcore gamers. 
In this article, we will be going through all the key aspects of the Asus ROG branding. We will be talking about the rich history of the brand's mechanical keyboard lineup. And by the end of our brand review, users should have a good idea if Asus ROG is a brand that they should go with for all their keyboard needs.
Asus ROG Brand History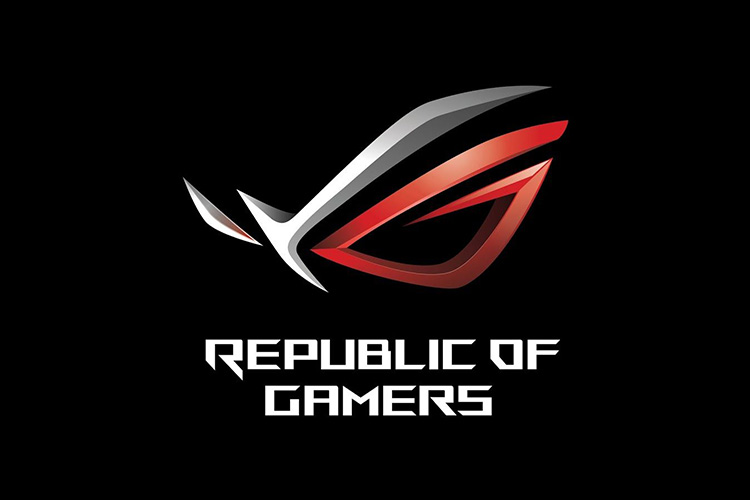 ROG was conceived by Asus way back in 2006 with its first product being a gaming motherboard, the ROG Crosshair. The ROG Crosshair was aimed at PC enthusiasts wanting to juice more fuel from their motherboards. It is overclockable and can be tweaked extensively.
After securing its position in the competition, it has started to explore and create products such as computers, graphic cards, and the focus of this article, gaming peripherals, specifically keyboards. 
Early Years
The inception of ROG gaming peripherals was not during the early waves and growth of esports. During those times, ROG focused its attention on offering computers and parts such as graphic cards, motherboards, and a lot more. While it rode a different wave, it still holds a firm position on the markets they are in. The brand does not hold any position other than those together with standard and above market standard brands. 
Mainstream Fame
ROG delved late into the gaming keyboard scene. Be that as it may, it rapidly reached a position comparable to powerhouses such as Razer, Logitech, Corsair, and the like. As it hails from the humble country of Taiwan, the brand is somehow an answer of the east against these western giants. 
Up to date, the brand has started to collaborate and innovate the designs of its peripherals through different themes widely known by its market. Their collaboration with Gundam through the ROG Strix Scope TKL Gundam Edition has been the talk of the town as Gundam is a popular merchandise not only among gamers but for laymen out there. While it is for their laptop line, their collaboration with Alan Walker should also not be discounted. 
Similar to other big names, ROG initially equipped their keyboards with Cherry MX Switches until the introduction of their so-called ROG RX switches. While these may be a popular and typical move by big brands, ROG did not simply end in providing a standard typing experience to its mechanical keyboards. ROG keyboards are widely known for their no-compromise designs that will be discussed later. 
Asus ROG in ESports
The presence of ROG in the ESports scene is imminent. The Brand sponsors known professional teams such as Ninjas and Pajamas, Rex Regum Queon, and a lot more. Not only that. ROG also sponsors Esports events and tournaments. 
Their presence and contribution to the industry cannot be discounted. Indeed, they have been one of the brands that pushed for the continued and steadfast growth of gaming communities around the globe. 
Asus ROG Keyboard Lineup
ROG entered the market initially offering the Horus line way back in 2015. The Horus line gave off this ultimate gamer vibe similarly found in other big names such as Razer, Logitech, and Corsair. The Horus line sported the typical full keyboard layout during those days with additional macro keys, Cherry MX switches, and a unique mobile stand dock. 
Did it catch the attention of the market? It did a little bit but considering that it is priced in competition with the big names such as Razer and Corsair, the campaign did not establish the presence that the brand is enjoying now. ROG emerged in the market when it started to offer the Strix and the Strix Scope series.
At present, ROG offers premium mechanical keyboards likewise at a premium price without cutting any corners. Here are some models and product lines you need to take note of: 
Asus ROG Falchion
The ROG Falchion is currently one of ROG's flagships. Being integrated into the ROG ecosystem, the Falchion is a keyboard that offers convenience and premium features that will surely define the way you game. 
The ROG Falchion is available both in ROG NX and Cherry MX switches. Here, we can see that the brand is slowly transitioning into building its in-house switches for its keyboard. Is there a substantial difference between the two switches?
According to ROG, affirmative. ROG NX switches are better in helping muscle memory to materialize through tuning up the actuation point of the switch in such a way that it actuates and reset at the same point on near-to-zero distance (for the blue switch. 1.8mm for NX Red, and 2.0 mm for NX Brown). This may pose a concern for some users as it may execute unwanted key presses that will disrupt the gaming experience. 
Nevertheless, the Falchion is a premium mechanical keyboard that is equipped with the same ROG features that all ROG keyboards enjoy such as AuraSync integration, and aluminum construction. It also has this touch panel on the side that you can program as your volume rocker or other available functions. 
Highlights
RGB & Wireless functionality

Available in ROG NX switches / Cherry MX switches

Programmable interactive touch panel
Asus ROG Strix Scope
The ROG Strix series is the brand's main offering to the Market – some of its models being made in collaboration with other popular franchises such as Gundam, Call of Duty, and many more. It is the apple of the eye that gets the best treatment from the brand. 
This series shows the best of what ROG can offer in helping you achieve the setup of your dreams. Likewise, on these series, we can see the intent of ROG to transition to its in-house switches. The Strix Scope is offered in Cherry MX (for most models), and models exclusively sporting the RX and NX switches respectively. 
The RX Switches are optical-mechanical switches that utilize the extensive research and development of the brand. It has a 1.5mm actuation point with a total 55g need of actuation force and is linear in nature. According to ROG, their methodology herein resulted in a light-speed actuation that triggers the user to be ahead of the competition. 
 Highlights
Offered in TKL and Full layout

Available both in ROG NX, ROG RX, and Cherry MX switches

Wired Connectivity

Has a wide variety of themes to choose from. 
Asus ROG Strix Flare
If you're in the market for a full layout mechanical keyboard that has Cherry MX switches on it and is willing to spend a premium, ROG Strix Flare can be one of your choices. ROG Strix Flare dared to be different through the customizable illuminated badge. 
It has media keys, ROG Aura Sync, and nothing more. It is also offered in some limited edition themes such as the Flare and the Call of Duty Black Ops 4 Edition. Other than that, there is nothing to talk about. 
Highlights
Offered in full layout

Media controls and a customizable illuminated badge

Available in Cherry MX switches

Wire Connectivity
Asus ROG Claymore / Claymore II / Claymore Core
The mothership of ROG Keyboards. The Claymore line exists to show what ROG is capable of and its potential to be an industry-leading brand. Both reiterations including the separate offering of the Core version include the capability of reducing the space your keyboard eats in your desk. 
Take also into account that the Claymore II is exclusively equipped with the RX Switches and its detachable Numpad can be attached on the left side for ergonomic issues. Needless to say, the line is maxed out with what ROG is capable of to its market for a hefty price tag. 
Highlights
80% TKL Layout with a detachable Numpad. (Core Version = 80% TKL Layout)

Offered in RX Switches (For Claymore II), and Cherry MX Switches (For Claymore I)

Option for wireless connectivity (For Claymore II)

Hotkey for motherboard control (In Claymore )
Why Buy Asus ROG Keyboards?
ROG Keyboards are hard sells. While it has its premium features and not to mention a solid build quality, it was placed in a position wherein the amount of money you are going to spend on it, are better placed in more practicable buying decisions. In other words, you can get the same satisfaction that a ROG Keyboard offers on some keyboards out there without spending a premium. 
While this may be the case, buying a ROG keyboard opens the doors to what the ROG experience can give you. ROG gaming peripherals, computers, and a lot more compose an ecosystem wherein all can function in harmony and synchronization with each other. The ROG Armoury Crate software bears this responsibility and mind you, it does it way better than most peripheral software.
In this light, buy ROG Keyboards if you wish to create a ROG-themed setup. If you want a decent keyboard and are willing to spend a premium, consider getting a ROG keyboard. Other than these reasons, there is no reason to splurge on one especially if you are on a tight budget. 
Which Asus ROG Keyboard To Buy?
Go with the Falchion or a Strix Scope TKL. Both series have models that offer what buyers primarily need on a mechanical keyboard. To repeat, these keyboards are also gifted with the benefit of being integrated into the ROG Armoury Crate and most premium features that a ROG keyboard have: aluminum construction, ROG Aurasync, custom themed keycaps (for some limited releases), and Cherry MX switches. 
Where to Buy Asus ROG Keyboards?
ROG keyboards can be bought directly from the ROG website. Their products are also available in most mainstream online stores such as Amazon. You can also find them in most physical retail stores.
ROG Keyboard Warranty
ROG offers a 1 to 2-year limited warranty for their gaming keyboards. Check out ROG'sOfficial Website to learn more.

The KBE team is dedicated to sharing our knowledge and creating useful resources about computer keyboards. This article was written as a team collaboration, combining our knowledge and years of experience using, building and modding keyboards. Meet the team here.