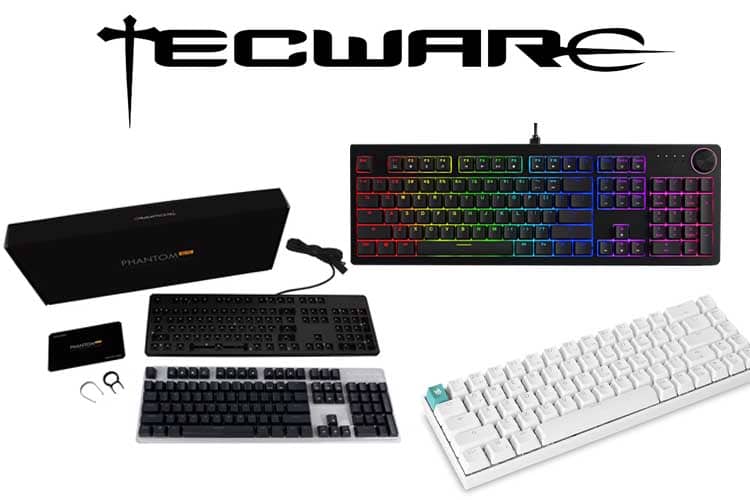 Tecware began almost ten years ago with a simple enthusiasm for personal computers. The company's simple enthusiasm evolved in tandem with the current generation of desktop computers. In the ever-changing PC desktop industry, they are now pushing themselves into entering the keyboard market for the opportunity to cement their name as one of the tech giants in their industry.
Tecware was built based on their passion for personal computers. Today, they are best known for their competitively priced gaming peripherals. The brand was able to set itself apart from the rest of the competition by providing innovating products and high-end features at a low price point. 
The company recognizes the fact that PC gaming would drive demand for faster, and more powerful computer peripherals and the budget limit of every consumer. In this regard, they continue to offer the market their affordable yet decent enough market peripherals for every consumer out there. In this article, we are going to discuss what you need to know about the brand and how do they fare in the highly competitive market of gaming keyboards.
Brand History

Tecware's philosophy into entering the gaming peripheral market is that there must be a balance between the performance and price of all of its products. The brand never strayed away from its principles as given proof by their product lineup that can be afforded by all kinds of users.
The company was founded way back in 2014 with the goal of creating better solutions in the ever-changing PC desktop and gaming market while achieving a balance of form, function, and price. They are also known for their affordable PC cases of all kinds that will surely be the joy of those who want to start their PC building journey.
Keyboard Line Up
Tecware
Phantom RGB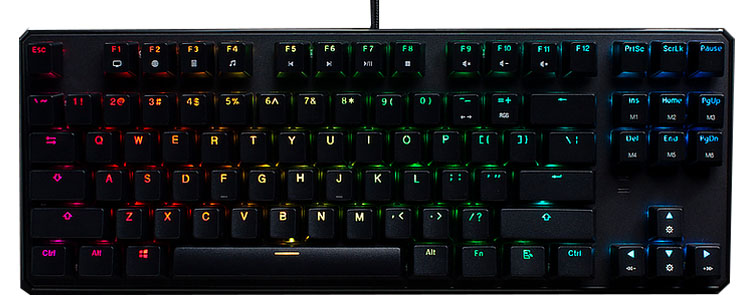 Phantom RGB Highlights
TKL Form Factor 87-Key Keyboard

RGB Backlighting with 18 Pre-Set Lighting Modes

Hot-Swappable (Comes with Outemu Switches of Your Choice)

N-Key Rollover

Multimedia Keys

PBT Keycaps

Aluminum Baseplate
The Tecware Phantom RGB has a durable yet compact design that will last for years, thanks to an aluminum baseplate and double-shot keycaps. It also has 100% anti-ghosting technology, as well as N-key rollover, to ensure that every key hit is registered.
Outemu switches are used in the TECWARE Phantom RGB, and users can choose among Outemu blue, brown, or red switches. Users have the option of choosing between crisp and loud tactile switches, silent and smooth linear switches, or a switch that is equally balanced.
Do not forget that the keyboard is hot-swappable meaning you can easily replace or change its mechanical switches easily. Each keyboard includes four spare switches, a keycap puller, and a switch puller, ensuring that customers have everything they need to replace a damaged switch at their leisure.
Tecware Phantom Elite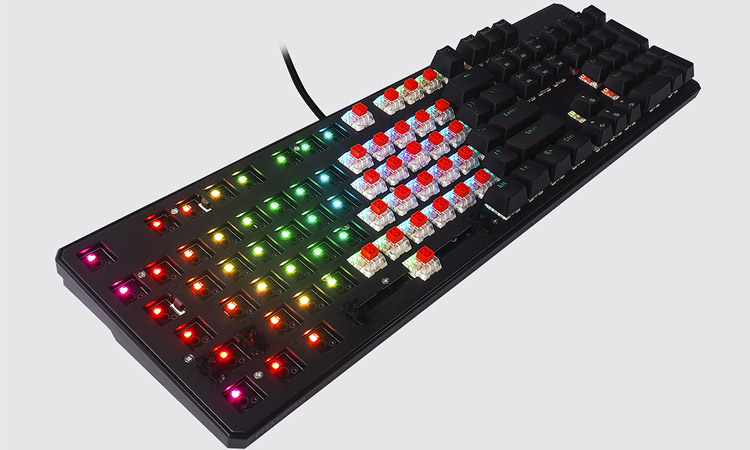 Phantom Elite Highlights
Full-sized 104-Key Keyboard

RGB Backlighting with 18 Pre-Set Lighting Modes

Hot-Swappable (Comes with Gateron or Kailh Switches of Your Choice)

N-Key Rollover

ABS Keycaps

Aluminum Baseplate
The Phantom Elite is nearly identical to its forerunner, the Phantom, including per-key RGB lighting customization, double-shot ABS keycaps, and a long-lasting metal baseplate. The Phantom Elite is also hot-swappable. All features that the Phantom has are jampacked into this keyboard except for PBT keycaps. Be that as it may, the keyboard is basically a Phantom in a full-sized form factor.
Tecware
PHANTOM L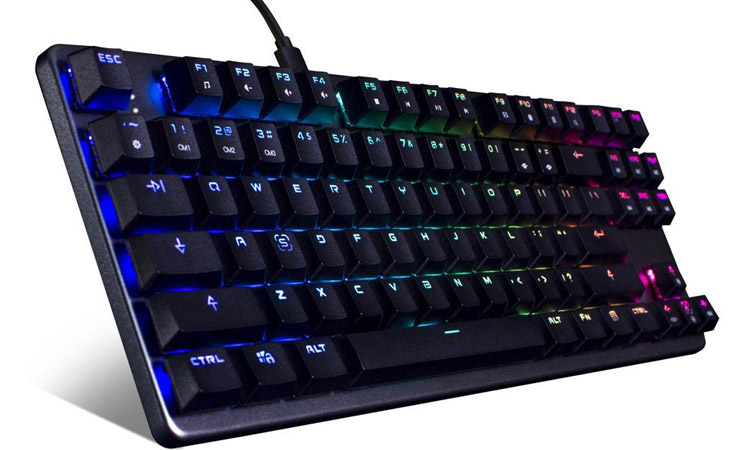 Phantom L Highlights
TKL Form Factor 87-Key Low Profile Keyboard

RGB Backlighting with 18 Pre-set Lighting Modes

Hot-Swappable (Comes with Outemu Low-Profile Switches of Your Choice)

N-Key Rollover

ABS Keycaps

Aluminum Baseplate
The Phantom L is the company's first mechanical keyboard with a low-profile design. Outemu Low Profile Mechanical switches (Red, Brown, Blue) are used on this keyboard, which have shorter travel and actuation distances for faster key presses and less finger strain. Shorter keycaps keep the curved shape for a more pleasant typing experience.
Tecware SPECTRE PRO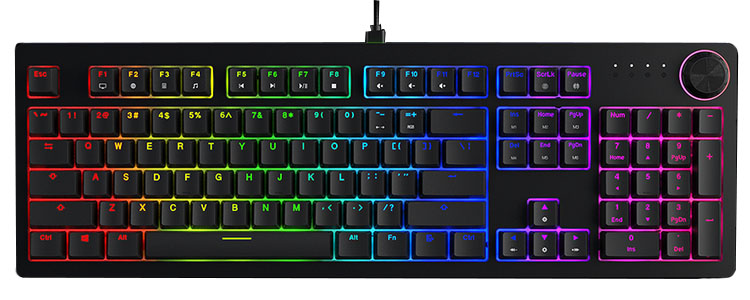 Spectre Pro Highlights
Full-sized Form Factor 107-Key Keyboard

Dedicated Volume Knob

Per-Key RGB Backlighting with 12 Pre-Set Lighting Modes

Wrap Around RGB LED Strip to Produce that Side Underglow Effect

Hot-Swappable (Comes with Outemu Mechanical Switches of Your Choice)

N-Key Rollover

ABS Keycaps
The best of them all. The Specter Pro carries the keyboard product line of Tecware. AS its pride, it is only but proper to equip it with premium features such as a dedicated volume knob and per-key RGB backlighting customization. The keyboard however did not carry the "floating-key" design of its younger brothers to preserve the mechanical keyboard experience in its purest.
What takes apart the Spectre Pro from its forerunners is its RGB underglow effect produced by a LED strip wrapped around the sides of the keyboard. Indeed, this keyboard is a testament as to what Tecware is capable of in the competition they want to strive in.
Tecware B68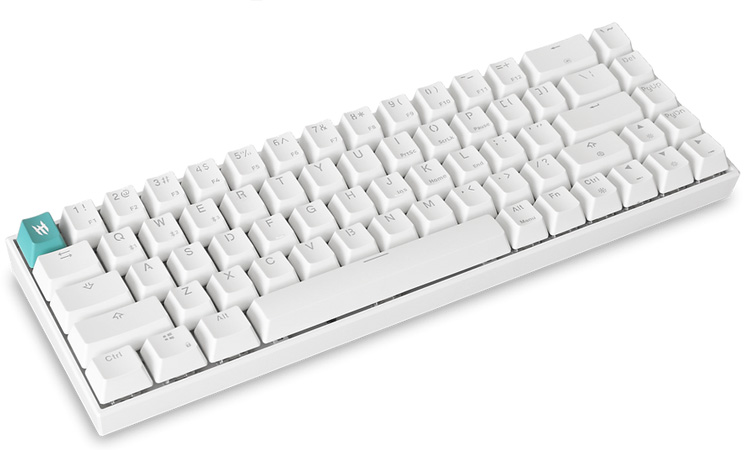 B68 Highlights
65% Form-Factor 68-Key Keyboard

Dedicated Volume Knob

Wireless Connectivity through Bluetooth 5.0

RGB Backlighting with 11 Pre-set Lighting Modes

Hot-Swappable (Comes with Gateron Mechanical Switches of Your Choice)

N-Key Rollover

ABS Keycaps
The keyboard is designed with a low-profile housing that houses only the keys of the keyboard, without any superfluous buttons or decorative embellishments, to maintain a minimalistic aesthetic.
The B68 is the brand's attempt to enter the 65% keyboard competition and is quite spectacular at that. Its minimalistic approach with utmost consideration to its end-user's convenience through the addition of wireless connectivity through Bluetooth 5.0 is truly a bundle of joy for everyone.
On the underside of the keyboard, cable guides are intended to help with cable management by preventing tangling and interference. Its small footprint and compact design allow you greater desk space and simple travel.
What Makes Tecware a Good Brand?
View this post on Instagram
The keyboard support software is rather simple to use, so even inexperienced users should have no trouble navigating it. Tecware appears to have gone to great lengths to ensure that all of the legends are lit uniformly. For example, take the number row: although conventional keyboards place the secondary symbols below the numbers, the Tecware places them right next to each other, immediately above the LED.
Another intriguing characteristic of the brand's keyboard is its hot-swappability. So you're not trapped with the same switch type forever, you can use the provided tool to pluck out individual switches – hold the switch along its top and bottom borders and give it a forceful tug – and replace them with a different switch. However, because Outemu switches have different pins to Cherry MX-style switches, you can only use Outemu switches on the keyboard.
The majority of the function keys also serve as media controls and quick access to your music player, calculator, web browser, and even file explorer. Little usability elements like this elevate the keyboard above the competition, as it would be easy to overlook them.
Tecware should be complimented, though, for using double-shot ABS keycaps, which are still uncommon even on keyboards twice as expensive. These keycaps are made up of two pieces of plastic that are molded together to keep the legends from fading over time. Consider, however, that ABS keycaps are not as durable as PBT keycaps.
The company's decision to instead opt for ABS keycaps may be questionable for some, but objectively speaking, these are enough for casual mechanical keyboard users.
Do Gamers Use Tecware Keyboards?
View this post on Instagram
In comparison to other firms that offer keyboards in the same price range, such as Hyperx and Corsair, Tecware keyboards are not well-known. These are the most popular keyboard brands among professional gamers. Many casual gamers, on the other hand, have seen right through Tecware. Many keyboard reviewers think that this brand deserves to be given the same amount of attention as other companies.
Most gamers would prefer to go with a more well-known manufacturer like Razer and Logitech. But, at a considerably cheaper price range, the Tecware is equally as capable as some of their more expensive equivalents, which is quite an achievement. For those on a budget, Tecware keyboards are an excellent option.
Why Buy Tecware Keyboards?
View this post on Instagram
While the adage "you get what you pay for" is true in some cases, in the case of the Tecware, you get more than you pay for: A plethora of functions are available at a price that is comparable to those of higher-priced keyboards.
It's a well-rounded entry-level keyboard that strikes a good balance between price, performance, and aesthetics, making it an excellent alternative for people searching for high quality at a low price. The Tecware keyboard's overall comfort is uncompromised; the keys sit comfortably under one's fingertips, and the surface is pleasant to the touch. And at that price, you can't go wrong if this is your first mechanical keyboard.
Why Should You Look for Alternatives?
View this post on Instagram
Of course, like most brands in this price range, Tecware's keyboards are limited to what budget keyboards can offer. Yes, they are good for the price and can easily punch way above their weight class. However, they will still not be able to compete with more premium mechanical keyboards.
Several limitations of Tecware's keyboards include limitations in the mods and customization options, limitations in the keyboard switch offerings, housing/chassis offerings. etc. Also, the design of Tecware's keyboards will surely not be for everyone.
Again, there is nothing wrong with Tecware's offerings. But there are more premium options out there both in the prebuilt and custom keyboard markets.
For those looking for more premium and high-end prebuilt mechanical keyboards, we highly recommend checking out brands such as Filco, Leopold, HHKB, and IQUNIX.
And for those who want to venture into custom keyboards, we recommend checking out our brand reviews of Novelkeys, Cannonkeys, and KBDFans.
Where to Buy Tecware Keyboards?
Tecware keyboards can be bought directly from the brand's official website. Their products are also available in most mainstream online stores such as Amazon. You can also find them in most physical retail stores.
Brand Keyboard Warranty
Tecware offers a one-year limited warranty for their gaming keyboards. Check out Tecware's Official Website to learn more.