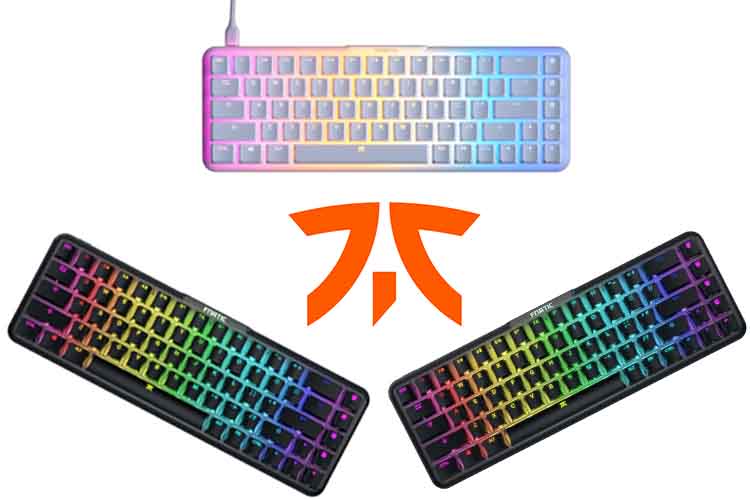 One thing that gives authenticity to gaming keyboards/gaming peripherals is when they are used by professional Esports players and organizations in major tournaments. For many brands, this is the case since they often sponsor multiple big-name Esports teams. However, Fnatic has taken things to the next level by manufacturing their own gaming peripherals, which assure customers that they are using gear that their organization and players swear by.
Fnatic Gear is Fnatic's very own gaming peripherals brand. They specialize in creating gaming keyboards and gaming peripherals that are used by their own Esports athletes. The brand has been praised thanks to their enthusiast-grade designs that can be appreciated even by more casual gamers or professionals looking for a high-quality mechanical keyboard.  
Fnatic Gear is unique since they are currently the only gaming peripherals brand owned by a large Esports organization. They are also not just a simple marketing gimmick. The brand has gone through great lengths to ensure that their players can depend on them and that they can compete with the big-name gaming peripherals brands.
In this article, we will be taking a deep dive into Fnatic Gear's offerings. We will also be taking a look at the brand's history as well as their reputation. Ultimately, this article should help users make decide if Fnatic Gear is worth their price tag.
Fnatic Brand History
Fnatic Esports Organization

Before we talk more about their gaming peripherals, let us first give a quick introduction to the brand. Fnatic was established in 2004 by Sam and Anne Matthews. This was an era where the concept of Esports did not exist. The image of gaming was also not that great and was not widely accepted at the time.
Fnatic started out as a Counter Strike team. However, after many successful tournaments, they were able to expand into many games. Now, more than a decade later, they are widely considered to be one of the most successful Esports organizations.
They are notable for their appearances in various Esports titles, including League of Legends, Dota 2, CS: GO, Valorant, R6 Siege, and many more. They were also crowned as the very first League of Legends World Champions back in 2011. Fnatic was also able to raise many talents, including Rekkles, Huni, Xpeke, Bwipo, and many more.
In addition, their success can also be seen through their various collaborations with Gucci, BMW, and many more. In fine, the brand is truly a trend-setter when it comes to how gaming companies should fully utilize Esports' growth in their favor. 
Establishment of Fnatic Gear
View this post on Instagram
Fnatic was originally partnered with Steelseries. But in 2015, the organization decided to part ways with them to create their own brand of gaming peripherals. They were able to acquire Func and rebranded their products into Fnatic Gear.
This was initially seen as an odd move by many gamers. To them, it didn't make sense to give up their partnership with Steelseries who have been producing many great Fnatic signature products. In addition, Func wasn't exactly a brand that could compete with big names such as Razer and Logitech G.
And to make matters worse. Fnatic Gear's first generation of products was simply a rebranding of existing Func products. However, the brand started gaining traction when they started releasing their original designs. Many fell in love with the brand's offerings because of how optimized they were for competitive gaming. And to many, this helped move the industry forward since many were demanding brands to step up and produce enthusiast-grade gaming peripherals.
Fnatic Gear Keyboard Lineup
The design philosophy behind the keyboards of Fnatic revolves around bringing a high-quality and compact keyboard that is designed to be an accurate tool for the gamer to manifest their mechanical skill and lightning-fast reaction times.
At present, the brand has three keyboards that are worth taking note of, namely the Ministreak, Streak65, and the Streak65 LP. Here are some notes that you may consider. 
Streak 65 LP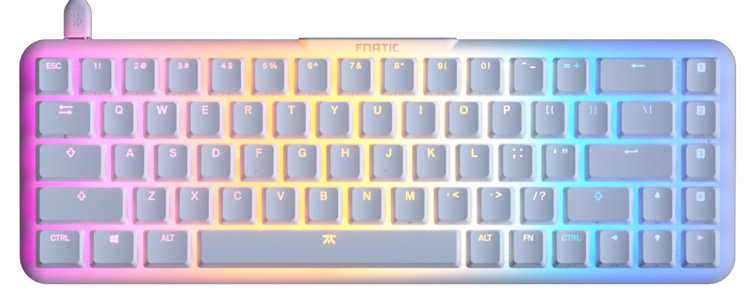 Streak 65 LP Highlights
65% Form Factor Available on Various Layouts

Low Profile Keycaps over Fnatic's Proprietary Low Profile Switches

Aluminum Construction

Lubricated Stabilizers

Added C

able
The Streak65 LP is Fnatic's current flagship keyboard. Basically, this is a refresh to the widely popular Streak65. Minimal changes were introduced, such as the shift to a coiled USB cable from the traditional black straight one. Worth considering also is the added dampening foam in the build. As a result, this allows for a better sound profile comparable to custom keyboards. 
Here, we can also take a ride on the brand's proprietary low-profile switches. Clearly, this was designed to materialize your fast reaction times. It has a 1.0mm pre-travel distance and a total of 3.2mm total travel with a 45g spring.
As these are low-profile switches, adding a dampening foam is almost unnecessary. However, the brand added one, resulting in a discreet sound profile that is almost an antithesis to the sound profile of a regular mechanical keyboard sound. 
Streak 65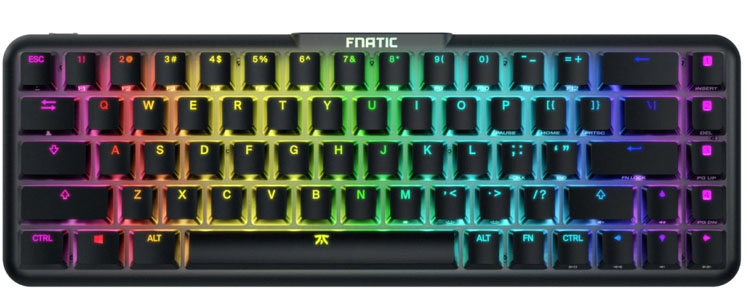 Streak 65 Highlights
65% Form Factor on Various Layouts

Fnatic's Low Profile Switches

Aluminum Construction

Factor Lubed Stabilizers
The Streak65 is widely popular as one of the best pre-built keyboards by reviewers. Objectively speaking, the changes introduced on its newer version, the Streak65 LP, are not so significant that they would make the original version inferior.
There are no changes in the switches, PCB, software support, or any of the keyboard's substantial parts. For its value, the Streak65 stands to be the most logical purchase out of the bunch. 
Ministreak Silent / Speed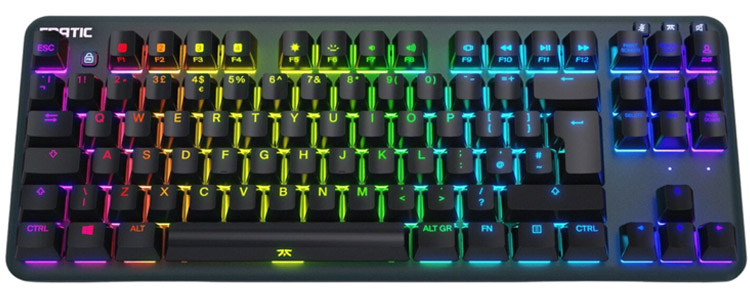 Ministreak Highlights
TKL Form Factor Available on Various Layouts

Plastic Chassis

RGB Backlighting with Software Support

Cherry MX Speed Silvers (Speed Edition); Cherry MX Silent Reds (Silent Edition)
Should you prefer Cherry MX switches, the brand still got you covered. The Ministreak is equipped either with Cherry MX Speed Silver or Silent Red switches. These are switches that are widely acclaimed by the community to be designed for gaming. Unfortunately, Fnatic did not release other keyboards equipped with other species of Cherry MX switches except for the aforementioned ones. 
Comparing the Ministreak to the Streak65, the Ministreak stands to be a little brother of the latter. While this may be the case, the Ministreak is still good for its price. Having a plastic chassis does not mean that it cannot pass the market's standard for durability. In fine, the Ministreak is still worth considering as an entry-level keyboard. 
Other Products of the Brand
View this post on Instagram
It is worth mentioning that Fnatic offers a plethora of gaming peripherals, accessories, and merchandise such as apparel, masks, tumblers, and the like. They also provide artisan keycaps to accent your Fnatic keyboard. Lastly, Fnatic's React Headphones and their Cluth2 mouse are also worth considering. 
Why Buy Fnatic Gear Gaming Keyboards?
View this post on Instagram
Aside from the reason that you are a fan of any of the organization's teams, Fnatic's keyboards cannot be discounted simply as merchandise to promote their name. After proper evaluation of the Streak65 LP, Streak65, and the Ministreak, it is safe to say that all of them are viable to be serious competitors in the entry-level category given their decent price-to-performance ratio. 
While their product line may not be wide enough to cover every kind of user, all the keyboards they have at present are clearly designed to improve your gaming experience and give the convenience that a decent entry-level keyboard offers. 
Why Look for Alternatives?
View this post on Instagram
Fnatic at present constricts its customers to choose between three mechanical switches. This is a relevant downside since their keyboards are not hot-swappable. If you are already used to a mechanical switch other than what Fnatic currently offers on their keyboards, then the most rational choice is to veer away from the brand's keyboards. 
Be that as it may, it is highly recommended that you take their low-profile switches for a spin, especially if you are a gamer that needs accurate responses for your keyboard. Compared to regular mechanical switches, low-profile switches actuate relatively faster than the former. 
Which Fnatic Gear Keyboard To Buy?
View this post on Instagram
If you are curious about how low-profile mechanical switches sound and feel, the Streak65. Otherwise, if you are already used to Cherry MX switches, then you better get the Ministreak. 
However, you are sacrificing the aluminum construction that the Streak65 and Streak65 LP have – including the factory-lubed stabilizers should you opt for the Ministreak. Even then, such features can be remedied through mods and customs. Do it at your own risk, though. 
Where to Buy Fnatic Gear Gaming Keyboards?
Fnatic keyboards can be bought directly from Fnatic's Gear's website. Their products are also available in most mainstream online stores such as Amazon. 
Fnatic Keyboard Warranty
Fnatic offers a 2-year limited warranty for their gaming keyboards. Check out Fnatic Gear's Official Website to learn more.
Stephen is the head content creator of Keyboardsexpert. His mechanical keyboard journey began in 2014 when he got his Razer Blackwidow. Since then, he has been fascinated with all things mechanical keyboard-related. He later discovered the custom keyboard hobby and fell in love with the vast customization options. He is currently searching for his endgame and is very excited to share his journey and educate other keyboard enthusiasts.