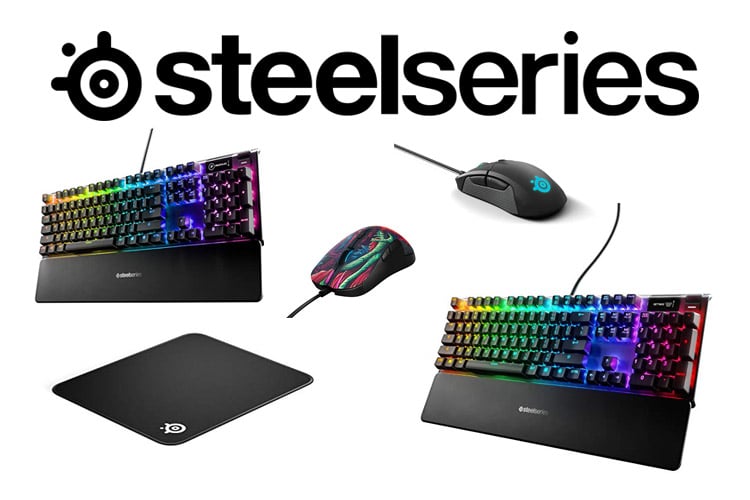 Steelseries is one of the oldest manufacturers of gaming peripherals. They have been in the game since 2001. They have also assisted some of today's top esports organizations and have worked together with various video game IPs for themed peripherals. 
Steelseries is one of the most storied companies in the gaming peripheral industry. They have developed some of the most iconic gaming peripherals and have assisted multiple world champions in their road to glory. They are a brand that continues to innovate and produce products that can be relied on by the most demanding gamers. 
Whether we are talking about gaming mice, mousepads, gaming keyboards, or even gaming headsets, Steelseries has done it all. In almost every category, Steelseries has a product that has reached legendary status. Some of these include the Sensei and Rival gaming mice series, the Apex Keyboard Series, the QCK mousepad series, and the Siberia line of gaming headsets.
In addition, Steelseries has done a lot to push the gaming keyboard forward. They were one of the early adopters of mechanical keyboard technology and is one of the only brands today that feature options such as OLED screens.
In this article, we will be discussing all the highlights of the Steelseries brand. We will be going through their history, product lineup, and notable achievements with Esports organizations. We will also be highlighting their gaming keyboard lineup and talking about whether or not their products are worth purchasing.
Steelseries Brand History

Early Years
SteelSeries is formerly known as Soft Trading and is founded by Jacob Wolff-Petersen (JWP). The company started in 2001  during Counter-Strike's rise into the mainstream.
The main product of the company at the time was the Icemat and Steelpad mousepads. These were specialized products that helped fix some of the problems that ball mice at the time were having.
The company primarily produced mousepads and partnered with several brands such as Microsoft. Their mousepads were often seen being bundled with Microsoft's Intelli Mouse.
Mainstream Success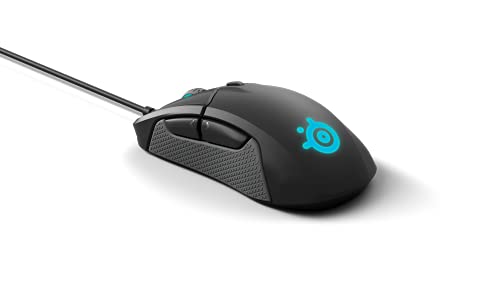 Steelseries later expanded their product lineup to various other gaming peripherals, including gaming headsets, gaming keyboards, and gaming mice. Some of the products that helped shape the future of Steelseries included the Steelseries Siberia, the Steelseries Sensei, the Steelseries QCK, and the Steelseries 6GV2.
The Steelseries Siberia is often touted as one of the world's first gaming headsets. It was the first of its kind as it introduced the concept of having a built-in microphone and set the bar in terms of how comfortable gaming headsets should feel.
The Steelseries Sensei is one of the company's most beloved gaming mice shapes. It has been used by countless professional gamers and is a shape that users keep going back to. It has also inspired countless other mice and is pretty much a legendary mouse at this point.
The Steelseries QCK is one of the brand's most successful products. It is a cloth mousepad that is designed to work well with various gaming mice sensors. Just like the other Steelseries products, it has set the standard in terms of what modern cloth mousepads should provide.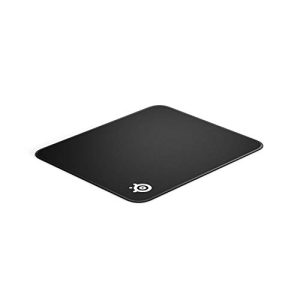 And lastly, the Steelseries 6G is one of the earliest mechanical gaming keyboards in the market. It provided a minimalistic design and utilized Cherry MX switches. It was incredibly popular at the time and served as the main rival to brands such as Razer and Logitech G (known as Logitech Gaming at the time).
Steelseries has also worked with various brands throughout the years. One of their long-running partnerships is with MSI Gaming. They have been the provider of the keyboards found on their gaming laptops. They have also integrated their Steelseries Engine to configure various functions of the built-in laptop keyboard.
The brand has also collaborated with various gaming franchises to produce peripherals based on their IP. Some of their most well-known collaborations include World of Warcraft, Starcraft, Counter-Strike: Global Offensive, and Dota 2.
Venture Into Esports
Steelseries has become one of the biggest supporters of Esports. Not only have they collaborated with Esports titles to create themed peripherals, but they have also been supporting various organizations throughout the years. Some of these organizations include Natus Vincere (Na'vi), Fnatic, Evil Geniuses, Virtus Pro, and many more. 
The brand supports various Esports titles in different genres and continues to support today's Esports organizations. Some of the teams that they have supported have countless achievements, including various tournament wins and world champion titles. We will talk more about these teams in detail later in the article.
Steelseries Keyboard Lineup
SteelSeries mechanical gaming keyboards revolve around the APEX series only. Yet, these keyboards can offer you a variety of very good mechanical switches, including their famous Omnipoint adjustable mechanical switch that can also offer you very reliable durability and performance. 
Steelseries Apex Pro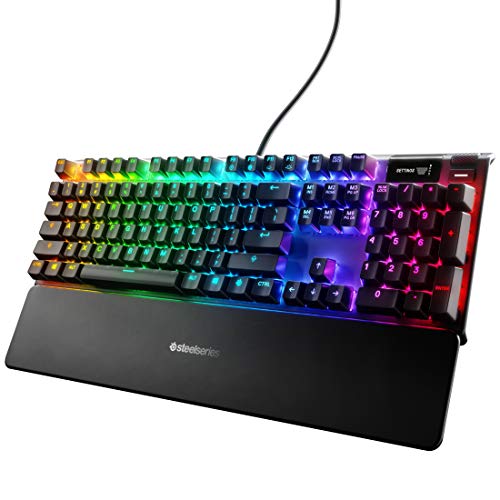 The Steelseries Apex Pro is currently the company's flagship mechanical keyboard. It features their new Omnipoint Hall-Effect switches that feature Analog Key Switch Technology. In a nutshell, this allows the user to set various parameters, such as the actuation point of the switches. In other words, it allows the user to set how sensitive and how fast they want their switches to actuate.
In addition, these analog switches allow the keyboard to achieve a performance similar to the analog sticks on game controllers. They allow for fine movement on certain games such as Fortnite and various racing games. One thing to take note of is that due to how the switches work, they are only available in a linear version.
Apart from its unique switch technology, the Apex Pro also has several features that appeal to regular consumers. On the top right of the keyboard are multimedia keys as well as a dedicated OLED screen. The OLED screen is a treat for users who loved the design of older keyboards such as the G19 from Logitech.
The Apex Pro also features an aircraft-grade aluminum frame for maximum durability as well as a detachable wrist rest for added comfort. And lastly, the Apex Pro has full per-key RGB Lighting, which can be configured via Steelseries Engine.
Overall, the Apex Pro has the performance buffs as well as all the bells and whistles that you expect from a flagship gaming keyboard made for professional gamers. the Apex Pro is also available in a TKL form factor for those who enjoy smaller keyboards.
Steelseries Apex Pro Highlights
Adjustable Analog Mechanical Switches
Faster Response Time Thanks to their Analog Switch Technology
OLED Display
Aircraft Grade Aluminum Frame
Detachable Magnetic Wrist Rest
Comes in Both Full-Sized and TKL Sizes
Steelseries Apex 7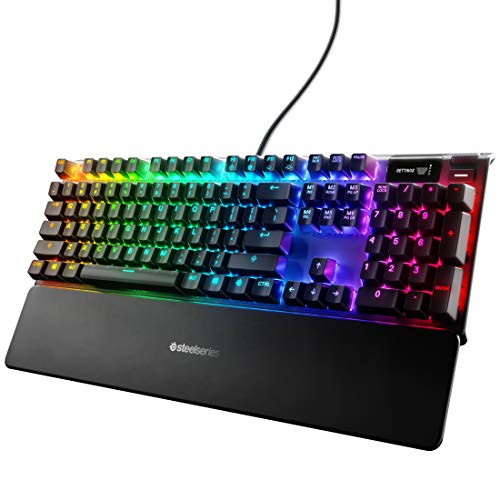 The Steelseries Apex 7 is a very similar keyboard to the company's flagship Apex Pro. However, the main difference is that the Apex 7 is utilizing more traditional mechanical switches. The Apex 7 comes in three variants: Red (Linearswitch), Blue (Clicky Switch), and Brown (Tactile Switch). One thing to note is that these switches are Steelseries' proprietary switches and not the Cherry MX switches previously used on the company's older keyboards.
The Apex 7 is great for users who want to save a bit and do not necessarily need the fancy analog switches found on the Apex Pro. It also gives the user more switch options, such as tactile and clicky switches. '
Apart from those small changes, all the great features of the Apex Pro is still here. It has that signature OLED screen that instantly delivers notifications, the media keys on the upper right, the detachable wrist rest, the aircraft-grade aluminum frame, and the choice between a full-sized and TKL version.
The only thing missing here is a hot-swap option which would allow users to instantly change the switches to the ones they desire. But apart from that, the Steelseries Apex 7 is a solid keyboard that should fit professional gamers, streamers, and even casual gamers.
Steelseries Apex 7 Highlights
Steelseries Mechanical Switches (Red, Blue, and Brown)
OLED Display
Aircraft Grade Aluminum Frame
Detachable Magnetic Wrist Rest
Comes in Both Full-Sized and TKL Sizes
Steelseries Apex 5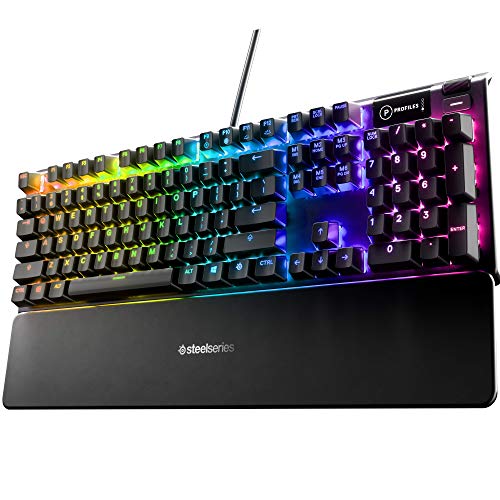 The Steelseries Apex 5 is a hybrid of Steelseries higher-end mechanical keyboards and their more entry-level membrane keyboards. It features some of the signature features of the Apex series but features a lower-tier switch to accommodate its lower price point.
Unlike the Apex 7, the Apex 5 is utilizing a hybrid of mechanical and membrane switches. It is still technically utilizing membrane keyboard technology. However, the keys are designed to mimic the feel of their clicky blue mechanical switches.
The lifespan of the membrane switches is also rated for up to 20 million key presses. This means that despite their technically inferior technology, durability and reliability are not compromised.
Apart from the downgrade in the switch design, the rest of the features found on the Apex Pro and Apex TKL are still here. The build quality is still top-notch, thanks to its Aircraft-Grade aluminum frame. It also has an OLED screen that is capable of delivering notifications directly to the keyboard.
Other features such as per-key RGB and the detachable wrist rest are also present. Overall, the Steelseries Apex 5 is a great fit for those looking for a midrange priced keyboard that still has all the great features of the Apex 7 and Apex Pro keyboards.
Steelseries Apex 5 Highlights
Hybrid mecha membrane switches rated for 20 million keypresses
OLED Screen
Aircraft Grade Aluminum Frame
Per-Key RGB Lighting
Detachable Magnetic Wrist Rest
Steelseries Apex 3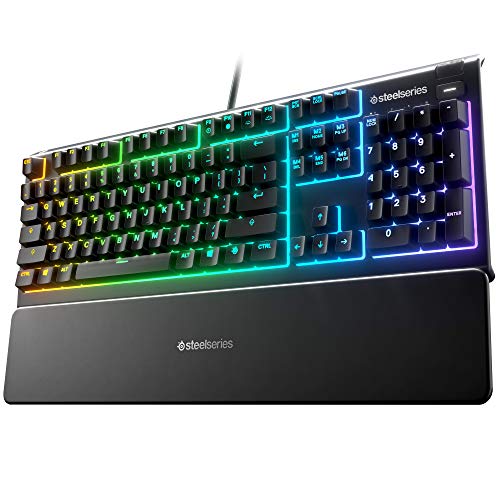 The Steelseries Apex 3 is the company's entry-level gaming keyboard. It loses a number of the signature features found on the higher-end Steelseries Apex keyboards in order to maintain a more budget-friendly price point. However, it still has all the essential features to make this keyboard appeal to serious gamers.
Unlike its pricier siblings, the Steelseries Apex 3 only has a plastic frame. And while it is still rated to last, it doesn't have the premium feel of the aircraft-grade aluminum frame of the Apex Pro and Apex 7. In addition, the Apex 3 is utilizing Steelseries' proprietary membrane key design rather than their mechanical switches.
While this will lead to a less satisfying typing and gaming experience, Steelseries has promised that the reliability of the keys is not compromised. They are still rated to last and are significantly more quiet than their mechanical switch counterparts.
In addition, since the Apex 3 is not utilizing mechanical keys, it is spill-resistant. Steelseries claims that it has an IP32 water-resistant rating.
Another area where users will see a downgrade is in the RGB lighting. The Apex 3 has a 10-zone of RGB lighting instead of the usual per-key RGB lighting found on more premium keyboards.
Apart from those feature cuts, the Steelseries still has some of the best features of the higher-end Apex keyboards. They still come with a magnetic wrist rest and still have the dedicated media keys. Overall, despite losing a lot of the signature Apex features, the Apex 3 is still a competitive entry-level gaming keyboard that has all the essential features that any gamer would need.
Steelseries Apex 3 Highlights
Budget-Price
IP32 Water-Resistant Design to Protect Against Spills
10-zone RGB Illumination
Durable Membrane Switches
Magnetic Wrist Rest
Dedicated Multimedia Keys
What Makes SteelSeries a Good Brand?
One of the things that defined Steelseries as a brand is its drive to make the perfect product for competitive gaming. Throughout their long history, all of their products were aimed at professional use. Even their earliest products in 2001 were aimed at competitive gamers before the term Esports was coined.
It is this design philosophy that has guided the brand to great heights. Their designs are iconic and have been used by the best players in the world. Their designs continue to grow to meet the ever-growing needs of professional and competitive gamers.
Steelseries competes with other top players in the gaming keyboard market including Razer, Corsair and HyperX among others.
Do Pros Use SteelSeries Keyboards?
Steelseries has been a brand that has been associated with professional gaming since its debut in 2001. Countless Esports players and organizations have picked up Steelseries equipment over the years. Some of the Esports organizations and clubs that Steelseries has supported have countless achievements.
Some of the most well-known organizations that the company has supported include OG, Fnatic, Na'vi, Evil Geniuses, Faze Clan, and many more. Here's a breakdown of the most notable achievements of some of these organizations.
Natus Vincere (Na'vi)
Na'vi is one of the most successful Esports organizations on this list. They are well known for being the very first Dota 2 The International (TI) winner and have attended the finals for the next two years (TI 2 and TI3). They have also raised some of the most popular Dota 2 Players, including Dendi and Puppey (Former team captain of Na'vi and current team captain of Team Secret).
Natus Vincere also excels in various other esports such as CS: Go. And while they are no longer part of the Steelseries family, they have achieved countless titles together with the brand.
Fnatic
Fnatic is well-known in various esports. But one of their greatest achievements is winning the first-ever League of Legends World Championship in 2010. They have also been one of the longest-running King of Europe.
Just like Na'vi, they have also produced well-known talent in various esports games. Some of them include Xpeke (known for his backdoor clip against SK Gaming) and Rekkles. Fnatic later left Steelseries to form their own peripheral company, Fnatic Gear. But just like Na'vi, they have achieved countless titles with Steelseries.
OG
This list would not be complete without OG. This organization is best known for being the only two-time Dota 2 The International Champions. They have produced some of the best players in the game, which include N0tail and Ana.
OG is a relatively younger organization compared to the others on this list. However, they have already achieved so much, and there's no telling just how many more TI titles they can acquire or how many games they can conquer.
Evil Geniuses
Evil Geniuses are well known in the Esports industry. They have various Esports squads in games such as League of Legends, Dota 2, and CS: GO. But one of their biggest achievements was winning Dota 2 TI5 in 2015. They were the first North American organization to win Dota 2's most prestigious event.
They are also well-known for producing talents such as SumaiL, Fear, Arteezy, and many more. Steelseries has partnered with EG many times to produce signature gear. While the two organizations are not currently working together, they might team up again in the future just like they did in the past.
Other Notable Teams and Players
Steelseries has also collaborated with smaller organizations in the past. Their products have also been used by notable players who were not associated with the brand.
One of the most notable teams was FunPlus Phoenix, who won the 2019 League of Legends World Championship. This steam was lead by Doinb, who is now known as one of the best midlaners in the world.
Another notable player was the three-time world champion Faker who used a red Steelseries Siberia V2 Gaming Headset early on in his career. This was the headset that he was wearing during the iconic Zed Duel in the League of Legends 2013 OGN Champions Summer Finals against Ryu of KT Rolster Bullets.
Why Buy SteelSeries Keyboards?
There are two major reasons to buy Steelseries' keyboards, their design and reliability, and their unique features. In terms of design and reliability, their products have already been tested by professional gamers. Buying Steelseries mice and keyboards gives you the confidence that your peripherals will never fail you in the heat of battle.
In addition, Steelseries is one of the only brands that have unique feature sets in their keyboards. Some of these include the programmable OLED screen found on their Apex Pro, Apex 7, and Apex 5 keyboards. In addition, they are currently one of the only mainstream gaming brands that are utilizing the Hall effect key switch technology.  Steelseries keyboards are a great fit for those looking for a competitive edge as well as groundbreaking features that can only be found in their keyboards.
Why Should You Look for Alternatives?
Despite all the great features that Steelseries' keyboards have, it is apparent that they are falling behind current trends. Their keyboards are lacking some of the features that are found on custom keyboards. These include hot-swappable switches, full aluminum shells, better user customizability, and many more.
In a lot of ways, Steelseries' design philosophy is quite one-dimensional in which it mostly caters to gamers and professional esports organizations. if you are looking for a more minimalistic experience and a keyboard experience that isn't specifically tailored for gaming, then you should look somewhere else.
Where to Buy SteelSeries Keyboards?
SteelSeries keyboards can be bought directly from SteelSeries' website. Their products are also available in most mainstream online stores and retailers that sell gaming gear. You can also find them in most physical retail stores. 
Brand Keyboard Warranty
SteelSeries Keyboard offers a two years limited warranty for their gaming keyboards. Check out Steelseries' Official Website to learn more. 

The KBE team is dedicated to sharing our knowledge and creating useful resources about computer keyboards. This article was written as a team collaboration, combining our knowledge and years of experience using, building and modding keyboards. Meet the team here.