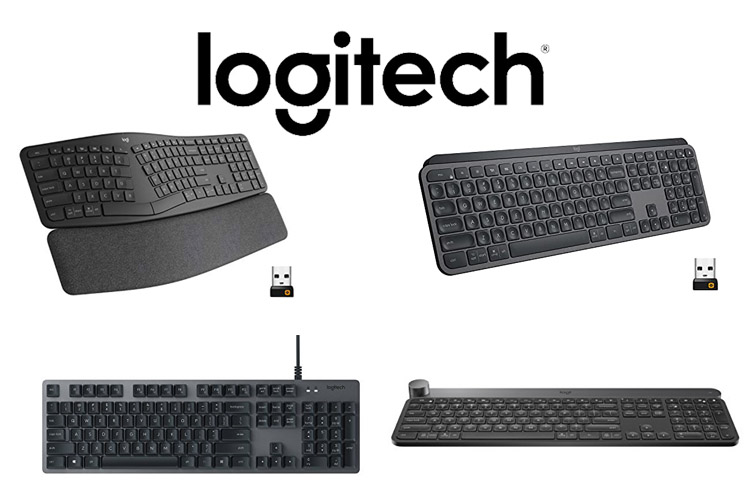 Logitech is a Swiss manufacturer that creates a multitude of products that are relied on by both casual users and professional entities. Some of Logitech's products are the first ones to be introduced to the market. These include wireless mice, thumb-operated trackball mice, laser mice, and many more. They were founded in 1981 in Lausanne, Switzerland, and swiftly expanded to Silicon Valley.
Logitech is the world's largest manufacturer of consumer electronics. They mainly produce computer peripherals such as keyboards, mice, and headsets. Over the years, they have grown and acquired several companies to increase the diversity of their products. The main types of peripherals that they currently produce include professional peripherals, consumer peripherals, and gaming peripherals. 
The Logitech brand has grown into a multi-brand corporation that has integrated several well-known companies in the industries. Some of these brands include Logitech G, ASTRO Gaming, Ultimate Ears, Jaybird, Blue Microphones, and Streamlabs.
In this article, we will be diving deeper into Logitech's history and discuss its current product lineup. We will be specifically focusing our discussions on Logitech's keyboards.  Also, we will be discussing the selling points of Logitech's products and answer whether or not Logitech makes good keyboards.
Brand History

The Early Days
In 1976, at Stanford University in Palo Alto, California, an idea for Logitech was born. Daniel Borel and Pierluigi Zappacosta met while both were enrolled in a doctoral degree in computer science at Stanford, and their relationship grew into a business partnership. Borel, a Swiss, and Zappacosta, an Italian, saw an opportunity to construct an early word-processing system while finishing their schooling. After four years of fundraising, the duo was able to build a prototype for the Swiss company Bobst.
Borel and Zappacosta soon teamed up again with Giacomo Marini, a former Olivetti engineer and lifelong friend of Zappacosta. The three eventual Logitech founders began their careers as consultants in software development and hardware architecture for the publishing industry. They were given a four-month contract by Ricoh to conduct a feasibility study on the development of a graphical editor.
With this initial funding, Borel, Zappacosta, and Marini founded Logitech S.A. on Oct. 2, 1981. The company's first office was in Apples, Switzerland. It was originally going to be called Softech, after the three founders' software backgrounds. Because this name had already been taken, the founders picked Logitech, which is derived from the root of the French term "logiciel," which means "logiciel."
From the back yard of a farm in Apples, where Logitech's initial headquarters was located, Zappacosta performed a feasibility assessment. The Logitech team presented a prototype to Ricoh executives in January 1982. Ricoh decided to proceed with the project, and the majority of the software development was delegated to the Logitech team. Shortly after, the trio established Logitech's first U.S. office at 165 University Ave. in Palo Alto, Calif., to be close to Ricoh's development office in nearby San Jose.
Taking the Helm
Borel, the cofounder who had been chairman and chief executive officer since 1992, selected Italian-born Guerrino De Luca as Logitech's CEO in February 1998, with the support of the company's board of directors. De Luca contributed a product concept founded in cutting-edge design and intuitive interface, based on his lengthy and varied background at Apple Computer, both in Europe and the United States.
Logitech's financial achievements have continuously met and often exceeded both company and market expectations under De Luca's leadership. The company reported eight straight years of record revenue and profitability as of March 31, 2006. The company's product line has expanded during this time, and it has grown both organically and through acquisitions.
Growth Through Acquisition
In 1998, Logitech purchased Connectix's hardware division, which produced the QuickCam camera range. Logitech jumped to the top of the market in this category as a result of the move. Logitech's QuickCam series of products has become a cornerstone of computer users, thanks to the increase of broadband Internet access and the development of video-related applications.
To integrate video with popular Internet communications applications, Logitech has worked with partners such as Yahoo!, MSN, AOL, and Skype. The company is continuing to collaborate with top solutions and service providers to develop new video communications applications for both personal and professional use.
Logitech purchased Labtec in 2001, instantly expanding the company's audio reach. Following that, the business released a slew of award-winning PC speakers that competed on both the high and low end of the market. Many Logitech speakers are also compatible with game consoles and home theater systems. Logitech's digital speaker systems are THX certified and among the most powerful on the market, enabling the company to gain market leadership in the United States in just two and a half years.
The brand has also made a name for itself with successful headsets for gaming consoles and mobile phones. Logitech has introduced a line of speakers and headphones for iPod and other portable music devices, as well as a family of wireless music products that allow people to listen to and share their digital music on a stereo system or wireless headphones, even if the source of the music or audio is a PC or portable music device.
Intrigue Technologies, the maker of the famous Harmony remote controllers, was purchased by Logitech in May of 2004. These modern universal remotes feature activity-based buttons that enable one-touch control of TV, DVD, music, and other activities. The purchase is part of Logitech's digital music expansion strategy.
Logitech intends to provide cheap solutions for spreading music around the home, listening to it on high-quality speakers, and managing it in a convenient and intuitive manner.
Organic Growth
While Logitech has benefited from occasional acquisitions, the company has also continued to develop and grow in its core business. In cordless devices have been maybe Logitech's most important development area in the last decade. More than 100 million cordless mice and keyboards have been sold by Logitech, giving people the flexibility to live their digital lives wherever and whenever they want, without the constraints of cables. With the debut of the Logitech Wireless Desktop, a combination of a cordless mouse and a cordless keyboard, the business launched a new product category in 1998.
The Logitech conductor Presenter, the industry's initial retail inform device  Bluetooth wireless technology, was debuted in 2001. In 2003, Logitech established itself as a market leader by releasing solutions that turn a PC into a Bluetooth control center, allowing users to wirelessly exchange data between the PC and Bluetooth devices such as PDAs, mobile phones, and printers.
All of these cutting-edge Bluetooth devices include a USB wireless receiver that also serves as a Bluetooth wireless hub. In 2003, Logitech released the Logitech  Mobile Bluetooth  Headset, the first of several Bluetooth-enabled mobile headsets.
In addition, Logitech has increased its position in the fast-expanding gaming market. Logitech, a long-time pioneer in PC peripherals, debuted its first game console controller in 2000, the Logitech  GT Force racing wheel for PlayStation 2. Since then, Logitech has released over 20 console accessories, including the most popular series of wireless controllers for both PlayStation and Xbox.
The firm introduced its PlayGear product line in 2005, which was designed to safeguard and enhance the use of the new PSP  (PlayStation  Portable) platform. Logitech continues to collaborate with its partners to create a diverse variety of products for all gaming platforms.
The Logitech io Personal Digital Pen, debuted in 2002, is a platform that combines the usage of traditional pen and paper with the digital world. Logitech is assisting in the development of digital writing apps that enable the automated transformation of handwritten data into archival information for both consumers and professionals by collaborating with technology and solution partners.
Logitech Today
Logitech continues to produce game-changing technology while also paying attention to the tiniest design aspects that make its products unique, and it is brand beloved by millions of customers around the world. The company has a diverse patent portfolio, and its products are routinely recognized for design and innovation by industry and media.
For entertainment in the living room, communications on the move, and personal computing in the office, Logitech will continue to help make engagement with the digital world more personal and fulfilling.
Logitech began as a computer code firm, then became an O.E.M. manufacturer entirely, and at last, simply a mouse company has up to the highest of the private peripherals market by using each sturdy OEM ties and a booming retail business.
More than 700 million mice have been sold, and the company's product lines include keyboards, webcams, voice headsets, speakers, headphones, game controllers, and remote controls. Logitech introduced more than 130 new products and shipped more than 143 million devices worldwide in its most recent fiscal year, which ended in March 2006.
Logitech Keyboard Lineup
Wireless Productivity Keyboards
Logitech Craft
The Logitech Craft is designed for professionals who are looking for a tool that easily integrates into their workflow. It is a low-profile and minimalistic-looking wireless keyboard that can fit well into any kind of setup. There are no fancy design elements here since the focus is on its functionality.
The main highlight of the keyboard is its input dial/crown. It is programmable via software and can be easily integrated into various professional productivity applications such as the Adobe CC Suite.
It is also touch-sensitive, meaning it can be programmed with more than one action. This keyboard also has some handy features, such as its proximity sensor that controls the smart illumination technology and its seamless multi-device connectivity.
The Logitech Craft isn't just about its features. It also has a sturdy build quality that can hold up to whatever situation. It is mostly made of hard plastic but it has some serious heft to it that prevents any form of flex. There is also a metal housing on top of the keyboard that holds all of the electronics.
The typing experience is also well-implemented thanks to its flat keys and scissor switches. The keycaps are concave, which allows your fingers to properly rest on them.
And lastly, the Logitech Craft keyboard promises a full week of usage. This is impressive considering its multi-device connectivity via low-power Bluetooth. With all of its features and premium design elements, the Logitech Craft deserves its place as Logitech's most premium professional keyboard.
Logitech Craft Highlights
Input Dial
Minimalistic Design
Touch Controls
2.4 GHz Wireless + Low Power Bluetooth
Smart Illumination
Keys Optimized For Typing
Logitech MX Keys
The Logitech MX Keys is very similar to the Logitech Craft. It also features low-profile keys and an overall minimalistic design. And just like the Logitech Craft, it has all the wireless features that allow it to be a versatile keyboard.
The main difference between the two keyboards is the lack of the crown and the other special features found on the Logitech Craft. With the MX Keys, the only features that you are getting are the ones that are essential for typing.
Just like the Logitech Craft, the MX Keys features scissor switches and flat keys with concave keycaps that allow for a comfortable typing experience. It also has a compact full-layout design that makes sure the keyboard is not too bulky.
The proximity sensor also makes a return on the MX Keys. This allows the keyboard to illuminate only when in use, which saves battery life.
And speaking of battery life, the MX Keys is promised to last up to an entire week. However, with the backlight turned off, Logitech claims that it can last up to five months. The MX Keys seamlessly charges via USB Type-C, making the entire charging process simple.
And lastly, the MX Keys can seamlessly connect and switch between different devices. This allows for a seamless workflow with all the different devices on your desk.
Also, the Logitech MX Keys can be paired with other MX peripherals, such as the Logitech MX Master 3. Overall, the Logitech MX Keys is a perfect keyboard for those who enjoy the Logitech Craft but are want a simpler user experience.
Logitech MX Keys Highlights 
Low Profile Keys
Minimalistic Design
2.4 GHz Wireless + Low Power Bluetooth
Keys Optimized For Typing
Logitech Ergo K860
The Logitech Ergo K860 is one of the company's unique offerings. It has an ergonomic design that is characterized by its curved keys and the split in the middle. It is very similar to the design of split keyboards. However, the housing of ergonomic keyboards is not required to be split into two separate pieces.
The K860 has several benefits to its design. The curvature of the keys is believed to have a superior positioning to that of a normal keyboard. This alleviates any wrist strain that can be encountered during long typing sessions. The angle of the keyboard has also been optimized for the perfect typing experience.
In addition, the K860 is one of the only keyboards in Logitech's lineup to feature a soft-touch wrist rest. This perfectly ties in with the typing angle and the rest of the design elements of the keyboard that are made to alleviate any wrist strain while typing.
Aside from its physical design, the internals is mostly the same as Logitech's other high-end keyboards. It has wireless functionality via low-power Bluetooth as well as 2.4 GHz via Logitech's Unifying Receiver. Overall, this keyboard is built for professionals who are looking for a keyboard that can be used for long sessions without encountering any injuries.
Logitech Ergo K860 Highlights
Ergonomic Design
Good battery Life
2.4 GHz Wireless + Low Power Bluetooth
Integrated Soft-Touch Wrist Rest
Multi Device-Bluetooth Keyboards
Logitech has a number of different low-profile slim and light wireless keyboards that are compatible with different devices. These devices are meant to be carried around and paired with other portable devices such as laptops, smartphones, and tablets. Each model has its own unique set of features. The Logitech K750, for instance, has solar power which makes charging effortless.
All of these keyboards have a similar design. They all have low-profile keys that are similar to the ones found on laptops. They are generally quiet which makes them ideal for use in public areas.
In addition, these devices are meant to be paired effortlessly. Some devices, such as the Logitech K480, have a physical dial that allows the user to choose between the various paired devices.
Most of these keyboards are budget-priced, meaning they are not meant to match the performance and feature sets of higher-end keyboards such as the Logitech Craft. However, they are made to be easily accessible to anyone who is looking for a well-built and feature-packed portable keyboard.
Keyboards In This Lineup
Logitech K580
Logitech K750
Logitech K480
Logitech K380 For Mac and PC
Logitech K375s
Logitech K400
Logictech Mechanical Keyboards
Logitech also features mechanical keyboards outside of their Logitech G lineup. There are currently two models, the K845 and the K840.
The Logitech K845 has a design that is inspired by their slim and low-profile keyboards. It sports a grey finish that ties in with its minimalistic looks, It also has the signature durable build quality that Logitech is well-known for.
In addition, the K845 is a full-sized keyboard but has a compact design that is designed to take up less space. It gives you the benefits of a small form factor keyboard but the functionality of a full-sized keyboard. To complete the minimalistic look, the K845 features a single color white backlight that helps tie the whole design together.
What is interesting with the K845 is that Logitech offers these keyboards with Cherry MX switches. This is unlike their Logitech G mechanical keyboards that usually feature their own Romer G switches and Logitech GX and switches that were made in partnership with Kailh. In addition, the K845 features a floating keys design that also exposes the aluminum backplate.
The Logitech K840, on the other hand, is a more traditional take on the mechanical keyboard. It is slightly bulkier than the K845 and has taller keys. It also does not feature any form of backlighting.
However, the K840 still maintains the minimalistic look and high-quality build of the K845. It features an anodized aluminum top frame to meet the demands of heavier users.
But the real difference between the K840 and K845 is that the K840 features Romer G switches. These are the same switches found on Logitech G's older gaming keyboards. It features a 26-key rollover that guarantees maximum performance.
Both of these keyboards are suitable for consumers who want the mechanical keyboard experience but do not want the aggressive gaming designs featured on Logitech G's keyboard lineup.
Keyboards In This Lineup
Logitech K845
Logitech K840
What Makes Logitech a Good Brand?
Logitech is best known for two things: innovation and quality. They have consistently been changing the game by introducing revolutionary products that level up the competition. Some of these products include the Logitech MX Master 3 and the Logitech G Pro X SuperLight.
In addition, the quality of Logitech's products is some of the best in the business. Even products that were produced decades ago are still being relied on by professionals. Also, Logitech's warranty and customer support are top-notch. Consumers who buy from Logitech are assured to get great quality products.
Why Buy Logitech Keyboards?
Aside from their amazing build quality, the main selling factors of Logitech's keyboards are their design, features, and software. Unlike other companies, Logitech puts a great emphasis on designing products that can be used in different kinds of environments. While most products are designed for professional use, they also have a number of different products that can be used casually by students and other types of consumers.
In addition, most Logitech keyboards feature good wireless performance via low power Bluetooth or 2.4 GHz wireless. These make Logitech's keyboards versatile for any kind of use case. 
And lastly, Logitech's software is well made. Aside from the basic remap options that you get, the software itself is lightweight and non-obtrusive. When all of these are combined, you get a reliable product that can handle anything you throw at it.
Why Should You Look for Alternatives?
Like any manufacturer, Logitech's products aren't for everyone. Most of their offerings are made for professionals and minimalists. Those looking for more customizability options or gaming-related features are bound to look somewhere also. Luckily, Logitech offers gaming peripherals that are also relied on by professionals.
They feature just as much innovation as Logitech's main products and are just as durable and reliable. Of course, those looking for higher-end keyboards may want to check out what Custom Keyboards can offer.
Where to Buy Logitech Keyboards?
Logitech keyboards can be bought directly from Logitech's Official Website.
Their products are also available in most online stores, see Logitech on Amazon for example, as well as in physical retail stores.
Logitech
Keyboard Warranty
Logitech offers a 1 limited warranty for their gaming keyboards. Check out Logitech's Official Website to learn more. 

The KBE team is dedicated to sharing our knowledge and creating useful resources about computer keyboards. This article was written as a team collaboration, combining our knowledge and years of experience using, building and modding keyboards. Meet the team here.