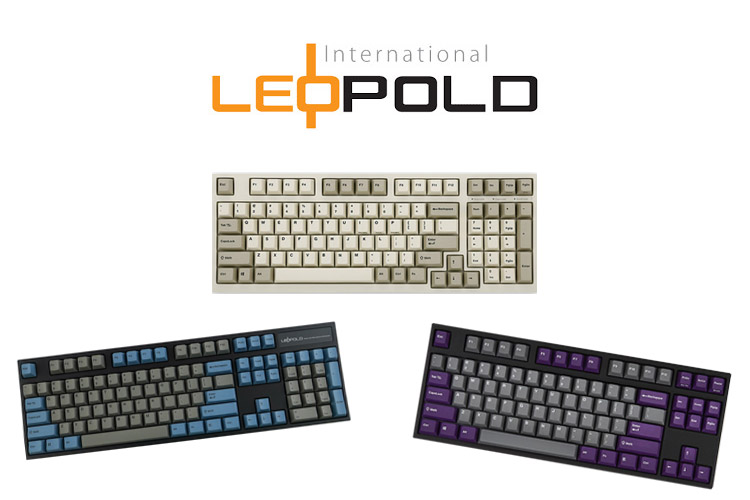 When it comes to high-end mechanical keyboards, Leopold is always part of the conversation. They have helped define the premium keyboard market and are often compared to similar brands such as Filco, HHKB, and Realforce.
Leopold is a South Korean manufacturer of high-end mechanical keyboards. They are one of the only pre-built keyboard brands that offer enthusiast-grade features right out of the box. They are also one of the only brands outside of Japan that continuously manufactured keyboards with Topre switches. 
The reason why Leopold has attained such a status in the mechanical keyboard community is because of its commitment to offering the best keyboards possible without modification. They do everything from tuning stabilizers to installing internal sound dampening foam. These are often modifications that are usually only done on custom keyboards.
Furthermore, Leopold is one of the only brands that produce Topre switches outside Japan. All of these put them in a league of their own and are only challenged by very few brands. 
In this article, we will be discussing everything consumers need to know about Leopold keyboards. We will be going through their history as well as their mechanical and Topre keyboard lineup. And ultimately, we will be discussing whether or not they are worth their high asking price.
Leopold Brand History

Leopold was founded in 2006 in South Korea. Since its inception, the brand has devoted a significant portion of its resources to the development of mechanical keyboards. And despite manufacturing other types of products, keyboards were always their top priority. 
Unlike other brands, Leopold did not rapidly gain international recognition. They primarily catered to their market in South Korea. However, the brand quickly became known after South Korean professional Starcraft 2 gamers started using their products in international events. Due to the sudden interest and demand for their products, Leopold started establishing partnerships with international vendors and distributors.
With the top-notch quality of their keyboards, Leopold helped influence today's mechanical keyboard market. Many of the elements found on Leopold keyboards, such as sound-dampening foam and genuine Cherry stabilizers, have found their way into modern custom mechanical keyboards. And even with the abundance of high-end competitors in the market, Leopold still stands as one of the top dogs of the high-end pre-built mechanical keyboard market.
Leopold Keyboard Line Up
LEOPOLD FC900R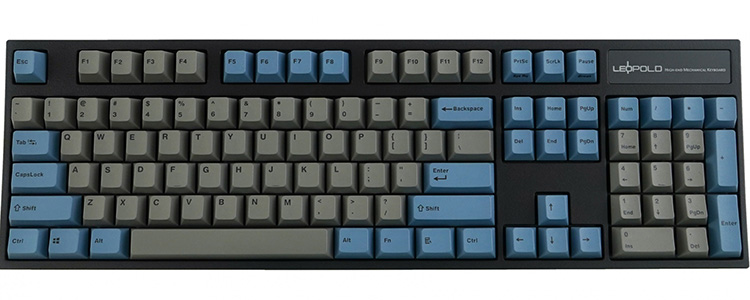 Leopold FC900R Highlights:
104-Key Full-Size Layout
Cherry MX Switches
Genuine Cherry Stabilizers

1.5mm PBT Double-Shot Keycap

Internal Sound Dampening System

Improved Space Bar Sound

N-key Rollover

PS/2 and USB Connectivity
The Leopold FC900R is the company's 104-key full-size keyboard offering. It features Cherry MX keys, Cherry stabilizers, double-shot PBT keycaps, and internal sound dampening that ensures that the keyboard will have a good sound profile.
What sets the FC900R apart from other premium mechanical keyboards that utilize authentic Cherry switches is the feel of the keyboard. Unlike most gaming keyboards, the FC900R utilizes internal dampening to remove unwanted case ping and avoid having a hollow sound.
The FC900R also utilizes Cherry stabilizers, which are used in many custom keyboard builds. In addition, Leopold went the extra mile to fine-tune the stabilizers to avoid rattling in the longer keys. The space bar has been specifically fine-tuned to sound and feel good.
The FC900R does not feature hot-swappable switches. However, users can choose between various Cherry MX switches, including Cherry MX Blue, Red, Black, Silver, and many more.
The FC900R has many variants with different sets of features, colorways, and keycap profiles. In terms of aesthetics, there is plenty of case and keycap color combinations to choose from. All share the same premium build quality in the case material and the keycaps.
All FC900R models come with high-quality thick PBT keycaps. However, there are two profiles to choose from- OEM profile and Cherry profile. OEM profile is taller, while Cherry profile is shorter and more standardized. The FC900R also features a Bluetooth variant for both wired and wireless use.
Lastly, the FC900R has standard mechanical keyboard features such as NKRO support, PS/2 compatibility, and profile switching.
However, potential buyers should be noted that the FC900R does not come with keyboard remapping software. Instead, profile switching is done via dip switches similar to Happy Hacking Keyboards.
Overall, with its premium features, the FC900R is truly an endgame-worthy pre-built keyboard. All enthusiast features are done in the factory. Any further customizations are optional.
Leopold FC750R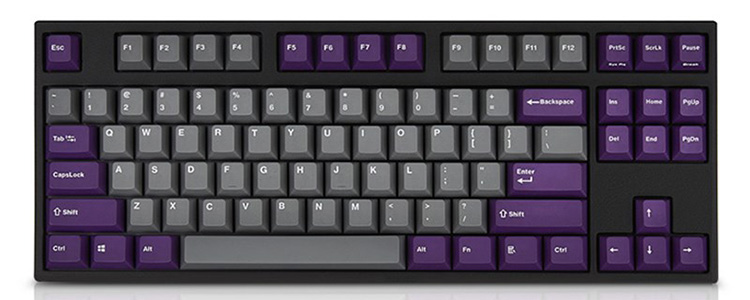 Leopold FC750R Highlights:
Tenkeyless Layout
Cherry MX Switches
Genuine Cherry Stabilizers

1.5mm PBT Double-Shot Keycap

Internal Sound Dampening System

Improved Space Bar Sound

N-key Rollover

PS/2 and USB Connectivity
The Leopold FC750R is the TKL (Tenkeyless) version of the FC900R. It has many of the FC900R's defining features, such as its high-quality build, PBT double-shot keycaps, internal dampening, and genuine Cherry MX switches and stabilizers. The only difference between the two models is that the FC750R does not feature a Numpad.
The TKL form factor has been proven to be a more ergonomic form factor since it allows the hands of the users to be positioned closer to each other. In addition, the FC770R is perfect for gamers who want to have more space for their mouse.
Of course, despite its smaller size, the build quality, typing feel, and typing sound of the FC750R are not compromised.  They are just as good as they are on the full-sized model.
And lastly, the FC770R also comes in a variety of different colorways and keycap profiles. This allows users to pick the best configuration that suits their tastes.
LEOPOLD FC980M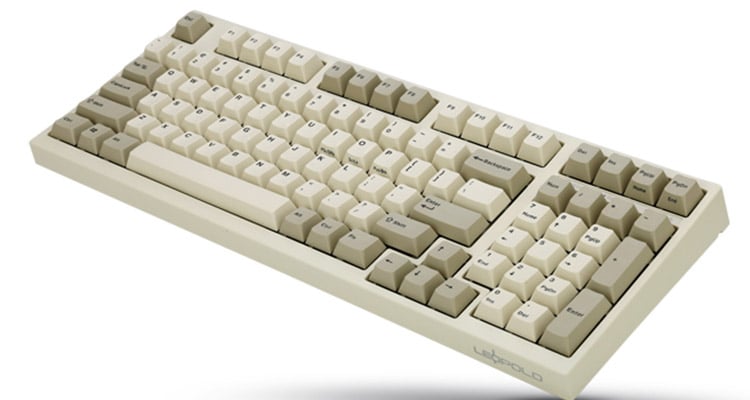 Leopold FC980M Highlights:
1800-Compact Layout

Cherry MX Switches

Cherry Profile Keycaps

Steel Plate

PCB: F2-4 Dual Layer

US ASCII Layout

USB and PS/2 Interface

N-Key Rollover

Internal Sound Dampening
The Leopold is a more compact version of the FC900R. It utilizes an 1800-compact layout, which is very similar to a full-size layout except for the exclusion of the home row cluster. As a result, the width of the keyboard is significantly reduced, but it still maintains the arrow keys and the Numpad.
The FC980M is a bit more niche compared to Leopold's other offerings. It is usually not offered by most pre-built keyboard brands, especially gaming keyboard brands. However, it is an option for those who cannot give up a Numpad for work-related tasks but still want the compact size that a TKL, 65%, or 75% keyboard brings to the table.
Of course, like any small form factor keyboard, all the missing keys can still be accessed since they are assigned as a secondary function of other keys. However, users may not be able to fine-tune them since Leopold keyboards do not come with any software.
Aside from its unique layout, the FC980M is still very similar to other Leopold keyboards. It has a solid construction, fine-tuned internals, and offers a selection of different Cherry MX switches and different colorways. Overall, the FC980M is a perfect middle ground between Leopold's full-size and small form factor keyboards.
LEOPOLD FC660M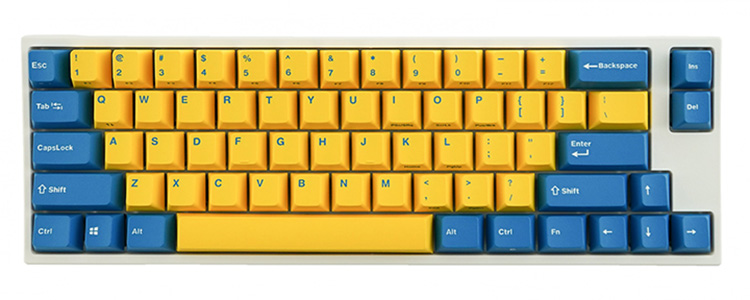 Leopold FC660M Highlights:
65% Form factor 

Cherry MX Switches

PBT Double Shot Keycaps (Cherry Profile)

Steel Plate

PCB: FR-4 Dual Layer

US ASCII Layout

USB and PS/2 Interface

USB N-Key Rollover

Internal Sound Dampening
The Leopold FC660M is the smallest mechanical keyboard that Leopold offers. It has a 65% layout that is a bit different from what is usually seen in the market. What's different with Leopold's version is that all of the keys have standard size.
There are three right-side modifiers, all of them having a 1.25U size. The right shift is also the standard 2.75U instead of the smaller 1.75U found on most 65% mechanical keyboards.
And lastly, there are only two keys from the home row cluster found on the right side of the backspace key. Aside from those changes, everything is pretty standard.
The Leopold FC660M has become extremely popular with gamers and enthusiasts who prefer small form factor keyboards since it occupies less desk space but does not sacrifice functionality. Unlike 60% keyboards, the FC660M still offers arrow keys and a dedicated delete key. This makes it usable for most productivity tasks.
And, of course, its smaller size allows it to have more room for the mouse. This is why this size has become the go-to for competitive and professional FPS players.
Apart from its size, users can expect the same high-quality build from Leopold. There are also tons of Cherry MX switches and case/keycaps colorways to choose from. Overall, the FC660M is a smaller Leopold keyboard that does not compromise any of Leopold's charm.
Leopold FC980C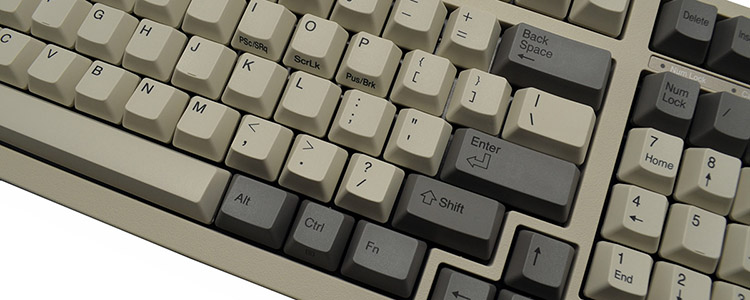 Leopold FC980C Highlights:
Topre Switches
1800-Compact Layout

Dye-sublimation PBT Keycaps

PCB: FR-4 Dual Layer

US ASCII Layout

Plate Mount

6+1 USB Key Rollover
The Leopold FC980C is one of the company's most popular models. It is very similar to the FC980M in terms of its design. However, what differentiates it is its use of Topre switches. In a nutshell, these are electrostatic capacitive switches that feel and operate differently from mechanical switches. You can learn more in our in-depth review of Topre switches.
Topre switches are unique since not many companies outside Japan utilize them. And even in Japan, the only companies that utilize them are Happy Hacking Keyboard (HHKB) and Realforce. The scarcity of Topre equipped keyboards immediately gives the FC980C an edge over other standard mechanical keyboards.
One thing to take note of is that the FC980C is utilizing Dye-sub PBT keycaps instead of the usual double-shot PBT keycaps found on most Leopold keyboards. In addition, Topre switches are not compatible with all MX -style keycaps.
This means high-end sets from brands such as GMK will not be compatible with this keyboard. In addition, colorways are quite limited since these keyboards are only available in white and black. There is, however, a lighter switch model that only requires 30g of force to actuate.
Overall, the Leopold FC980C is perfect for users who want to own a unique keyboard that isn't utilizing the usual Cherry MX or MX-style mechanical switch.
Leopold FC660C
FC660C Highlights: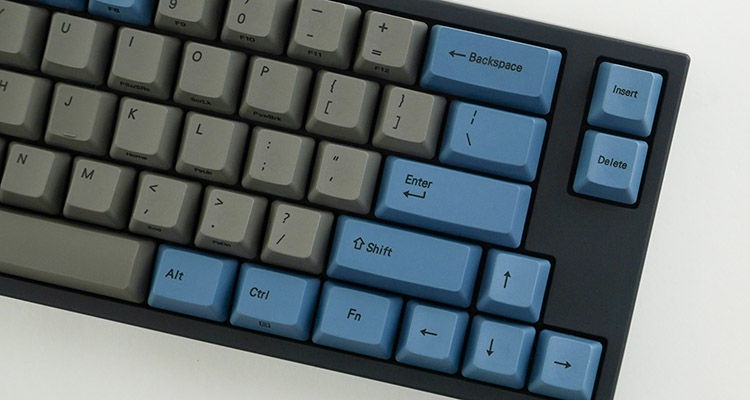 Topre Switches
65% Form Factor

Dye-sublimation PBT Keycaps

PCB: FR-4 Dual Layer

US ASCII Layout

Plate Mount

6+1 USB Key Rollover
The Leopold FC660C is the 65% version of the Leopold FC980C. Like the FC980C, the FC660C is very similar to the Leopold FC660M. However, this model utilizes Topre switches.
This model is pretty straightforward since it shares a lot of similarities to the larger FC980C. However, it has a few variations to keep things interesting. Compared to the larger FC980C, it has more color combinations and more variety to its keycap design. This is very important, considering the lack of aftermarket Topre compatible keycaps.
The FC660C also features a Low Noise model. It will inevitably feature a different typing sound and typing feel compared to the regular version. However, it is perfect for those who require a silent keyboard. Overall, the Leopold FC660C is perfect for those looking for small form factor keyboards outside of HHKB's offerings.
Leopold FC210TP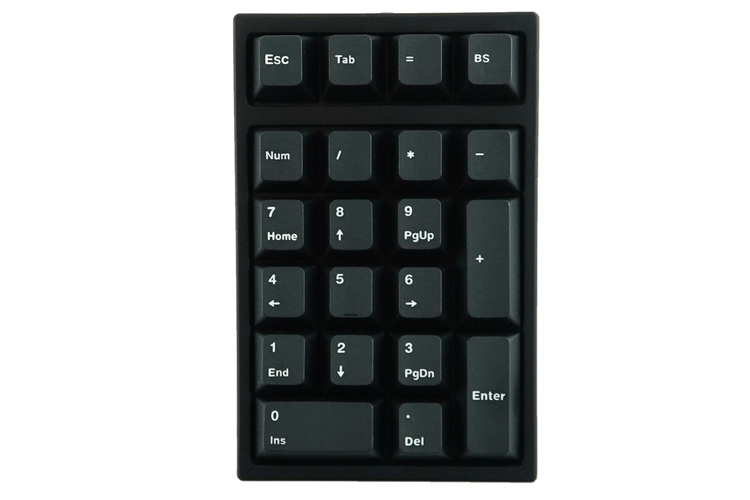 Leopold FC210TP Highlights:
Tenkeypad with 21 Keys
Cherry MX Switches
USB Interface
Steel Plate
PBT Doubleshot Keycaps
The Leopold FC210TP is an add-on accessory for small form factor Leopold keyboards. It adds a Numpad to TKL keyboards such as the Leopold FC750R and 65% keyboards such as the FC660M. It utilizes Cherry MX switches and the same high-quality build featured on Leopold's keyboards for a consistent typing experience.
At the time of writing this article, Leopold Numpads are only available with Cherry MX switches. This means that FC660C users may be left out unless they want to compromise by using a Numpad that feels different from their main keyboard.
Do Professional Gamers Use Leopold Keyboards?
Leopold isn't a brand that partners with Esports organizations. Furthermore, they do not market their products aggressively, similar to competing brands such as Razer, Logitech G, Cooler Master, Hyperx, etc. This might lead to the assumption that Leopold keyboards are not used by professional gamers. However, this is far from the truth.
Leopold keyboards are incredibly popular in South Korea. They have been relied on by many professional Starcraft Brood War and Starcraft 2 players. The dominance of Leopold in a region that produces some of the world's best professional gamers just goes to show the quality of Leopold's offerings.
Why Buy Leopold Keyboards?
View this post on Instagram
There are plenty of reasons to love Leopold's offerings. They manufacture some of the highest-quality keyboards in the industry. They have been rigorously tested by professional gamers and are guaranteed to last for a long time. They are also built to perfection, meaning end-users will not be having any problems that they have to manually fix once they receive their mechanical keyboards.
In addition, there are plenty of models to choose from in Leopold's product catalog. Regardless of what your aesthetic preferences or size preferences are, Leopold has you covered. They offer everything from full-size keyboards to compact 65% keyboards. They also have different PBT keycap colorways that both look aesthetically pleasing and are thick and durable.
And, of course, Leopold offers Topre keyboards. As we have mentioned earlier, these are rare since only HHKB and Realfroce produce them nowadays. And out of all those brands, Leopold is the only one that offers a Topre equipped keyboard in an 1800-compact and 65% form factor.
Lastly, the out-of-the-box experience of Leopold keyboards is next to none. They already have built-in sound dampeners and pre-tuned/pre-lubed genuine Cherry stabilizers. This ensures that there will be no rattle or any unwanted noise coming out of the keyboard.
Overall, Leopold offers a complete package that is good to go without modifications. They are perfect for those who want an endgame keyboard experience and do not want to venture into the world of custom keyboards.
Why Should You Look for Alternatives?
View this post on Instagram
Right off the bat, the biggest problem with Leopold keyboards is that they are not affordable. Leopold explicitly states that they manufacture high-end mechanical keyboards. This means that they will have a price tag to match their quality.
Those who are not looking to shell out prices at this price point will certainly want to look elsewhere. Fortunately, there are many brands that cater to enthusiasts on a tight budget. Some of these include Epomaker and Akko.
The next issue that some consumers may have with Leopold keyboards is their lack of customizability. Leopold keyboards only feature Cherry MX and Topre switches. Furthermore, they do not have software for fine-tuning the key mappings of the keyboard.
For Leopold's target market, consumers are completely fine with these issues. After all, Leopold proudly offers keyboards that do not need modifications to perform well. However, consumers who truly want to customize and tinker around with their keyboards may want to look somewhere else. There are plenty of brands that cater to these kinds of audiences, such as KBDFans.
Where to Buy Leopold Keyboards?
View this post on Instagram
Leopold keyboards can be bought directly from the brand's website. Their products are also available in Amazon and other online and local physical retail stores.
Brand Keyboard Warranty
View this post on Instagram
Leopold offers a one-year warranty for all of their keyboards. However, this can depend on the retailer carrying their products. Read more on Leopold's official website.

The KBE team is dedicated to sharing our knowledge and creating useful resources about computer keyboards. This article was written as a team collaboration, combining our knowledge and years of experience using, building and modding keyboards. Meet the team here.