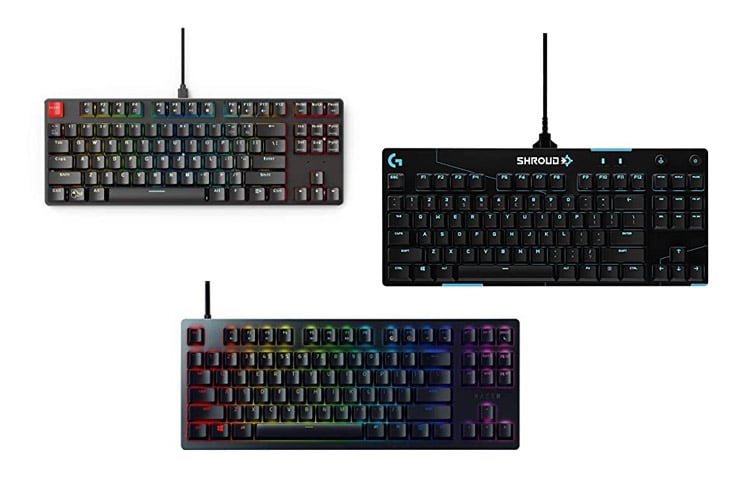 There are many different sizes in the mechanical keyboard market. There are large keyboards that favor professionals as well as smaller keyboards that favor gamers and lightweight users. Out of all the sizes and form factors, the two most popular are the full-sized and TKL layouts. 
TKL and Full-sized keyboards are very similar. The only difference between the two is the lack of a Numpad on TKL keyboards. The better keyboards depend on the user's needs. TKL fits gamers very well due to their smaller size, while full-sized are good all-rounders since they can fit any task. 
In this article, we will go through all the differences between full-sized and TKL keyboards. We'll go through all their pros and cons as well as some of the popular keyboards models. And by the end of this article, readers should have a clear understanding of what keyboard size to buy. 
Summary of 104 Full-Sized Keyboards
The 104 Full-size layout is the traditional keyboard layout that has been used since the birth of the modern keyboard in the late 80s. It is the layout that most users are accustomed to and is used in almost all modern keyboards found on desktop PCs and laptops. 
In terms of mechanical keyboards, the full-sized layout has been utilized by most mainstream gaming and productivity brands. Their flagship products almost always utilize the 104 full-sized layout. 
Also, most features, such as USB pass-through, LED screens, and volume wheels, are mostly found in full-sized keyboards. This is because this layout is relatively safe and is known to perform well in the market. 
But with that said, full-sized keyboards have been getting less popular in recent years. In fact, there are almost no full-sized options to be found in the custom keyboard market. This is because many users and designers find that the standard 104 key layout wastes a lot of space. 
There are tons of gaps in most full-sized keyboards, which make them bulkier. Also, gamers are finding these kinds of keyboard-less attractive due to the excessive space found in the Numpad area. Most gamers, FPS players, in particular, often need to tilt the keyboard in order to make enough room for mouse movements. 
And to add to the issue of its size, most full-sized mechanical keyboards are not portable. And to make matters worse, most of these keyboards lack a detachable cable feature which can significantly shorten their lifespan.
Of course, there are plenty of people who still utilize the Numpad. But for the majority of today's users they have no issues if this area is completely shaved off. 
Some brands have made attempts to make the full-size layout more appealing to enthusiasts. Some have tried to make them smaller through the 104 compact layout. However, these haven't been performing very well. 
Overall, 104 full-sized keyboards are still very viable options in the market. However, more advanced users with specific needs may want to opt for smaller form factor keyboards. 
Pros of
Full-Sized
Keyboards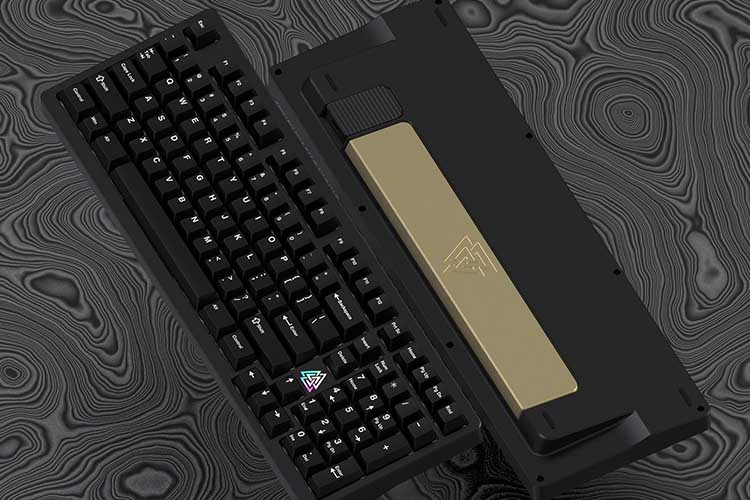 Flexible

Complete Functionality

Has lots of interesting designs

Produced by all major manufacturers 
Cons of
Full-Sized
Keyboards
Too Large for Some Users

Little to no presence in the custom keyboard market 

Less Portable/Usually Lacks Detachable Cable

Can be challenging to use for certain games such as FPS
Popular
Full-Sized
Custom and Prebuilt Keyboards
Razer Huntsman Elite

Razer Blackwidow V3 Pro 

Steelseries Apex Pro

KBDFans Odin
Summary of TKL Keyboards
TKL is one of the many smaller form factor keyboards. But out of all the smaller-sized keyboards, TKL is the closest to the 104 full-sized layout. The only difference between the two is the omission of the Numpad on TKL keyboards. 
Tenkeyless keyboards have been around for a very long time. One of the earliest models, the IBM Model M Space Saving Keyboard (Model M SSK), has been around since the late 80s and was sold alongside the original 104 Full-Sized Model M. However, for a long time, the TKL layout was not considered a standard layout. 
Instead, these smaller form factor keyboards were often considered to be cheaper alternatives to full-sized keyboards. Most of the early TKL gaming mechanical keyboards were sold as budget alternatives to their flagship full-sized keyboards. 
Several key features were usually removed from these keyboards. These included an RGB backlight, USB pass-through, and many more. However, because of how good TKL keyboards are, they slowly rose above their full-sized counterparts and are now more preferred by gamers and keyboard enthusiasts. 
The advantages of TKL keyboards over full-sized keyboards include better ergonomics, a more portable design, the inclusion of a removable cable, and more room for mouse movement. 
TKL keyboards proved that they had a proper place in the market and deserved the premium treatment. Many high-end keyboards today, both from the gaming and custom mechanical keyboard sector, are offered exclusively in a TKL form factor. 
In addition, users who want the advantages of a TKL keyboard but still wish to use a Numpad can opt for a separate Numpad. It isn't the most cost-effective solution, but it works. 
With that said, many enthusiasts still think that the TKL form factor can have improvements. Many believe that there is still some wasted space, and the TKL form factor can be further downsized. 
This has lead to the development of the 75% form factor, which has the exact same number of keys as a TKL, and the 60% and 65% form factors which are even smaller. But overall, the TKL form factor is a well-loved size and is a pretty safe option for those who want a smaller keyboard but do not wish to sacrifice functionality. 
Pros of
TKL
Keyboards
Does not sacrifice functionality 

Users do not need to retrain their muscle memory 

Gives plenty of room for low DPI players 

Produced by all major manufacturers 

More Portable than full-sized keyboards 
Cons of
TKL
Keyboards
Still a bulky compared to smaller form factor keyboards

Loses the Numpad, which may be essential for some users 
Popular
TKL
Custom and Prebuilt Keyboards
Mode 80

Razer Huntsman TKL

Logitech G Pro X

KBDFans KBD8X MK II
Full-Size and TKL Keycap Compatibility
Owners and potential buyers of full-sized and TKL keyboards do not need to worry about keycap compatibility. Almost all keycap sets fit these two form factors. 
The only thing that users need to take note of is when dealing with a compact 104 full-sized layout. Several keys, including the right shift key, are smaller (1.75U). 
In addition, when dealing with gaming keyboards, make sure that the models you are interested in are utilizing a standard layout. Some manufacturers, such as Logitech G and Razer, like to use non-standard layouts which are not compatible with third-party keycap sets. 
Which is the Better Keyboard?
The better size and layout are completely subjective to the individual user. Both keyboard layouts are great, and you cannot go wrong with either of them. 
For those who will mostly be playing competitive games that require wide mouse movements or for users who like to travel with their keyboard, we highly recommend going for TKL keyboards. You aren't missing much with this form factor, and you can always get a separate Numpad if needed. 
And for users who will most likely use their keyboard for work-related tasks and need a Numpad, then full-size keyboards are the way to go. They have their fair share of downsides. However, most of them are quite minor, and the overall keyboard is still perfectly usable. 

The KBE team is dedicated to sharing our knowledge and creating useful resources about computer keyboards. This article was written as a team collaboration, combining our knowledge and years of experience using, building and modding keyboards. Meet the team here.