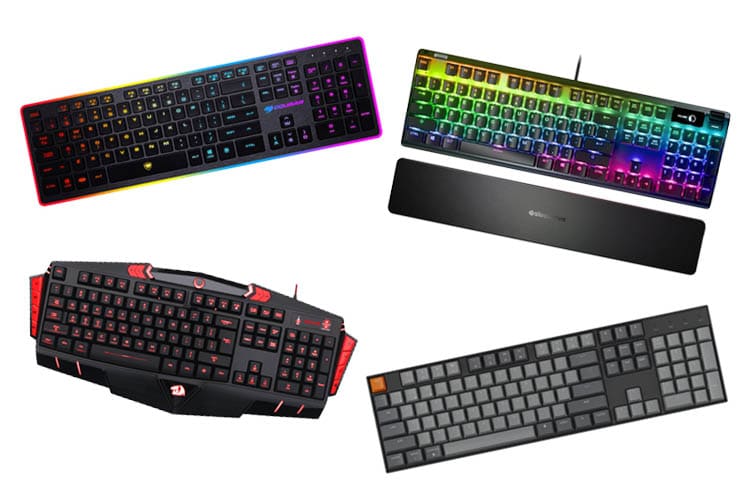 Most gamers are comfortable using the full-size layout for a good reason. The full-sized mechanical keyboard (also called 100% form factor) is almost always the flagship product of many keyboard manufacturers. Moreover, it provides maximum usability with its dedicated numeric pad. This keyboard form factor offers the most bang for your buck with a complete set of 104 keys and is great for gamers who aren't worried about their desk space.
A full-sized keyboard with 104 keys has complete functionality and is flexible for gaming and productivity. This form factor is best for gamers who perform numeric data entry for their jobs. The 100% layout may also be great for MMORPG players who utilize a lot of keys while playing.
While full-sized keyboards are getting less popular over the years, some gamers still prefer this layout over any other compact form factor. Their main reason? The numeric pad, is in an ortholinear layout and can be used when remapping keys for easier gameplay.
In this article, we will be taking you through the ins and outs of full-sized gaming keyboards. Furthermore, we'll help you decide whether or not you need a 100% keyboard form factor for your gaming setup. 
What is a Full-Sized Keyboard?

The 104 full-size layout is the original keyboard layout in the market. This keyboard comprises your alphanumeric keys with modifiers, a dedicated function row, dedicated arrow keys, and (perhaps, most importantly) a full numeric pad.
This form factor has been in use since the late 80s when the modern keyboard was constructed. Many gamers are already accustomed to this full-size keyboard. Since its first construction, newer releases have included other features, such as the volume knob, media docks, USB pass-through, and LED screens.
Perks of Using a Full-Sized Keyboard
The ultimate perk of using a full-sized keyboard is its customizability and availability in the market. First, this keyboard form factor is widely available in the gaming peripheral market. Next, most keycap sets will fit into the standard full-sized keyboard layout since it is the keyboard market's standard. Moreover, if you're looking for other features in your keyboard (such as the volume wheel), it is easiest to find them in the full-sized layout since many manufacturers produce this form factor.
One other perk is the flexibility since this layout is sufficient for data entry and gaming. 
Using a Full-Sized Keyboard for Gaming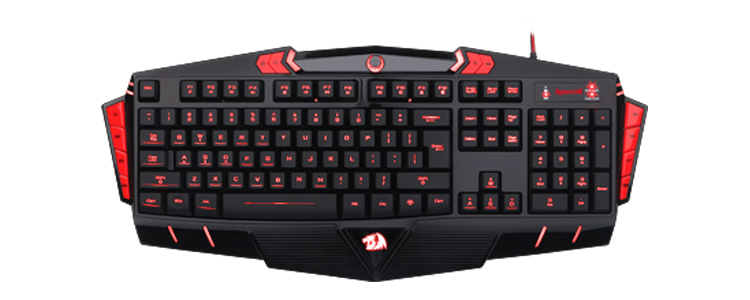 A full-sized keyboard is good for gaming if you already have ample desk space at the ready. This form factor eats up a big chunk of your desk's real estate, which can be detrimental to gamers who like a lot of space to move their gaming mouse.
If you like to play older mainstream games, such as the first version of DOTA, Arma 3, and Final Fantasy VII, you may already be used to playing with the numeric pad as these games have the numeric pad as their primary controls. Opting for a full-sized keyboard is the way to go for these kinds of games.
Moreover, some pro MMORPG players also recommend using the numeric pad for controls. Even though most game controls are already commonly mapped outside the numeric pad, some competitive gamers still prefer and remap game controls to the numeric pad for ease in use during gaming. 
While you can game with smaller form factors, the full-sized keyboard offers a straightly-aligned and convenient numeric pad that these smaller form factors cannot replicate unless you go for an ortholinear layout.
Full-Sized Keyboards in MOBAs
Strategy video games, such as MOBAs (Multiplayer Online Battle Arena), often use alphanumeric keys such as Q, W, E, R, D, and F, and the numbers 1 through 6. Depending on the chosen character's skillsets or attacks, additional keys may be used. Some famous MOBA games are League of Legends (LoL), DOTA, and Heroes of the Storm.
Full-Sized Keyboards in Shooting Games
View this post on Instagram
Shooting games typically use the arrow cluster and/or W, A, S, D keys for movement. Attacks are either placed on mouse clicks or other alphanumeric keys. Current popular shooting games include Call of Duty (CoD), Overwatch, and Valorant.
Full-Sized Keyboards in MMORPGs & RPGs 
View this post on Instagram
MMORPG (Massively Multiplayer Online RPGs) and RPGs (Role Playing Games) utilize the keys 1 through the equals sign ('=') and all the function keys. Other alpha keys are also commonly used, such as the I, M, J, and Q keys. Some MMORPGs and RPGs likewise use the arrow keys and/or WASD for movement. 
Well-known examples of MMORPGs include World of Warcraft (WoW) and Final Fantasy. Famous examples of RPGs include Elder Scrolls and Fallout.
Full-Sized Keyboards in Other Genres
The number pad is more commonly used in other game genres, such as puzzle and casual games. However, most games have already evolved to fit more compact keyboard form factors, with in-game settings that allow you to remap specific keys and use alphanumeric keys more often than not.
Recommended Full-Sized Keyboards For Gaming
Keychron K10

The Keychron K10 is a full-sized mechanical keyboard that offers hot-swap and pre-built versions in a premium 9-degree angled body for maximized comfortability, even after long hours of gaming. Moreover, it can be used both wired and wirelessly. In wireless mode, this board boasts a large battery with 4000 mAh, which can last up to 240 hours without backlighting.
Razer Huntsman Elite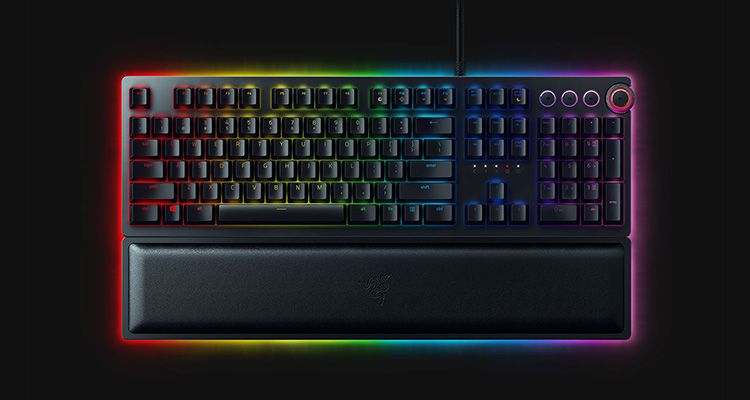 The Razer Huntsman Elite Keyboard uses Razer Optical Switches with an optical light sensor inside the switch. This type of switch allows for a faster actuation force since the light instantly actuates the switch command. This gaming keyboard also includes a magnetic wrist rest for a comfortable gaming experience.
Another key feature of this full-sized gaming keyboard is its 10-key rollover, which allows up to ten simultaneous key presses with anti-ghosting. This keyboard also comes with its configuration software, the Razer Synapse 3, which unlocks premium customizability options such as special commands and lighting effects.
Steelseries Apex Pro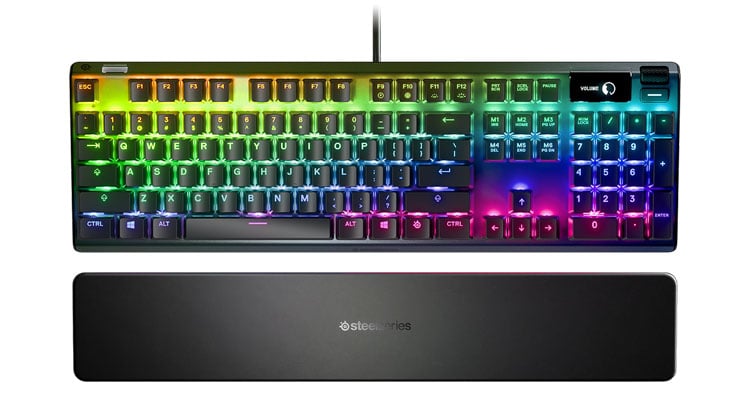 The Steelseries Apex Pro is the first of its kind to offer adjustable actuation forces for each key in the keyboard. Moreover, this board prides itself on being much more durable than mechanical keyboards; each switch can last up to 100 million keypresses. This keyboard also offers an integrated OLED Smart Display that gives you helpful information about keyboard profiles, settings, and other significant updates.
Other premium features of this board include its case made of aircraft-grade aluminum alloy and an easy snap-in magnetic wrist rest.
Verdict
A full-sized keyboard with 104 keys is suitable for gamers who have ample desk space that can be utilized. This form factor has complete functionality without needing external parts, which can be a big plus for gamers who use their gaming setup for work productivity.
Most professional gamers like the feel of full-sized keyboards for competitive gaming since they can remap controls of a game to the numeric pad for ease in access and travel time from keyboard to mouse. However, smaller form factors may also be used for competitive gaming.
Full-sized keyboards are suitable for gaming if you use the numeric pad frequently. If not, we recommend looking into smaller and more compact form factors to complete your gaming setup.