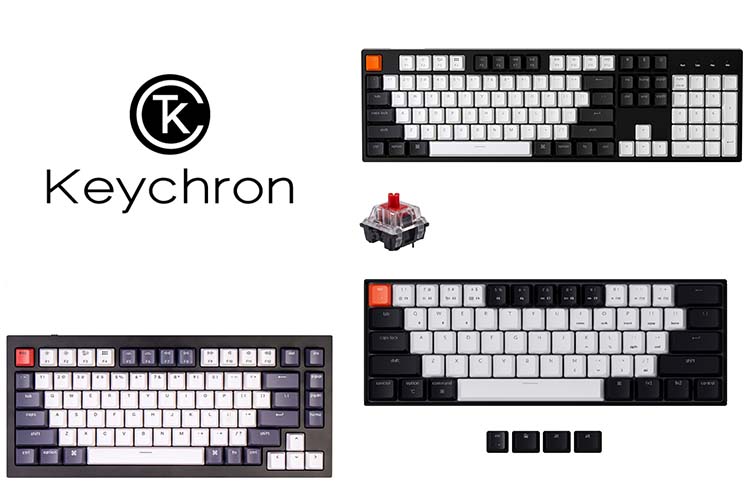 When talking about custom keyboards, people traditionally associate them with expensive and luxurious keyboards that are out of reach for regular consumers. However, the market has been evolving, with different brands rising to cater to the needs of budget consumers. One of the most successful brands in this market sector is Keycrhon.
Keychron is a brand that is well known for offering great value mechanical keyboards. Their offerings range from keyboards that offer enthusiast-level features such as hot-swap and keyboards that offer consumer-grade features such as 2.4 GHz wireless and Bluetooth. Keychron is also arguably one of the pioneers of budget high-performance keyboards.
Keychron may be new to the game. However, they have already set the bar for entry-level keyboards. Their offerings have become favorites of various personalities, including Marques Brownlee/MKBHD. 
Of course, given that Keychron isn't as big as most of its competitors, it raises a few questions for some consumers. The biggest one is if Keychron's keyboards are any good and can they satisfy the needs of consumers?
In this article, we will be answering all those questions by taking a deep look into the Keychron brand. We'll be taking a look at their history and product offering. And by the end of our brand review, consumers should have a clear idea if Keychron's offerings are a right fit for them.
Keychron Brand History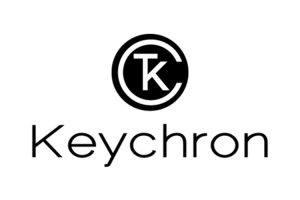 Keychron is a relatively new brand in the industry. They only started as a Kickstarter project in 2018. And at the time, no one knew that they were going to be a major player in the mechanical keyboard market. 
Their first product was the Keytron. It featured proprietary mechanical switches that the company called the "Keytron switch." It is a low-profile mechanical switch with a 45g actuation and a 3mm travel. Aside from these technicalities, it also has N-key rollover and anti-ghosting capabilities that allow simultaneous rapid key presses and can also be paired through wireless connectivity up to three devices. 
Given these perks and gimmicks, the Keytron project was pledged by 3,946 backers with 328,523 USD. It easily became the steppingstone for Keychron to continue creating more keyboards that are grounded to a design philosophy wherein conveniences of most types of mechanical keyboard users are considered. 
Unfortunately, the Keytron failed to amuse nor make the market turn its eyes on them. It was rough but steady progress for Keychron after this project. The low-profile keyboard did not amuse enthusiasts as only a few find its ergonomics and typing experience enjoyable and convenient. Fortunately, it was enjoyed by Mac Users as it has the option to be offered in a macOS layout designed by Keychron and the Siri keyboard shortcut that can trigger the AI assistant at your utmost convenience.
Mainstream Fame
After the Keytron campaign, Keychron went back to the drawing board to think of products that would better appeal to enthusiasts and casual consumers. During this period, custom keyboards were truly starting to hit the mainstream. Custom keyboard kits were starting to become the norm for the mechanical keyboard market. 
This was when Keychron introduced their K series keyboards. They came in both prebuilt and barebones options. They also featured several enthusiast-grade features, including hot-swap sockets. Several features, such as the option to buy the kits in ANSI and ISO layout, were also present in these keyboards.
Keychron's offerings were closer to prebuilt keyboards than they were to true custom keyboards. However, they were the closest thing that consumers were getting to the custom keyboard experience. Given how customizable their keyboards are and that there were practically no big-name competitors, Keycrhon saw massive success.
Today, Keychron continues to innovate. They introduced the Keycrhon Q1 in 2021, adding enthusiast-grade features such as a Gasket mount and different plate materials. With how good Keychron's product offerings are, enthusiasts expect the company to have a very bright future.
Keychron in ESports and Other Fields
View this post on Instagram
The brand's presence in the ESports scene is yet to be found, and this is mostly because Keychron currently does not provide sponsorships to different Esports organizations. However, this can easily change in the future since some professional players, who are not sponsored, are known to use keyboards from these smaller brands. 
In terms of general reception in other fields, Keychron has been well received by both reviewers and enthusiasts. Youtube personalities and celebrities, such as MKBHD, are well-known to be fond of Keychron's offerings.
Keychron Keyboard Lineup
Keychron currently offers different keyboards for different kinds of users. With the number of different keyboards they offer, things can easily get very confusing. Fortunately, we have listed the highlights of their brand offerings to make things simpler for consumers.
Keychron Q1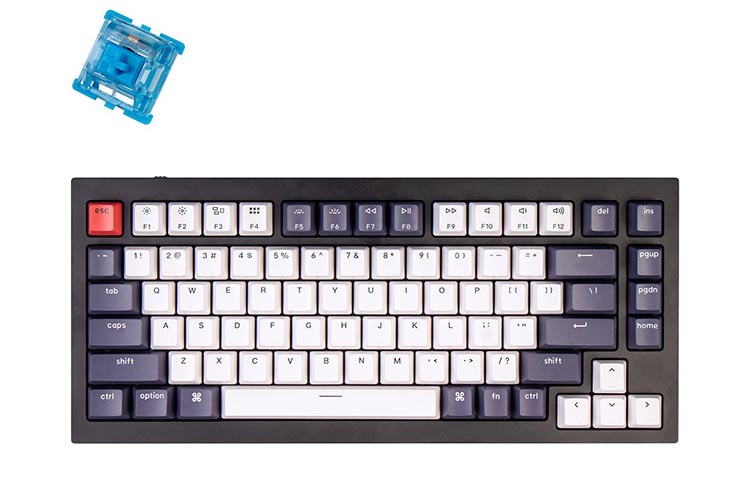 The Keychron Q1 is currently the company's flagship keyboard. It is their first foray into the full custom mechanical keyboard market and embodies features that are only typically found on higher-end mechanical keyboards. It is a direct competitor to the Glorious GMMK Pro, a very similarly specced keyboard.
Like most Keychron's keyboards, the Q1 features a hot-swappable PCB. But this time around, the switches are south facing meaning the backlight will be significantly dimmer but will prevent compatibility issues with cherry profile keycaps such as GMK sets. There are also additional premium features, such as its full aluminum case, gasket mount design, and the option to add a custom badge or a programmable knob.
In addition, the Q1 is the first Keychron keyboard to feature QMK and VIA compatibility. This makes it the first Keychron keyboard to feature software support and one of the first keyboards from a mainstream brand to be compatible with software typically meant for full-blown custom keyboards.
The Q1 comes in both a barebones option or a prebuilt option. The prebuilt option comes with Gateron Phantom switches made exclusively for the Keychron Q1. Consumers can opt to put their own switches and tweak the keyboard however they like since the Q1 is meant to be opened and modded. Overall, the Q1 is a very competitively priced keyboard meant to introduce users to the custom keyboard experience without breaking the bank.
Keychron Q1 Highlights
Gasket mounted and pre-lubed Gateron Phantom switches

75% layout, Coiled cable

Aluminum body with south-facing LEDs in the PCB

QMK and VIA support
Keychron K Series
The K series is Keychron's midrange offering. Most of the company's products were originally designed to be part of this line of keyboards. The main appeal of these keyboards is their customizability and diversity of options for different kinds of users.
Unlike the Keychron Q1, the K series isn't meant to emulate the custom keyboard experience. They aren't designed to be disassembled and modded by the end-user. Instead, the goal is to provide a solid user experience that gives the user options to choose their preferred switch via Hot-swap.
Most of the keyboards in the K series share a lot of similarities. These include a plastic or aluminum body, wireless functionality, and a hot-swap PCB. The main difference between the various models in the K series is their size.
Some models feature a full-size layout, while others have smaller or more compact layouts. Check out our dedicated discussion about keyboard sizes to learn more. Below are some of the best-selling models in the K series.
Keychron K6
The Keychron K6 is the company's 65% offering. Unlike most 65% keyboards, such as the KBDFans KBD67 Lite and TKC Portico, the Keychron K6 does not feature a blocker on the right side of the keyboard. Instead, all the keys are compressed to form a compact layout.
The other highlights of this model include wireless functionality via Bluetooth, an aluminum frame to add more heft and durability, and a hot-swap design. In addition, the Keychron K6 comes in an optical switch variant. Just take note that this version is not compatible with regular mechanical switches.
Despite being a fairly standard keyboard, especially compared to today's offerings, the Keychron K6 is still an excellent keyboard. It features just the right amount of enthusiast features and pairs them with good build quality and wireless functionality, making it a versatile keyboard for any task. 
Keychron K6 Highlights
Comes in Non-backlight / Backlight / RGB Backlight version

Optional Aluminum frame

65% layout with Gateron switches or LK Optical switches
Keychron K12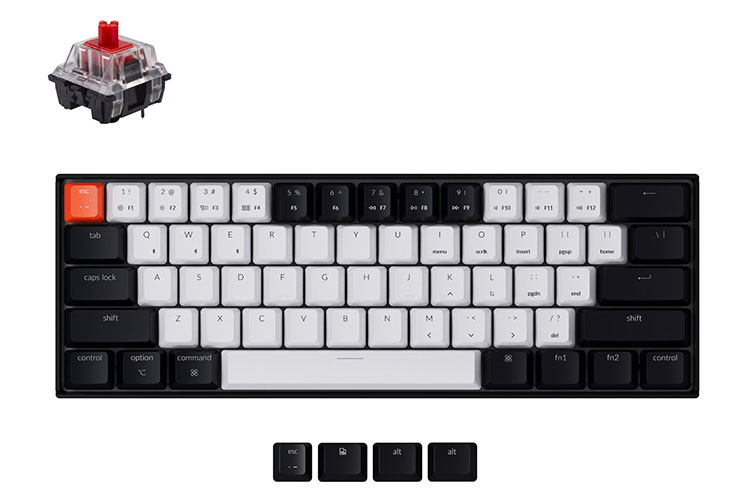 The Keychron K12 is practically the same as the K6. The only difference between the two keyboards is that the K12 features a 60% layout. Several keys, including the arrow keys and the F-keys, are cut out to make the keyboard smaller.
The K12 is a keyboard that appeals to users who want a small and lightweight keyboard that they can carry around. Like the K6, the K12 features Bluetooth for wireless connectivity and a solid design with an optional aluminum frame add-on. It also comes in different variants, including an optical and mechanical version.
In addition, the K12 is hot-swappable, meaning users can put in any switches that they want. This keyboard does come with several switches, including Gateron switches, making it perfect for beginners who want to try out different switches.
Like the K6, the K12 is an excellent small form factor keyboard. While it may take some time to get used to its design, it can be a very solid daily driver keyboard once users get it.
Keychron K12 Highlights
Comes with Keychron, Gateron, or optical switches 

60% layout

Hot-swappable. 
Keychron C Series
The Keychron C Series is the company's entry-level line of keyboards. Compared to the K series, the C series is more straightforward and generally has a more basic build quality. Their chassis is made of plastic, and they do not feature advanced features such as wireless connectivity. They do, however, offer hot-swap like the rest of Keychron's offerings.
There are currently two models in the C series, the Keychron C1 and C2. The only difference between these two keyboards is that the C2 is a full-sized keyboard while the C1 is a TKL keyboard. The rest of their features are the same.
Given the lower price point of these keyboards, the C series is a perfect fit for beginners who are exploring what they want in a mechanical keyboard. Also, the fact that these keyboards offer plenty of variety, such as switch options and backlight options (no backlight, white backlight, RGB backlight), makes the C series the perfect gateway into Keychron's more expensive offerings.
Keychron C Series Highlights
Comes in a TKL (C1) or Full-sized (C2) form factor
Plastic chassis and basic but still solid construction
Hot-swap PCB
What makes Keychron a Good brand?
Keychron, unlike other brands, has shown to the market that they continue to develop their products and are listening to the concerns of its end users. Such customer regard makes Keychron an outstanding brand for enthusiasts and beginners, and casual users. Keychron cares, and this is evident in the release of their Q1.
Why Buy Keychron Keyboards?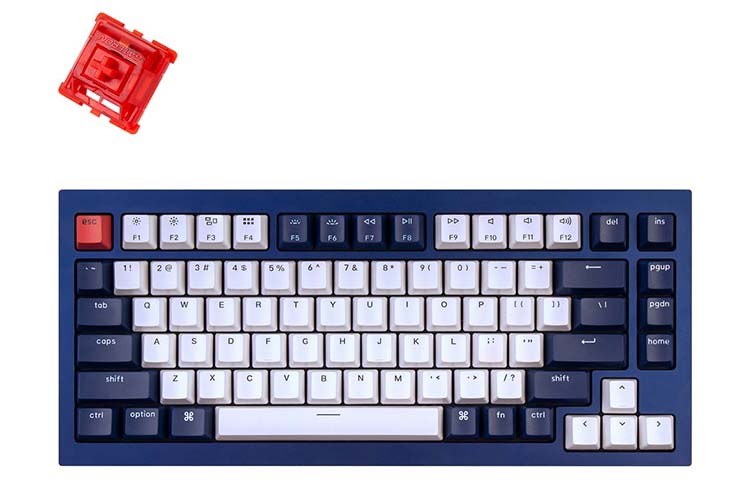 Keychron's keyboards are some of the best entry-level keyboards in the market. They offer solid functionality and are very reliable daily driver keyboards. In addition, they can be bought in most retail stores without having to go through a lengthy group buy or pre-order process.
In addition, Keychron's keyboards can help the user experiment and find out their preferences without breaking the bank. Keychron's offerings come with different switch configurations, hot-swap support, and form factors.
Also, with Keychron's latest Q1, consumers can finally taste the custom keyboard experience. Regardless of your budget, Keychron certainly has something that is fitting.
Why Look For Alternatives?
Keychron's offerings are extremely solid. The only reason why someone would look for alternatives is if they are not satisfied with their feature set. For those looking for something more premium or more customizable, check out full-blown custom mechanical keyboards. 
Which Keychron Keyboard To Buy?
The Keychron Q1 is perfect for those looking for a premium mechanical keyboard. It can also accommodate several mods and tweaks to fit exactly what the user wants in their keyboard.
For those looking for a more affordable keyboard, the K series is a perfect fit. They feature various form factors and switch options, making it perfect for those who are not interested in modding the keyboard and are instead interested in having more practical features such as wireless functionality.
And lastly, those who are on a very tight budget can consider both the Keychron C1 and C2. They cover all the basics and are sold at an even more affordable price point.
Where to Buy Keychron Keyboards?
It is highly recommended that you purchase Keychron keyboards directly from their website. Their products are also available in most mainstream online stores such as Amazon, and a single internet search will easily guide you where to buy its models. 
Keychron Keyboard Warranty
Keychron offers a 1-year limited warranty for all of its keyboards. Check out Keychron's official website to learn more. 

The KBE team is dedicated to sharing our knowledge and creating useful resources about computer keyboards. This article was written as a team collaboration, combining our knowledge and years of experience using, building and modding keyboards. Meet the team here.