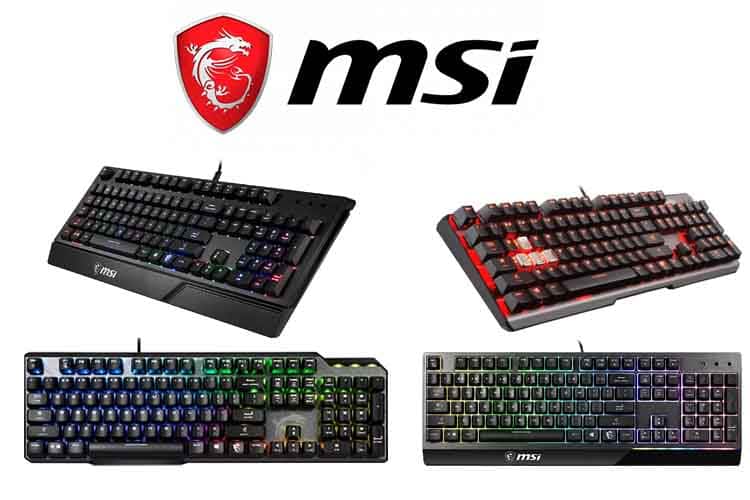 MSI Gaming is one of the most reputable brands when it comes to PC hardware. They have manufactured everything from graphics cards to gaming monitors. They are also one of the biggest sponsors of some of the biggest events, such as the ESL Pro League. Given their massive success, the brand has ventured towards gaming peripherals in the hopes of also dominating this market space. 
MSI Gaming produces a variety of gaming keyboards. They have everything from mechanical keyboards to membrane keyboards. However, compared to the rest of the competition, their gaming keyboards aren't quite as innovative. They chack a lot of boxes but aren't daring enough to introduce groundbreaking features that would make them a top contender on anyone's list. 
The only issue with brands such as MSI Gaming in the gaming peripheral market is that they have left a bad taste in the mouths of serious gamers. Many of these PC hardware manufacturers that have ventured into this market have released substandard peripherals that absolutely cannot keep up with the majority of gaming peripheral brands. So the question is, is MSI Gaming any different?
Join us as we delve deeper into MSI Gaming's gaming peripherals, specifically their gaming keyboards. We will also be taking a look at their history and reputation. All of these should help consumers find out if MSI Gaming's products are a worthy investment.
MSI Gaming Brand History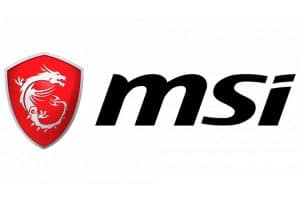 MSI's status as an innovator and top brand in digital content development adds to its widespread appreciation in the gaming industry. The Content Creation Series, based on MSI's decade of gaming innovation, offers photographers, graphic designers, 3D animators, video editors, and other professionals worldwide stunning color accuracy, long-lasting battery life, high-fealty audio, and excellent performance in an ultra-portable, sleek chassis.
The MSI Business & Productivity Series is a clean-cut, modern chassis that delivers exceptional performance, enterprise-grade security, and outstanding battery life to complement the extraordinary tastes of business professionals.
The worldwide acclaimed MSI Gaming Series, Content Creation Series, and AIoT solutions are made possible by MSI's customer-centric approach, which guides the deployment of its R&D resources. The Gaming Series, which is at the top of gamers' wish lists, includes top-of-the-line laptops, graphics cards, displays, motherboards, desktops, and gaming accessories. The Material Creation Series is designed exclusively for those who create digital content.
The Content Creation Series is currently a market leader in its industry, recognized for its attractive appearance and performance. Furthermore, MSI is a forerunner in AI, enterprise computing, and the Internet of Things. MSI's areas of expertise include cloud servers, configurable Industrial PCs, smart robotic appliances, and car infotainment and telematics systems, where the most comprehensive AIoT solutions are produced.
Deep Bond With Gamers
View this post on Instagram
MSI has supported more than 20 eSports teams globally and is the proud host of the world-renowned gaming competition MSI MGA, in addition to years of dedication to high-end gaming technology (Masters Gaming Arena). MSI takes advantage of every chance for face-to-face connection with gamers and fans throughout the world.
MSI and gamers speak the same language when it comes to gaming. With breakthrough technologies and one win after another, MSI and gamers have shocked the gaming industry.
MSI Gaming Keyboard Lineup
Mechanical Keyboards
MSI Gaming VIGOR GK60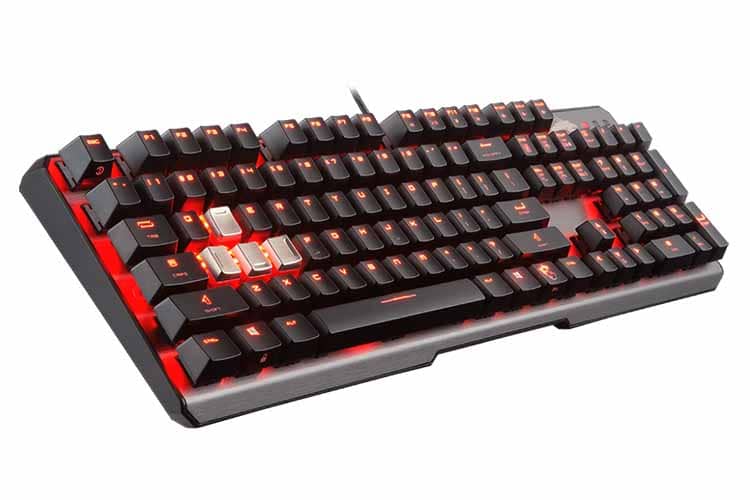 The MSI Gaming Vigor GK60 is MSI Gaming's take on a basic/entry-level gaming mechanical keyboard. It embodies all the essential design elements of successful gaming keyboards used by professional gamers in various high stake tournaments.
Some of the features found on this keyboard include Cherry MX Red linear switches, a red backlight, metal keycaps found on the WASD keys, software programming via MSI Gaming Center, brushed aluminum top, cable routing, anti-slip base, and full anti-ghosting and NKRO via its dedicated gaming mode. There are some noticeable things missing from this keyboard, such as RGB and alternative mechanical switch options, But overall, the Vigor GK60 has everything that competitive gamers would need
MSI Gaming VIGOR GK60 Highlights:
Intuitive Effects Control Hotkeys

N-Key Rollover Technology

25% Anti-Slip Performance

Innovative Cable Management

Uses Cherry MX Red Switches
MSI Gaming VIGOR GK50 ELITE and Low Profile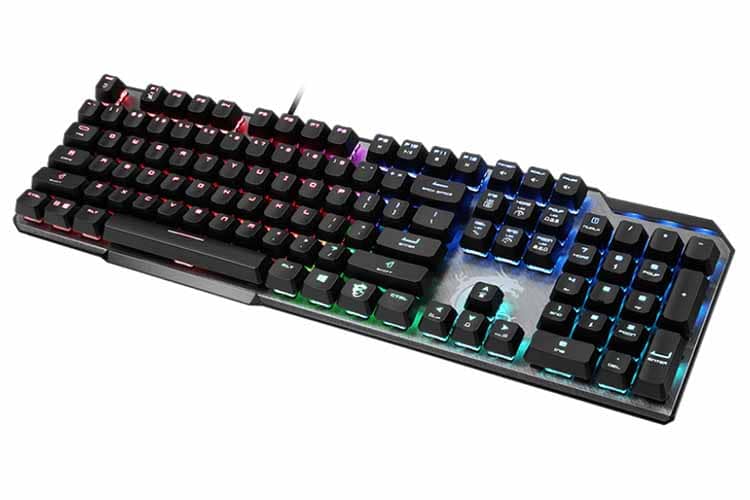 The MSI Gaming Vigor GK50 Elite is considered to be an upgrade to the GK60. It features the same full-sized layout and high-quality build as the Vigor GK60. But this time around, the GK50 Elite has more premium features that make it a more competitive choice for today's gamers.
Some of the notable improvements that can be found on this model include per-key RGB and two choices of Kailh switches. In addition, the Vigor GK50 retains the metal top plate as well as the anti-slip base found on the Vigor GK60. This keyboard also has durable anti-slip keycaps, which are perfect for gamers with sweaty fingers.
In terms of switch options, the GK50 Elite can be bought in either the Kailh Box White or Kailh Blue variants. Both of these switches are clicky switches, unlike the Cherry MX Red switch, which is a linear switch.
The GK50 is also available in a low-profile form factor. This variant features a more ergonomic design that has keycaps that are more similar to the ones found on gaming laptops. With the wide variety of features that the Vigor GK50 series offers, these keyboards will fit in regardless of your playstyle.
MSI Gaming VIGOR GK50 ELITE and Low Profile Highlights:
Contemporary Design

Full Per-Key RGB Lighting

Metal Top and Anti-Slip Base

Kailh Box White and Blue Switches
Optional Low Profile Design (GK50 Low Profile)
MSI Gaming VIGOR GK80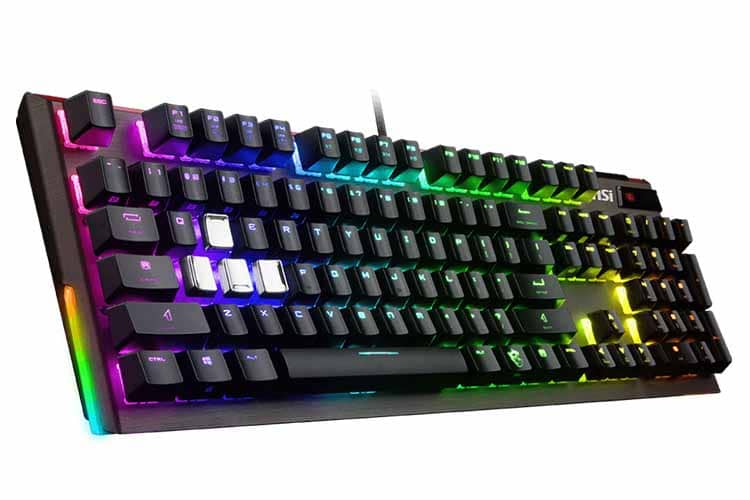 The MSI Gaming Vigor GK80 is an evolution of the company's previous keyboards. It takes all the best features of the GK60 and GK50 Elite to make the ultimate gaming keyboard.
The main highlights of this keyboard include its floating key design, Cherry MX switches, lightweight aluminum construction, optional metal keycaps for the WASD keys, optional rubber textured keys, detachable wrist rest, multimedia keys, and RGB both on the keys and on the sides of the keyboard.
In terms of switch options, the Vigor GK80 can be bought with Cherry MX Reds or Cherry MX Speed Silvers. Both of these switches are linear switches. However, they are two of Cherry's most popular switches for gaming. Overall, the Vigor GK80 has all the bells and whistles as well as the performance that you would expect on a premium gaming keyboard.
MSI Gaming VIGOR GK80 HIGHLIGHTS: 
Cherry MX Red or Speed Silver Switches Switches

RGB Mystic Light

N-key Rollover Technology

Aluminum Base

USB Pass-Through
Extra Metal and Rubber Keycaps
MSI Gaming VIGOR GK70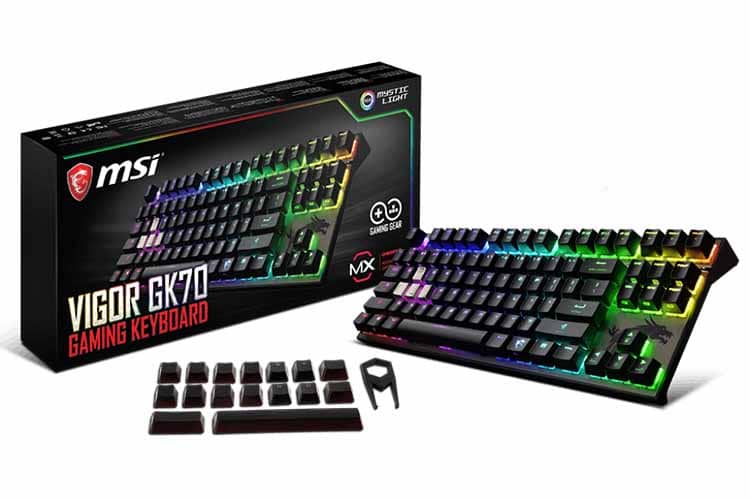 The MSI G Vigor GK70 is MSI Gaming's take on a compact gaming keyboard. Unlike most of their keyboards, the Vigor GK70 features a TKL design, meaning it is missing the Numpad. This compact design allows gamers to position their mice closer to their keyboards. It also allows this keyboard to fit better in smaller desks or be more portable.
Apart from its smaller form factor, the GK70 has all the bells and whistles that can be found on MSI G's other keyboards, such as the Vigor GK80. It has a floating key design, Cherry MX switches, NK-Rollover, an aluminum base, RGB on the keys and the sides of the keyboard, etc. It also has all the extra keycaps that are found on the GK80.
The only design element that differentiates the GK70 from the GK80 is MSI's signature dragon logo that can be found on top of the arrow keys. This gives the keyboard a more aggressive and striking look. Overall, the Vigor GK70 is a perfect keyboard for those who are looking for a smaller version of the Vigor GK80.
MSI Gaming VIGOR GK70 HIGHLIGHTS:
Cherry MX Red or Speed Silver Switches Switches

RGB Mystic Light

N-key Rollover Technology

Aluminum Base

USB Pass-Through
Extra Metal and Rubber Keycaps
TKL Design
Membrane Keyboards
MSI Gaming VIGOR GK40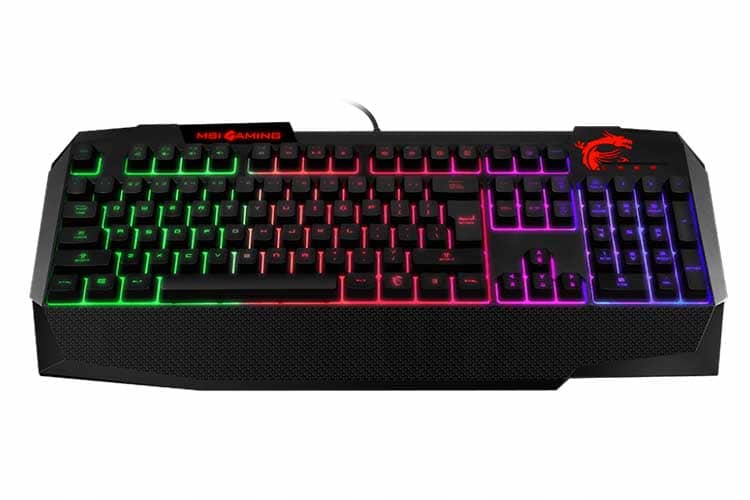 The MSI Gaming Vigor GK40 is an entry-level gaming keyboard that features membrane keys. What makes this keyboard special is the fact that its membrane keys are made to mimic the sound and feel of mechanical switches. Also, since these keys are not mechanical switches, they are water-resistant.
This will allow each keystroke to feel more defined. In addition, the GK40 features Antighosting technology which helps prevent ghost presses.
Given its more entry-level price, there are some limitations to this keyboard. It only features zone RGB, meaning the backlight of each key cannot be individually configured. Also, this keyboard has a more basic plastic housing.
The Vigor GK40 may be a basic keyboard. However, it has everything to satisfy the needs of gamers on a tighter budget.   
MSI Gaming VIGOR GK40 HIGHLIGHTS:
RGB Lighting
Hotkeys
Anti-Ghosting Technology
Water-Resistant
Ergonomic Design
MSI Gaming VIGOR GK30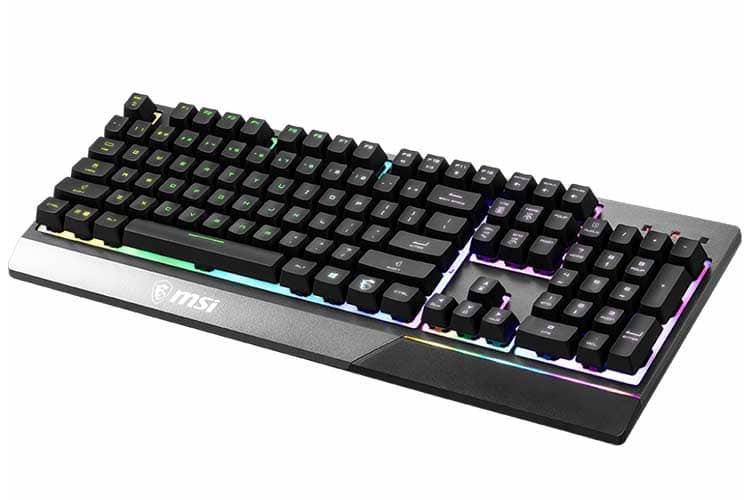 The MSI Vigor GK30 is another entry-level gaming keyboard from MSI G. However, what separates this keyboard from the GK40 is its design that more closely resembles the higher-end Vigor GK keyboards.
The GK30 features floating keys as well as plunger membrane switches. These switches are still based on membrane switches but are meant to emulate the feel of mechanical switches. The keycaps can be removed to reveal what these switches look like.
This keyboard also features RGB lighting. It is still limited to zones instead of the per-key RGB found on the company's higher-end keyboards. But with that said, there are plenty of effects to help make this keyboard look more interesting. Overall, the GK30 is perfect for budget-conscious gamers who are looking for a great-looking gaming keyboard.
MSI Gaming VIGOR GK30 HIGHLIGHTS:
RGB Lighting

Hotkeys

Water-Resistant Key Design

Anti-Slip
MSI Gaming VIGOR GK20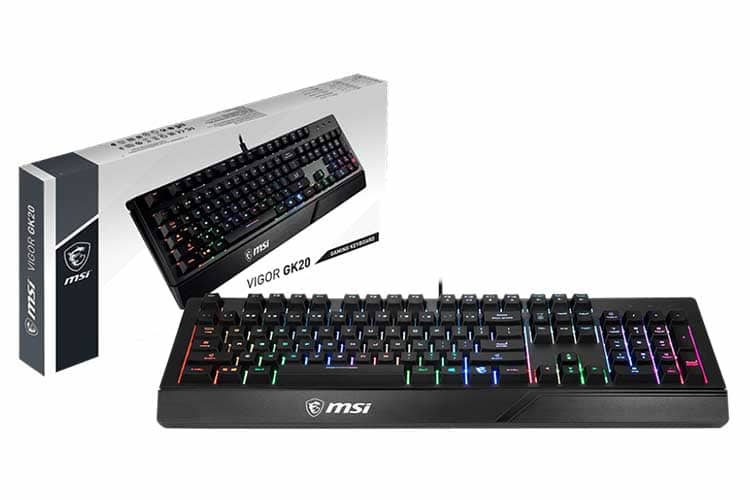 The MSI Vigor GK20 is the company's most affordable gaming keyboard. Compared to the GK40 and GK30, the GK20 has a more minimalistic design. It still features an RGB backlight, but the effects are now more limited. 
Furthermore, the GK20 is utilizing regular membrane keys that feel very similar to the ones used by the majority of membrane keyboards. Overall, this keyboard is designed for those who wish to experience what gaming keyboards feel like without investing too much.
MSI Gaming VIGOR GK20 HIGHLIGHTS:
Ergonomic Keycaps

RGB Lighting Effect

Hotkeys for Fast Control

Water Repellent

Rubber Feet on the Gaming Base

Anti-Ghosting
MSI Gaming INTERCEPTOR DS4100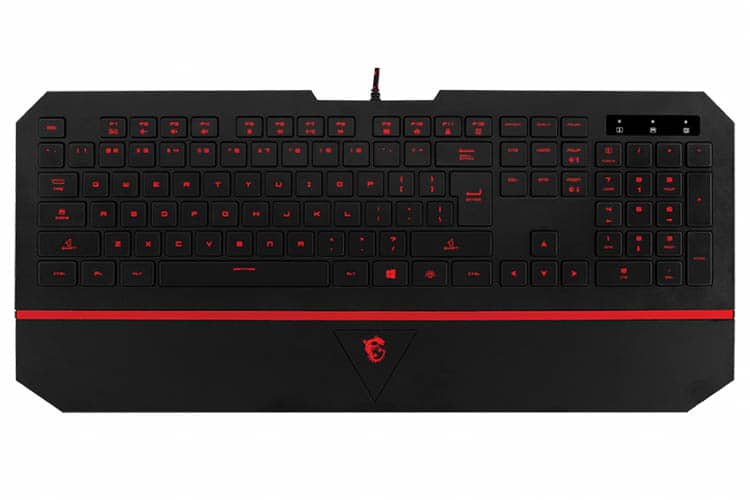 The MSI Gaming Interceptor DS4100 is a unique take on the concept of a gaming keyboard. It does not utilize mechanical switches and instead utilizes low-profile membrane switches/chiclet switches similar to the ones found on laptop keyboards.
In addition, the Interceptor DS4100 is generally smaller and more lightweight compared to most mechanical gaming keyboards. It also sports a more compact layout compared to other full-sized gaming keyboards.
And despite not utilizing mechanical switches, the Interceptor DS4100 still maintains its key input accuracy. It features a 19-key rollover which assures that all key inputs will register. And as a bonus, this keyboard features hotkeys and an integrated wrist rest.
The only thing missing from this keyboard is per-key RGB. You do get 7 colors, but the customization options are limited. But aside from that, this keyboard is perfect for gamers who prefer the feel of chiclet keyboards over mechanical keyboards.
MSI Gaming Interceptor DS4100 Highlights:
Ultra-Slim and Lightweight Design
Built-In Wrist Rest
Hotkeys for Multimedia Functions
19-Key Rollover
Backlighting in 7 Colors
Gold-Plated Connector and Braided Wire
Do Pros Use MSI Gaming Keyboards?
MSI Gaming is well-known for collaborating with professional gamers and Esports organizations. They have worked with lots of big-name teams such as Fnatic, Cloud 9, Evil Geniuses, and many more. But with that said, their gaming peripherals aren't the ones that MSI G is providing to these teams.
Instead, they are focusing more on their gaming monitors, graphics cards, PC cases/chassis, etc. This is most likely due to the fact that MSI has a stronger grip on those markets.
Why Buy MSI Gaming Keyboards?
View this post on Instagram
Despite being relatively simple, MSI Gaming offers solid gaming keyboards. They have all the essential features, including solid build quality, mechanical switches (Cherry and Kailh), N-key rollover and anti-ghosting, software support, RGB backlight, and aggressive looks. With how well MSI Gaming's Dragon aesthetic is implemented with these keyboards. They will pair perfectly with MSI Gaming's other peripherals and devices.
In addition, MSI Gaming keyboards are often bundled with other MSI Gaming gear. Of course, this will depend on the deals that your local dealer has.
Why Should You Look for Alternatives?
View this post on Instagram
MSI's Gaming keyboard offerings are solid. However, that is simply not enough to compete with today's gaming keyboard market.
MSI Gaming is now massively behind both in their gaming keyboards and mice. They simply do not have the features to compete with dedicated gaming peripheral brands such as Logitech G and Razer. Even their closes competitor, Asus ROG, does a better job than them.
To be more specific, these are the features that MSI Gaming keyboards lack. They lack the switch variety that most competitors have, features such as hot-swap, revolutionary switches such as optical and analog switches, and the clean aesthetic that gaming keyboards are moving towards.
In addition, gaming peripherals are also heavily competing against custom keyboards. And since MSI Gaming can keep up with neither gaming keyboards nor custom keyboards, they have seen very little success. It also doesn't help that MSI G poorly advertises its gaming peripherals.
With the number of different alternatives in the market, it is very hard to recommend MSI's gaming keyboards unless you are a fan of the brand or the aesthetics of these keyboards.
Where to Buy MSI Gaming Keyboards?
MSI keyboards can be bought directly from the brand's website. Their products are also available in most mainstream online stores such as Amazon. You can also find them in most physical retail stores.
MSI Gaming Keyboard Warranty
MSI offers one limited warranty for their gaming keyboards. Check out MSI's Official Website to learn more. 

The KBE team is dedicated to sharing our knowledge and creating useful resources about computer keyboards. This article was written as a team collaboration, combining our knowledge and years of experience using, building and modding keyboards. Meet the team here.