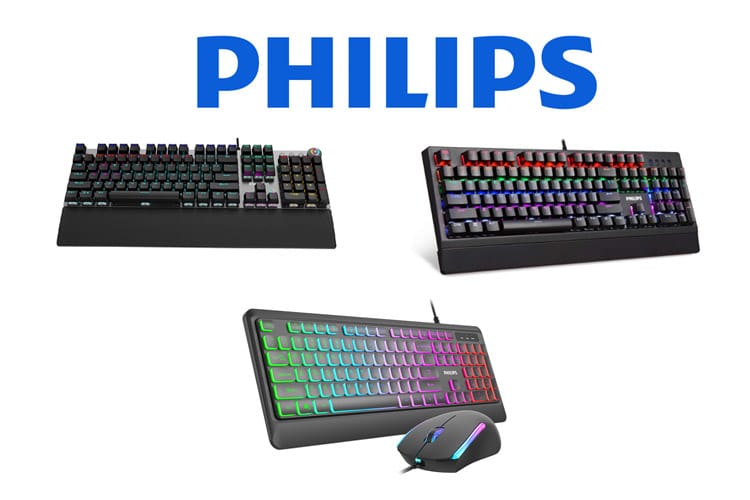 What distinguishes passionate people in their craft from those business or income-oriented ones is the quality of their art. While the latter may have the money, passion speaks louder than words and marketing ploys that capitalize on the brand's name. The same phenomenon applies in the keyboard scene. Some manufacturers only decided to invest in our beloved industry without even hint of what the market or community needs.
Philips is a well-known brand that has recently entered the mechanical keyboard market. Despite their success in other departments, the brand has much to learn when it comes to keyboards. Their products are certainly useable. However, they are surely not the best in their price range. 
Here, we will talk about how Philips performs in the keyboard market and whether getting one of their products is worth your money. Accordingly, this will serve as your guide should you be interested in one of their keyboards.
More About the Brand

Philips is famous for its electronics and appliances. Truth and, in fact, the brand's existence traces way back from the 1890s when Frederik Philips and his son, Gerard, founded the company in the Netherlands. Since then, the brand has been a pioneer in many diversified industries and fields that touch human life.
Their move to expand in keyboard manufacturing is unprecedented as the brand is only known to make consumer-grade and high-end monitors. Unfortunately, there are no available sources that would tell us why such an influential brand invested in keyboards.
Keyboard Lineup
A cursory look at their keyboard lineup would easily tell you that their products are for those looking for budget keyboards. Right away, if you are an enthusiast that is looking forward to trying crafts by other brands, this may not be for you.On the other hand, if you are looking for something to drive daily without touching any keyboard builds displayed in your collection, their keyboards are perhaps, enough to meet your typing needs.
Philips' keyboard lineup is only composed of full-sized keyboards. Unfortunately, there are no product pages that may give you all the information that you need for each of them. AS to any gimmicks or unique features, do not expect any given their prices. Philips designed their keyboards only to function as one and as needed.
With that out of the way, here are some notes that may help you.
Philips SPK8614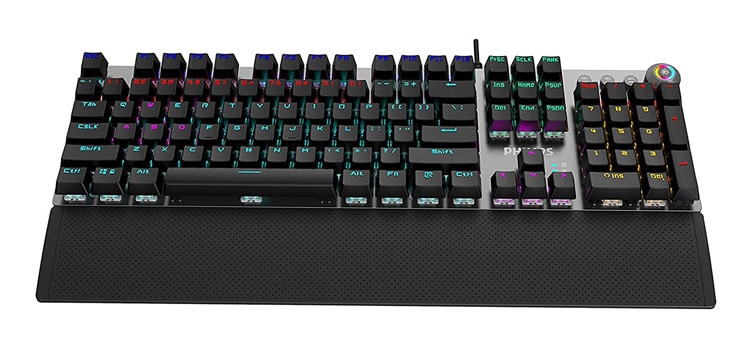 SPK8614 Highlights
Full-Sized Form Factor Mechanical Keyboard

Dedicated Media Keys 

RGB Backlighting

Equipped with Philips' Proprietary "Rapid-Fire Switches."

Wrist Rest
First on the list is the SPK8614. This mechanical keyboard is priced at 40$. The cheap price tag is not justified at first glance, given that the keyboard is equipped with premium features such as RGB backlighting, a wrist rest, and a set of dedicated media controls. 
In this keyboard, we can also see the brand's proprietary rapid-fire switches. Sources do not provide as to when and how these switches are made. As such, it is safe to assume that the brand created it in-house. Unfortunately, these switches do not measure to the quality of, say, Cherry MX switches. 
Philips SPK8403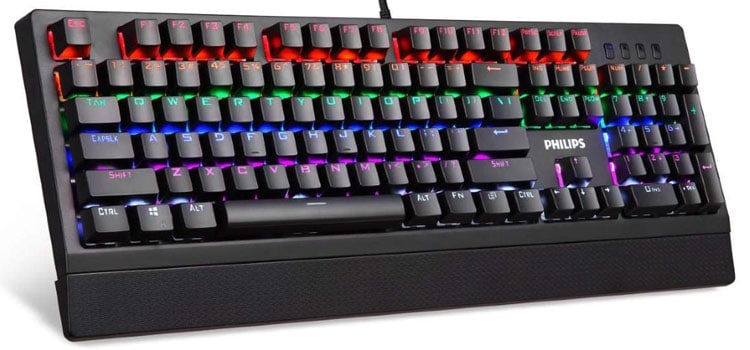 Highlights
Full-Sized Form Factor Mechanical Keyboard

Five (5) Additional Macro Keys

RGB Backlighting

No Wrist Rest, Unlike the SPK8614
Turning on to more budget options, we have the SPK8403. This mechanical keyboard is identical to the SPK8614 in terms of switches. It has five (5) additional macro keys to program for your gaming needs. Unfortunately, this feature may not be maximized as the keyboard is connected only through USB 2.0. 
Philips C294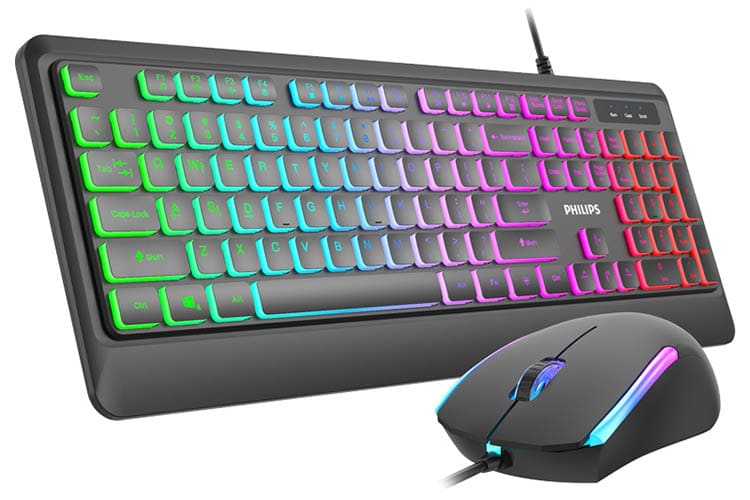 Highlights
Full-sized Membrane Gaming Keyboard

Wireless Connectivity

Typically Bundled with Philip's Gaming Mouse

RGB Backlighting

Low Profile Keycaps
Lastly, we have the C294— a membrane gaming keyboard with low-profile keycaps. The same keyboard runs in the budget category. It is marketed as a keyboard that gives off a mechanical feel to its switches. Moreover, the keyboard being able to connect wirelessly speaks convenience for its end-users. 
What Makes Philips a Good Brand?
Philips is well known for being discreet and minimalistic in its product designs. Evidently, the same applies to their keyboards. They are designed to provide you with a workable typing experience without stressing your budget too much. If asked, is this enough? In the view of a prudent person, perhaps it is.
While it may not sate the picky fingers of the enthusiasts inside our hearts, indeed, it will be the joy of some that only needs the minimum in their computer setups.
Why Look for Alternatives?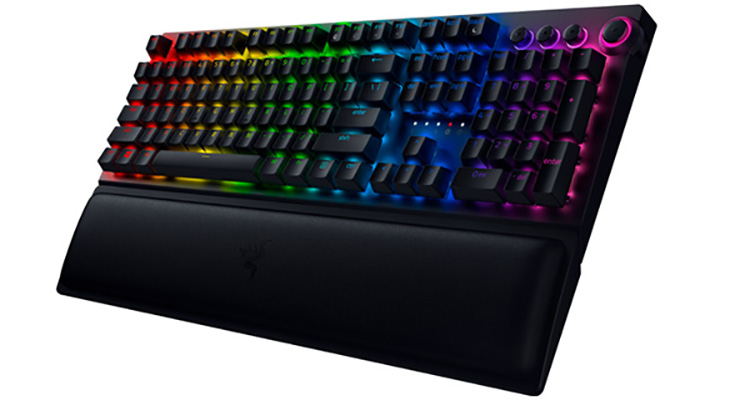 In the world of click and clacks, there is such a principle on which we say that if you are torn between two products wherein the difference in terms of their prices is only a few dollars or cents, you better get the more expensive one.
The same applies in a dilemma that pits Philips keyboards with other budget and entry-level keyboards. Yes, you are getting a working keyboard and a mechanical one at that for its price. However, there are better options you can choose from if you are going to hold into it and save a few bucks.
Which Philips Keyboard To Buy?
Should you be constrained to buy one for yourself or gift-giving, better opt for their most premium option, the SPK8614. The keyboard is relatively new. It has mechanical switches and a working RGB backlighting system.
For those who may want to experience the typing experience of a mechanical keyboard, this is a safe, good start. It may not be the best, but it will surely give a person an idea of how a mechanical keyboard generally feels and sounds.
Where to Buy Philips Keyboards?
Philips keyboards can be bought from mainstream stores such as Amazon. A single internet search will easily guide you where to buy the brand's products.
Philips Keyboard Warranty
The warranty of their keyboards depends on the dealer that offers the same. It is recommended that you further inquire from the store you will be purchasing the keyboard with for additional information.
Stephen is the head content creator of Keyboardsexpert. His mechanical keyboard journey began in 2014 when he got his Razer Blackwidow. Since then, he has been fascinated with all things mechanical keyboard-related. He later discovered the custom keyboard hobby and fell in love with the vast customization options. He is currently searching for his endgame and is very excited to share his journey and educate other keyboard enthusiasts.