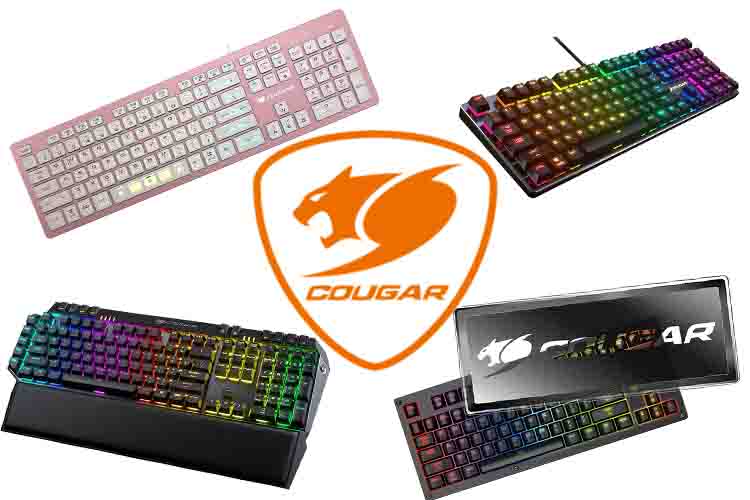 Their soul is summed up in this single phrase. COUGAR's objective has always been to supply gaming peripherals and PC components that meet the needs of those who believe gaming is more than a means to pass the time. They started in 2008 as a gaming-oriented PC Power Supply, Case, and Cooling manufacturer. To them, modern gaming is an art and a competitive sport. This is what motivates them to create gaming equipment.
COUGAR gaming equipment exists for a reason: to allow you to fully utilize your innate and learned abilities without being constrained by hardware constraints. COUGAR was well-known for manufacturing high-quality cases and other PC-related hardware. They are very popular among gamers, and they have gained a great deal of trust from their consumers.
COUGAR is aimed at passionate gamers who want to show their dynamic gaming life style with high-quality items that are not merely state-of-the-art PC chassis and high-efficiency power supplies. In this article, we are going to focus on Cougar's attempt to introduce its keyboard line to the high-competitive market of mechanical keyboards.
COUGAR Brand History

COUGAR was founded in Germany in 2007 by a group of computer peripherals engineers who wanted to create products that they were passionate about. They formed a professional team and followed a technological design philosophy focusing on human usability and aesthetic beauty. These pairings resulted in high-end professional gaming products that fulfilled global demand.
To that goal, COUGAR has assembled a team of world-class engineers and an inventive R&D team who are passionate about their work and have a thorough awareness of the industry and technology trends. In order to address the global demand for high-end professional gamers, COUGAR collaborates with cutting-edge technology partners to create and build extraordinary goods with tight quality control.
COUGAR's field testing of chassis and power supplies went above and beyond typical development to produce a diverse line of gaming computer peripherals that is still in use today. COUGAR's energy is sustained by this zeal and innovative spirit. They are convinced that in order to provide gamers with the greatest quality and, ultimately, beautiful items, a company must be at the cutting edge of technology.
The Brand in E-sports
View this post on Instagram
COUGAR had collaborated with Masonic, Team Singularity, eXdee Gaming, and Esports Central. With COUGAR's equipment giving a smooth experience, they're all looking forward to realizing their players' full potential. Most esports players, teams, corporations, and streamers consider gaining a sponsor at some time throughout their careers. The rationale for this is simple: sponsors and partners assist in the provision of resources to meet a variety of demands.
Keyboard Line-Up
COUGAR gaming offers MX Cherry Switches for some of their keyboards. They also offer magnetic protective cover to ensure the safety of their keyboards. Although most of their keyboards are full-sized, they also have a TKL version for users who prefer compact keyboards.
VANTAR MX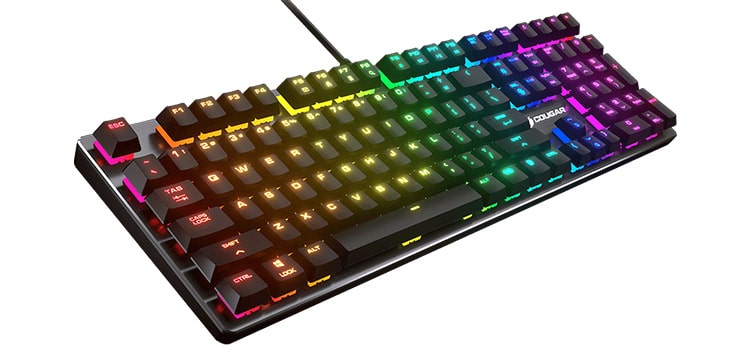 Vantar MX Highlights
Full-sized Pre-built Mechanical Keyboard

RGB Backlighting with 14 Lighting Modes with Software Support

Low-Profile Vantar MX Low Profile Switches

Equipped with Cougar's Proprietary Low Profile Vantar MX Switches

Aluminum Frame Structure
The COUGAR Vantar MX is a dedicated gamer's keyboard. Everything you need to dominate your opponents is here, including mechanical switches, a completely programmable per-key RGB lighting, and one of the world's most durable keyboard designs.
The keyboard stands out for its low-profile switches topped with the brand's version of low-profile keycaps. To add, Cougar was bold enough to power the keyboard with switches of their own making.
700K EVO Cherry MX RGB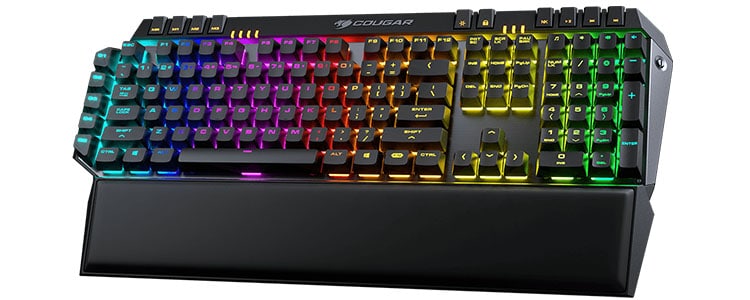 700K EVO Highlights
Full-Sized Pre-built Mechanical Keyboard

RGB Backlighting with Preset Lighting Modes with Software Support

Cherry MX Mechanical Switches

Aluminum Frame Structure

Five G-Keys

On-the-Fly Profile Switch

Non-Removable Ergonomic Wrist Rest for Extended Gaming Comfort

USB Pass-Through/Audio Jacks

Multi-Media Keys
A behemoth on its own. The COUGAR 700K is an award-winning mechanical keyboard during its peak popularity. They've taken its components to the next level with the 700K EVO update. It retains the high-quality Cherry MX mechanical keys while adding an extra G-key.
The gleaming RGB lighting effects are visible on the exposed brushed aluminum frame. Furthermore, 700K EVO allows for easier and faster on-the-fly macro recording and mode switching without exiting the game. This keyboard is made to fulfill the needs of all MOBA and MMORPG players.
Attack X3 RGB / RGB Speedy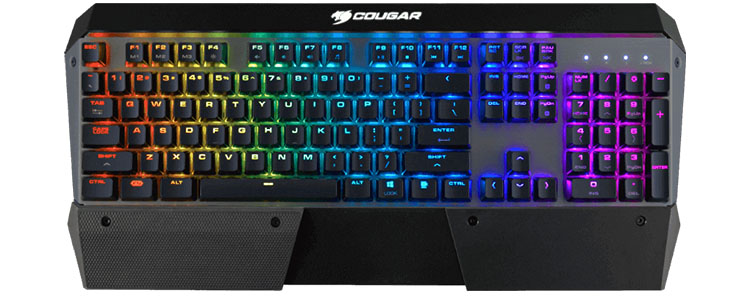 Attack X3 RGB / RGB Speedy Highlights
Cherry MX Switches, Silver Switches (For RGB Speedy Version)

RGB Backlighting with Software Support

Aluminum Top Frame

FPS Palm Rest

Up to 30 Macros

On-The-Fly Profile Switch

Media Shortcut Keys
The Attack X3 RGB keyboard possesses a good appearance, cool features, and dependable performance. You can choose between the different MX cherry switches for your keyboard, for the Attack X3 RGB. On the other hand, the Attack X3 RGB Speedy Version features the latest Cherry MX Silver Switches, reducing the time between pressing a key and its quick response time. The Speedy version is designed for competitive gaming.
The Attack X3 RGB (both versions) also features an N-key rollover, which is also very helpful for gaming. This is the keyboard you need to reach the upper echelons of the gaming industry. They also included an ergonomic FPS palm rest to reduce fatigue while using it.
PURI RGB and PURI Non-RGB

(Full and TKL Versions)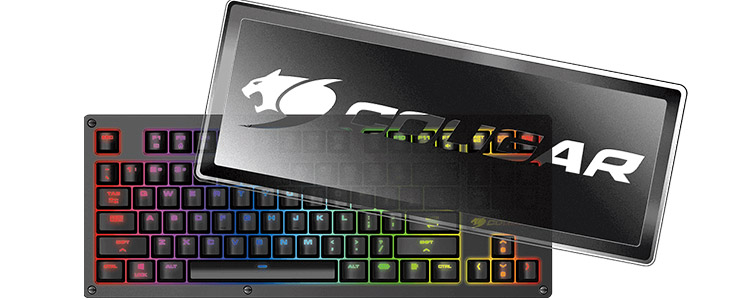 PURI RGB and Non-RGB Highlights
Comes in Two Form Factors (Full-Size and TKL Layout)

Available in RGB and White LED Key Backlight

Equipped with Cougar's Proprietary Mechanical Switches

Magnetic Protective Cover

RGB Backlighting with Software Support

Multimedia and Function Key Shortcuts
COUGAR PURI RGB is a very portable superior FPS competitive gaming keyboard that will astonish everyone with its lighting effects. It features RGB mechanical switches, a 1ms reaction time, a configurable backlight, and a safe magnetic cover. You can get it in two sizes, the TKL and the full-size layout. The TKL version is very portable, with its compact size, detachable cable, and the additional magnetic cover that will protect the keyboard.
If you dislike the RGB feature, you can also get this in a plain white LED backlight. This version has other similar features to the RGB. It also comes in two TKL and full-sized form factors and includes a magnetic cover and detachable cables. The lighting can also be configured according to the brightness you desire.
VANTAR AX

VANTAR MX Highlights
RGB Backlighting

Flat Keycaps With Scissor-Switch

CNC Unibody Aluminum Frame

Translucent Keycaps

Anti-Ghosting Technology
The keyboard is worth mentioning, given that it is not your regular membrane keyboard equipped with Rubber Dome switches. Instead, it sports the brand's version of Scissor switches designed by them for gaming.
The VANTAR AX is a new generation of esports keyboards with a beautiful metal look and a variety of RGB light effects. It has smooth scissor switches that provide gamers with a faster response time for a better gaming experience. This keyboard is good for users who prefer low-profile designs.
What Makes Cougar a Good Brand?
View this post on Instagram
Cougar is not the most well-known brand in the west, but they provide excellent products at affordable costs. Cougar is a high-quality gaming peripherals brand that may be unknown to many, at least in the United States.
When it comes to construction quality, Cougar Gaming keyboards can be considered high-quality. Unlike most inexpensive keyboards, which have plastic cases, the majority of their keyboards have an aluminum frame. They also have a plethora of visually pleasing lighting color effects.
Do Pros Use Cougar Keyboards?
View this post on Instagram
Professional E-sports players usually use keyboards and mice, which are sponsored brands. Logitech G and Corsair are some of the most seen keyboards on esports gaming. On the other hand, Cougar Gaming, as mentioned earlier, had also partnered with some of the pro esport organizations like Masonic, Team Singularity, eXdee Gaming, and Esports Central. 
Why Buy Cougar Keyboards?
View this post on Instagram
Cougar Keyboards are magnificent entry-level keyboards, especially if you're looking for authentic Cherry MX keys and a full-sized board at a reasonable price. Full-sized boards, especially those with authentic Cherry keys, frequently start at a high price point these days.
When it comes to construction, Cougar Gaming keyboards are considered to be of great quality. Unlike most inexpensive keyboards, which have plastic cases, the majority of their keyboards have an aluminum frame.
Why Should You Look for Alternatives?
View this post on Instagram
The brand has yet to enter the realm of hot-swappable mechanical keyboards. This is quite unfortunate given that consumer preference has started to slowly lean towards customizable keyboards, which are those that you can almost endlessly tinker with. Point in case you should look elsewhere if you are looking for a hot-swappable keyboard or one that is not equipped with Cherry MX mechanical switches.
Where to Buy Cougar Keyboards?
Cougar keyboards can be bought directly from the Brand's website. Their products are also available in most mainstream online stores such as Amazon. You can also find them in most physical retail stores.
Brand Keyboard Warranty
Cougar offers a one-year limited warranty for their gaming keyboards. Check out Cougar's Official Website to learn more.