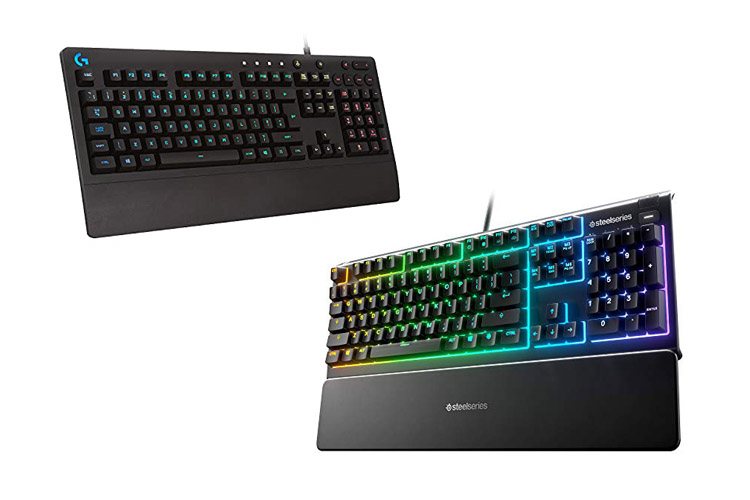 Rubber dome keyboards and membrane keyboards are often thought to be one and the same. And while this is mostly the case for most modern membrane keyboards, there is still a significant difference between the two. Knowing which keyboard is which is very important, especially for consumers who are on a tight budget. 
Rubber dome is a form of keyboard switching mechanism that uses collapsible rubber domes to offer resistance and tactility to keys and is most typically found on modern keyboards. Rubber sheet keyboards are those in which all of the domes are made from a single sheet of plastic. The majority of keyboards these days have a rubber dome over the membrane.
Your keyboard type can have an impact on your performance. It's crucial to realize, though, that it's a personal choice. Therefore it's entirely up to you. However, there are a few broad, objective considerations to take in mind when selecting your QWERTY buddy.
What are Rubber Dome Keyboards?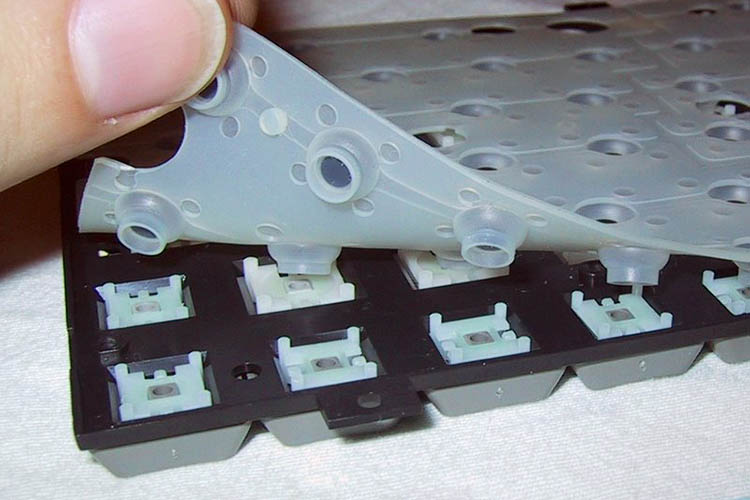 Rubber dome keyboards are a type of membrane keyboard that has been modified. They both use the same membrane switch technology, which involves a thin layer of silicone that serves as the electrical contact point as well as the spring. The main differentiating factor between rubber dome keyboards and regular membrane keyboards is that they have a rubber fitting over the membrane allows for more precise key actuation. They are also known for having options that offer a tactile response. 
How Do Rubber Dome Keyboards Work?
Rubber dome keyboards utilize small, flexible rubber domes with a hard carbon center are used. When a key is pressed, the carbon center presses against a hard, flat surface beneath the key matrix, and a plunger on the bottom of the keypresses against the dome.
The carbon center completes the circuit as long as the key is held. When the key is released, the rubber dome springs go back to their normal shape, forcing the key back up to its at-rest position.
Rubber Dome vs. Membrane Keyboards
The terms "rubber dome" and "membrane" may appear cryptic and esoteric at first glance, but their meanings are straightforward. They relate to two different ways that a keyboard's keys interact with the same switching mechanism.
Rubber Dome Keyboards
Rubber dome keyboards are, in a way, a more improved version of membrane keyboards. They utilize the same switch technology but offer a better typing feel and more accurate key switch actuation.
The rubber dome technology has pretty much become the industry standard for higher-end membrane keyboards. They are dependable while still maintaining their accessibility and low price tag.
Rubber dome keyboards are typically made up of two circuit boards placed beneath a rubber or silicone keyboard with metal dome-like switches, which are commonly constructed of steel or polyurethane materials. Steel dome switches are the most often used arrangement for dome-switch keyboards. Others, on the other hand, are constructed of polyurethane or rubber. Polydomes are what they're called.
In terms of durability, rubber domes are considerably more robust than membrane keyboards. Stainless steel dome-switch keyboards have been known to survive millions of cycles. Other keyboards may disintegrate after a few years, while dome-switch keyboards rarely do. As a result, consumers can rest confident that the keyboard will weather the test of time for many years to come.
Of course, rubber dome keyboards are still not going to provide the same satisfying tactile feedback as the tactile switches found on mechanical keyboards. However, they are still a decent option for consumers with a tighter budget. 
Rubber Dome Keyboard Pros
Tactile Feel

Consistent Performance

Better Overall Feel Compared to Membrane Keyboards

Still Accessible and Affordable
Rubber Dome Keyboard Cons
Overall Performance is Still Not Comparable To Mechanical Keyboards
Membrane Keyboards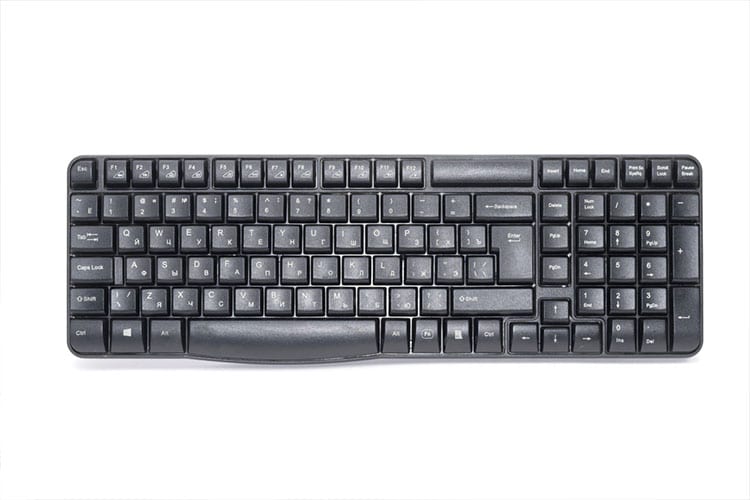 Membrane keyboards are the more basic version of rubber dome keyboards. They are the ones that get a ton of flack because of their poor performance. They were introduced in the mid-90s and were made to cut costs due to their cheaper production method.
Compared to rubber dome keyboards, membrane keyboards are known to be extremely mushy. Key presses are not well defined and they lack any form of tactility. They often lead to bad typing habits and lots of typos. They are also known to be unreliable since there is no way for the user to tell whether or not the key is being actuated.
The main advantage of membrane keyboards is that they are relatively inexpensive. They can be easily purchased in large quantities, which is useful for internet cafe owners, schools, etc. They can also be easily replaced if they ever encounter any major issues.
But aside from those, membrane keyboards do not have many strong points. Most enthusiasts or even regular keyboard users highly suggest going for rubber dome keyboards whenever possible.
Membrane Keyboard Pros
Inexpensive

Decent Performance
Membrane Keyboard Cons
Inconsistent and Subpar Feel

Mushy Keys
Not the Most Reliable Keyboard Type
Which Keyboard Type is Better?
Rubber domes are objectively better than membrane keyboards. They are more durable, more reliable, and more satisfying to type on. This is why the majority of the more expensive membrane keyboards utilize rubber domes.
Can You Use Rubber Domes For Gaming?
Rubber domes aren't the most ideal keyboards for gaming. No professional gamer or professional gaming organization would rely on these keyboards. However, that does not mean that these keyboards aren't usable at all.
In fact, it is highly likely that the majority of professional gamers started out with these kinds of keyboards. After all, they were commonly used in internet cafes. The fact that they were able to climb the ranked ladders and kickstart their careers show that these keyboards are viable for gaming.
Additionally, most entry-level gaming keyboards that utilize membrane switches are most likely using rubber domes. Entry-level gaming keyboards provide enough tactility and feedback, which shows that rubber domes can be reliable.
Of course, there will be a number of issues that can be encountered. Since rubber domes are still utilizing membrane switch technology, they can still be prone to a number of problems such as the lack of proper N-Key Rollover, ghosting. and many more. In addition, most rubber dome keyboards will probably lack proper software and programmable macros.
But with that said, as a bare minimum keyboard for gaming, rubber dome keyboards can certainly work. However, gamers are advised to upgrade to something better once they are able to.
Can You Type Fast on Rubber Domes?
As we have discussed earlier, rubber domes are more tactile and are more satisfying to type on compared to membrane keyboards. This can directly translate to typing speed. Since rubber domes are the better overall keyboard, typists are more likely to perform well on these kinds of keyboards.
And again, while they are not the most ideal keyboards for typing, most typists can probably type fast given enough practice. Of course, they won't be on par with the feel of mechanical keyboards but most typists can certainly get by with these kinds of keyboards.
Should You Buy Rubber Dome Keyboards?
Rubber dome keyboards aren't the first choice of many consumers. Unlike mechanical keyboards, optical keyboards, and capacitive keyboards, rubber domes do not have any shining points and aren't must-haves in a collection. However, for people looking for the cheapest keyboard that is still usable, rubber domes are a viable choice.
If you plan on using these for gaming, make sure to buy rubber domes from established gaming brands such as Razer and Logitech G. Most of their rubber dome offerings have been optimized for gaming. Some even mimic the feel and tactility of their higher-end mechanical keyboards.
And lastly, vintage keyboards that are utilizing rubber domes are probably not worth much. They are not as good as their vintage capacitive and mechanical counterparts, which is why they are not fetching high prices in the aftermarket.

The KBE team is dedicated to sharing our knowledge and creating useful resources about computer keyboards. This article was written as a team collaboration, combining our knowledge and years of experience using, building and modding keyboards. Meet the team here.