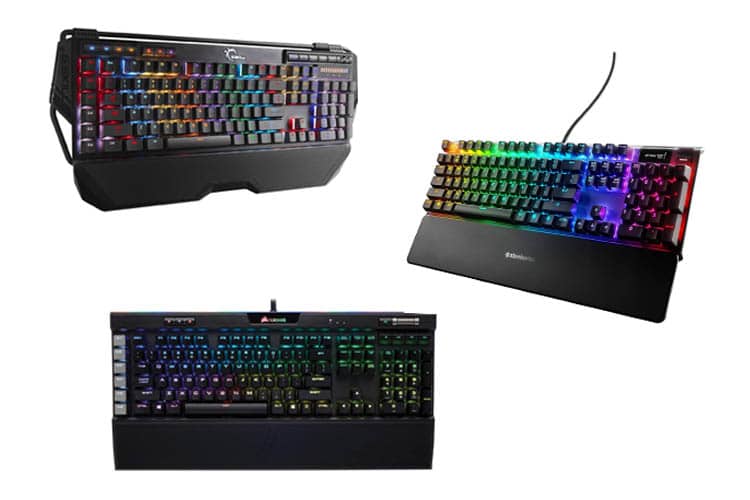 One feature that is always advertised by keyboard and mice manufacturers but is rarely explained is macros. This feature is almost always included in high-end peripherals and is said to be a game-changer by more advanced users. But what are macros, and why do they matter in mechanical keyboards? 
Macros are keyboard commands that the user can program for executing a series of tasks such as shortcuts or a series of key presses. Keyboard Macros are incredibly useful for certain games such as MMORPGs and Fighting Games and very useful in productivity apps.
Macros and macro recording have always been a selling point of more advanced gaming peripherals. In fact, it is not exclusive to mechanical keyboards, and many gamepads sold for consoles also feature macros.
With that said, many consumers still do not understand macros, and some users are not even utilizing the macro functionality of their keyboards. In addition, given how macros can make life easier, it has become somewhat of a controversial topic in professional gaming.
In this article, we will be diving deeper into the concept of mechanical keyboard macros. We will explain macros in more detail and cite some examples in their use cases both in gaming and productivity. And by the end of this article, readers should be able to determine the importance of macros and why they should start using them.
What are Mechanical Keyboard Macros?
Mechanical keyboard macros are a series of custom commands/events that the user can program to specific keys in a mechanical keyboard. For instance, instead of pressing multiple keys to execute a keyboard shortcut, users can just program them into a macro so that they will only press a single button to execute the shortcut.
This is just a rough example since macros present almost endless possibilities. Keyboard macros can greatly help to execute repetitive tasks. Macros can also help reduce wrist strain from having to press multiple buttons or potentially even the lifespan of the keys of your keyboard.
In addition, macros are not only specific to keyboard commands and presses. You can also record inputs from external input devices such as mice and gamepads.
Also, macros are not just limited to shortcuts, and they can also be used to quickly words or phrases
And lastly, macros are also capable of adding delay to each event which can be helpful in gaming-related tasks to execute commands in a proper sequence.
Macros aren't a concept that is specific to mechanical keyboards. They can also be found on gaming mice, programmable macro pads, and any device with a built-in memory that accepts macro recording.
Do All Keyboards Feature Macros?
Most modern mechanical keyboards feature macro recording. However, there are still a number of keyboards that do not support this feature. Membrane keyboards and other entry-level keyboards, for instance, do not feature macros.
The main reason for this is that keyboards must have built-in storage for macro recording. Naturally, entry-level keyboards may omit this to cut costs.
In addition, some brands do not include dedicated keyboard software, and this naturally means that custom commands are out of the picture. Some brands, such as Ducky, feature macro recording despite not having software. But aside from them, other keyboard brands that do not feature dedicated software also omit macro recording functionality.
Mechanical Keyboard Macro Uses In Gaming
Since gaming peripheral became mainstream in 2010, companies have been advertising macros as a game-changing feature. This is because they allow users to execute more complex commands easier, thus having an advantage in gaming.
The most common genres that utilize macros include fighting games, MMORPG, MOBA. Let us talk about each one of these genres.
Fighting games, such as Street Fighter and Tekken, are known to be incredibly complex. Multiple button presses are required to execute complex combos and powerful attacks.
With macro recording functionality, gamers can simplify these complex combos with a press of a single button. In addition, since macros are recorded precisely, they will execute commands without human error.
MMORPG is another infamous genre for the number of buttons that need to be pressed. In fact, several peripherals were made specifically for MMORPGs.
Like with fighting games, macros are incredibly useful for executing commands in MMOs. And thanks to functions such as delay, users can set up specific combos by timing the input of commands depending on how long each spell lasts.
Lastly, macros can also be very useful for MOBAs. Of course, this genre isn't as complex as the other two that we have discussed. However, they can still come in handy for quickly executing combos or using items in a specific order.
Are Keyboard Macros Allowed In Professional Gaming?
Macros have become somewhat of a controversial topic in professional gaming/competitive gaming. This is because they can literally give a user an unfair advantage, especially considering that not all keyboards feature macro recording functionality. Some communities consider using macros to gain an advantage in the game to be cheating.
As a result, macros are prohibited in some games, such as Fortnite. This applies to both casual matches as well as to tournaments.
Some games can also ban users who they suspect to be using macros, and other titles allow this but strictly prohibit professionals from using them in competitive LAN events. To be on the safe side, make sure to check the terms and conditions and the thought of the community before using macros in your preferred game.
Mechanical Keyboard Macro Uses In Productivity Apps
Macros are also very useful for productivity apps despite being heavily advertised for gamers. The most common use for keyboard macros is for commonly used shortcuts. However, just like with gaming, there are tons of actions that you can do with macros.
For instance, users can utilize macros to create more complex transitions in streaming software such as OBS. Users can also assign macros for tasks that require multiple key presses or various keypress events on NLE, such as Adobe Premiere Pro.  The possibilities are endless, and users are highly encouraged to experiment to see what works best.
How To Assign Keyboard Macros?
The way you assign macros will differ depending on what mechanical keyboard you are using. Most keyboards from mainstream manufacturers will include software used to record macros and customize other features. We have linked a tutorial that shows how to record macros on Razer Synapse-enabled devices.
Do You Need Dedicated Macro Buttons?
Users can assign macros to any key of the keyboard. However, gaming companies usually add several buttons specifically made for assigning macros. This can be very useful for many users, but the downside is that adding extra keys can make the keyboard bulkier. So the question that most users ask is if the extra macro keys are truly needed.
Of course, the answer to this question will be very subjective. Professionals who use their keyboards primarily on their work desk will most likely not mind if their keyboard becomes bulky. On the other hand, Gamers will most likely prefer their keyboards to be smaller.
In a nutshell, here is how we would approach this. Dedicated macro buttons are a must for users who will most likely be using macros for most of their work or gaming sessions. However, if you are not sure whether or not macros will be useful or if you are someone who might occasionally use macros, then we believe that the added keys are not worth it.
Additionally, for those who want dedicated macro keys but still want a small and lightweight keyboard, we highly recommend checking out dedicated macro pads such as the Elgato Stream Deck.
Alternatively, 40% keyboards or other small form factor ortholinear keyboards can also be repurposed as a macro pad.

The KBE team is dedicated to sharing our knowledge and creating useful resources about computer keyboards. This article was written as a team collaboration, combining our knowledge and years of experience using, building and modding keyboards. Meet the team here.