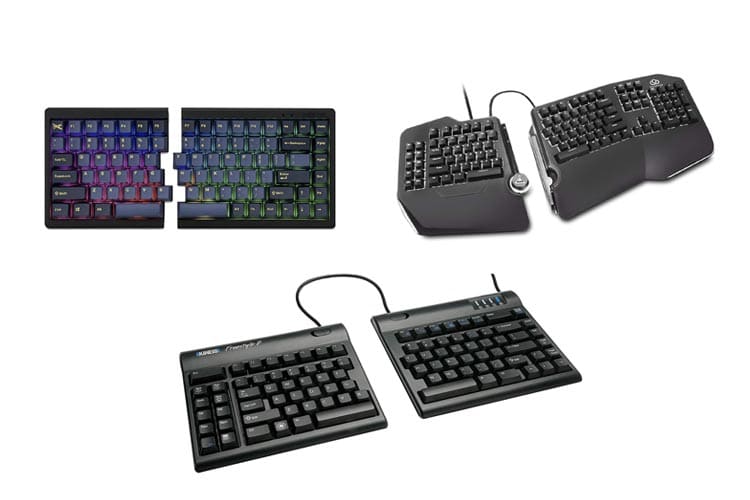 Split keyboards are one of the most exciting keyboard designs that have appeared in the world of keyboards in recent years. They offer a fresh take on the concept of keyboards by redefining what a modern keyboard should look like. On top of that, they offer several health benefits, making them technically superior to regular keyboard designs.
The main defining feature of split keyboards is their ability to separate into two individual pieces. They give users more flexibility in terms of positioning and can even be used independently. Their unique design helps them do tasks that are not possible with traditional keyboard designs.
Of course, just like with any new concept, a lot of users are skeptical about the split keyboard design. After all, ergonomic keyboards did take off and replace standard keyboard designs in the market. This makes them question whether split keyboards are the next evolution of the keyboard design or just another gimmick.
In this article, we will be diving deeper into the concept of split keyboards. We will be checking out the various benefits of using them and the downsides that users have to face. In addition, we will be checking out split keyboard brands and vendors of custom kits. And by the end of this article, consumers should have a clear idea of trying split keyboards. 
What are Split Keyboards?
Split keyboards are a variation of ergonomic keyboards. They share the same design elements and principles but offer a unique twist. That twist involves the fact that these keyboards can be physically separated into two pieces, and this allows the user to position the keyboard however they want.
These keyboards are a natural evolution of ergonomic keyboards, and they fix a lot of the issues found on ergonomic keyboards and provide a fresh new take on the concept of keyboards.
Of course, given how new the concept of split keyboards is, the variety and selection aren't as good as standard and ergonomic keyboards. However, the available options right now should satisfy most consumers. Split keyboards primarily utilize mechanical switches, which have been incredibly popular in the keyboard community over the past couple of years.
What are the Advantages of Split Keyboards?
Better Ergonomics
The odd structure of the split keyboard was designed to offer you more freedom when it comes to arranging your setup in a way that makes sense to you. It can be operated as a whole with the halves together or split apart, leaving a gap between them. Using it in this configuration simulates how an ergonomic keyboard works. 
Compared to standard keyboards designs, split keyboards are more flexible since they can be tilted (with the front part raised) and tented (with the halves raised with their backs turned from one another).
Tenting and tilting your keyboards helps you achieve a more neutral position, with aligned forearms and much more relaxed muscles.
In addition, split keyboards help reduce wrist movement, which helps avoid injuries such as Carpal Tunnel Syndrome. Ergonomic keyboards have a similar benefit. However, compared to ergonomic keyboards, users can position the keyboard better and are not forced to adapt to the form factor of ergonomic keyboards.
Some Models Can Be Used As a Regular Keyboard
One of the biggest challenges of using an ergonomic keyboard is its unique layout. Most users, especially those with bad typing habits, are forced to learn how to type properly, and this is because users are forced to use their left and right hands in their respective regions.
Having lesser productivity in the first few weeks or even months isn't worth the health benefits for some users. And given how most split keyboards are based on the design of ergonomic keyboards, some users may be immediately turned off.
Thankfully, some split keyboard models are based on a regular keyboard design. This means that they will benefit users from having a split keyboard without forcing them to relearn how to type.
Of course, not all split keyboards have this design. However, there are enough options to keep both regular users and keyboard enthusiasts happy.
What are the Disadvantages of Split Keyboards?
High Learning Curve
As we have mentioned earlier, not all split keyboards utilize a standard keyboard design. So if the model that you are interested in is based on an ergonomic keyboard design, you are forced to relearn how to type using this new layout.
In addition, most users will certainly have to experiment to see what configuration works best. You will have to test various curvatures and positions of your keyboard to see what works best for your typing style, hand shape, and typing position.
Getting used to split keyboards will certainly take a couple of weeks. And if users do not know how to type on this kind of keyboard properly, then the whole relearning process can easily take a few months.
During this period, both productivity and typing speed will certainly take a hit. If you are not willing to undergo this process, split keyboards may not be for you.
Build Quality and Longevity
Another disadvantage of split keyboards is their build quality and longevity. Compared to more traditional keyboard designs, split keyboards have more parts involved. They are also made to be detached and reattached to each other multiple times during their life cycle.
Over time, the repeated process of disassembling and reassembling the keyboard will certainly wear out the components. Of course, this can take several years. But overall, their lifespan can potentially be lower than a keyboard utilizing a standard design.
Of course, the build quality will highly depend on how good the manufacturer is. Some split keyboards that are closer to DIY products may potentially break easier. Split keyboards that are produced by professional manufacturers, on the other hand, can last longer.
Variety
Lastly, split keyboards are not as popular as traditional keyboard designs, and this inevitably means that your options will be more limited.
Of course, there are still split keyboards that can be purchased in retail stores, online shops, and marketplaces. There are also custom kits that can be purchased via group buys. But again, your options will be more limited than traditional keyboard designs and ergonomic keyboard designs.
In addition, you won't find split keyboards from mainstream manufacturers such as Razer and Logitech G. This can cause problems for those who want to match their equipment and use only one software for key bindings and RGB lighting control.
Can You Use Split Keyboards For Gaming?
Enthusiasts have found split keyboards to be great for gaming. The main reason is that users can remove the other half of the keyboard, making the keyboard incredibly small. This creates a lot of space for wide mouse movements for competitive FPS titles.
In a lot of ways, split keyboards can act similarly to gaming keypads, such as the Razer Tartarus Pro. One thing to consider is that, as we have mentioned earlier, there are no gaming peripherals companies that are manufacturing split keyboards.
This means that you will not access software such as Razer Synapse or Logitech G Hub.
It also means that you will not be getting advanced technologies such as high-speed switches, optical switches, hall effect switches, low latency wireless, etc.
But with that said, not everyone is critical of all these gaming-related features. Custom keyboards also do not have gaming-specific features, yet many enthusiasts use them. Even professional Valorant players, such as Shahzam, use custom keyboards that do not have gaming-related features, so do not let the lack of gaming-related features stop you from picking up a split keyboard.
Are There Custom Split Keyboards?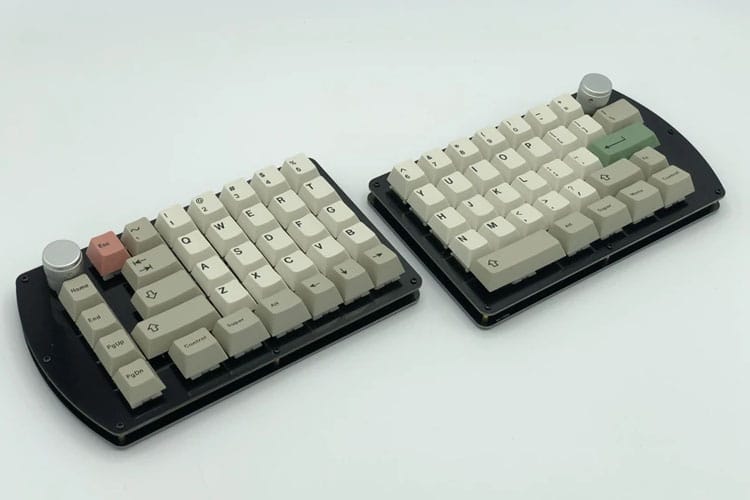 Like with other keyboard types, custom split keyboard kits are also meant for enthusiasts who want to customize their own keyboards. Again, the number of choices is more limited than more traditional designs. But there are plenty of offerings to keep enthusiasts busy.
One of the most well-known custom split keyboard kits vendors is Keeb.IO. They offer plenty of options, including ortholinear split keyboard kits, custom-made PCBs for split keyboards, and many more.
Other high-end options feature a lot of signature custom keyboard elements such as an aluminum chassis, brass plates, etc. However, these premium models are typically reserved for limited runs/group buys.
Split Keyboard Brands
Dygma
View this post on Instagram
Dygma came up with their split for the benefit of their customers. They have heard the voices of people experiencing physical discomfort and injuries while using the computer. Their goal is to enhance performance, health, and comfort.
The Dygma Raise is a split keyboard with magnets binding the halves. This way, you can work with it as a whole or split it in two. Add-ons with the keyboard is a tilt kit for you to tent your halves with the angle you want.
Kinesis
Kinesis has been serving comfort and productivity for the past thirty years. Conquering the ergonomic industry and being backed up by tons of research, their products have been a big help in creating the perfect work setup. With this in mind, of course, they crafted a keyboard that offers just that. 
Their new Freestyle Pro and Freestyle Pro Quiet has been launched to provide maximum performance, comfort, and adjustability for users. Both boards come with their promised benefits. The only thing setting them apart is the type of keys installed.

The KBE team is dedicated to sharing our knowledge and creating useful resources about computer keyboards. This article was written as a team collaboration, combining our knowledge and years of experience using, building and modding keyboards. Meet the team here.