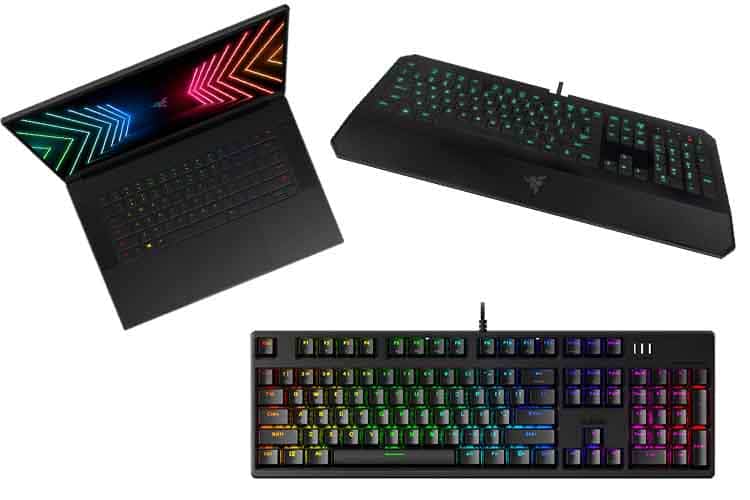 Given the global shortage of graphics cards, many gamers have resorted to buying gaming laptops as an alternative to custom-built gaming PCs. However, many gamers wonder if their laptop keyboards are already satisfactory for casual and competitive gaming. As technology evolves, gamers around the world tend to be more competitive. Thus, gamers who own gaming laptops also tend to contemplate whether their laptop keyboards can cope with the extra challenging arena that the new technology provides. 
Gaming laptops come in various types that can also please various types of keyboard enthusiasts as well as gamers around the world: the same goes with gaming keyboards. Between gaming keyboards and laptop keyboards, it is evident that gaming keyboards have the upper hand: but eventually, you, the user, can decide which is better.                                          
In this article, we will provide you with the different types of laptop keyboards as well as gaming keyboards in detail. We will also provide a comparison between these two keyboards in hopes that by the end of this article, you will be able to give your own verdict on which gaming keyboard and laptop keyboard are better. 
Types of Laptop Keyboards
The emergence of laptop keyboards became revolutionary to the whole keyboard industry, and the following are some types of laptop keyboards:
Chiclet Keyboards

A chiclet keyboard is also known as an island-style keyboard, basically because of its thin and clean-cut keys that are designed slightly spread out from one another. On the other hand, the word "chiclet" is based on Chiclets, a chewing gum brand that looks like the keys on this keyboard. This game-changer chiclet keyboard dominated the keyboard industry in the 1990s. The popularity of the chiclet keyboard does not end there because wireless chiclets were invented. These wireless chiclets can be used in desktops. 
The spaces between the keys that the chiclet keyboard possesses are there to lessen typographical errors as they prevent dust and crumbs from getting stuck underneath and between the keys. What's more interesting is the fact that most chiclet keyboards are spill-proof which means that you do not need to worry if you suddenly accidentally spill a cup of coffee in your workspace because chiclet keyboards are made to withstand such inconveniences. 
Scissor Switch Keyboards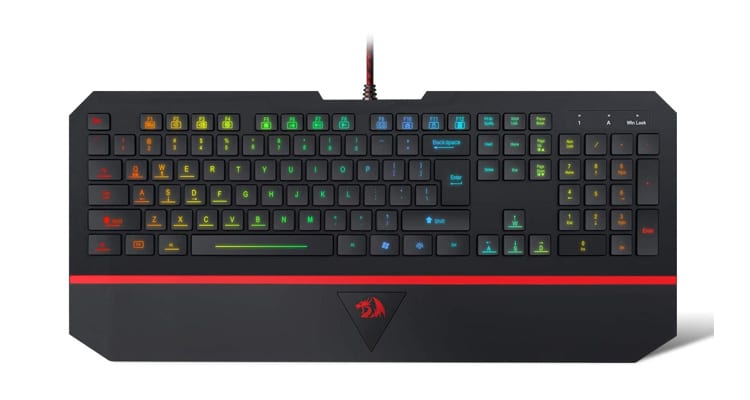 Scissor switch keyboards are keyboards with a low-profile design and are known for their key's scissoring mechanism. As the name suggests, scissor-switch keyboards made use of scissor switches. These switches then seem like a criss-cross rubber that forms the letter "X." In addition, scissor-switch keyboards are present in different laptops nowadays. Scissor switch keyboards are also dependable when it comes to stability, which means that key wobble is not an issue, as well as keys being detached while you type on them. 
This keyboard does not have a promised lifespan. Instead, it all depends on how the user takes care and uses this kind of keyboard; its lifespan relies on how responsible its user is. 
Butterfly Switch Keyboards (Formerly Used By Apple Products)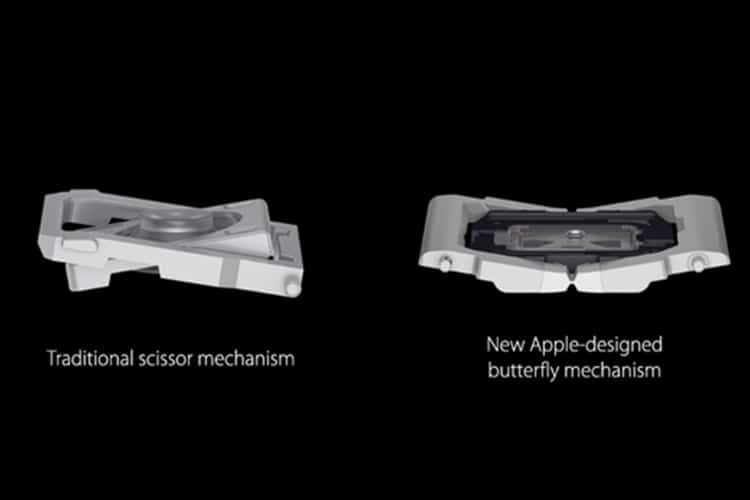 Butterfly switch keyboards are keyboards that are incorporated in Apple's Macbook laptops. This keyboard has butterfly switches which are supposedly an advanced version of the scissor switches. As the name implies, butterfly switches are designed like a butterfly's wings and are made to make laptops thinner. 
Despite the fall of the butterfly switch keyboards, some of the advantages that this keyboard was able to provide include its flexibility and adaptability, given its thin structure. There is no doubt that its offered pros are indeed appealing, but it does not hide the fact that it does not meet the basic convenience of the end-user. Apple tried to solve the underlying problem – specifically on the keyboard's frequent ghosting. Still, it was not enough to meet the expectations and please the customers, inevitably causing its usage by the company to be put on hold. 
Mechanical Keyboards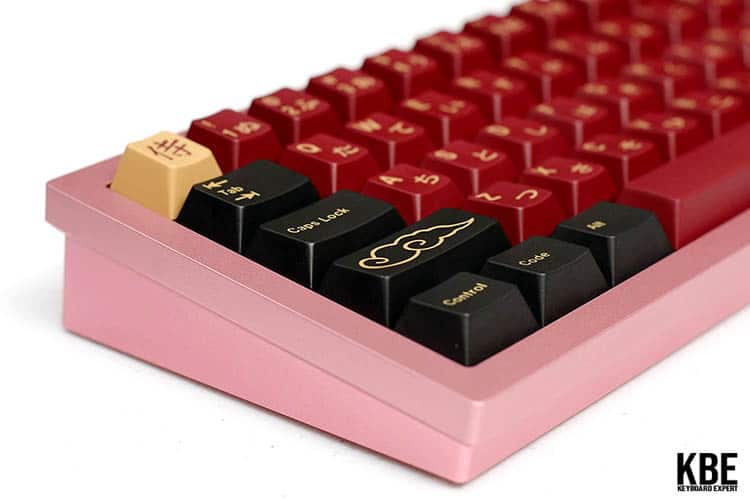 Since then, mechanical keyboards have had a very reliable background because of their very dependable performance, especially in the field of gaming. Thus, when gaming laptops emerged, it is not surprising that some companies were able to produce a laptop that is geared with mechanical keyboards. 
Alienware, a gaming brand, was able to have a partnership with Cherry MX, a known pioneer of mechanical switches, to come up with what they call the first-ever "truly mechanical keyboard" on a gaming laptop. This fruit of the partnership made by Alienware and Cherry will be seen in Alienware's products, which are the Alienware m15 R4 and Alienware m17 R4.
In addition to that, the high-end keyboards from Asus ROG (Republic of Gamers) and Predator also use mechanical keyboards. Asus ROG incorporated optical-mechanical switches in their Asus ROG Strix Scar G15 and Asus ROG Strix Scar G17. The same goes with Predator: their high-end gaming laptops have mechanical keyboards but expect the price to be more expensive than usual gaming laptops and even usual gaming keyboards. 
Types of Gaming Keyboards
Since then, gaming keyboards have been the ultimate go-to of every gamer, from beginners to professionals. With that, to go into detail, the following are the types of gaming keyboards: 
Membrane Gaming Keyboards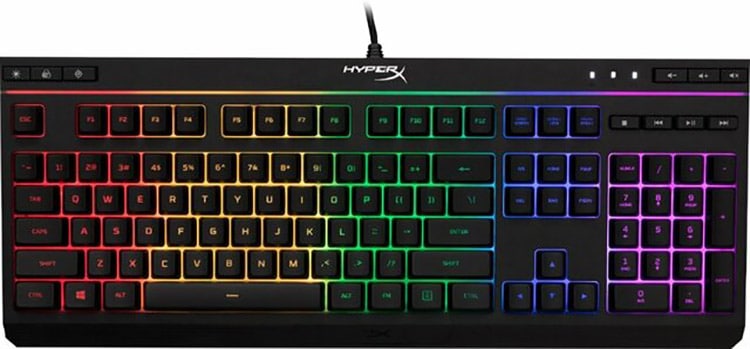 Membrane keyboards are the "black sheep" of the keyboard industry. The way some brands like Razer and Logitech were able to transform an ordinary membrane keyboard to one that is suitable for gaming for those on a budget is an effort that needs to be lauded. 
Apart from their market-standard quality, the software experience is the most appealing feature of membrane gaming keyboards which is far different from the typical and ordinary membrane keyboard. Membrane gaming keyboards are compatible with their respective brand's software and ecosystem. Thus, despite having rubber dome switches, these keyboards are still competitive in their own way. 
Mechanical Gaming Keyboards (Pre-Built)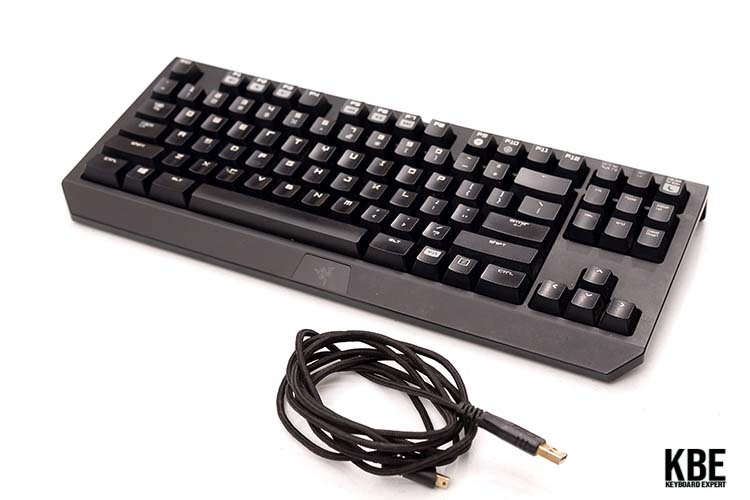 Pre-built mechanical gaming keyboards have dominated the keyboard market for a long time now. In fact, these keyboards gain more and more popularity as time goes by because the gaming community is also getting bigger. 
The very reason why mechanical gaming keyboards still dominate the keyboard industry is because of how dependable it is from responsiveness, feedback, noise, durability, lifespan, and even typing experience. Not only that, but the majority of the available mechanical gaming keyboards that are available in the market are all programmable and aesthetically pleasing.
Custom Mechanical Keyboards  (Custom Kits)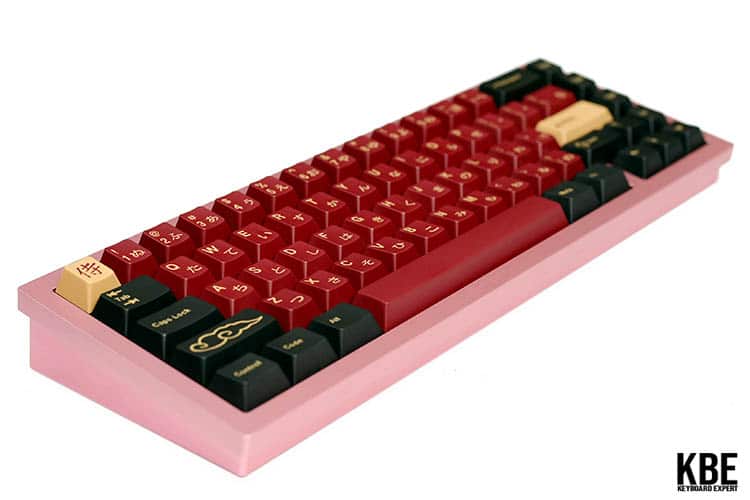 One of the very distinct features of mechanical keyboards is the fact that it is customizable. Custom mechanical keyboards are your version of a mechanical keyboard which means from its size, color, layout, design, case, printed circuit board, plate, stabilizers, switches, keycaps to its cable are all just your personal preferences. 
Custom mechanical keyboards can be pricey or can cost higher than average mechanical keyboards, but the fact that you will be able to work and play with the keyboard that gives you comfort and motivation is what matters the most. 
Which Keyboard Is More Durable?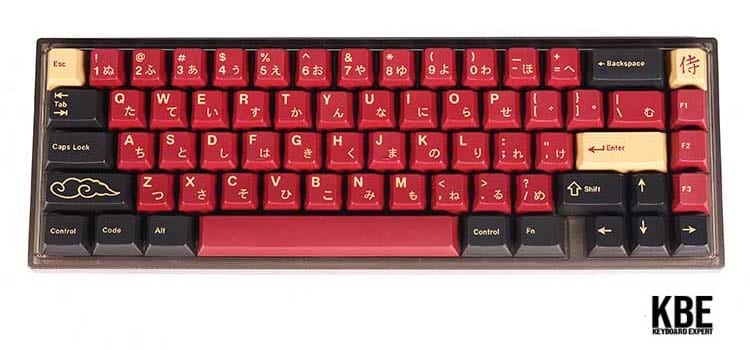 To answer, reference must be made as to how gamers commonly use and treat their keyboards. Gaming keyboards are known to withstand different types of gamers around the world, from soft and quiet gamers to competitive and harsh gamers who prefer smashing the keys on their keyboard when they are playing. That only means that gaming keyboards are built to last longer than any other keyboards to provide a better gaming experience and assist its user throughout the game.
On the other hand, the laptop keyboard's durability is still not as reliable as gaming keyboards. Its keyboard itself is attached to the entirety of the laptop. Thus, the user needs to be delicate when replacing or fixing a specific key. Also, most laptop keyboards still use membrane technology which is still not the best option, especially when it comes to gaming.   
Bottom line, gaming keyboards are strong enough to survive occasional burst outs by its user, whereas a laptop's proprietary keyboard, given that it still uses membrane technology – at least most of it, loses in terms of durability as its lifespan is necessarily tied with the lifespan of the laptop. Consider also that using the keyboard of your laptop contributes to its wear and tear, unlike using an external gaming keyboard where you can swap at ease. 
Which Keyboard Has More Features?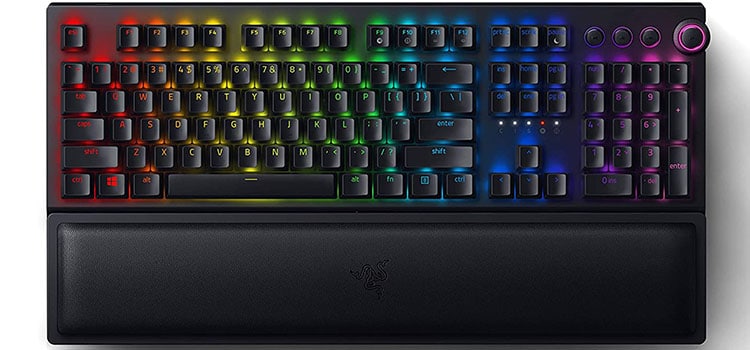 It is obvious that gaming keyboards have more features, from N-key rollover, anti-ghosting, onboard memory to its per-key RGB Backlighting. Another advantage of gaming keyboards is their flexibility and adaptability to cope with the constant changing of gameplays that the user has. 
Laptop keyboards also have plenty of features, but these offered features are the same features that a typical keyboard that adapted a membrane technology has – with a little upgrade, of course. No, it is not a disadvantage, but compared to gaming keyboards: gaming keyboards have more to offer than laptop keyboards.
Which Keyboard Provides the Better Typing Experience?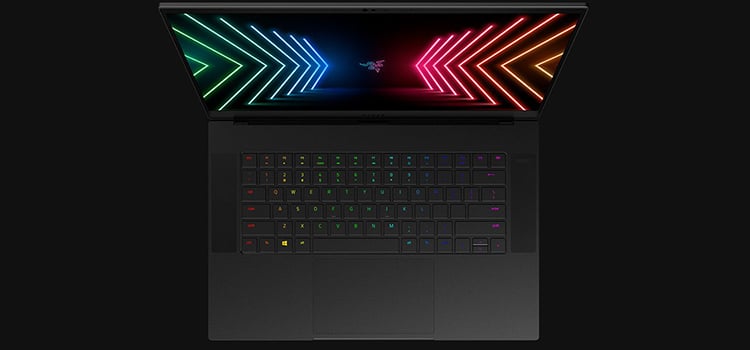 Choosing which keyboard provides a better typing experience is, of course, subjective. It all goes down to the user whether which keyboard provided them an outstanding typing experience. Some may claim that the typing experience that gaming keyboards provide is superior, while some may claim that when it comes to typing, laptop keyboards are ahead. Again and again, it is ultimately down to the user's personal preference. 
But then, reviews and critiques involved, it is claimed that the typing experience that laptop keyboards provide is slightly better than gaming keyboards if we are going to consider convenience alone. The fact that you do not need to use a palm rest when you use a laptop keyboard is already an advantage. Another is the typing feeling it provides, it also does not have strong tactile feedback, but it also does not have mushy feedback, which is taken as an advantage for some.
Which Keyboard Provides the Better Gaming Experience?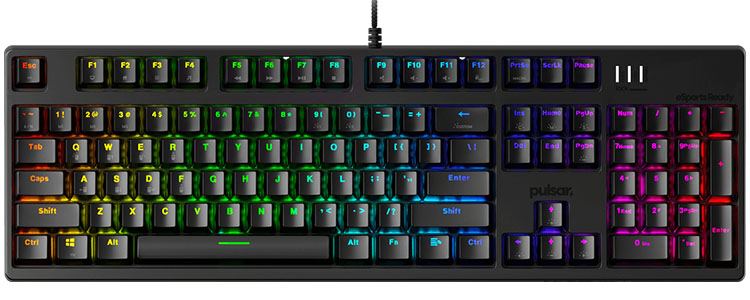 Gaming keyboards have already established their image inside and outside the gaming tournament of professional e-sport competitions worldwide. Although it is a fact that your gaming experience is not just about your keyboard but also your skill as a gamer, it is still an advantage to have a keyboard that you can rely on while you beat your enemies and the gaming keyboard happens to be that keyboard. 
Gaming keyboard can provide not only responsiveness but also – complete assistance to your keystroke. This means that you do not need to worry that your keystrokes are not registered because this keyboard got your back – or your fingers instead. 
Verdict: Should You Buy External Gaming Keyboards?
Again, the decision of buying an external gaming keyboard or not is subjective. If you feel the need to buy an external gaming keyboard, considering that you also have the budget and capability to purchase one, then it will not be a problem since it does not have any negative effect on your laptop. If you are also having trouble adjusting your laptop keyboard might as well consider buying external gaming keyboards. 
Having an external gaming keyboard is also advisable if you are a hardcore gamer. Thus, if you want to fully experience your gaming experience without worrying that you might damage the entirety of your laptop, then considering purchasing an external gaming keyboard is not a loss.   
Stephen is the head content creator of Keyboardsexpert. His mechanical keyboard journey began in 2014 when he got his Razer Blackwidow. Since then, he has been fascinated with all things mechanical keyboard-related. He later discovered the custom keyboard hobby and fell in love with the vast customization options. He is currently searching for his endgame and is very excited to share his journey and educate other keyboard enthusiasts.