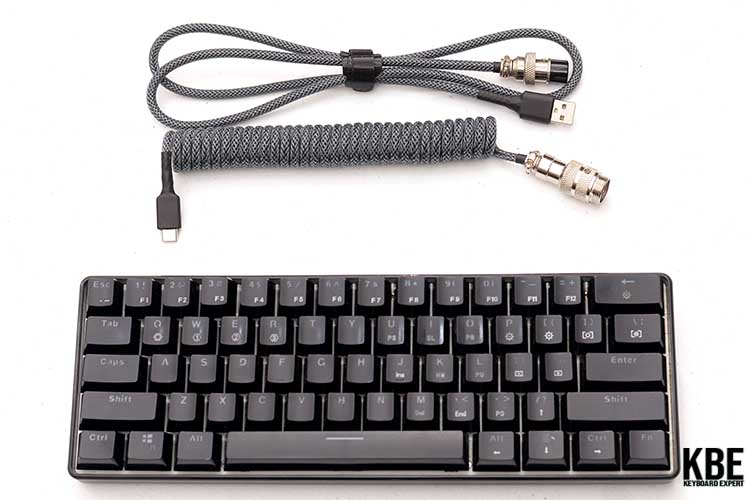 Custom keyboard cables have become extremely popular in the custom keyboard community. It has pretty much become a standard component in almost every custom keyboard build. However, given their high prices, are they truly worth it? 
Coiled cables are made purely for aesthetics and give no performance boosts to the keyboard. However, they can be considered the cherry on top and help tie the entire build together.  And for users who are looking to take their build to the next level, these cables are easily worth it. 
Aside from the price concerns of custom cables, beginners can also be confused with the numerous terms that are used with custom cables. Finding a suitable vendor or cable artisan can also be a challenge for those who have never experienced shopping for custom keyboard-related items before. The world of custom cables can be very complicated but we are here to make things simpler.
In this article, we will be going through everything you need to know about custom cables. We will be giving a basic breakdown of the components and also discuss all the important aspects of custom cables. And by the end of this article, consumers should know whether or not custom cables are right for them.
What are Custom Keyboard Cables?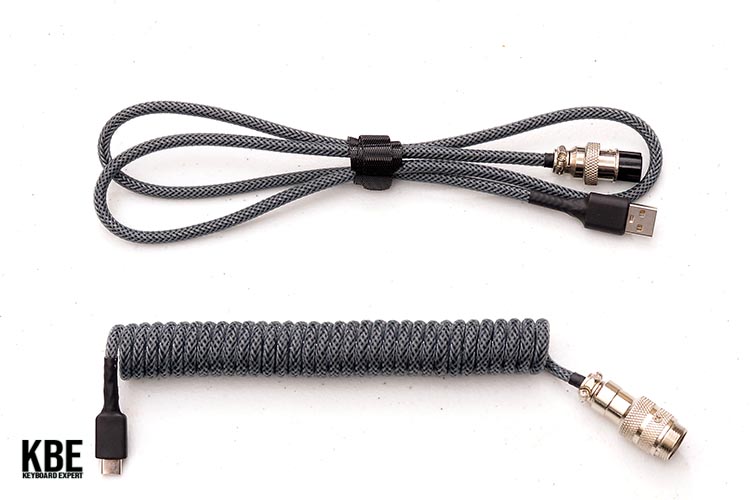 Custom keyboard cables are basically handmade USB cables that are made of more premium materials. They are meant to follow a certain theme, such as the color of the keycaps or the chassis of the keyboard. As its name suggests, these can be customized with different parts that are specified by the customer.
Everything from the length to the exact materials of the connectors can be customized by the user. This ensures that these cables will fit each individual setup perfectly. 
The price of custom cables varies depending on their components. But in general, custom cables are significantly more expensive than regular USB cables. In fact, they can cost as much as entry-level keyboard kits and prebuilt keyboards. 
Just like custom keyboards, custom cables are quite complex. They are composed of different parts and have a variety of options to choose from. The two most common types of custom cables include coiled cables and straight cables. We will be discussing those in more detail below. 
What Do Custom Cables Do?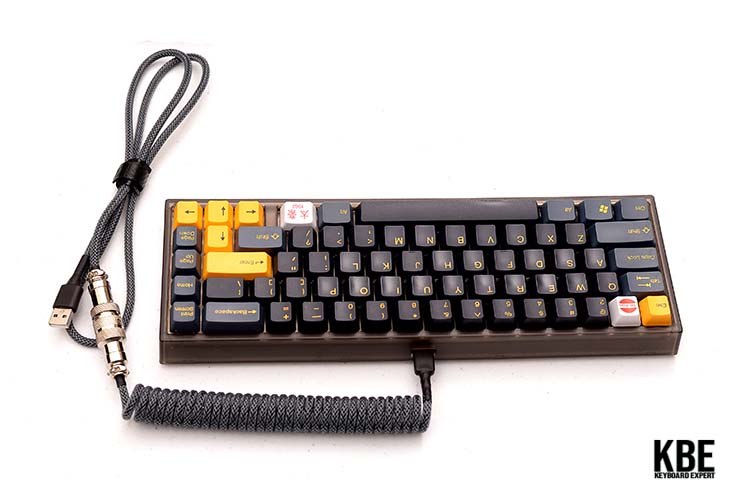 Custom cables can be seen in different hobbies. In the audiophile field, for example, custom cables are believed to slightly alter the sound of IEMs and headphones. This is especially true for sensitive IEMs such as the Campfire Audio Andromeda. 
For gaming mice, custom cables help avoid cable drag and bring the performance of wired mice closer to wireless mice. Their increased durability also helps with the longevity of the mouse.
However, when it comes to mechanical keyboards, custom cables have no effect on the performance of the keyboard. Instead, it is an accessory that is made purely for aesthetics.
Of course, this isn't to say that custom cables are useless. They have plenty of benefits, which is why lots of enthusiasts buy them. Just don't expect them to alter the performance of your keyboard in any way. 
Parts of a Custom Keyboard Cable
Some of the parts that can commonly be seen with custom keyboards include USB Connectors, the sleeving, the coils, the detachable connectors, and the heat-shrink. Without going into too many details, here's a quick overview of these parts. 
USB Connectors
The most basic part of a custom cable is the USB connectors. These can be customized to be compatible with both the keyboard and the computer of the user. 
The side that connects to the computer is referred to by some manufacturers as the host side while the one that connects to the keyboard is referred to as the device side. 
Most custom keyboard and prebuilt keyboard PCBs are utilizing the USB Type-C interface. However, some models may be using mini USB or micro USB, which can also be achieved by the custom cable. 
In addition, users can also opt for a USB Type-C on the other end of the cable. This can be especially useful for newer Macbook models. The options here are limitless as long as you go with a custom cable maker. 
Sleeving
The component that gives the cable its aesthetics, as well as its durability, is the sleeving. The two most commonly used sleeving materials are paracord and tech flex. 
The paracord is similar to the ones found on gaming mice. It often serves as the first layer of the cable. It can also be the only layer for more budget-oriented cables.
For more advanced cables, tech flex can be added to the paracord. This further adds to the durability of the cable. Also, the color and design of the tech flex can be chosen independently from the paracord sleeve. 
Coils
The standout feature of most custom cables is the coil. In a lot of ways, it mimics the coils found on vintage keyboards. But again, custom cables give the user lots of options in terms of how they want the coils to look. 
Several aspects such as the length of the coil, the size of the coil, the direction of the coil, and the position of the coil can be customized by the user. The coil can also be placed either on the device side or the host side of the cable. These are very important since the USB port of custom keyboards can be found in various places, such as on the left side, the center, or the right side. 
Of course, if the user chooses to go with a straight cable, then the coil can be completely omitted. Users can also mix and match their cables and can swap out different sides to convert their cables from coiled to straight and vice versa. However, manufacturers recommend only doing this with cables from the same brand. 
Detachable Connectors
Another eye-catching feature of custom cables is the detachable connectors. These connect the host side and device side cables.
Some of the common materials that are used for the connectors include GX Aviators, Lemo Connectors, and Mini XLR. The only difference between these is the aesthetics and the locking mechanism. Aside from those, these connectors serve the same purpose. 
Take note that not all cables feature detachable connectors. Some entry-level cables completely omit these connectors. 
Heatshrink
The final component that most custom cables have is the heat-shrink. These are commonly found on the device side USB connector. They help protect the wiring inside and also act as an accent piece. Just like all of the other parts mentioned, these can also be customized. 
In more recent cable builds, cable makers have started introducing metal-reinforced USB connectors. These are significantly more durable than the standard heat-shrink implementation and can potentially be the new standard to custom cables. 
Straight vs. Coiled Custom Keyboard Cables
Straight and coiled cables utilize the same accessories and generally the same build quality. The only thing that makes coiled cables more expensive is the more complex process of creating coils. Aside from that, both cables are pretty similar. 
Just like with anything else in custom keyboards, the better cable type will be entirely up to the user. Those looking for a flashier-looking cable that can truly make their keyboard stand out should opt for a coiled cable. Those who are looking for a more minimalistic looking cable, on the other hand, should go for a straight cable.
The host side, which usually contains the coil, can usually be swapped ou with other cables from the same manufacturer. So for those who can't decide between these two cables types, you can try to experiment with both for your setup. 
Benefits of Custom Keyboard Cables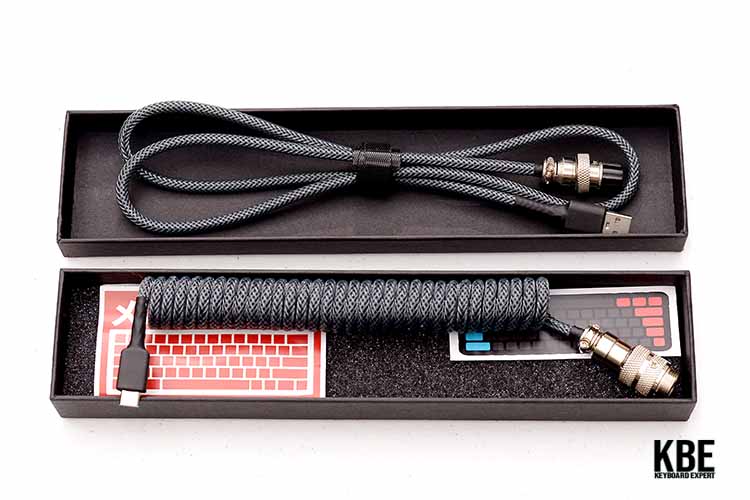 Despite not giving any performance boosts to your custom keyboard build, custom cables still offer plenty of benefits to the user. Some of these include better cable management, preservation of your keyboard's USB connector, and an overall more durable cable. 
Since custom cables can be made to the exact specifications of the user, the exact path and routing of the cable can be tailor-fitted to the user's setup. This allows you to position the cable better than any stock USB cable.
In addition, despite being exposed, custom cables aren't an eyesore to the desk. So even if your cable management isn't perfect, your keyboard's custom cable won't look messy at all. 
Another benefit of custom cables is that they add to the longevity of the keyboard's USB port. With most custom cables, the user no longer needs to detach the cable through the USB port. 
Instead, they can simply detach the cable from the cables' detachable connectors. This is particularly useful for people who often detach their cables or users who use different keyboards on a regular basis. 
And lastly, custom cables are considerably more durable than standard USB cables. It isn't a surprise that most stock USB Type-C cables can easily break. And if you plan on taking your cables around with you, then they will most likely fall apart due to wear and tear. 
Custom cables are more likely to survive any type of situation. The only instance where they have to be replaced is when the user wants to go with a different theme. But for the most part, users will be able to save more in the long run with custom cables. 
Custom Keyboard Cable Manufacturers
View this post on Instagram
Coiled keyboard cables are traditionally made by artisan cable makers. These are usually smaller entities that offer their services via their dedicated platforms. In addition, some custom cable makers only offer their products via group buy. 
Space Cables is one of the most well-known custom cable makers in the community. He has worked with several official themed cables such as the GMK Laser-themed Custom Coiled Cable. Several cable makers have collaborated with different GMK sets over the years and are usually an included option to the keycap group buy. 
But with that said, custom keyboard cables have started to become more available in recent years. There are now tons of artisan cable makers in the market. G-Cables, for instance, is known for providing the custom cables of MKBHD. 
There are several listings on various platforms such as Drop and Amazon. In addition, bigger brands have started joining the party and are now offering more enthusiast-level third-party accessories. 
Some of the bigger brands that are offering coiled cables include Glorious, Razer, Melgeek, Akko, and KBDFans. However, since their offerings are made to be mass-produced, they do not have the same quality and overall attention to detail as custom cables. Options are also quite limited, especially with color options and connector options. 
But overall, it is nice to see that bigger brands are helping to make custom accessories to be more accessible to regular consumers. They can also act as the gateway for more casual keyboard enthusiasts to go deeper into the world of custom keyboards. 
Should You Buy Custom Keyboard Cables?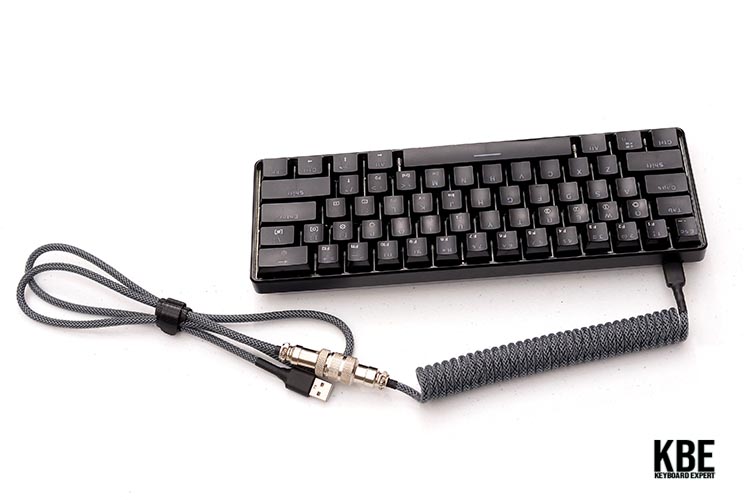 Just like with any part of a custom keyboard, buying a custom cable will highly depend on the user's personal preference. Unlike keycaps and other accessories, custom cables aren't required.
After all, their functionality isn't any different from a regular USB cable. The choice of buying a custom cable highly depends on what kind of consumer you are.  
For some people, the aesthetics of the keyboard plays a big role in why they even got a custom keyboard in the first place. They even believe that the aesthetics of the keyboard can even be more important than other aspects such as the typing experience or the keyboard acoustics of the keyboard. If you belong to this group of enthusiasts, then custom cables are a must.
However, if you are someone on a tighter budget or someone who wishes to prioritize the actual components that make a difference in your build, then spend most of your cash on the essential components first. Once you have acquired your keyboard kit, keycaps, and switches, then you can opt for a custom cable.
Of course, if you decide not to buy a custom cable and stick with a more basic cable, then there's no problem with that as long as it fits your needs. At the end of the day, any USB cable will do as long as they satisfy your needs and goals for your keyboard setup.
Precautions on Custom Keyboard Cables
Recently, there has been an influx of smaller custom keyboard makers. Buyers should take precautions since not all custom cables are made equally. Some have major issues that cannot be seen from the outside.
These cables may initially work well but can cause serious damages over time, such as destroying your PCB. In addition, some custom keyboard kits are known for needing more power than usual.
Using a custom cable that isn't optimized for these kinds of keyboards can cause major issues. We highly recommend going for custom cables from established brands or brands trusted by your local community for the best results.  

The KBE team is dedicated to sharing our knowledge and creating useful resources about computer keyboards. This article was written as a team collaboration, combining our knowledge and years of experience using, building and modding keyboards. Meet the team here.