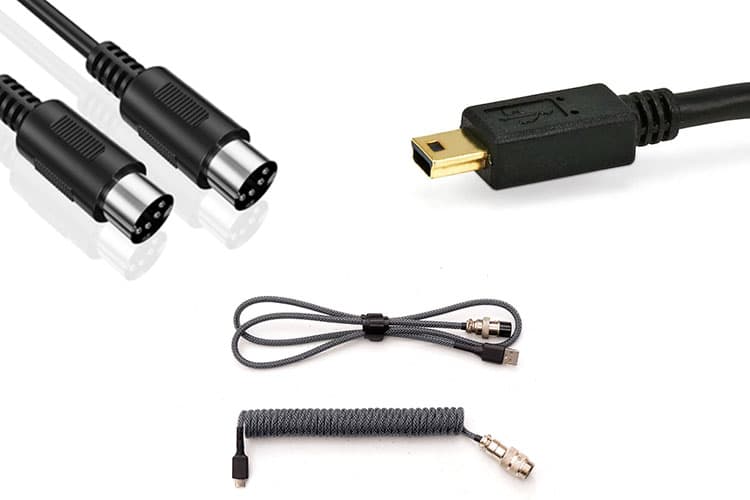 The design of keyboards has been consistent throughout the years. However, one component that has always been changing is the type of cable used. This makes a lot of sense since cables evolve alongside the devices they connect to.
The current standard keyboard cable is USB Type-C. There have been different types of connectors throughout the years. Some of these were proprietary, and others were more universal. Knowing the different types of cables used on keyboards is extremely important, especially when shopping for vintage keyboards or custom keyboard PCBs. 
Modern keyboards mostly utilize a variation of the USB 2.0/3.0 cable. More specialized keyboards with detachable cables, such as gaming keyboards and custom keyboards, usually utilize a variety of USB connectors. These include mini USB and USB Type-C.
However, there are also odd keyboards that utilize more uncommon connectors. In this article, we will be discussing all the commonly used connectors for keyboards, and we'll go through everything from modern cables to vintage cables. And by the end of this article, enthusiasts and casual users should be able to properly identify what kind of cable their keyboard needs.
Why Keyboards Have Detachable Cables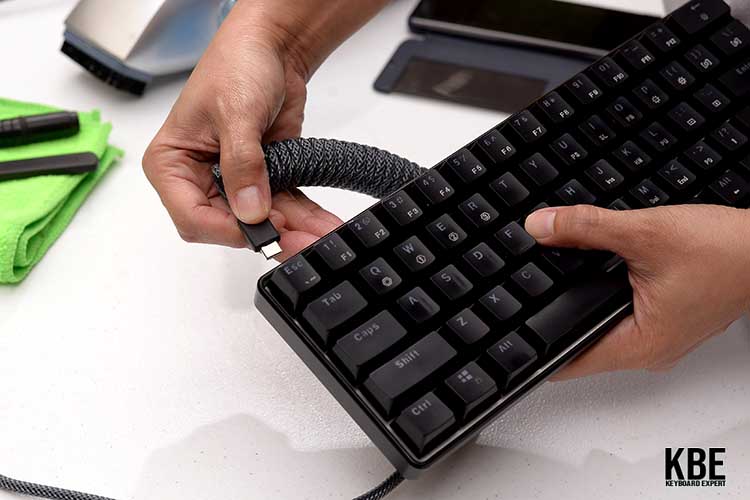 Just like all devices, keyboards initially started as wired devices, and they were nowhere near as convenient as today's wired devices, especially since USB wasn't introduced until the late 1990s.
Peripherals, including keyboards, not plug-and-play. Computers back then often needed to be rebooted before you could use them. Additionally, most keyboard cables were not detachable. If the wire or port were damaged, the keyboard would cease to work.
In addition, older keyboard cables were pretty thick and were not flexible. Overall, they were very inconvenient to use.
With the introduction of wireless connections, manufacturers thought they could finally stop using cables on peripherals. However, the technology wasn't there yet, and early wireless peripherals were not as reliable as wired peripherals.
This meant that wires still had to be used. However, manufacturers needed to find a better way to implement wires, which led to the creation of detachable cables.
Of course, detachable cables were already present in older keyboards. However, they weren't as prevalent or as standardized as they are today.
Detachable cables finally solved the issues the traditional wired keyboards faced. They are more future-proof since you can replace the cable if it becomes faulty. Users can also opt for custom cables that are durable and aesthetically pleasing.
Why Do Detachable Keyboard Connector Types Vary?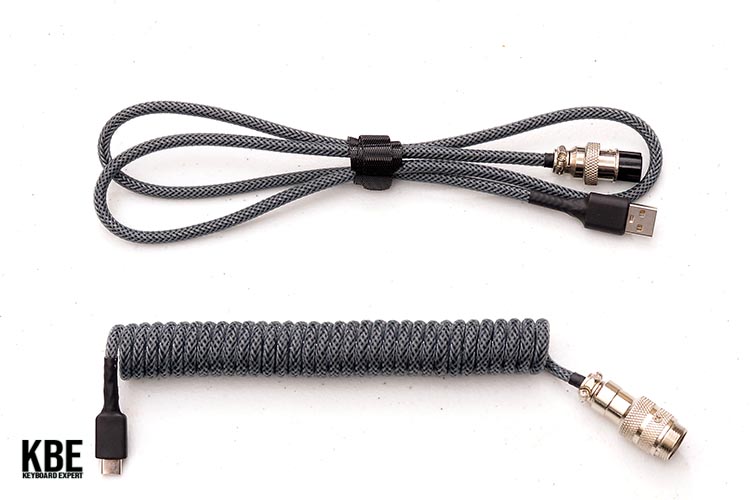 The main reason there are different keyboard connectors is that there are different types of devices in the market. Most companies that manufacture these devices decide what kind of connectors are compatible with their devices. As a result, keyboard manufacturers had to adapt to ensure that their keyboards were marketable to different kinds of users.
Initially, manufacturers across the board had to make their own connectors because they made their own computer units without much inter-crossing labor like in current manufacturing. One example often cited in the circle would be IBM's 5-pin DIN connector.
Simply put, different companies had different models and standards, resulting in a variety of connectors and ports. The variety of cables is currently more rooted in necessity than anything else.
Additionally, other devices also now require the use and dependability of a physical keyboard. Some tablets and phones act like tablets more often than not, and there are also game consoles and other devices that may require a keyboard connection. 
Due to the sheer amount of new devices, more and more cables and ports have entered along with them. It is safe to assume that as time passes, there will be more to come, standards will change, and more cables will phase out just as well to make room for new devices.
What is the Standard Cable for Keyboards?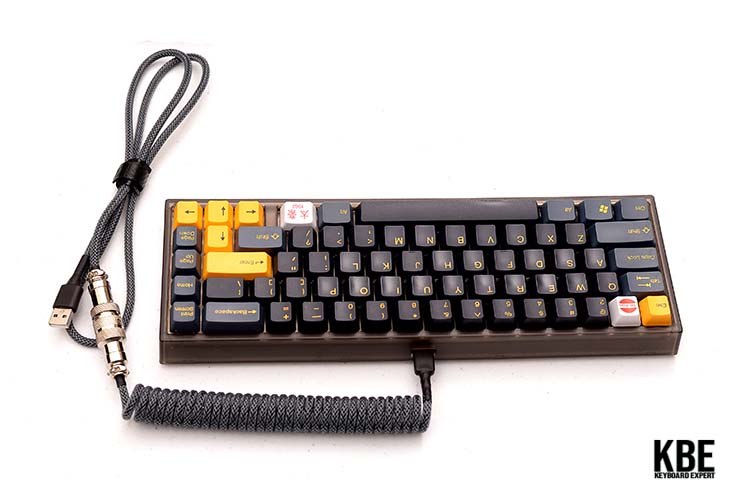 Throughout the years, there have been various standards set for keyboard cables. The PS/2, or 6-pin mini-DIN, connector was the standard connector in the early days of computer technology.
As time went by, the USB became the standard for keyboards and almost all peripherals. USB was way more flexible since it is compatible with different devices, including televisions, game consoles, smartphones, etc. 
The USB-C is the newest and smaller version of the USB, with 24 pins rather than the flat rectangular design of the original USB and more power. Its remarkable compatibility with a smartphone's charger port has undoubtedly contributed to its growing popularity.
It is compatible not only with smartphones but also with other handheld devices. Due to the increasing usage of the USB-C, more devices are starting to have a USB-C port. Desktops, laptops, and projectors, to name a few. In some years, most devices will likely have a port for the USB-C. We'll discuss more details about the USB-C later on in this article.
Different Types of Keyboard Cables
Terminal Connector 
A connector is not often mentioned among conventional keyboard connectors. The Terminal Connector, more known as the RJ45, was a connector used by the IBM Model M. It has a somewhat similar structure to the typical LAN, or Ethernet, the cable used in modern systems.
While the IBM Model M keyboard is where the terminal connector was most remembered, it was also used for older IBM keyboards. The terminal connector is one of the earliest known keyboard connectors used among home computers. It's almost entirely retired by the current day, even fairly obscure with little information in conventional search engines, and is mostly used as an Ethernet connector.
AT Connectors
The AT keyboard was developed by IBM for their PC/AT computer line. They're part of the earliest models of keyboards. While it is widely known as an AT connector, the actual name would be the 5-pin DIN, based on its characteristics. Those characteristics were boiling down to, essentially, five hooks asymmetrically oriented for a stable connection.
The AT connector was one of the first keyboards to use such a connection method and had initially popularized the structure. Even later, products with newer ports had backward compatibility due to that popularity. While the AT connector is no longer widely used, except for those who dabble in vintage technology or own older models, it paved the way for significant advancement. Having said that, many people continue to use older computer models.
PS/2 
The PS/2 replaces the 5-pin DIN. It is colored purple to distinguish it from its predecessor, while a green port indicates it as a mouse port. The 6-pin mini-DIN, commonly called the PS/2 connector, was made for computer peripherals for IBM in their PS/2 computer line. Due to it being manufactured at IBM, they were more mostly used for IBM computers, but other companies and manufacturers had also been known to use them.
They had been something like the standard in earlier years of tech and home computer development. The most popular keyboard to have used this connector would be the IBM Model M. Due to this popularity, and the PS/2 connectors were widely used to the point that the ports are still used today.
Keyboards that use the PS/2 are not the standard anymore, but they're not impossible to find. For the most part, you can find many keyboards that use this connector online with a single search. There's even been debate on whether or not the USB can compare with the PS/2, but general consensus made it so that the USB and the PS/2 are on fairly equal footing.
Furthermore, some keyboard features necessitate the use of PS/2 connectors. For example, the N-key rollover cannot be used with USB connectors, and it was only later that USB connectors were permitted the feature to function. However, some manufacturers include the PS/2 connector for this feature.
Mini USB
The USB, the standard one, is a flat, rectangular interface. It's not interchangeable, as it can only go one way when needed to be inserted into a system. It is found on most USB cables and is also used for USB drives. While most computers have more than one port for USBs, the mini-USB was not built, primarily for desktops.
The mini USB was smaller for on-the-go devices, mostly to connect computer peripherals like keyboards and mice to handheld gadgets like phones and tablets. It's not quite in use today as much, but you can still see ports for them on larger companies' devices, like Sony. Besides desktops, people also use them for devices like cameras and gaming consoles.
USB Type C/USB-C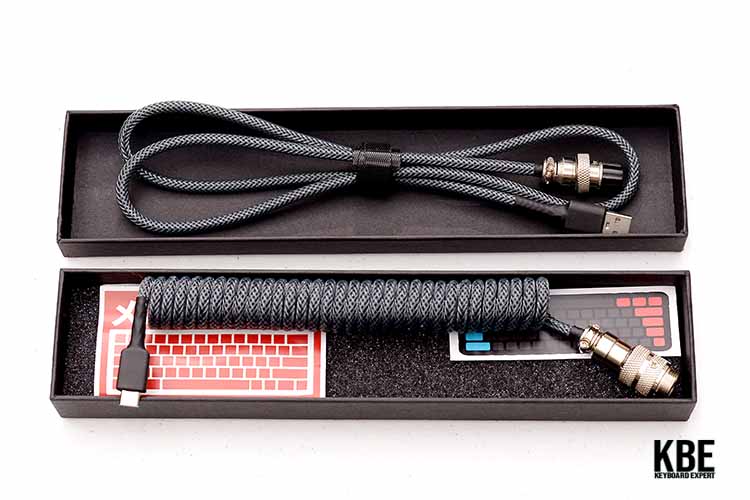 Another type of USB, the USB-C, is a smaller variation and the latest iteration on the standard USB cable. It has a reversible, or symmetrical design, allowing it to be plugged without much struggle. It is a 24-pin design and can be seen on many devices like phones, tablets, and gaming consoles. It's also fairly popular for phone peripherals, like portable batteries or mini pen drives.
The USB-C has a high transfer rate and can generally use more power than the previous USB types despite its smaller size. All this, with the extra addition of being able to juggle several operations at a time. While not all USB-C ports are the same, most support both data transfer and connected-device power delivery.
Due to this, along with increasing usage among manufacturers, it's been steadily increasing in popularity. Most devices are slowly being updated to have a USB-C port in their systems. With all the advancements and advantages the USB-C has, it's slowly taking over the standard USB and is likely set to do so completely in some years' time.

The KBE team is dedicated to sharing our knowledge and creating useful resources about computer keyboards. This article was written as a team collaboration, combining our knowledge and years of experience using, building and modding keyboards. Meet the team here.