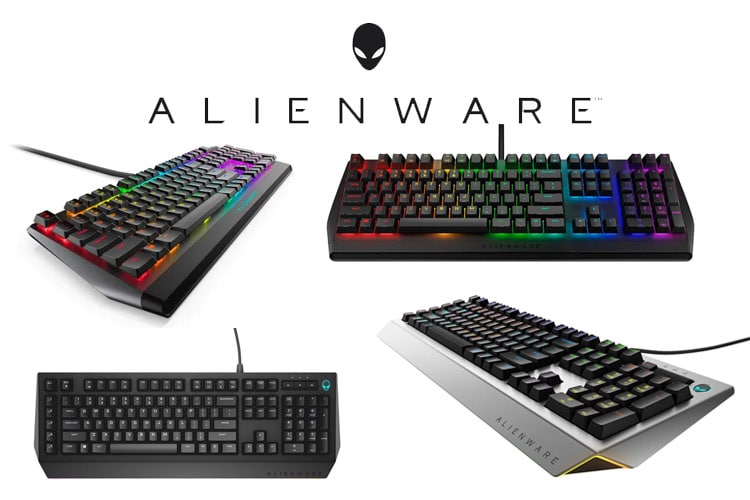 Many well-known computer brands/manufacturers have attempted to make high-quality gaming keyboards for professional Esports players, casual gamers, and keyboard enthusiasts. However, only a few brands have been able to stand out from this incredibly crowded market. Most brands simply stamp their name on poorly designed keyboards, which has left a bad impression on many gamers. 
Alienware is best known as a manufacturer of high-end gaming computer systems under Dell. But aside from high-end PCs and laptops, the brand also produces high-quality gaming keyboards/gaming peripherals. Most of their keyboards have been well received by the gaming community thanks to their good feature set and reliability.
One brand that has managed to translate their success in the PC gaming world to the gaming peripherals market is Alienware. Many gamers and computer enthusiasts will immediately recognize this brand as one of the leading gaming PC and laptop manufacturers.
Their products can pretty much be seen in any computer store. In addition, their brand is prominent in the Esports scene since they sponsor a lot of professional gaming organizations and Esports events.
Here, we will look into Alienware as a manufacturer of gaming keyboards and how they fare with their competitors. Likewise, this article will serve as a guide for what to expect if you are looking to buy one of their keyboards.
More About the Brand

Alienware is under Dell Technologies, a popular tech giant with a considerable market share in different tech industries. The move to manufacture gaming peripherals such as keyboards, mice, and headphones way back in the earlier 2000s is rather an expected one, given that most of their competition has likewise adopted the same.
The brand is trendy for its desktop and laptop computers with unconventional "futuristic designs." A similar design concept can also be observed with their gaming peripherals bearing the same Alienware logo.
What makes Alienware a brand different from other gaming brands is its vast presence in the E-sports industry. If you have been a fan of Team Liquid, whether, in Dota 2, Counter-Strike, Valorant, or any E-sports title, you should know that both have been in collaboration to define the future of E-sports.
Keyboard Lineup
Before we hop into their keyboards, know that Alienware's product line is relatively small and is wholly composed of full-sized keyboards at present. While this may be the case, no keyboard is objectively inferior to each other when it comes to doing the job it was primarily meant to do.
Alienware is a manufacturer of both gaming membrane and mechanical keyboards. Their products are priced competitively compared to the costs of other tech giants such as Razer's, Steelseries, Corsair, and the like. However, if you compare their price-to-performance value to those brands that do not put a premium on their names and logos stamped on their products, the former appears to be a questionable purchase.
In another perspective, their keyboards may be worth considering if you are a devoted fan of Alienware. Again, to each of his own. With that out of the way, here are some of the keyboards they currently offer.
Alienware AW410K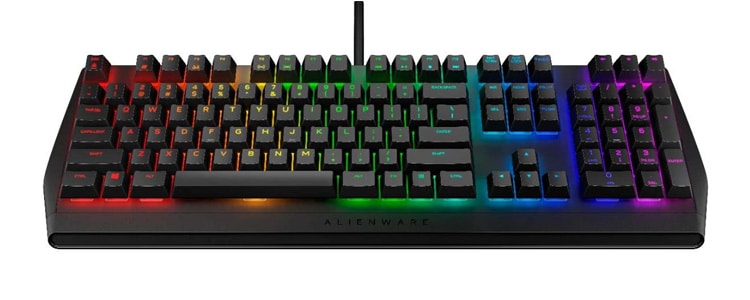 AW401K Highlights
Full-Sized Form Factor Mechanical Keyboard

Cherry MX Mechanical Switches

Per-Key RGB Backlighting

Available in Black or Gray Colorway

Often Bundled with AW Gaming Mouse AW610M
Alienware's keyboards are pretty straightforward, meaning aside from it being obviously a gaming peripheral right of the bat, it does not have any added accents or keys unique to the keyboard itself. The AW410K is no exception. 
First on the list is a keyboard that sports your regular Cherry MX mechanical switches covered with Black backlit keycaps. Should you not vibe with the all-black design, you have a white version as an alternate.
Alienware AW510K – Low Profile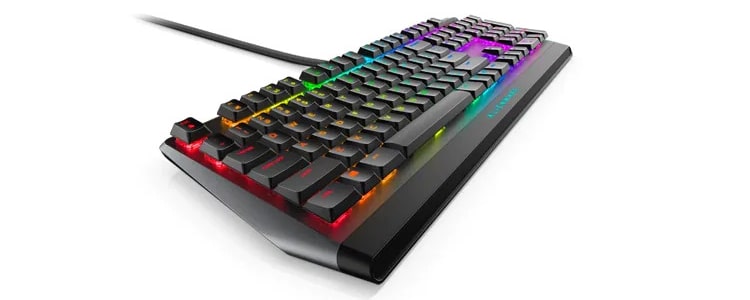 AW501K Highlights
Full-sized Form Factor Mechanical Keyboard

Low Profile Keycaps

Cherry MX Low-Profile Mechanical Switches

Per-Key RGB Backlighting

Available in Black or Gray Colorway

Volume Knob

Often Bundled with AW Gaming Mouse AW610M
What sets apart the AW510K from the AW410K is the height of its keycaps. The AW510K is equipped with low-profile keycaps. Aside from that, this is the only keyboard from the brand that sports a volume knob. Even though it is not programmable, a dedicated media key will surely be convenient for some people.
Alienware AW768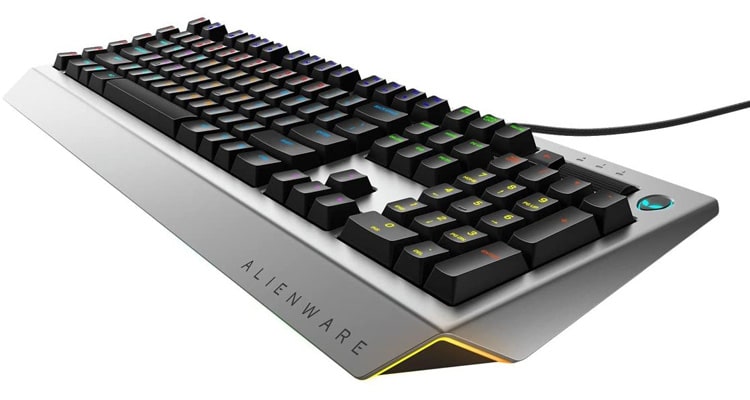 AW768 Highlights
Full-Sized Form Factor Mechanical Keyboard

Fifteen Programmable Macro Keys

13 -Zone RGB Backlighting

Kailh / CherryMX Brown Switches

Volume Knob and Dedicated Mute Button
The AW768 is one of the first released keyboards by Alienware. Again, we can see here the straightforward design implemented in its most recent releases. There is nothing new, except for the RGB Underglow provided by an LED strip on its bottom. Should you be interested in this keyboard, note that this has two versions – one which is equipped with Cherry MX Brown switches, and the other one with Kaihl Browns. 
Alienware AW 568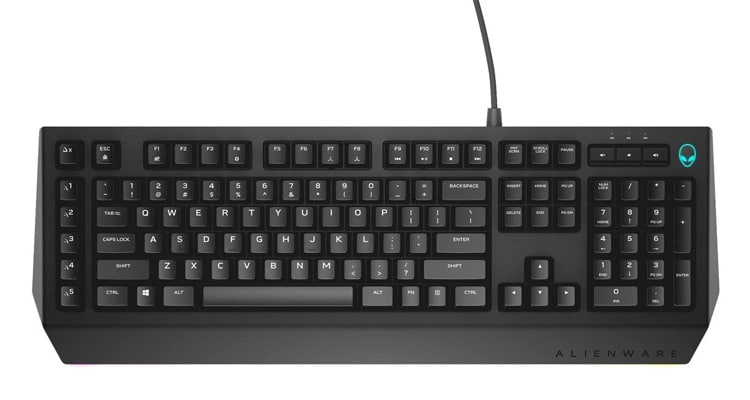 AW 568 Highlights
Full-Sized Form Factor Mechanical Keyboard

RGB Underglow

Kailh Brown Mechanical Switches

No RGB Backlighting
This is basically the AW768 with no Per-key RGB Backlighting. Regarding its form factor and design, the AW568 still carries the same as the AW 768. The only thing different is that the AW568 is only available in Kailh Brown switches, unlike where you can get it with Cherry MX Brown. 
What Makes Alienware a Good Brand?
Alienware successfully manufactured market-standard gaming keyboards that go in perfect harmony with the ecosystem they have created. Likewise, having working tech support to attend to the issues of your Alienware gears is quite reassuring, given the price you are paying.
Consider also that the brand considers those fans of theirs who are tight on their budget by giving them the option to purchase gaming membrane keyboards that relatively cost less than their mechanical ones. If you are also the type of person who is pretty skeptical about their finances, the brand got you covered through their discounts if you buy in cash or bundles with their gaming mice.
Why Look For Alternatives?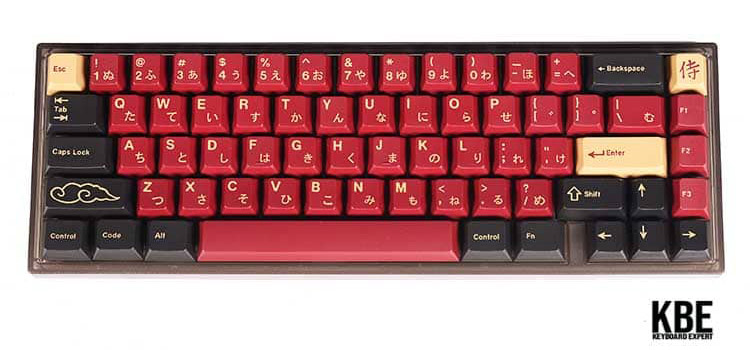 Alienware caters to a group of customers that vibe with the gamer aesthetic. In other words, the design concept of their keyboards screams that its owner is a gamer. Others may like it, but surely a number does not.
Point in case if you are looking for keyboards with discreet and minimalistic designs, then it is recommended that you look somewhere else. In this light, as the brand only offers full-sized gaming keyboards, they do not have keyboards with smaller form factors such as 65%, 60%, and the like. Ergo, the brand is an automatic pass if you prefer smaller keyboards.
Lastly, Alienware only offers pre-built gaming keyboards, which do not have hot-swap sockets, meaning you cannot change its key switches should one break or if you want to replace them. If this feature is something that you need, then better look somewhere else.
Which Alienware Keyboard to Buy?
Remember that their keyboards are often bundled with their AW610 gaming mice when deciding what keyboard to buy. In case you are looking for a set, perhaps their bundles are the best way to go. 
Regarding what keyboard you should go with, the deciding factor would be its availability. More often than not, Alienware keyboards are only available on mainstream websites such as Amazon. Once in a while, you may pass by it in most online stores, but their newest releases, the AW410K and the AW510K are rarely in-stock. If you are looking for a low-profile mechanical keyboard, definitely go with the AW510K. Otherwise, opt for the AW410K. 
Where to Buy Alienware Keyboards?
It is highly recommended that you purchase their keyboards directly from their website. Their products are also available in most mainstream online stores.
Alienware Keyboard Warranty
Alienware offers a 2-year limited warranty for all of its keyboards. Check out Alienware's official website to learn more. 
Stephen is the head content creator of Keyboardsexpert. His mechanical keyboard journey began in 2014 when he got his Razer Blackwidow. Since then, he has been fascinated with all things mechanical keyboard-related. He later discovered the custom keyboard hobby and fell in love with the vast customization options. He is currently searching for his endgame and is very excited to share his journey and educate other keyboard enthusiasts.