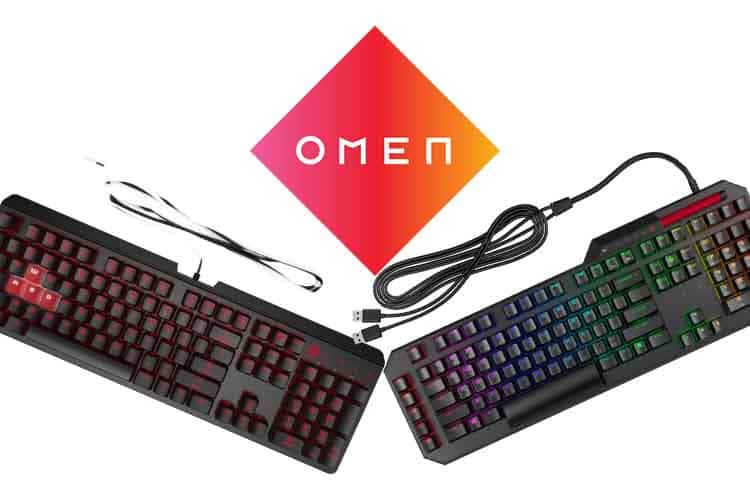 It is not common in the community when a tech giant decides to release its gaming peripherals product line. Truth and in fact, it is almost a cliché whenever brands with virtually no experience in manufacturing quality peripherals enter the competition, given the massive potential of profits they may gain. One such brand to join this list is HP Omen.  
Hewlett-Packard, commonly known as HP, has decided to expand the coverage of their Omen lineup to gaming peripherals. Objectively speaking, their initial releases are not enough to establish the brand a place in today's competition. It is not enough to show their potential as a tech giant with a bounty of resources to work with. 
HP Omen is widely popular due to its laptops and desktop computers that can compete globally with the offerings of other tech giants. Data shows that it successfully established a significant market share not only in the east but also a little bit in the west. To further support its growth, the company has decided to accessorize the HP Omen experience through their own external peripherals. 
Of course, many users are interested to know whether or not these gaming peripherals can compete with more established brands such as Razer and Logitech G. In this article, we will be exploring deeper into the product range and reputation of HP Omen. And ultimately, we will help buyers decide if they are a brand that gamers should go with.
HP Omen Brand History

There is no exact time frame to be found on HP's website regarding the establishment of their Omen line of products. But early reports suggest that it was back in 2016 when they released their gaming brand.
Since its inception, HP Omen has always been more focused on offering quality gaming laptops, pre-built gaming PCs, and gaming monitors. Gaming peripherals such as gaming mice and gaming keyboards were more of an afterthought.
Of course, HP Omen was not the only brand that did not initially find success with their early gaming peripherals. But unlike brands such as Fnatic Gear,  HP Omen didn't seem to find their footing in the gaming peripherals market.
In 2021, HP successfully purchased HyperX from Kingston. HyperX is, of course, a brand that is immensely popular in the gaming peripherals market. It is unclear if this move means the end for HP Omen's gaming keyboards and mice.
HP Omen in E-sports
HP Omen does not have realistically a vast presence in E-sports. While this may be the case, you may have seen Chinese Actors and Actresses donning one on Chinese E-sports Dramas. Take a look at King of Avatar, for example, wherein the brand's logo and other companies' products are widely promoted. 
HP Omen Keyboard Lineup
HP has two keyboards on their arsenal, which, as previously mentioned, was temporarily put to a stop. Both of these keyboards have identical characteristics – one of which appears to be more premium than the other.  Without further ado, here are HP Omen's gaming keyboards: 
HP Omen Sequencer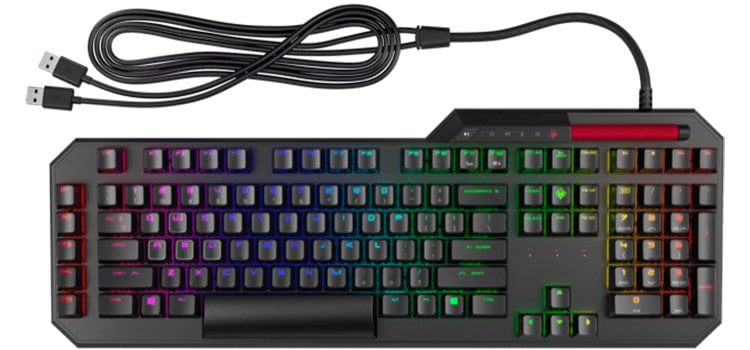 HP Omen Sequencer Highlights 
Optical Mechanical Switches (Brand Unknown)

Connects to Two USB 2.0 Ports

Per-Key RGB Backlighting

HP Command Center

A Number of Macro Keys
Questionable naming sense aside, the Sequencer is a full-layout gigantic keyboard that is equipped with optical-mechanical switches. The choice of switches may come as surprising given that HP Omen has only two keyboards available at the moment. Taken differently, however, the choice is testamentary to their potential of what they can offer to the market should they take the competition seriously. 
The HP Command Center is basically software support for programming the macro keys and RGB Backlighting customization. Other than that, there is nothing to talk about. 
HP Omen Encoder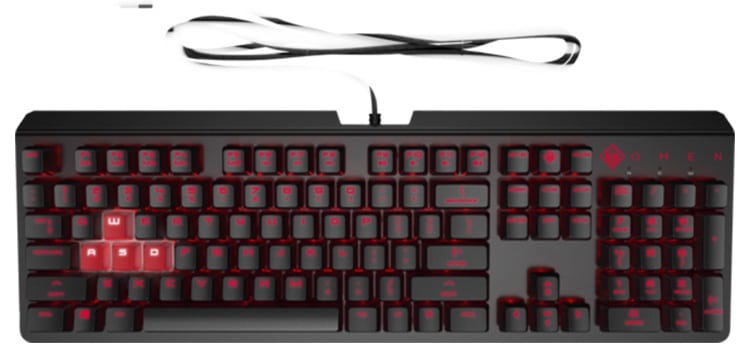 HP Omen Encoder Highlights
Full-Layout Keyboard

Cherry MX Red Mechanical Switches

Red Backlighting

Full N-Key Rollover

Custom W-A-S-D Keycaps

Braided Cable
Compared with the Sequencer, the Encoder seems to be the more logical purchase. It is a full-layout keyboard that offers basic conveniences to its users. Its full N-Key Rollover feature is something to note as it will surely benefit the gamer. Note also that the keyboard is equipped with Cherry MX Reds, which are highly regarded as one of the top choices for mechanical switches for gaming.  
What Makes HP Omen a Good brand?
View this post on Instagram
HP Omen can be relied upon for your computer needs – be it a laptop or a pre-built System Unit. HP, the company itself, is widely popular as a manufacturer of professional printer machines. Undoubtedly, the brand is worthy enough to carry the "tech giant" monicker. 
Things, however, become different on their move to venture on manufacturing gaming peripherals. Granted that it is not a huge success, both the Sequencer and the Encoder have their perks that should not be taken for granted. If you are a devoted fan of HP, or there are no more decent mechanical keyboards available in your area, then perhaps, the Sequencer is more than enough to meet your mechanical keyboard fix. 
Why Look For Alternatives?
View this post on Instagram
Even then, there are many reasons why you should veer away from the Sequencer and the Encoder. Truth be told, both keyboards do not necessarily provide a unique experience that you cannot go away with if you are in the HP Omen ecosystem. 
As mentioned earlier, there are more logical and cheaper options to consider. Emphasis must be put on the price given that the Sequencer and the Encoder are priced at 135$ and 99$ respectively. Such price tags are enough to get you a reliable custom keyboard on a smaller form factor that is better tailored for your personal convenience. 
Which HP Omen Keyboard To Buy?
The more logical choice between the Sequencer and the Encoder would be the latter. While Optical Mechanical Switches may be the future, it is not worth investing a significant amount of money, especially if you can get better keyboards on the price of the kit itself.
The Encoder, on the other hand, is pretty decent to play with. For USD 99, you are getting a full layout keyboard that is equipped with Cherry MX Reds and Red backlighting for your gaming needs. Does it get any better than that? Yes, but if left with no options due to several reasons, then the Encoder is more than enough for your needs. 
Where to Buy HP Omen Keyboards?
HP Omen keyboards can e directly bought from their website. Their products are also available in most mainstream online stores such as Amazon.
HP Omen Keyboard Warranty
Keychron offers a 1-year limited warranty for all of its keyboards. Check out HP Omen's official website to learn more. 
Read other brand reviews:
Stephen is the head content creator of Keyboardsexpert. His mechanical keyboard journey began in 2014 when he got his Razer Blackwidow. Since then, he has been fascinated with all things mechanical keyboard-related. He later discovered the custom keyboard hobby and fell in love with the vast customization options. He is currently searching for his endgame and is very excited to share his journey and educate other keyboard enthusiasts.