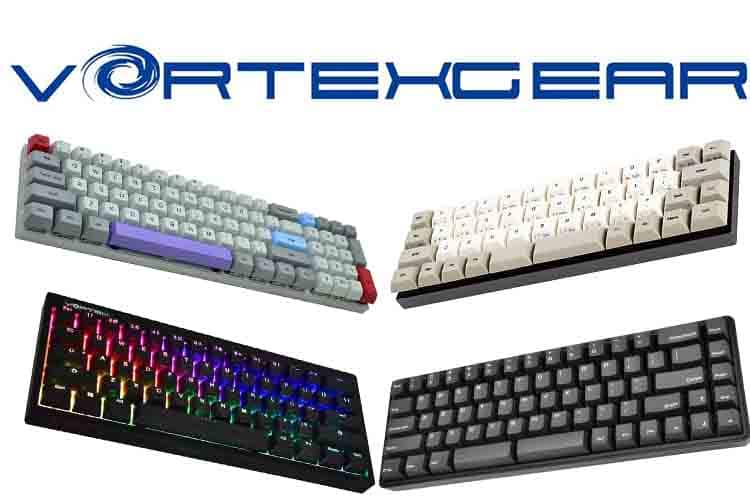 Vortex keyboards is a very popular enthusiast-grade keyboard brand. They amassed popularity in 2010 with the release of the POK3R keyboard. They were the go-to brand before 60% keyboards, and custom keyboards became popular. 
Vortex has stood the test of time by revolving around the same design philosophy that they were known of. The brand does not have eye-catching keyboards or high-end interiors that any present-day enthusiast would like. The brand has decent mechanical keyboards. Simple as that. 
Even with the rise of small form factor keyboards and custom keyboards, Vortex was still able to compete. In fact, their offerings are practically unbeatable at their price point in terms of features and build quality. Also, they are one of the few keyboard manufacturers that offer 40% keyboards and aluminum cases in the pre-built keyboard market. 
In this article, we will be learning more about Vortex keyboards. We will quickly go through their history and legacy before checking out their current keyboard lineup. And ultimately, we will help users decide if Vortex's offerings are right for them.
Vortex Brand History

Vortex Keyboards was founded way back in 2010. Hailing from Taiwan, the brand set sailed to become a boutique for computer peripherals built with high-quality materials and a touch of superior craftsmanship. 
Objectively speaking, Vortex keyboards are relatively cheap in the price range they are in. However, consider the present competition wherein many brands are focused on dishing out keyboards that have excellent price-to-performance ratios. In other words, the game revolves around offering keyboards that are worth every end-user's penny. 
Mainstream Fame
View this post on Instagram
While it has not entirely lost its presence in the market, it is quite unfortunate that the brand still chooses to stick by the same formula since its debut. The decision may be convenient for its devoted customers base, but it will surely not benefit the brand in the long run given the growth of the mechanical keyboard market. 
As previously mentioned, the brand was known for giving birth to POK3R, one of the earliest iterations of a 60% mechanical keyboard. At its peak, the POK3R garnered the community's love as it slowly made them embrace and realize how convenient it is to own a smaller-form factor keyboard in their daily endeavors. 
Vortex Keyboard Lineup
POK3R / RGB POK3R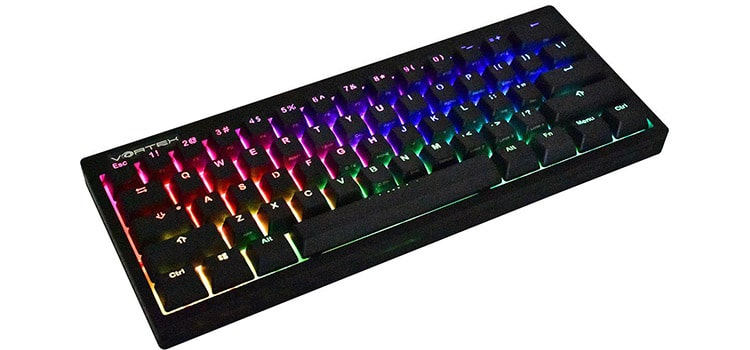 POK3R / RGB POK3R Highlights                                                                                           
60% Form Factor

Cherry MX Switches 

Plastic Case with Metal Bezels

RGB Backlighting (RGB POK3R)
The Vortex POK3R is the brand's most well-known keyboard. It is one of the earliest mainstream 60% keyboards available in the market. Back then, this form factor only served a certain niche. Some of its competitors at the time include Ducky's Mini series keyboards and Happy Hacking Keyboard (HHKB) 's offerings.
Today, the POK3R is still as relevant as it was back then. It is still rocking the same 60% layout along with the tried and tested Cherry MX switches. Its build quality is also very good with its plastic case with metal bezels.
In addition, a newer version in the form of the POK3R RGB is also available. Overall, the POK3R and POK3R RGB are perfect for those looking for a budget 60% keyboard with all the essential features needed for gaming and productivity.
Vortex 10

Vortex 10 Highlights
62 Keys on a 60% Form Factor

Hot-Swap Switches (3 or 5 Pin)
South Facing Switches (RGB LEDs)

PBT Keycaps

Cherry MX Switches

Aluminum Top and Clear Plastic Bottom
RGB Underglow
The Vortex 10 is a keyboard released to commemorate the brand's 10th Anniversary. Its design is a natural evolution of the POK3R design and sports several new features found on many newer pre-built and custom keyboards.
Some of the new features include hot-swappable switches, south-facing LEDs, and a more sturdy case featuring an aluminum top and plastic bottom. Having hot-swappable switches allows users to explore gaming switches and enthusiast-grade switches without having to physically upgrade their keyboards.
It also allows users to easily lube and film their switches. Also, south-facing LEDs is pretty much a big deal since it will allow users to use high-end Cherry profile keycaps from brands such as GMK.
And lastly, the aluminum top and plastic bottom housing of the Vortex 10 is a lot sturdier and more premium-feeling than the plastic case that comes with most Vortex keyboards. The only downside of this keyboard is that it has no keyboard software for remapping and macro recording. Everything has to be down within the keyboard.
Also, the Vortex 10 isn't meant to be opened and modified, unlike most custom keyboards. This means that addressing some issues such as stabilizer rattle won't be straightforward. But overall, the Vortex 10 is the brand's most up-to-date keyboard and is perfect for enthusiasts looking for a high-quality pre-built keyboard.
Cypher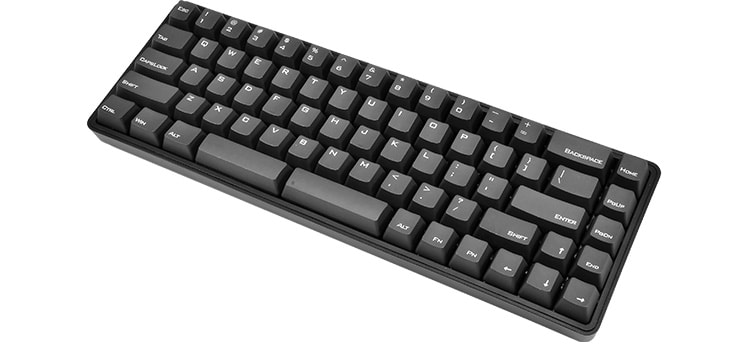 Cypher Highlights
69 Keys on a 65% Form Factor

PBT Keycaps

Dual-Layer PCB

Split Spacebar (It Also Has a Version With a Regular Spacebar)

Cherry MX Switches
The Vortex Cypher is a larger version of the POK3R series of keyboards. It features a 65% form factor, meaning it has arrow keys and the home row cluster (delete, home, page up, and page down). Also, the Cypher is available in both a split spacebar and regular spacebar configuration.
Having a split space bar option easily makes the Cypher a unique keyboard. Even today, only a few keyboards in the same price range have this feature. Aside from these changes, the Cypher is mostly similar to the POK3R. So overall, the Cypher is a perfect keyboard for those who love the POK3R but wish it had more keys.
ViBE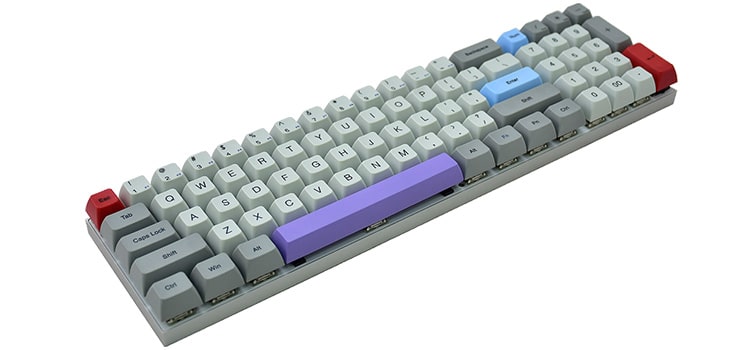 ViBE Highlights
"Extended 60% Size Keyboard" Form Factor with a Numpad (Basically a Full-Layout Form Factor)

Anodized CNC Aluminum Case

macOS Compatibility

Cherry MX Switches
The Vortex ViBE is the largest keyboard that the company offers. It features a compact full-size layout, wherein it crams all the keys found on a traditional full-size keyboard but removes the home row cluster to save space. In addition, the ViBE offers an aluminum case, easily making it feel more premium than most of Vortex's offerings.
Lastly, buyers of the ViBE will also get high-quality PBT keycaps with dye-sub legends. This immediately makes the ViBE look unique and will ensure that the keycaps will last a long time.
Aside from these, most of Vortex's signature features, such as the use of Cherry MX switches, are retained. Overall, the ViBE is perfect for those looking for a compact, full-sized keyboard with a high-quality build.
New75 

New75 Highlights
Racer Themed DSA Keycaps

Cherry MX Switches

It Has a Backlit Version

75% Form Factor

Aluminum Case

macOS and Linux Compatibility
The Vortex New75 is a smaller version of the ViBE. As its name suggests, it has a 75% form factor which is very similar to TKL keyboards. The only difference is that all the keys are crammed together, making it look similar to a 65% keyboard.
Aside from its layout, its feature set is very similar to the ViBE. It also comes with an aluminum case as well as high-quality PBT keycaps. This keyboard is perfect for those looking for a smaller version of the Vortex ViBE.
Core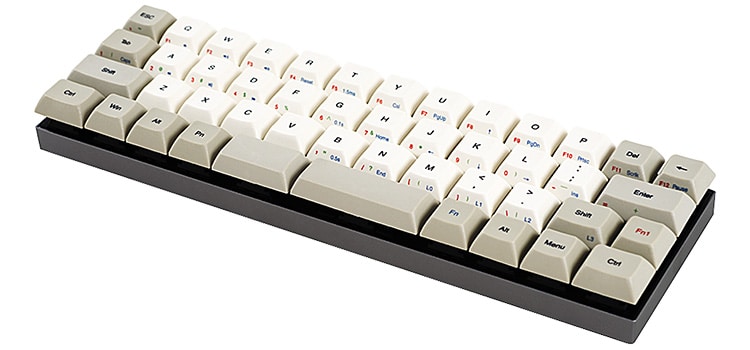 Core Highlights
40% Form Factor 

Cherry MX Switches

Split Space Bar

Aluminum Case

Has a LED-Backlit Version

Gray and white DSA Keycaps
The Vortex Core is the brand's smallest offering. It sports a 40% layout, making it even smaller than 60% keyboards. Like the ViBE and the New75, the Core features a high-quality aluminum case. It is also equipped with DSA PBT keycaps and Cherry MX switches.
Given its small size, its use case is limited. However, it is one of the few pre-built keyboards available in this size and form factor. For this reason, the Core is perfect for those looking for a tiny keyboard but do not want to spend the time and money on 40% custom keyboards.
What Makes Vortex a Good Brand?
View this post on Instagram
Vortex has always been a solid brand. Their POK3R series of keyboards have always been adored thanks to its complete feature set and high-quality build. And while many brands have overtaken them in terms of feature sets, Vortex's offerings still present a good value, especially at their price range.
Also, the brand's newer offerings prove that they are capable of adapting to newer trends in the keyboard market. The use of aluminum cases and the addition of features such as hot-swap and south-facing LEDs make their keyboards ever closer to the feature set of custom keyboards. Vortex's offerings are highly recommended for those looking for something better than traditional gaming keyboards but not as pricey as custom keyboards.
Why Look for Alternatives?
View this post on Instagram
Despite how good the quality of Vortex's keyboards is, there are still some things that are missing from their keyboards. For instance, the brand insists on using Cherry MX switches for their keyboards. While this isn't necessarily a bad thing, there are now many newer and better switches than Cherry's offerings.
Also, the company insists on not using software for their keyboards. This certainly limits the usability of their keyboards since remapping the keys and recording macros isn't very straightforward. If the brand is able to address these issues, they will certainly be able to appeal to more enthusiasts and casual users.
Which Vortex Keyboard To Buy?
For those looking to buy a keyboard from Vortex, we highly recommend checking out the Vortex 10. It has many modern features such as hot-swap and south-facing switches. This will ensure that the user will be able to modify or customize the Vortex 10 to their liking.
The only thing to take note of is that it is unclear if the Vortex 10 is a limited production model or if it is part of their regular lineup. If it is a limited production model, then it may be harder to acquire in the future.
For those looking for a more budget-friendly alternative, you can't go wrong with the POK3R. It is a tried and tested design that has received countless recommendations in online communities.
Where to Buy Vortex Keyboards?
It is highly recommended that you purchase Vortex keyboards directly from their website. Their products are also available in most mainstream online stores such as Amazon. A single internet search will easily guide you where to buy its models. 
Vortex Keyboard Warranty
Vortex offers a 1-year limited warranty for all of its keyboards. Check out Vortex's official website to learn more. 
Read other brand reviews:
Stephen is the head content creator of Keyboardsexpert. His mechanical keyboard journey began in 2014 when he got his Razer Blackwidow. Since then, he has been fascinated with all things mechanical keyboard-related. He later discovered the custom keyboard hobby and fell in love with the vast customization options. He is currently searching for his endgame and is very excited to share his journey and educate other keyboard enthusiasts.