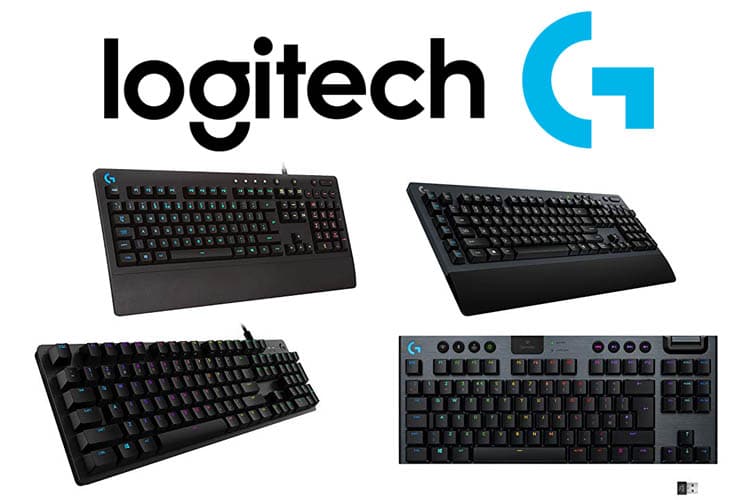 When it comes to gaming peripherals, there is no brand more iconic than Logitech G. They have pretty much pioneered the concept of gaming peripherals and have designed products that have pushed the industry forward. They are also one of the biggest supporters of the esports industry and have been helping it grow since the early days of competitive gaming. 
Logitech G is easily one of the most recognizable brands in the gaming peripheral market. They have designed some of the most iconic gaming mice and keyboards and are also responsible for many of the trends in today's gaming peripherals. The Logitech G brand is committed to perfecting its products, no matter their field. 
Logitech has always remained relevant whether we are talking about gaming keyboards or mice. They are constantly working with professional gamers shows just how committed they are to perfecting their products.
In addition, Logitech G has considerably grown and has acquired other major brands. These include ASTRO Gaming, Ultimate Ears, Jaybird, Blue Microphones, and Streamlabs.
In this article, we will be taking a look at Logitech G's rich history and contributions to the gaming peripheral market. We will be specifically looking at their gaming keyboard lineup and help users decide if Logitech G is a company they should entrust with their hard-earned cash.
Logitech G Brand History

Early Logitech Gaming Products
Logitech is one of the oldest peripheral manufacturers in the industry. They were founded in 1981 and have been a staple brand in the PC peripheral market.
When gaming peripherals started seeing potential in the 2000s, Logitech became one of the early adopters and pioneers of the industry. They experimented with different designs that were quite unconventional even back then. Some of Logitech's early designs included the Logitech G19 that featured an LED screen and the Logitech G9x.
Despite all the innovations that Logitech was making during this period, one thing was certain. They were not positioning themselves as a gaming brand.  And in a lot of ways, consumers during this era saw Logitech as a consumer-oriented brand that had some gaming offerings.
Competing brands at the time, including Razer and Steelseries, were more aggressive. The brand strictly marketed its designs towards gamers, and it had a focus on creating a community of gamers.
Despite the lack of marketing appeal, Logitech was still an incredibly popular brand among gamers. Some of their designs, such as the MX518 and the G1, became legendary and set the standard for gaming mice, and both mice designs are still being utilized today.
Of course, with the growing popularity of the esports/competitive gaming market as a whole, Logitech knew that a change in their business direction was imminent.
Rebranding to Logitech G
In 2013, Logitech's gaming division rebranded to Logitech G. And with this rebranding came a massive departure from their previous approach. Their marketing and product designs were a lot more aggressive and were made to compete with other mainstream brands such as Razer.
In addition, Logitech G was now more committed to supporting various esports organizations. Some of the brands that they were working with at the time included TSM and Cloud 9.
They later expanded their reach and are now sponsoring many high-profile teams, including T1 (formerly known as SKT T1 and winners of the 2013, 2015, and 2016 League of Legends World Championship), Damwon KIA (League of Legends 2020 World Champions), G2 Esports (2019 League of Legends MSI Champions and World Champions Runner Up), Astralis, DRX, Royal Never Give Up, and many more.
However, despite the massive shift in the Logitech Gaming brand, their core philosophies did not change. The products that they developed remained innovative and reliable. Unlike other competing brands, Logitech's products are still regarded as some of the most durable and long-lasting.
In addition, Logitech G has become a brand that listens to the feedback of its users. They continuously work together with professional gamers and content creators to know their needs. This has helped give birth to the Logitech G Pro and G Pro X series, which is catered towards these audiences.
Development of the Romer G and GX Switches
The first-generation Logitech G mechanical gaming keyboards primarily utilized Cherry MX switches. However, when  Cherry's patent expired in 2014, Logitech developed their own switches, and these were the Romer G switches.
These featured a revamped design focused on speed, precision, and better LED light diffusion. These switches were exclusively used on Logitech G's gaming keyboards until 2018. When custom mechanical keyboards started becoming more popular in the market, consumers were demanding a more traditional switch type from Logitech.
This led to the development of the Logitech GX switches, which were closer to traditional ones. And in 2019, Logitech G started offering hot-swap PCBs in their G Pro X Gaming keyboard, which allows the user to use third-party switches apart from the GX switches.
Logitech G Keyboard Lineup
Pro Series
Logitech G Pro and G Pro X
The Logitech G Pro and G Pro X are Logitech G's top-selling keyboards, and these are primarily marketed for the most demanding gamers. In addition, the G Pro and G Pro X line of peripherals were rigorously tested by various professional gamers and high-profile content creators such as TSM's Bjergsen TSM's Myth. Shroud, and many more.
The main selling point of the Logitech G Pro X is its new GX mechanical switches that were made in collaboration with Kailh. Unlike the Romer-G switches, these switches are more similar to traditional mechanical switches. They are offered in a red (linear), blue (clicky), and brown (tactile) variant.
In addition, the Logitech G Pro X features a hot-swap PCB which allows users to change the installed switches instantly. This allows the keyboard to last longer and allows users to change the switches depending on their preference. Also, the G Pro X is compatible with third-party switches, meaning consumers are not stuck with Logitech's three GX switch offerings.
Also, unlike Logitech G's other keyboards, the G Pro and G Pro X are only available in a TKL form factor and do not feature media controls. This is a conscious decision by Logitech G and was based on the needs of the various pro gamers who tested these keyboards.
The Logitech G Pro and G Pro X are mostly similar, and the only difference is that the G Pro uses the older Romer G switches and is not hot-swappable. The G Pro and G Pro X are highly recommended for those who want Logitech G's best offering.
Logitech G Pro and G Pro X Highlights
TKL Form Factor

Logitech GX Switches (In Collaboration with Kailh)
Hot-Swappable Design
Developed and Tested by Pro Gamers
Lightspeed Series
Logitech G915 TKL and Full-Sized
The Logitech G915 TKL and G915 Full-Sized is part of Logitech G's Lightspeed series. It offers Logitech's groundbreaking Lightspeed wireless technology and its signature LIGHTSYNC RGB technology. In addition, the G915 features Logitech's low-profile GL switches, making it unique from most mechanical keyboards in the market. 
In addition, the G915 is made with premium materials that allow it to become durable and reliable for intense gaming sessions and professional tournaments.
The Logitech G915 also has additional media keys and Macro keys, making it suitable for gamers and regular consumers. The Logitech G915 is available in both a TKL form factor and a full-sized form factor. For those looking for a more affordable keyboard and is willing to sacrifice the wireless features of the G915, consumers can opt for the wired Logitech G815.
Logitech G915 TKL Highlights
Compact tenkeyless (TKL) Design. 

Professional Grade Lightspeed Wireless Technology
Thin and Lightweight Form Factor
Logitech G613 Wireless Mechanical Keyboard
The Logitech G613 is another keyboard part of the Lightspeed series. It is very similar to the G915 in terms of feature set, and most of the differences lie with its form factor and battery life.
Unlike the G915, the Logitech G613 has a more traditional design. It has a full-sized layout with all of the Macro keys found on the left side of the keyboard. In addition, it is utilizing Logitech's Romer-G Switches instead of their low-profile switches.
These switches give the G613 a more standard feel similar to competing for gaming mechanical keyboards. However, they have a relatively short actuation of 1.5 mm, resulting in a 25% faster response time. In addition, they are more quiet compared to competing for mechanical switches. 
In addition, the Logitech G613 supports Bluetooth, making it a versatile keyboard. Users can opt for Bluetooth when connecting to multiple devices or the low latency USB dongle option for competitive gaming. And lastly, the Logitech G613 can last up to 18 months with just two AA batteries.
Logitech G613 Highlights
LIGHTSPEED Wireless Technology
ROMER-G Tactile Switches
Programmable Using Logitech G-Hub
Multiple Device Connection
18 Month Battery Life
Other Logitech Gaming Keyboards
Logitech G512 
The Logitech G512 is Logitech G's professional-grade wired gaming keyboard. It features their brand new GX mechanical switches, LIGHTSYNC RGB lighting technology, and an anodized aluminum alloy chassis. Compared to their other gaming keyboards, the Logitech G512 is built for minimalists that still require full functionality.
Unlike most of the keyboards in Logitech G's lineup, the G512 does not feature media keys. These allow the keyboard to have a simpler look and allow the overall form factor to be smaller. Of course, media controls can still be assigned to other keys using Logitech G Hub.
The G512 still features a USB pass-through which helps make gaming setups cleaner. It is neatly hidden at the back, which prevents the overall design from being too bulky.
Like the G Pro X, the G512 features Logitech's new GX mechanical switches, which are a lot closer to traditional Cherry MX switches. These switches have three variants: GX Blue (Clicky), GX Brown (Tactile), and GX Red (linear). You can learn more about clicky, tactile, and linear switches in our dedicated article. 
And lastly, the G512 is made of a robust and durable 5052 aluminum-magnesium alloy that allows for a simple design and a stunning look. The rigidity of the 5052 alloy also results in a stable, non-slip chassis that gives an overall premium feel. 
The Logitech G512 also has an older variant in the form of the G413, and this model features the older Romer G switches.
Logitech G512 Highlights
LIGHTSYNC RGB
GX Mechanical Switches
AIRCRAFT-GRADE ALUMINUM ALLOY
USB Passthrough
Dedicated Gaming Features
Logitech G213 Prodigy
The Logitech G213 Prodigy is Logitech G's entry-level gaming keyboard. It features most of the design elements found on their higher-end keyboards but does not feature their Logitech GX mechanical switches or Romer G mechanical switches. Instead, this keyboard features Logitech's mech-dome membrane switches.
These switches are tuned to perform similarly to their tactile key switch offerings. They feature full height, with a 4 mm travel distance and a 50 g actuation force. They are also meant to operate quietly, similar to their GX tactile mechanical switches. 
Another compromise seen here is the lack of per-key RGB support. Instead, the G213 features five separate lighting zones, each customized with a palette of approximately 16.8 million colors and brightness levels. All of these can be configured via Logitech's G HUB software.
In addition, the Logitech G213 features a spill-resistant design thanks to its membrane key switch technology. It has a 60 ml liquid rating, giving gamers confidence in its durability. 
Lastly, like all other Logitech G gaming keyboards, the G213 features dedicated media controls that allow users to play, pause, and mute tracks. These features give the Logitech G213 Prodigy complete functionality despite its budget price. 
Logitech G213 Highlights
LIGHTSYNC RGB Technology
Durable and Spill-Resistance Design
Integrated Wrist-Rest
Dedicated Media Controls
G-Hub Compatibility
Why Buy Logitech G Keyboards?
There are three major reasons why Logitech's keyboards are worth purchasing: Durability, Reliability, and Innovative features. Logitech's products are well-known for being extremely durable. Even products from the early 2000s are still being used by professional gamers, despite being discontinued a long time ago.
And speaking of professional gamers, Logitech G's products have been rigorously tested by professional gamers. They are used on the biggest stages and do not fail their users, and Logitech G products give users enough confidence that their keyboard will not fail in critical situations.
And lastly, Logitech G's products offer innovative features. They are one of the first brands to introduce groundbreaking low latency wireless technology. And with how fast they are advancing, who knows what kind of killer features they will introduce in their future keyboards.
Do Pros Use Logitech Keyboards?
Logitech is well-known for working with professional gamers. Some of the products they have made, including the G Pro and G Pro X series of peripherals, have been developed with professional gamers. This assures consumers that the end product is something that both casual and competitive gamers can rely on.
Some of the most well-known professional players that have been using Logitech G's products for years are T1's (Previously known as SKT T1) legendary player Faker, TSM's Bjergsen, TSM's Myth, G2's Caps, G2's EX Team Captain Perkz, G2's Jankos, TSM Valorant's Wardell, and many more.
As readers can see, Logitech G has an incredibly stacked roster of professional gamers from various games. Whether we are talking about FPS titles such as Valorant, Apex, Legends, CS: GO, or MOBAs such as League of Legends and Dota 2, Logitech G's keyboards are always relevant.
Why Should You Look for Alternatives?
Two major things can potentially deter consumers from purchasing Logitech G's keyboards: design and price. Most of Logitech G's keyboards and the overall aesthetics of their products are targeted towards the gaming community. However, with the rise of the custom keyboard community, the needs and wants of consumers have been rapidly changing.
Consumers are becoming less interested in RGB and other flashy design elements and are opting for a more minimalistic keyboard. With Logitech G's main target audience being professional gamers, it is highly unlikely to shift its design philosophies.
In addition, Logitech G is quite persistent with using a non-standard layout, which makes their keyboards incompatible with third-party keycap sets such as GMK keycaps.
Logitech G is quite competitive in terms of pricing, especially considering what their keyboards offer. However, the market has become incredibly packed, especially with the rise of custom keyboards. And for some consumers, Logitech G's keyboards may not be worth the price, especially if they do not fit their needs.
If you are more of an enthusiast and less of a gamer, it is worth checking out other brands. However, consumers should watch out since Logitech is well known for adapting and innovating.
Where to Buy Logitech G Keyboards?
Logitech keyboards are available for purchase directly from the company's website. You can also find their products on most major internet retailers, such as Amazon, and they're also available at most physical retail outlets.
Logitech G Keyboard Warranty
Logitech G provides a minimum of one year's warranty is provided, but this varies depending on the dealer. For additional information, see Logitech G's Official website.

The KBE team is dedicated to sharing our knowledge and creating useful resources about computer keyboards. This article was written as a team collaboration, combining our knowledge and years of experience using, building and modding keyboards. Meet the team here.