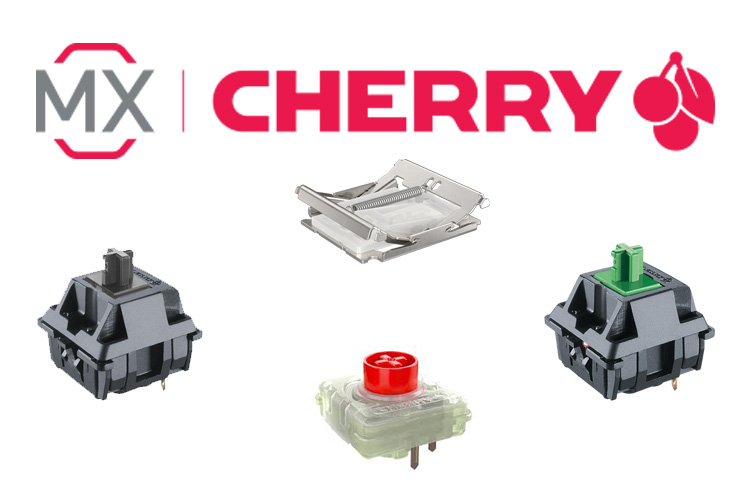 Since the dawn of time, the basic structure of a mechanical switch has remained the same. While the community has discovered ways to improve our mechanical keyboards' typing experience, one of its vital components still adheres to the same design and mechanism. Is it necessarily bad? No, for in its essence, it practically defines the sound and feels that we are all addicted to. 
Cherry is widely popular for being a pioneer in creating high-quality mechanical switches. The architecture of the company's switches has greatly inspired its competitors so much that many mechanical switches that currently exist in the market are almost identical to Cherry's. Given all that, one thing remains unanswered. Cherry, what's next?
Cherry MX switches, in the objective sense, do not disappoint. They have created the foundation of the modern MX-style mechanical keyboard switch and have been the number one choice for enthusiasts and gamers for many years. In this article, we will look further into the brand itself and how it was able to cement its name as a manufacturer of mechanical switches approved by the general market. 
Brand History

It would be impossible not to encounter the company once you enter the domain of mechanical keyboards. You may have encountered the name of the brand while you were shopping for your first-ever mechanical keyboard. This is not surprising given that the brand is one of the pioneers of mechanical switches. 
Cherry MX was introduced by Cherry way back in 1983. Before that, the brand ventured into being one of the world's leading manufacturers of computer input devices, emphasizing office, industrial, and security markets. 
Mainstream Fame
Cherry MX remains to be the most popular mechanical switch for pre-built keyboards. Most brands such as Ducky, Varmilo, Republic of Gamers still use Cherry MX switches for their keyboards. 
Consider also that big names such as Razer, SteelSeries, and many more previously used Cherry MX mechanical switches before deciding to equip their keyboards with their in-house switches. Indeed, the brand's influence and popularity remain significant as ever even though more and more switches are being introduced in the market. 
Mechanical Switch Lineup
Cherry MX switches, in the objective sense, do not disappoint. While some may not prefer the typing experience of Cherry MX switches due to their personal preferences, it is undeniable that the design and overall quality defines, if not exceed, the market's standard. In truth, the company still stands as the most highly regarded switch manufacturer. Most tech giants in the industry of manufacturing mechanical keyboards still use their switches. 
With that, here are some mechanical switches that you may take note of while looking for a keyboard: 
MX Standard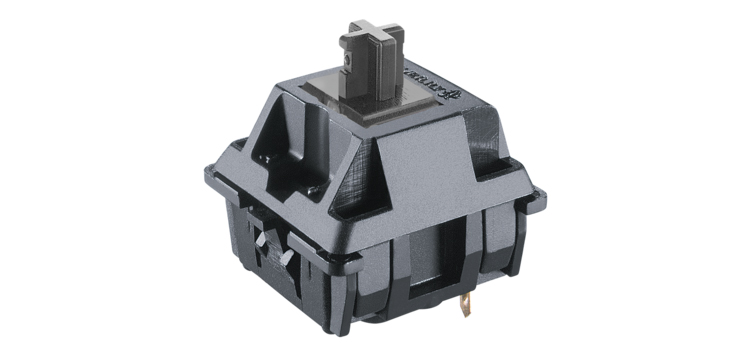 MX Standard Highlights
A Product Line Composed of Linear, Clicky, and Tactile Switches

Most Used Mechanical Switches of the Brand

Has Both RGB and Non-RGB Versions

It has a Lifespan of More than 100 Million Actuations

Most Switches Have a Pre-Travel Distance of 2.0mm and an Average Total Travel Distance of 4.0mm  
The most popular mechanical switches lineup of CherryMX. MX Standard comprises seven (7) switches, namely the MX Red, MX Speed Silver, MX Black, MX Brown, MX Blue, MX Silent Red, and MX Silent Black. 
Given its name, these mechanical switches pose to be the standard – and as we have always known, the market standard for today's competition. If the overall quality of your mechanical switch is objectively inferior to that of MX Standard's, then it is easily a bad mechanical switch. 
The Cherry MX Reds, Speed Silvers, Blacks, Blues, and Browns operate on the same mechanism. They are identical on their specifications except for some variability in actuation force and travel distance, such as the shorter pre-travel and total travel distance of the Cherry MX Speed Silvers. 
Some may prefer or need the fast actuation of Reds and Speed Silvers, the tactile feedback of blues and browns in their typing sessions, or the discreet sound profile of silent reds or blacks. Be that as it may, the company assures that all of these switches exceed your quality expectations and last for a long time. 
MX Low Profile Switches

MX Low Profile Switches Highlights
Linear Low-Profile Switches

Has Both RGB and Non-RGB Versions

It Has a Pre-Travel Distance of 1.2 mm (1.0mm for Speed Silvers) and a Total Travel Distance of 3.2 mm 

Requires an Actuation Force of 45 g
When it comes to Low profile switches, Cherry is also known to be one of its pioneers. Low-profile mechanical switches are designed for lightning-fast actuation that gamers need on their split-second decisions. Then again, your keyboard can only do so much by eliminating the delay between your reaction time and key registration. Such is the only advantage that your keyboard offers when it comes to gaming. 
Even then, MX Low Profile switches will surely not disappoint you regarding quality and lightning-fast actuations. Given its relatively low travel distance, you need not worry about whether your keypress will register or not. 
MX Ultra Low-Profile Switches

MX Ultra Low-Profile Switches Highlights
Patterned Before Tactile Switches

Requires a 65g Actuation Force

It Has a Pre-Travel Distance of 0.8mm and a Total Travel Distance of 1.8mm

Designed for Laptops
The fact that a laptop keyboard, whether of a gaming laptop or not, cannot compete with the quality and typing experience given by an external dedicated mechanical keyboard implies that it is highly recommended that you get the latter one for your gaming sessions.
Cherry decided to have a halfway solution to this dilemma through Ultra Low-Profile mechanical switches. These switches have their spring anchored on a wing-like structure that lies perfectly flat to its base frame to initiate key registration upon actuation. After which, the spring facilitates the return of the switch to the neutral position. 
Some have had concerns regarding its sound and feel, precisely the metallic sound it produces, but none so far have seen issues as to its quality and durability. If you are looking to experience it, you may want to look into laptops such as Alienware m15 and m17 R4 as Cherry MX Ultra low-profile keyboard is available in both of these keyboards as an upgrade. 
MX Special Switches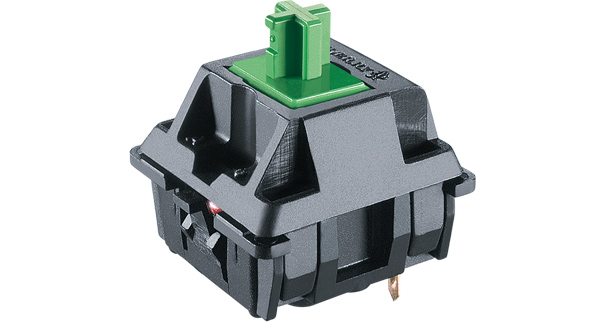 MX Special Switches Highlights
A Premium Product Line Composed of Tactile Switches

Has Both RGB and Non-RGB Versions

It Has a Median Pre-Travel Distance of 2.1mm and a Total Travel Distance of 4.0mm  

Requires a 65 g Actuation Force (for MX Clear and MX Grey) and an 80g Actuation Force (For MX Green)
In summary, MX Special switches are marketed by the brand as specific upgrade models of some switches belonging to the MX Standard lineup. Take, for example, the Cherry MX Green. Cherry claims that the MX greens are an upgrade of the Cherry MX blues and the Cherry MX Greys as that of the Browns. 
One significant characteristic that was modified in this lineup is the actuation force. Compared to that of the MX Standards, MX special switches require a relatively high actuation force. Some prefer these numbers, notwithstanding the stress it gives to your fingers while typing, most do not. 
Cherry MV / Cherry Violas
Cherry MV/ Cherry Violas Highlights
Linear Box-Type Switch

Requires a 45g Operating Force and a Bottom-Out Force of 75g

It Has a Pre-Travel Distance of 2.0mm and a Total Travel Distance of 4.0 mm
This switch is currently the only box-type switch of Cherry MX. The Cherry MV stands out for being the first-ever box-type switch of the brand. While we are yet to see these mechanical switches in action, Cherry also teased their first-ever keyboard equipped with these switches called the Cherry MV 3.0. 
What Makes Cherry a Good Keyboard Switch Brand?
Mechanical Switches continue to evolve through time. However, Cherry MX Mechanical switches remain one of the best in terms of overall quality. Their partnerships with popular mechanical keyboard manufacturers are a testament to their success. 
Cherry MX mechanical switches cannot be considered the best, but if you are going to start your keyboard journey with them, you are almost guaranteed the best value for your money. Of course, some mechanical switches out there have successfully rivaled the quality of Cherry MX switches, such as the Gateron Mechanical Switches. However, the fact remains that the market still recognizes the former as its standard. 
The Issue With Cherry MX Clones
Another testament to the brand's success is that many mechanical switch manufacturers such as Outemu use the Cherry MX architecture in designing their switches. This is common knowledge in the community.
Whether these mechanical switches or buying a Cherry MX Clones is good or not is a discussion that must be taken in a separate forum. Needless to say, the fact remains that Cherry MX remains to be a model for several mechanical switch manufacturers currently existing in the market. 
Why Look For Alternatives?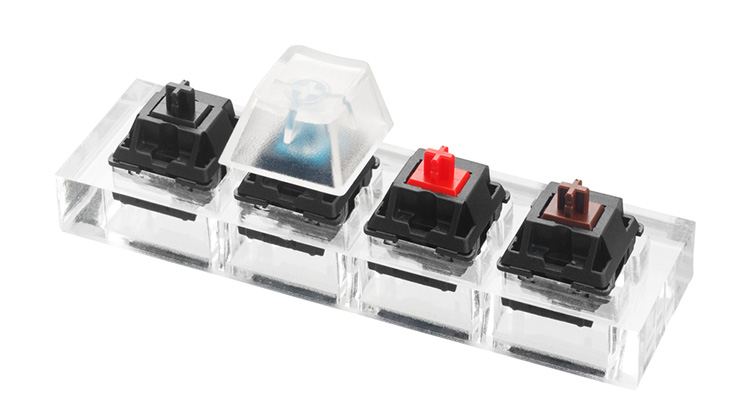 As our belove switches evolve, our expectations also get higher. Cherry MX's position in the market is influential. Still, unfortunately, a cursory evaluation of the circumstances provides that the company may fall from its throne if it fails to introduce any innovation or products that exceed its forerunners' quality. 
There is no doubt about the quality of the brand's mechanical switches. However, more and more manufacturers are getting a good grasp of how to rival or even surpass the quality of the company's switches. Take, for example, Gateron. 
Gateron constantly attempts to introduce a premium switch line to the market while Cherry's premium line, specifically the MX Specials, objectively falls in terms of quality and typing experience.
Point in case, Cherry MX mechanical switches are the standard, but they are not objectively the best. If you are looking for premium mechanical switches or something that you can tinker with, you should look elsewhere or for alternatives. 
Recommended Mechanical Switches
It is highly recommended that you try Cherry MX Silvers or the brand's low-profile switches for gaming, given their low travel distances. However, when it comes to typing, the same is subject to your personal preference as it will ultimately depend on what actuation force you are comfortable with how long your typing sessions are, and the sound profile you prefer. 
Thus, you may prefer the relatively low actuation force of Cherry MX Reds or even the MX Silvers for your typing, the tactile feedback of Cherry MX Blues and Cherry MX Browns, or the heavy actuation force of Cherry MX Blacks. If you can, you should try these switches individually by buying switch testers or testing them out in physical stores. 
Stephen is the head content creator of Keyboardsexpert. His mechanical keyboard journey began in 2014 when he got his Razer Blackwidow. Since then, he has been fascinated with all things mechanical keyboard-related. He later discovered the custom keyboard hobby and fell in love with the vast customization options. He is currently searching for his endgame and is very excited to share his journey and educate other keyboard enthusiasts.