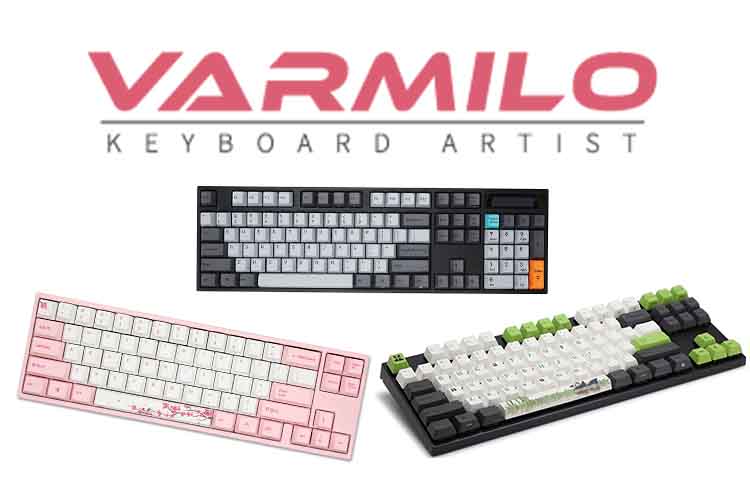 High-quality mechanical keyboards that prioritize aesthetics over gamer features have long been in the market before custom keyboards. Offerings from brands such as Ducky, Leopold, Filco, HHKB, and Realforce have been considered endgame keyboards for many years in the pre-built keyboard market. But one manufacturer that hasn't been talked about to the same degree as these brands is once again making a huge wave in the market thanks to their highly customizable offerings. This brand that we will be tackling today is Varmilo.
Varmilo enters the fray as the "Picasso" of mechanical keyboard manufacturers. Its splendid and unique approach to its keyboards' aesthetics without neglecting its overall quality has captivated the hearts of many, including first-time users and enthusiasts alike. 
Varmilo is best known for collaborating with Ducky in many products. Together, they have helped push small form factors such as the 65% form factor to the mainstream. However, Varmilo is more than just a brand that collaborates with others.
Over the past couple of years, the brand has established itself as a major player in the enthusiast-grade mechanical keyboard market by providing high-quality keyboards that come with premium keycaps. In addition, they have been designing their own mechanical keyboard switches to further set them apart from other high-end keyboard brands that still utilize Cherry MX mechanical keyboard switches.
In this article, we will be learning more about Varmilo. We will be going through their brand history and brand reputation. We will also take a look at their product lineup to determine whether or not they are a brand that is still competitive in the mechanical keyboard market.
Varmilo, the Brand

Varmilo hails from Shenzhen, China, which has lasted a long time in the competition with its Easter rivals. The brand neither deviated nor refurbished its image as a manufacturer of aesthetically pleasing keyboards. Since its conception, Varmilo remained a manufacturer of high-quality pre-built mechanical keyboards slapped with unique design concepts. 
"Keyboard Artist," as they claim, and indeed are. Varmilo made the community turn its eyes on them by collaborating with Ducky, Ducky X Varmilo Miya Pro. Both brands are partly responsible for introducing the Miya Pro series to the market, including its manufacturing process. 
Varmilo Keyboard Lineup
Varmilo's product lineup can be simplified into four keyboards: the Miya Pro, MA87/VA87, VA104, and the MA/VA 108. All keyboards sport the same features except for some models that have backlighting, such as the Miya Pro Sakura edition. In fine, your buying decision will basically revolve around the form factor, layout, or design concept you prefer. Here are some notes that may help you. 
Miya Pro / Miya-C / Miya Mac

Miya Pro / Miya-C / Miya Mac Highlights
65% Form Factor on 68-Key (ANSI) / 69-Key (ISO) / 73 Key (JIS) Layout

Cherry MX Switches / EC Switch V2 

Separate Editions are Dedicated to MacOS Compatibility

Can be Personalized/Customized Further
The Miya series is Varmilo's long-standing flagship series of keyboards. Some of the highlights of this model include its 65% form factor and various color keycap and keyboard case color combinations. In addition, this model features both Cherry MX switches and Varmilo's own EC V2s mechanical keyboard switches. 
Every edition of this keyboard is available in a macOS and Windows version. Also, in terms of its layout, all Miya series keyboards are available in ANSI / ISO / JIS layouts. 
In many ways, the Miya-C Pro is comparable to keyboards from high-end brands such as Leopold and Filco. It has a very good and reliable build, different color combinations, high-quality keycaps, and a compact layout that is perfect for both gaming and productivity. The Miya series is highly recommended for those who are checking out Varmilo keyboards for the first time.
MA87 / VA87M / VA88M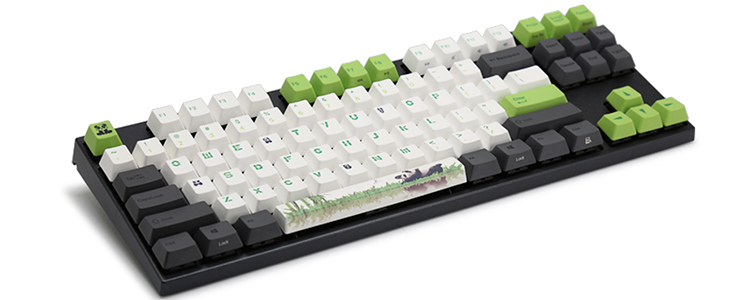 MA87 / VA87M /VA88M Highlights
TKL Form Factor on 87-Key (ANSI) / 88Key (ISO) / 92-Key (JIS) Layout

Cherry MX Switches / EC Switch V2 

Separate Editions are Dedicated to MacOS Compatibility

Can be Personalized/Customized Further

Have Design Concepts that the Miya Pro Do not Have
The Ma87, VA87, and VA88M are basically TKL versions of their famous Miya series. For those unfamiliar with this size, it basically means that it is very similar to a full-sized keyboard except for its exclusion of the Numpad. This size makes these three keyboards more accessible to many users since it is a lot closer to a traditional keyboard. 
Apart from its size, it retains all the well-loved features found on the Miya series. It is built well, looks aesthetically pleasing, and has different designs to choose from, and utilizes both Cherry MX switches and Varmilo's in-house EC switches. Overall, this keyboard is recommended to those who prefer a larger but still compact mechanical keyboard.
LP VA104S / VA104C

LP VA1-4S / VA104C Highlights
Limited Edition 104-Key Full Layout Keyboards

Unique Themes and Design Concepts
Both the LP VA 104S and the VA104C are limited release keyboards that somewhat aimed to display the artistic side of the brand as a designer and manufacturer. The Varmilo VA104S Phoenix is a custom-themed keyboard with a wooden chassis and dye-sublimated keycaps on a scarlet, black, and gold color combination. The keyboard seems to be a heritage to the Chinese mythology's version of a Phoenix. 

On the other hand, what stands out with the VA104C is its Numpad that has a mini display acting as a display for a calculator. Similar to the VA104S, this is a limited edition release with a design concept distinct from what other keyboards of the brand have. 
VA 108/ MA 108

VA 108 / MA108 Highlights
Ful Layout on 108-Key (ANSI) / ISO-Key (ISO) / 113-Key (JIS) Layout

Cherry MX Switches / EC Switch V2 

Separate Editions are Dedicated to MacOS Compatibility

Can be Personalized/Customized Further
The VA 108 / MA108 are the brand's regular full-size layout keyboards. Design concepts applied to its little brothers were carried on this form factor. 
Take a look at the Crane of Lure Series. This design concept is only available as a special release for the 108-key layout keyboards. Should the available designs not suit your taste, go straight to its premium customization page to personally design the keyboard yourself. 
EC V2 Switches

These are the brand's current proprietary mechanical switches. It is available in three versions, namely the Daisy, Sakura, Rose – all of which are architectured as linear switches. 
In summary, the EC switches have relatively low actuation force characteristic of linear switches with a box-type mount. Consider this factor, especially if you are going to change the keycaps of your Varmilo keyboards. 
Why Buy Varmilo Keyboards?
View this post on Instagram
Varmilo keyboards are treats for the eyes. How the brand managed to come up with these majestic themes for their keyboard without sacrificing its overall quality is a success that only a handful of manufacturers achieved. 
Aside from that, the brand allows buyers to customize their keyboards. Many designs are available with optional engraving. This makes Varmilo keyboards one of the best pre-built alternatives to full-blown custom keyboards. 
Lastly, Varmilo keyboards come in different sizes. They have everything from compact 65% keyboards to full-size 104-key keyboards. In addition, Varmilo is soon adding 40% keyboards to their roster of keyboards.
Again, this is a size that is only commonly seen in custom keyboards. So having this option in a pre-built keyboard gives Varmilo a huge edge in the enthusiast-grade keyboard market.
Why Look for Alternatives?
View this post on Instagram
The bane of Varmilo keyboards is that all of them are pre-built by the brand. As such, they are not hot-swappable. An enthusiast will surely grip over the loss of this feature. This means that the brand's keyboards cannot be fine-tuned to be further in accord with the end-users personal preference regarding the typing experience and sound profile.
Besides that, Varmilo keyboards are priced within the budget and entry-level category. It competes with several keyboards with excellent price-to-performance ratios, which are commonly the deciding factor for the buyer in this category. 
It is recommended that you look into whether you will consider these factors if you are looking forward to buying a mechanical keyboard from the brand. 
Which Varmilo Keyboard To Buy?
View this post on Instagram
The Miya Pro is easily the most logical purchase. Consider that this keyboard can be further customized on their website if you like other design concepts not initially made available to the Miya Pro keyboards.
Where to Buy Varmilo Keyboards?
Varmilo keyboards can be bought directly from Varmilo's website. Their products are also available in most mainstream online stores such as Amazon. 
Varmilo Keyboard Warranty
Thermaltake offers a 1-year limited warranty for their gaming keyboards and 1-month for their accessories. Check out Varmilo's Official Website to learn more.
Stephen is the head content creator of Keyboardsexpert. His mechanical keyboard journey began in 2014 when he got his Razer Blackwidow. Since then, he has been fascinated with all things mechanical keyboard-related. He later discovered the custom keyboard hobby and fell in love with the vast customization options. He is currently searching for his endgame and is very excited to share his journey and educate other keyboard enthusiasts.