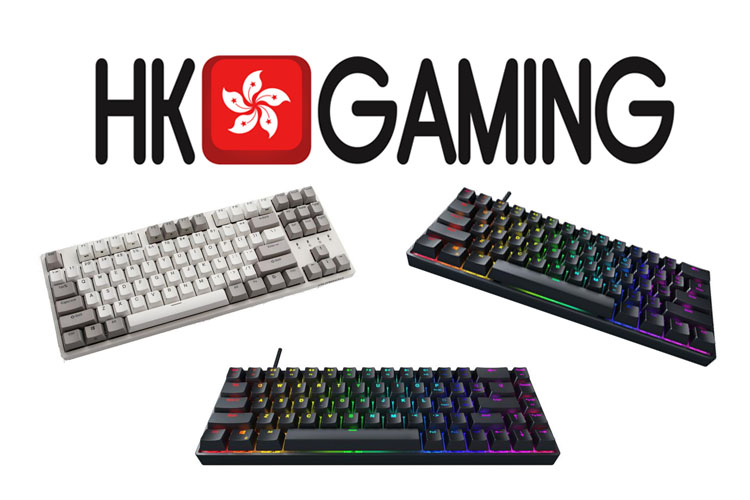 With the growing popularity of mechanical keyboards, many brands have tried to enter the market at different price points. As a result, many consumers have different options to choose from, especially at the beginner entry-level price point. One brand that has been trying to compete with their high-quality budget products is HK Gaming.
HK Gaming is a mechanical keyboard and gaming peripheral brand that hails from Hong Kong. They specialize in offering bang for the buck entry-level products. And in more recent years, HK Gaming has been prioritizing high-quality budget PBT keycaps over full-blown mechanical keyboards. They are also known for collaboration with brands such as Durgod.  
HK Gaming isn't the only brand competing in the budget price point. Many have tried to be the kings of the budget price range and have developed many innovative budget keyboards. So what makes HK Gaming stand out from the rest of the competition?
In this article, we will be talking about everything consumers need to know about the HK Gaming brand. We will go through HK Gaming's product catalog and help users decide whether or not they are worth purchasing.
HK Gaming Brand History 

HK Gaming is an emerging brand from the East that hails from Sheung Wan, Hong Kong. The brand currently offers gaming keyboards, mice, mousepad, and keycaps which, realistically speaking in terms of their design concept, it is not new and fresh to the eye of the market. Lest it may be misconstrued, the brand offers gaming peripherals and accessories that do not focus on aesthetics but the quality and durability of their product. 
In terms of the actual history of the brand, little is known about the company. However, we can learn more about the company by reviewing the products that they have released in the past couple of years.
Before HK Gaming Came Into the Market 
Before entering the scene, HK Gaming already had lots of competitors. In the traditional gaming space, there are many brands such as Razer, Logitech G, Cooler Master, Hyperx, and many more that have pretty much dominated the market. As for custom and enthusiast-grade keyboards, there are also many brands that have already made their mark.
Some of the well-known custom keyboard brands include KBDFans, Epomaker, and Akko. With almost every price bracket and every niche covered, it was almost impossible for new brands to emerge. However, somehow, HK Gaming was able to enter the scene thanks to their budget entry-level keyboards and accessories.
The Position of HK Gaming in the Market
HK Gaming's role in the mechanical keyboard market is very similar to Epomaker and Akko. They sell keyboards, accessories, and other gaming peripherals. However, they are more of a distributor rather than an actual player in the mechanical keyboard market. Most of their products are in collaboration with other brands such as Durgod or are simply rebranded OEM products.
The brand has not shown any signs of competing with giants such as KBDFans. However, they are still able to maintain their place in the market thanks to high-value entry-level products.
Their keycaps are their most popular product. However, we will be discussing why they are also their most controversial product.
Controversy in Relation to HK Gaming's Keycaps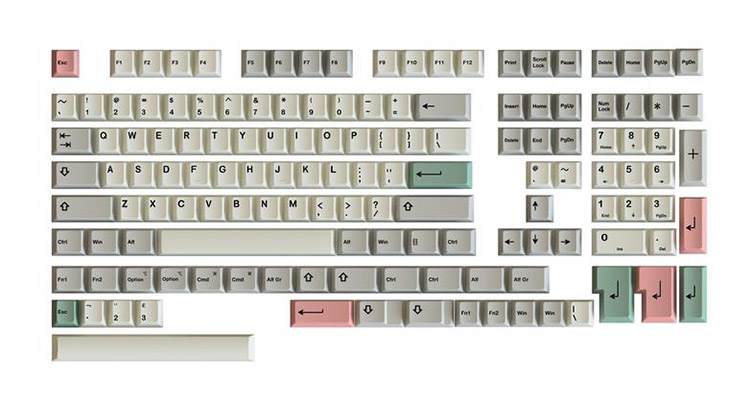 HK Gaming keycaps were initially well-received thanks to their good quality and overall good value. However, HK Gaming started becoming controversial when they started utilizing colorways introduced by other brands such as GMK.
To be fair, HK Gaming is not the only brand that has been inspired by other keycap sets. But what makes them truly controversial is the way they handled the situation. Without going into too much detail, the whole ordeal basically left a bad impression on a lot of enthusiasts.
Of course, this does not change the fact that HK Gaming keycaps are well-known for their good quality. However, different users will have different opinions on the brand based on this issue.
HK Gaming Keyboard Lineup
Durgod x HK Gaming – Hades 68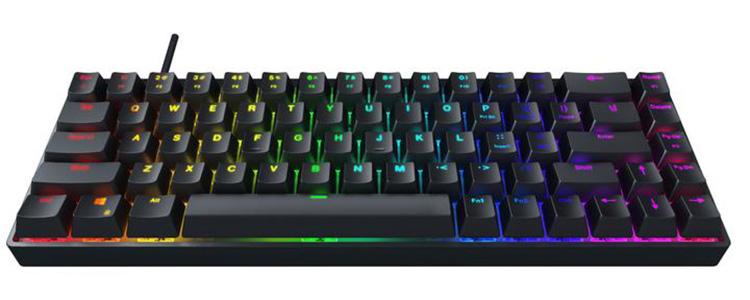 Hades 68 Highlights
65% form factor

Comes with Cherry MX or Gateron mechanical switches

RGB Backlighting

Aluminum Case

Durgod Hera engine Software Support for setting up Marcos and rebinding keys
The Hades 68 is a collaboration model between Durgod and HK Gaming. It is a pre-built keyboard that features a 65% form factor (68-key layout), an aluminum case, and a selection of different Gateron and Cherry MX switches. It is also compatible with Durgod's Hera engine software, used for setting up macros and rebinding keys.
Despite being more premium than most budget 65% keyboards, it is still missing out on a lot of enthusiast-grade features that are seen on newer 65% keyboards. It is not hot-swappable with other mechanical switches, it does not feature PCB mount stabilizers, and its construction is quite basic since it is only tray mount.
The Hades 68 does come with double-shot PBT shine through keycaps. The design is pretty basic but the quality is significantly better than the more basic ABS keycaps found on most budget mechanical keyboards. Overall, despite not having a lot of enthusiast-grade features, the Hades 68 is a very solid pre-built mechanical keyboard that offers solid construction and mechanical switch variety.
Durgod x HK Gaming – Venus 60%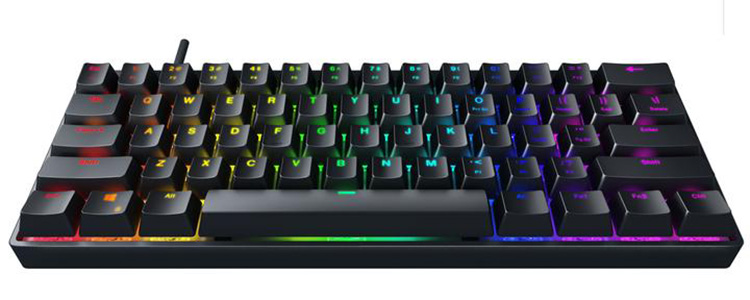 Venus 60 Highlights
Similar features with the Hades 68 but is in a 60-key layout

RGB Backlighting

Aluminum case

Available in either black or white
The Venus 60 is a 60% version of the Hades 68. It sports many of the features found on the Hades 68, such as Cherry MX and Gateron switches and the anodized aluminum case. The main difference is that the Venus 60 only has 61 keys and offers a more standard layout.
The smaller size of the Venus 60 is perfect for gamers who require more space for wider mouse movements or users who simply want a more compact keyboard. Unfortunately, just like the Hades 68, the Venus 60 is also missing a lot of the enthusiast-grade features found on the newer keyboards.
But on the flip side, the Venus 60 has a solid construction and a very satisfying typing feel that appeals to consumers who just want a keyboard that performs well out of the box. And overall, the Venus 60 is a perfect alternative for those interested in the Hades 68 but wants something smaller and has a more universal layout.
HK Gaming GK61

HK GK61 Highlights
60-key layout with Macro Recording

Compatibility with macOS and Windows

RGB Backlighting 

Gateron Optical Switches

Hot-swappable with Optical Switches

ABS Doubleshot Keycaps
The GK61 is a standard 61-key optical-mechanical keyboard that is hot-swappable with other optical switches. The keyboard is quite basic in terms of its features. It has a plastic case that is durable and sturdy enough not to exhibit huge body flexes. It also features plate mount stabilizers and tray mount construction. 
In terms of switch selection, the GK61 optical is available with almost all Gateron optical switches. Some of the popular options include Gateron optical yellow, optical blue, optical red, and optical silver. The GK61 is a product that is not unique to HK Gaming. It is an OEM model that has been carried by different retailers such as Epomaker and Skyloong.
One thing that is unique with HK Gaming's version of the GK61 is that it comes with several color options with matching keycaps. However, availability will depend on HK Gaming's retailers.
Due to how long the GK61 has been on the market, it has developed an ecosystem and is compatible with different accessories such as aftermarket cases and plates. In many ways. it is similar to the KBDFans Tofu series of keyboards. Of course, the main difference is that the GK61 series is less premium in terms of features and build quality compared to the Tofu and the rest of the competition.
Why Buy HK Gaming Keyboards?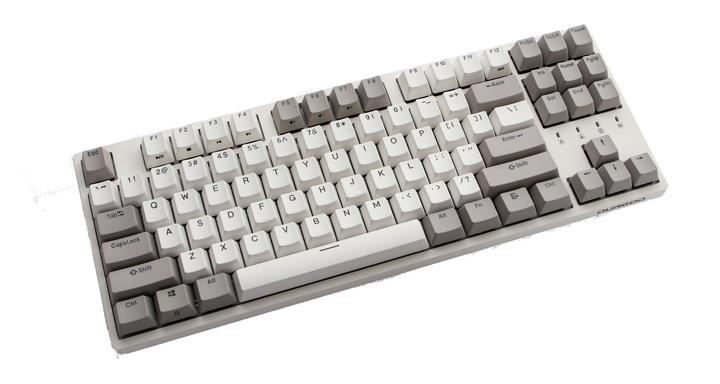 HK Gaming mechanical keyboards are decent enough to provide the convenience given by a proper mechanical keyboard. It has RGB Backlighting with several preset lighting effects and offers industry-standard mechanical switches in the form of Cherry MX and Gateron switches. 
Buying a mechanical keyboard does not always mean that one wants to dive deep into the colorful world of mechanical keyboards. Some persons out there want a decent mechanical keyboard for their gaming or productivity needs. If you are that person, you might want to consider looking for keyboards from HK Gaming as it does have decent mechanical switches at a minimal cost.
Why Look For Alternatives?
The brand is not focused on offering mechanical keyboards that sate the expectations of enthusiasts. Despite the "gaming" moniker in their name, the brand also failed to provide any gamer-related features aside from the RGB and the mechanical switches, which you can also find in other, if not, most pre-built mechanical keyboards. 
Given this, look for alternatives if you have a hefty budget and are seriously considering engrossing yourself with the beauty and nitty-gritty of mechanical keyboards. Also, HK Gaming Keyboards are not hot-swappable except for the GK61, which can only be swapped with Gateron Optical switches. 
Which HK Gaming Keyboard to Buy?
All HK Gaming keyboards are similarly priced with other budget and entry-level keyboards currently existing in the market. In this case, it is easy to recommend either the Hades 68 or the Venus 60. Both feature a very durable anodized aluminum case, RGB, and compatibility with the Durgod Hera software. 
Where to Buy HK Gaming Keyboards?
Hk Gaming keyboards can be bought directly from their official website. Their products are also available in most mainstream online stores such as Amazon and brick-and-mortar stores that sell gaming accessories.
HK Gaming Keyboard Warranty
HK gaming offers a 30-day money-back guarantee on all their products and a 1-year warranty on their mechanical keyboards. Check out HK Gaming's Official Website to learn more.
Stephen is the head content creator of Keyboardsexpert. His mechanical keyboard journey began in 2014 when he got his Razer Blackwidow. Since then, he has been fascinated with all things mechanical keyboard-related. He later discovered the custom keyboard hobby and fell in love with the vast customization options. He is currently searching for his endgame and is very excited to share his journey and educate other keyboard enthusiasts.