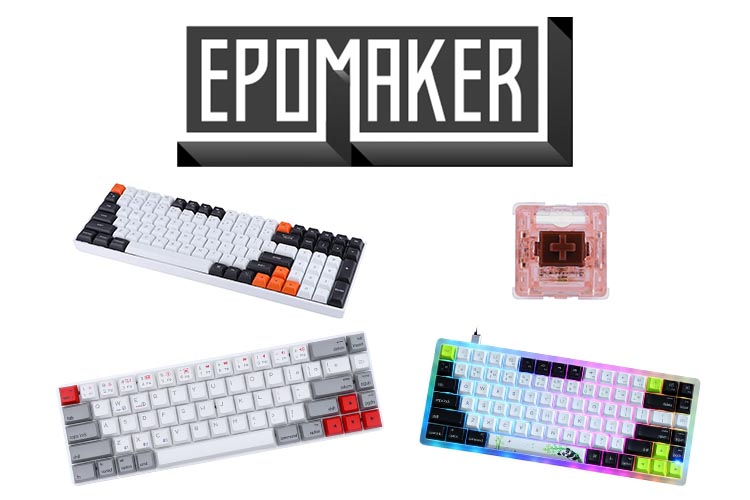 One of the options to enter the world of mechanical keyboards is by having a third party build your keyboard. In such a way, the burden of having to assemble it on your own, and potentially subject the kit to beginner's mistakes is eased by the experienced hands of keyboard professionals. 
Epomaker is a platform for Chinese keyboard manufacturers that allows them to offer their products to the market. It is a brand that serves as a guardian for beginners as they enter the portal for the world of mechanical keyboards.  The Epomaker brand lives up to the statement through their budget-friend friendly keyboards and in-house mechanical switches. 
Epomaker can be your friend to build the budget keyboard your imagination. Suffice it to say, the brand allows its customers to fully customize their keyboards without going out of their website through their in-house switches, keycaps, and kits manufactured by brands therein. Neophytes are likewise given guidance in this process. Their website is replete with guides that provide fundamental knowledge that one needs to know in building their first-ever keyboard. 
Epomaker Brand History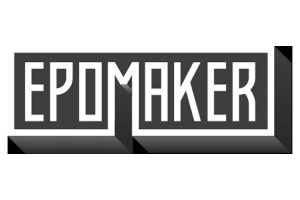 Epomaker, "Epoch of Makers", is a collective of several Chinese keyboard manufacturers. The partnership is interesting as some of the brands belonging herein were once highly regarded by the market during early 2015 – 2017. Ajazz for one is a brand widely regarded as one of the top picks when you are in the market for a budget mechanical keyboard.
Rather than calling Epomaker a keyboard manufacturer, it is better that you call the brand a platform that unites keyboard manufacture brands to form a community that helps each other in building keyboards. In other words, Epomaker is simply a mall wherein keyboard brands can rent their stores and sell their products to the market. 
Mainstream Fame
View this post on Instagram
Aside from being a platform for keyboard manufacturer brands, Epomaker is known for its fancy and high-quality keycap sets of different profiles. It also offers other keyboard accessories such as coiled cables and limited-release artisan keycaps. Additionally, the brand is famous for its seasonal sales that give you significant discounts on some products.
Epomaker's website is customer-oriented. Product pages are given an area for buyers to provide a review of their experience in the product they bought for the reference of prospective customers. Professionals and enthusiasts of the brand also engage in customer information through their guides and reviews of the products offered on the website. 
Currently, the brand is starting to venture into manufacturing its keyboards. While they may be new as keyboard manufacturers, their philosophy as a platform and the way they operate as one gives assurance that any keyboard stamped with their name on it is as good (or probably better) as what is offered on their website.  
Epomaker in Esports 
Epomaker is not as prominent as big names out there in the Esports industry. While this may be the case, Epomaker products have been positively regarded by online reviewers on the internet. Keycap sets in the website also made a hit for enthusiasts. 
Epomaker Keyboard Lineup
Epomaker Keyboards are budget-friendly. While the brand is technically not a keyboard manufacturer, it has some keyboards stamped with their names on them. You may take note of these keyboards: 
Epomaker AK84S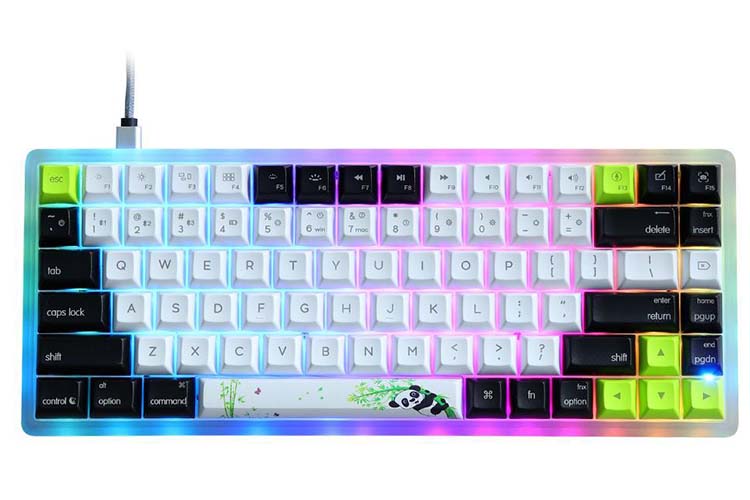 AK84S is relatively new in the game but already looks like a promising product. The keyboard has an option to come with an aluminum frame or a translucent acrylic frame that lets the RGB in the PCB diffuse in the case. It is available with Black white & Red themed or Panda-themed PBT or in ABS shine through keycaps. 
This 84-key hot-swappable mechanical keyboard with wireless connectivity through Bluetooth 5.1. It is also compatible with mainstream operating systems such as macOS, Windows, and even iOS and Android. Altogether, the keyboard's features assure the user of its build quality and utmost convenience. 
Highlights
       

Aluminum case or translucent acrylic case

       

Hot-swappable in 75% layout

       

Available in Gateron mechanical switches or Epomaker's proprietary Chocolate mechanical switches. (Also available in Gateron Optical and Epomaker's optical switches)

       

RGB, Wireless connectivity, and multi-OS compatibility
Epomaker GK96S
This keyboard is unique on its own as it has the design option tailored for left-handed or southpaw users. In this unconventional layout, the Numpad is placed on the left instead of the traditional right. 
Similar to the AK84S, the keyboard features wireless connectivity, an aluminum frame option, and themed keycap sets to choose from. This is Epomaker's take on a full layout keyboard done in a compact build. 
Highlights
       

Aluminum case or translucent acrylic case

       

Fully programmable and Hot-swappable in 96-key layout

       

Has a Southpaw version

       

RGB, Wireless connectivity, and multiple and simultaneous device connectivity. 
Epomaker NT68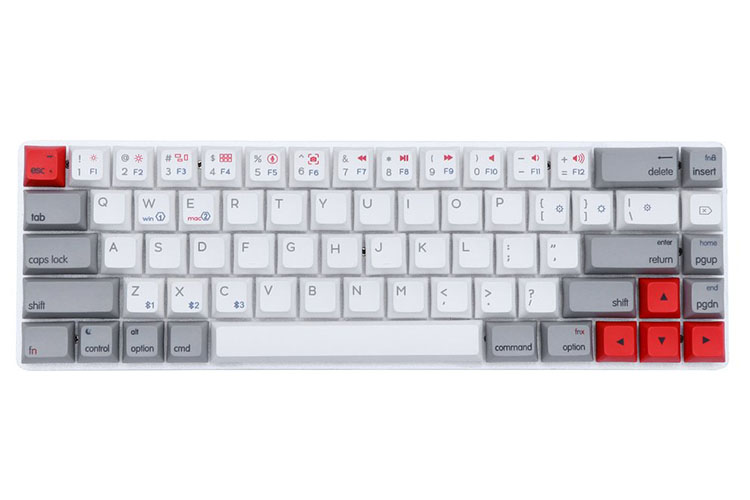 NT68 is the brand's take on a 65% layout keyboard. The 68-Key NT68 for the convenience of both Windows and Mac Users. Rather than sticking to the traditional profiles, the NT68 is also available in a low-profile version. 
As to its other features, the NT68 is similarly vested with features available to the previously mentioned keyboards. Its batter however is reduced to size due to its layout. 
Highlights
       

68-key compact layout

       

Available in either Windows or Mac version

       

Hot-swappable in Gateron mechanical switches or Epomaker's proprietary Chocolate switches. 
Epomaker's Chocolate Mechanical and Optical Switches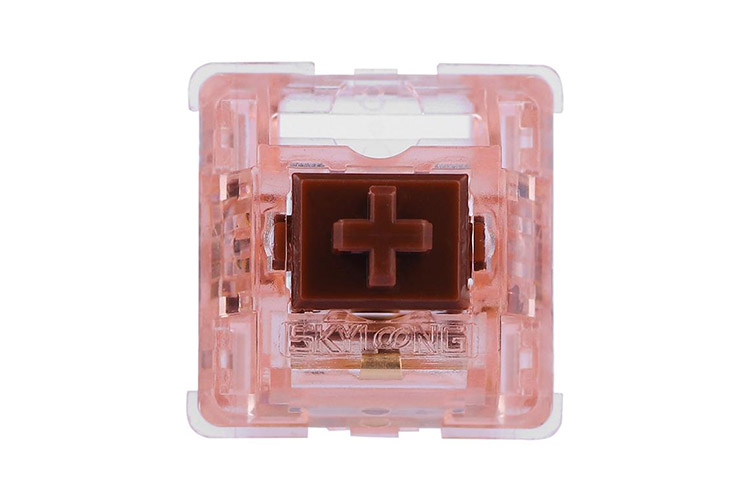 As repeatedly mentioned above, Epomaker's keyboard has its proprietary switches called the Chocolate Mechanical and Optical Switches. First, the Chocolate Mechanical Switches.
Like most switches out there, this 5-pin switch is compatible with MX structure keycaps. Sources out there find that the switches are based on Cherry MX switches but with different naming and configuration. A perk that needs to be discussed here is that Epomaker delivers the keyboard with its switches pre-lubed. 
As for its Optical Switches, take into account that committing to these switches on your kit restricts you from swapping them with traditional mechanical switches. Not much can be said about these switches except for the fact that it is similarly built with other optical switches out there in the East. 
What makes Epomaker a Good brand?
View this post on Instagram
As previously stated, Epomaker as a retailer of mechanical keyboards of different Chinese brands is a role model for online stores. Having the benefit of knowing what other customers think of a certain product you are interested in prevents any form of buyer's remorse that might stem from quality issues. Guidance by veterans and professionals helps in the same way as well. 
On the other hand, Epomaker as a keyboard builder and manufacturer assures that you get what you deserve. While they are still yet to release a product line under their name, the brand is respected for having positive reviews by their customers and being transparent on the overall quality and experience of their products.
Why Buy Epomaker Keyboards?
The question seems to be vague but for better understanding, the answer herein will refer to keyboards that have Epomaker's branding on them. 
Epomaker keyboards are budget-friendly, have good entry levels, and have won the hearts of many on the internet. Some of their pre-built kits such as the K870T are things of beauty as well.
Epomaker caters to a wide variety of customers – including those who are concerned about their budget. While their products may have cheap price tags, the overall quality of their keyboards is not sacrificed. They were able to achieve such balance that other brands out there struggle to meet.
Why look for Alternatives?
It is quite apparent that keyboard manufacturer brands have started to shift their eyes on how to offer high-quality keyboards with relatively cheaper price tags. As a result, the market is starting to get used to this phenomenon and has developed high expectations. 
Look for alternatives if your expectations on a keyboard are grounded on the existence of unique features such as media controls, or detachable Numpad. Otherwise, if you are simply looking for a keyboard with a decent typing experience, Epomaker mechanical keyboards can be one of your choices. 
Which Epomaker Keyboard to Buy?
View this post on Instagram
Epomaker's AK84S is a keyboard that offers an excellent introductory feel to the typing experience of mechanical keyboards. Get it with Gateron Mechanical switches and you are good to go – both in your daily tasks or in gaming. 
While the layout may be unconventional or may eat a significant space in your desk's real state, the keyboard is compact enough on its own. The only problem you may have in buying keyboards on these unique layouts is finding a custom keycap set that will outright fit all the keys in your keyboard. When faced with this problem, artisan keycaps or novelties is your only hope. 
Where to Buy Epomaker Keyboards? 
Epomaker keyboards can be bought directly from the Epomaker's website. Their products are also available in most mainstream online stores such as Amazon, and Aliexpress. 
Epomaker Keyboard Warranty
Epomaker offers 12 months limited warranty for any defects on their keyboard. Check out Epomaker's Official Website to learn more.

The KBE team is dedicated to sharing our knowledge and creating useful resources about computer keyboards. This article was written as a team collaboration, combining our knowledge and years of experience using, building and modding keyboards. Meet the team here.