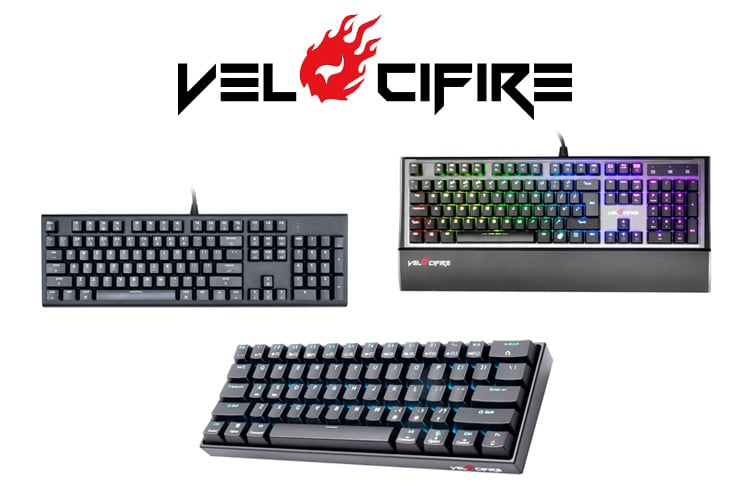 Looking for a great keyboard build that doesn't break the bank can be a difficult task. High price tags are often the companion of great keyboard options. Moreover, most mechanical keyboards cater to the gaming community. Typists looking to upgrade their work-from-home setup by entering the mechanical keyboard scene may feel dissuaded by the mix of high price tags and gaming-style aesthetics.
Velocifire is a brand that's dedicated to upgrading the common office-type mechanical keyboard. They have a wide range of products, from prebuilt ready-to-use keyboards to fine custom keyboard builds that are available through group buys. Their claim to fame is their line of MacOS support keyboards specifically for Apple users.
Their brand also offers other keyboard-related accessories, such as their unique green-themed KK Light Wave Switch, aesthetic and collectible Bling Switch, and Smokey Black PCB Mount Screw-In Stabilizers. Some of their distinct offers include Velocifire brand O-Rings and Blue Light-Blocking Glasses. They also have a limited-time run of multiple designer artisan keycaps.
If you're looking for a one-stop-shop for an improved workspace, then the Velocifire website will be perfect for you. The price range of keyboards made by the brand depends on whether you'll get a prebuilt board or a custom kit, but they're all in the ballpark of $50 to $100. Thus, typists looking to collect keyboards can start with Velocifire for a budget-friendly option, especially if you compare them to other brands releasing custom keyboard kits for group buys.
In this article, we will give you an in-depth look into the Velocifire brand. We will be discussing their history, keyboard lineup, and quality. This may likewise serve as your buying guide, should you be in the works of deciding whether or not a Velocifire board is worth your purchase.
Velocifire Brand History

Velocifire started in 2015 as another mechanical keyboard brand looking to expand its name in the gaming industry. However, the brand has since then shifted focus to producing mechanical keyboards for the office because of the market gap.
Most of their prebuilt boards include soft tactile brown switches, which were selected to maintain quality products for a reasonable price. Additionally, these switches are highly recommended for both typists and gamers, which lets the brand maintain their consumers from the gaming industry.
They reached a remarkable development in 2018 when they realized that the current list of Mac-compatible keyboards was full of boards that were either insufficient in capability or too steeply priced. Velocifire counters this phenomenon with their current roster of MacOS keyboards, filled with budget-friendly options in 60%, TKL, and 100% form factors.
Velocifire likewise offers various form factors (from 20% to full-sized keyboards) that are compatible with both Windows and Mac operating systems. These keyboards are either prebuilt and in stock on their website or coursed through limited-time group buys for custom kits.
Current Velocifire Keyboard Lineup
Group Buy Kit: Hope75X Standard/Premium Kit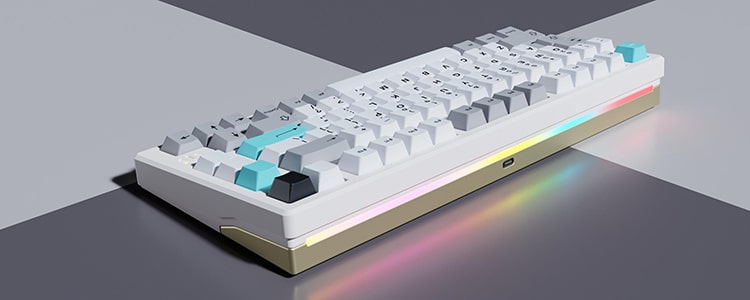 Hope75X Highlights:
Screwless Design

Gasket-Mount

6-Degree Typing Angle

Hot-Swappable PCB

PC Plate with Flex Cuts

Aluminum Weight (Standard)/Brass Weight (Premium)
The current frontrunner of the Velocifire brand is their Hope75X Standard/Premium kit that is available for group buy as of writing this article. Its most distinctive feature is its screwless design that's supported by an internal locking system, making it both aesthetic and easy to assemble. The kit also comes with multiple Poron foams for its gasket mounting and case sound dampening. It's a definite must-have for those looking to expand their keyboard collection with a premium 75% keyboard build.
MacOS Support: Velocifire M104 and M87 Mac MK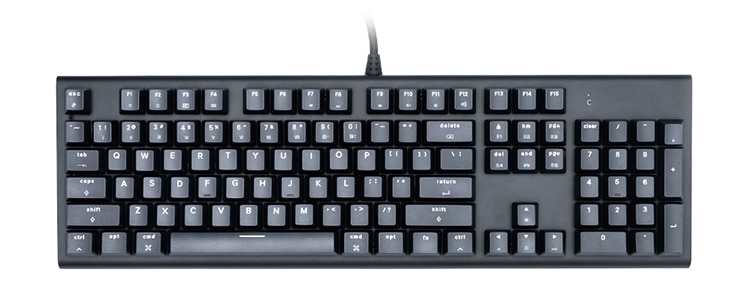 Velocifire M104 and M87 Highlights:
Pre-Built for Mac Operating Systems

White Backlighting

Brown Mechanical Switches

Full-sized (M104) / Tenkeyless/TKL (M87)

macOS Keycaps
If you're looking for a budget-friendly buy for your Apple ecosystem, then Velocifire offers a plug-and-play MacOS keyboard through the M104, and M87. These keyboards are wired, so there's no latency in data entry or gaming. Their sleek black colorway is also perfect to match any minimalist setup. Whether you're looking for a full-sized keyboard for productivity or you want to opt for a TKL for space-saving, Velocifire's Mac support keyboard lineup can satisfy your needs.
Wireless: Velocifire M1, M2 Upgrade, TKL02WS, and TKL71WS Wireless MK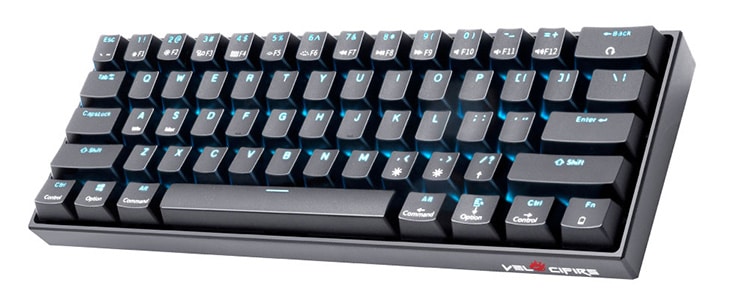 Velocifire Wireless Keyboards Highlights:
Multiple Form Factors: 60%, 71%, and TKL

White Backlighting

Anti-Ghosting Keys

Wireless Connection through a USB dongle or Bluetooth Connective Devices

Dustproof ABS Case Material
For those who abhor the messiness of wires, Velocifire offers 60%, 70%, and TKL wireless keyboards. These keyboards employ anti-ghosting technology, which means you can type without any worries of losing your precious commands/data. Velocifire keyboards are also backlit with white LEDs which accompany your work and play hours, even if these hours are way into the night.
Wired: Fokrere 82 Keyboard Kit, Velocifire VM01 Wired MK, and VM90 Wired MK (UK Layout)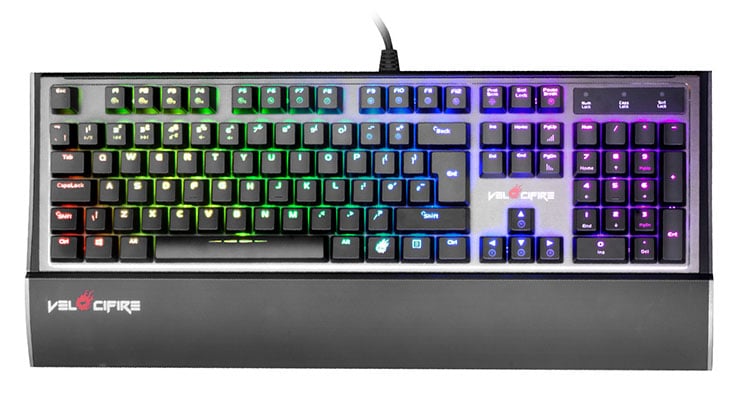 Velocifire Wired keyboards Highlights:
Fokrere 82 Keyboard Kit: Can be Used Wired or Wireless

UK ANSI Layout Availability

Anti-Ghosting Keys

Brown Switches for Prebuilts

Backlit
If you're looking for in-stock keyboards to add to your collection, then look no further. The wired keyboard roster of Velocifire is widely versatile, with a keyboard kit for custom keyboard enthusiasts, a UK ANSI layout for those looking to expand their keyboard collection, and your typical and trustworthy TKL for newcomers looking to save some desk space. All these boards are equipped with anti-ghosting technology for reliable long-term use.
Why Buy Velocifire's Keyboards?
View this post on Instagram
Velocifire's keyboard lineup offers a wide range of versatility for both newcomers to the keyboard hobby with their budget-friendly prebuilt boards and long-term hobbyists with their enthusiast-grade equipment.
Velocifire should be your go-to brand if you're looking to modify your keyboard with O-rings, as they have some in stock. Some keyboard models under Velocifire offer an O-ring pack included in your purchase, should you need some. They're also a pretty unique keyboard brand to have, given that they have not yet reached the mainstream keyboard scene.
Why Look for Alternatives?
Because of their niche target market, the Velocifire brand is not as well-known as other keyboard manufacturers. Additionally, Velocifire is a relatively new brand in the market, so their keyboard's durability over a long period of time has not been tested yet. With their price range, there are already other reliable brands with the same price tag to go after if you're looking for prebuilt boards.
Which Velocifire Keyboard to Buy? 
If you have the budget for it, definitely go for Velocifire's group buy keyboards since they offer premium keyboards for a relatively low cost. Because of their limited run, they can even give you some profit, should you decide to sell them in the aftermarket.
Apple users that want to venture into the mechanical keyboard hobby should also consider getting the MacOS lineup of Velocifire since it's very user-friendly. Not a lot of keyboard brands offer their own special take for Mac users, so keyboards of this lineup are definite must-haves.
Where to Buy Velocifire Keyboards? 
You can purchase Velocifire keyboards directly from their official website or through online stores such as Amazon. They also have accredited vendors for their limited group buys, such as DeskHero for the United States.
Velocifire Keyboard Warranty
Velocifire definitely employs a unique take regarding keyboard warranty. The brand has an in-house system warranty register to be activated per your request. Their customer support is readily available so long as you can provide pertinent details about your purchase, such as the model number and where you purchased your keyboard.
In specific, Velocifire's Amazon listings boast about their ten-year keyboard lifespan with an accompanying limited one-year warranty service. Check out the brand's official website to learn more about its warranty policy.