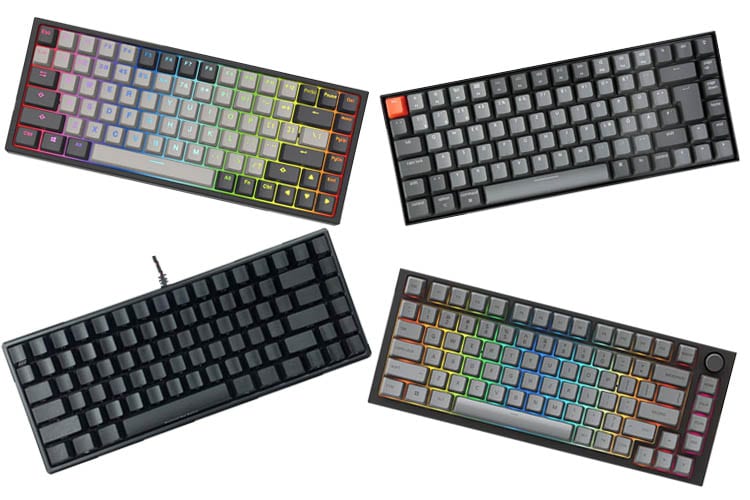 For many gamers, a mechanical keyboard is an essential part of their equipment. But, any enthusiast can tell you that navigating your way in the mechanical keyboard hobby is no easy feat. There are many factors to consider in choosing your beloved daily driver keyboard. One of the most important things to consider is your keyboard's form factor, which decides the number of keys present in your keyboard. 
Using mechanical keyboards for gaming may mean that you need more keys than your typical typist. For most gamers, a 75% keyboard is the most compact form factor they can maximize. This form factor ranges from 80-84 keys, which includes your typical alphanumeric keys, arrow keys, and dedicated function row.
 The 75% keyboard combines the best of both worlds from the super-compact 60% form factor and the ever-efficient TKL (Tenkeyless) form factor. This keyboard size does not have a Numpad, but the keyboard is still decked out with some special navigation keys such as delete, page up, page down, home, and end, depending on the keyboard model.
A gamer is already equipped with all the keys needed to control most game genres from these keys. And, there's little wiggle room to remap keys should you need or prefer creating a specific keyboard layout for each game. 
If you're looking to upgrade your gaming setup to a mechanical keyboard, then the 75% keyboard may be the perfect fit.
Read further on if you're looking to purchase a 75% form factor keyboard for your gaming needs. Rest assured that we will be discussing in-depth each game genre you'll be using your mechanical keyboard for.
Context – What is a 75% Keyboard
Like aforementioned, the 75% form factor keyboard includes your alphanumeric keys, arrow keys, dedicated function row, and some special navigation keys. This compact keyboard specializes in space-saving without compromising function, especially for those who need their dedicated arrow keys.
For extra space-saving, hobbyists may opt for a compressed 75% keyboard, where there is no space between the keys and the form is fully compact. But, if desk space is not an issue, then an exploded 75% keyboard is great to use and is easy to find in the keyboard market. The exploded 75% keyboard is more spaced out; the keyboard is neatly sectioned into four parts: the function row, the alphanumeric keys, the navigation keys, and the arrow keys. Because of its improved aesthetics, many keyboard enthusiasts prefer the exploded version to the compressed one, but functionality is not affected by this change.  
Perks of Using a 75% Keyboard
Many enthusiasts opt for a 75% keyboard due to its compact nature that doesn't sacrifice your keyboard's functionality. This form factor has the utility of a TKL keyboard without taking up too much space. In essence, the 75% keyboard saves up in desk space, which is perfect for gamers with smaller setups. 
Furthermore, the 75% keyboard is great for gamers on the go. The 75% keyboard is a great external peripheral to complement your gaming laptop, should you decide to stream or game elsewhere.
Using a 75% Keyboard for Gaming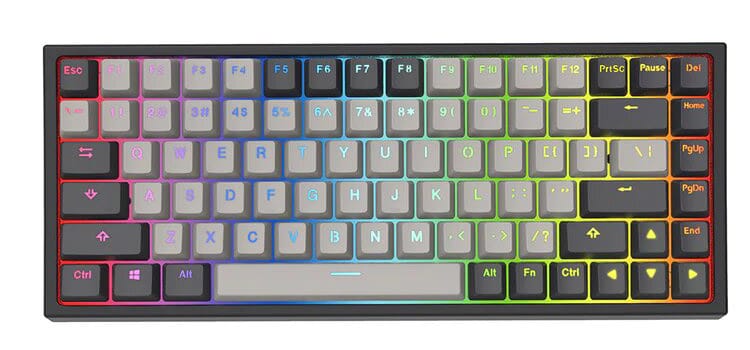 We recommend the use of a 75% keyboard for gaming since it is normally enough for most games. The keyboard's dedicated function row is especially useful for MMORPGs and specific MOBA games, such as DOTA.
However, it should be noted that the 75% form factor is significantly larger than 60% and 65% keyboards because of the additional keys. If desk space is limited, it might be worth looking into these keyboard sizes.
75% Keyboards in MOBA
View this post on Instagram
Multiplayer online battle arena (MOBA) games are classified as strategy video games where two or more teams are competing against each other on a battlefield. Some famous examples of MOBA-type games include DOTA, DOTA 2, and League of Legends (LoL).
These games commonly use the keys Q, W, E, R, D, F, and/or the numbers 1 through 6. The keys depend on the skillsets of your chosen characters. These keys are commonly remappable inside the game settings should you need extra keys or should you prefer to use your function row for specific actions.
75% Keyboards in Shooting Games
View this post on Instagram
Shooting games, like Valorant, Call of Duty (CoD), and Player's Unknown BattleGround (PUBG), typically use the arrow cluster or W, A, S, and D keys. Your mouse performs other actions and can be remapped to other keys as well.
75% Keyboards in MMORPGs & RPGs 
View this post on Instagram
MMORPGS (Massively Multiplayer Online RPGs) and RPGs (Role Playing Games) make the most use of your keyboard compared to other genres of PC games. These games are Final Fantasy, World of Warcraft (WoW), Phantasy Star for MMORPGs and Elder Scrolls, Dark Souls, and The Witcher for RPGs.
These games use the keys 1 through the equals sign ('=') while all the function keys are used for the Hotbar. Keys I, M, J, and Q are also commonly used. Arrow keys and/or WASD might be used depending on the game. 
75% Keyboards in Other Video Game Genres
Other game genres typically use the same set of keys (function keys, alphanumeric keys, and the arrow cluster). However, older games (such as the first generation of DOTA) make use of the number pad, which can be a setback for enthusiasts of such types of games.
Using a 75% Keyboard for Gaming vs. Other Keyboards of Bigger Form Factors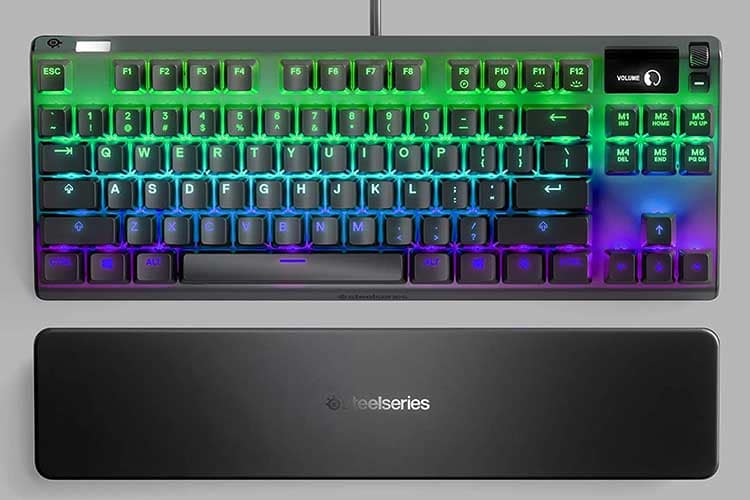 Using the 75% keyboard is great for gaming because of its efficient and compact layout. The keyboard's lack of the number pad makes it easier for your hand to travel from your keyboard to your mouse. Moreover, its navigation keys are aligned straightly, so it doesn't take up as much desk space and hand travel time compared to a TKL or full-sized keyboard. For those who play games that utilize the computer mouse a lot, the efficiency and compact nature offered by the 75% keyboard is its greatest selling point.
However, using a 75% keyboard may take some getting used to for gamers who are coming from a full-sized or TKL keyboard layout since there's different placement of its special navigation keys (home, end, delete, insert, page up, and/or page down). 
Remedy to the 75% Keyboard's Lack of Keys
If you're not convinced because of the 75% form factor's lack of keys, then fret not. We've got some fantastic solutions for your apprehension. But, first, it should be noted that the 75% keyboard's lack of keys is honestly negligible for gamers since most games only use the function row, the alphanumeric keys, and the arrow cluster.
For games that use the number pad, you can also remap your keys in the game settings so that your 75% keyboard can suffice while playing this kind of game. You can also acquire an external macropad or number pad to plug into your setup if you really need the keys that the 75% keyboard does away with.
75% Keyboards Recommended for Gaming
Glorious GMMK Pro Barebones in Black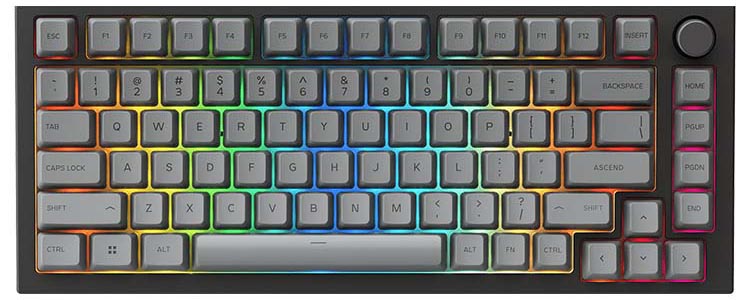 The Glorious GMMK Pro keyboard is one of the most beloved 75% keyboards in the market due to its great features. If you're looking for an upgraded typing experience while gaming, then this keyboard is for you. This 75% keyboard boasts of its aesthetic exploded layout with a durable CNC aluminum case. The board also has a volume knob, south-facing LEDs, sidelights, and a gasket mount implementation, making for a good-looking keyboard with a premium typing experience for under $200 (that is, for your barebones kit).
Keychron K2 Wireless Keyboard

The Keychron K2 Keyboard is one of the cheapest buys in the mechanical keyboard market, with a prebuilt keyboard costing you less than $100. This board comes in a compressed layout with both wired and wireless modes, making it very portable and usable for beginners in the hobby. The board also comes with Mac-dedicated buttons if you're looking to match your MacOS setup. The K2 keyboard also features the N-key rollover (NKRO) on its wired mode, so you can register as many keys as you can press at once without missing out characters, making it great for gaming.
Epomaker NiZ Plum 84 Bluetooth 2021 Version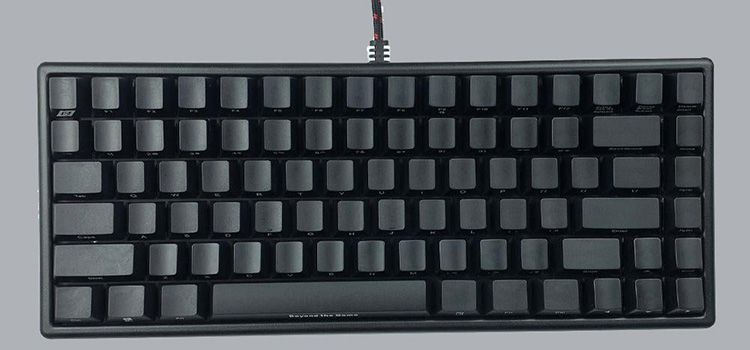 The Epomaker NiZ Plum 84 is a 75% keyboard that has unique electro-capacitive switches, actuated through electro-capacitive force. These switches are very tactile, but they have the silent operation of a rubber dome keyboard. This board is built for gamers who prefer a quiet environment while gaming. This 75% keyboard also boasts of its classic, vintage-like aesthetic that's perfect for minimalist gaming setups.
Verdict
Despite the mechanical keyboard hobby's many terminologies, it's one of the most recommended gaming gears due to its endurance even after daily wear and tear. When choosing a mechanical keyboard, one of the biggest considerations is its size or form factor, which decides the number of keys present in your keyboard. The 75% keyboard is a form factor that is well-loved by gamers due to its compact nature without compromising usability. The short travel from keyboard to mouse is another plus for this form factor.
The 75% keyboard can be found in the keyboard market with either compressed (like the Keychron K2 and Epomaker NiZ Plum) or exploded layouts (like the GMMK Pro), comprising of 80 to 84 keys, with a dedicated function row, arrow key cluster, and alphanumeric keys with essential modifiers. These keys are often sufficient enough for most, if not all, games.
The 75% keyboard is a great choice for gamers, even in the competitive field. We highly recommend using a 75% keyboard, especially if you're looking to save up on desk space in your gaming setup.