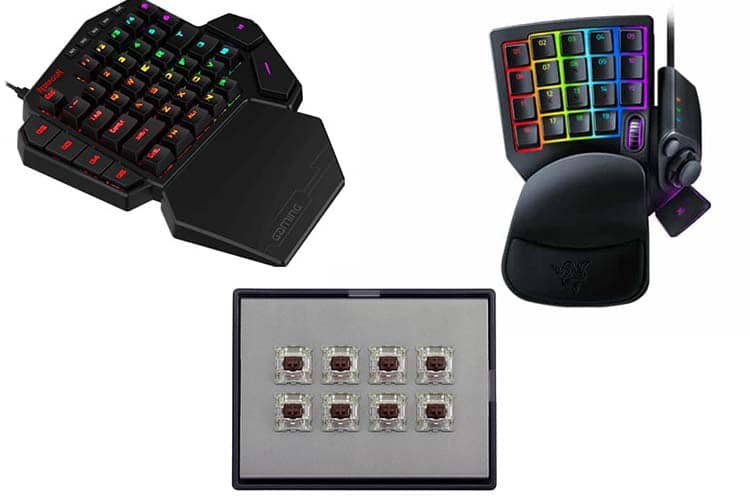 Using macro keys has never been easier. Before, you've had to understand how to code your own macro keys to implement keyboard shortcuts. Today, most companies implement their own user-friendly software accompanying their keyboards to apply macroinstructions (called a macro recording) without the need for coding knowledge.
The utility of macro keys in gaming and productivity gave rise to their own namesake keyboard: "macropads." This small-form keyboard consists of one to twenty keys that are primarily dedicated to users in implementing macroinstructions. Summarily, macropads are handy keyboards wherein each key is meant to execute specific user commands.
Macro keys are also known as "G-keys." They are extra sets of keys, usually marked with G-1, G-2, etc., placed in keyboards for your own custom commands. While they were originally popularized for gaming, they are also widely used for productivity. Keyboard macros allow you to access a plethora of commands in a single keypress.
For example, you can program your macro to paste a commonly used formula in Excel. You can likewise use a macro key for repetitive game commands, even while you're away from your keyboard. 
Using keyboard macros or programmed macro keys can boost your productivity and accuracy by doing repetitious tasks for you. Thus, it is by no surprise that macro keyboards or macropads found their niche and amassed their own following in the keyboard market. 
If you're interested in owning a macropad, then read further on. In this article, we will be taking a deep dive into the perks and downsides of acquiring your very own macropad. We will also take you through the macropad's wide range of uses.
Context – Keyboards on Small and Unconventional Form Factors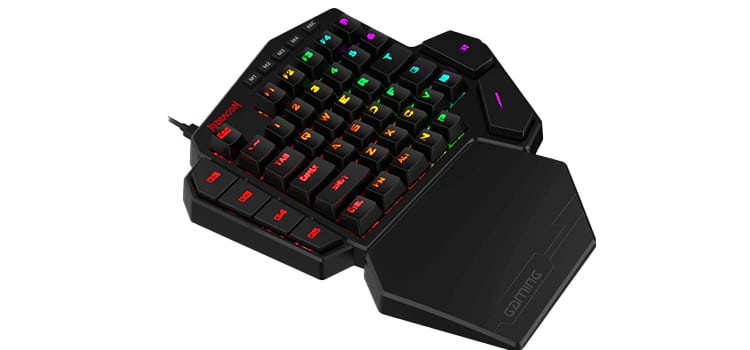 Over the recent years, keyboards taking on small and unconventional layouts gained much popularity. These keyboards are riding the trend of compact form factors, but they come with a much more distinct profile and specific use.
For example, the 20% keyboard is your standard numeric pad that's separated from a full-sized keyboard. In this way, users of more compact keyboard form factors (or laptops without a built-in numeric pad) can gain access to easy data entry. 
Macropads function similarly to the 20% keyboard. These keyboards supplement your ordinary keyboard with macro keys. If you're looking to replace your usual keyboard by going small, the smallest form factor that can function on its own are 40% keyboards, which can be one-handed, like the Redragon K585 One-Handed Keyboard, or two-handed (which is your usual layout), such as the Vortexgear 40% Keyboard.
The Macropad/Macro Mechanical Keyboard
As previously mentioned, macropads or macro mechanical keyboards supply keys that are made for their namesake, "macro," which is short for macroinstruction. Macroinstructions can consist of various input instructions such as mouse click sequences and keypresses accompanied by specific time delays. To use a macro key, you must encode macroinstructions that are recorded through third-party software or coded through QMK or VIA. 
By programming or encoding instructions into a macro key, a task that usually takes multiple keypresses and mouse clicks can now be accomplished through a single press. Macropads or macro keyboards can have anywhere between one to twenty keys (or even more!). The main characteristic of macro keyboards is that the keyboard module can record specific user commands in each key. 
In essence, you can use any form factor as a macropad, provided that your keyboard can record macroinstructions inside its firmware. However, we must caution you that this is a very unconventional and expensive route to take.
Perks of Using a Macropad
Portability and Increased Desk Space
View this post on Instagram
The first great perk of using a macropad is its compact form factor. Macropads are often smaller than the 20% numeric pad. A huge chunk of your desk space is freed for other work and gaming accessories you might need, whether that be another keyboard, mouse, external speakers, or even food and drinks.
Yet, despite its small size, this keyboard holds a ton of power functionality-wise. This means that if you're well-versed in recording macroinstructions, you can place the majority of your work setup or gaming setup into this portable keyboard.
Speaking of its portability, the macropad's compact size guarantees a hassle-free transfer from place to place. Should you decide to work, play, or stream in a cafe or in another friend's home, you can conveniently store your macropad with your other peripherals in an appropriate-sized bag. No need for additional keyboard carriers here.
Unique Form Factor
View this post on Instagram
Another perk of the macropad is its unique form factor. Acquiring a macropad is great for those looking to build their keyboard collection, for each brand has its own unique take on this handy work/gaming accessory.
The macropad is relatively new in the keyboard market, so there's no standard way to implement this type of keyboard. One brand of macropad can have two keys, while another can have twenty. Additional features, like rotary encoders and OLED screens, can also be found in various boards, depending on the model you decide to buy.
Cheaper to Modify
Last but not least, a macropad can also be great for newcomers to the keyboard hobby. If you're planning to get a feel of mechanical switches, but you're not set on acquiring a new keyboard altogether, then the macropad can be a great choice for you.
Sure, there are switch testers available in the market, but they cost a great deal for something which doesn't aid your workflow. A macropad, especially if it's hot-swappable, can easily be your very own functional switch tester. There are fewer slots to fill switches with, so they rake lower costs compared to your typical fully custom keyboard build.
Moreover, macropads are very easy to build and mod on your own. Getting and preparing switches as well as keycaps is no longer a heavy burden to conquer. This is especially the case even with custom kits since you're only tinkering with a small area.
Downsides of Using a Macropad
View this post on Instagram
High Initial Cost
Getting a macropad can be overwhelming for beginners in the keyboard hobby. After all, you're paying quite the sum for something minuscule with a small number of keys.
Nonetheless, the macropad is sure to surprise you with its functionality. It's jampacked with great features to accompany you for both work and play, so you may find that it's well worth your money. 
Limited Modification Options
Since every brand has their own way of doing a macropad, you may find the customization options for a macro mechanical keyboard limited. Unlike other standardized form factors, alternative parts for the macropad (such as cases and plates) can be hard to look for.
Macropad Keyboard FAQs
Can a Macropad be Used for Gaming?
View this post on Instagram
Yes, macropads can be used for gaming. This type of keyboard is especially useful for shooting games since they have a small desk footprint and allow for more precise and accurate mouse movements.
In addition, macropads can be great for repetitive game tasks, like honing the skills of your characters in MMORPGs or long-sequence combination movements in strategy games. Lastly, this small form-factor keyboard can be used for clumping game controls together.
Can a Macropad be Used for Productivity Purposes?
View this post on Instagram
Yes, macropads can be used for productivity. The provided keys in macropads can implement editing shortcuts, input Excel formulas, and perform other such practical applications.
Using a macropad can also declutter your desk. This is especially useful for designers and other professionals who rely on their work mouse's precision.
Recommended Macropads 
Max Falcon-8 RGB Programmable Mini Macropad (D.I.Y. Kit)

Max Falcon-8 Highlights
8 Keys

Semi-Assembled

Pre-Programmed with Media Keys
The Max Falcon-8 RGB Programmable Mini Macropad (D.I.Y. Kit) comes semi-assembled, perfect for beginners who are looking to experiment with soldering. This macro mechanical keyboard comprises of eight macro keys with onboard memory accompanied by its own user-friendly programming software. You also have a choice of getting the board barebones or with switches (Cherry MX RGB—Silent, Speed, Blue, Brown—or Gateron—Green, Black, Red, Clear, Blue, or Brown).
Adafruit MacroPad RP2040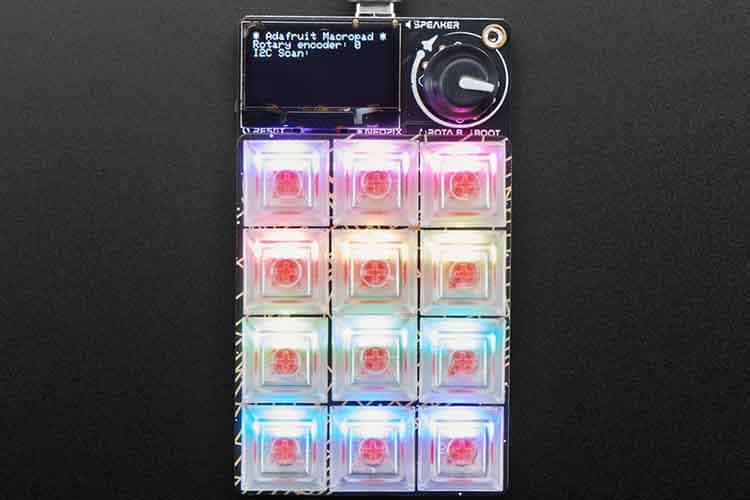 Adafruit MacroPad RP2040 Highlights
12 Keys 

O-LED Screen

Rotary Encoder
If you're looking for a macropad with unique productivity features, then the Adafruit MacroPad RP2040 might just be the choice for you. This three-by-four hot-swappable keyboard comes with a programmable rotary encoder and OLED display for important updates about your typing experience. While this board is not QMK compatible, it can be programmed through codes in Arduino or CircuitPython.
Razer Tartarus Pro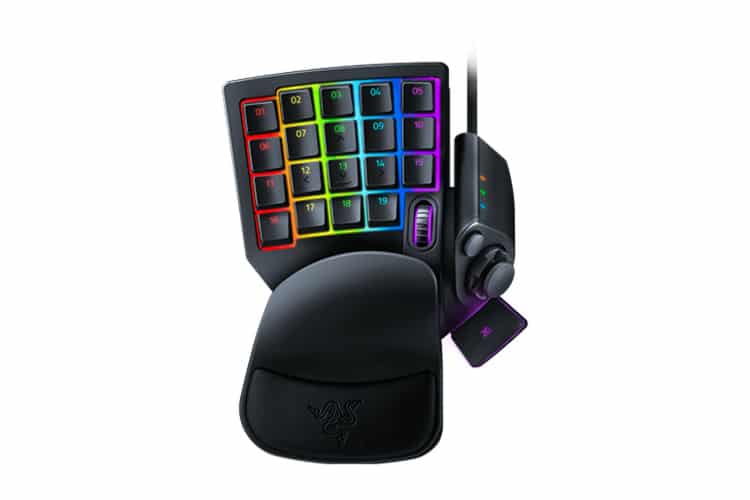 Razer Tartarus Pro Highlights
32 Keys 

Optical Switches

Eight-Way Directional Thumb Pad
Gaming with a macropad is made easy with Razer Tartarus Pro. This keyboard is equipped with 32 macro keys that are activated by Razer's infamously effective and speedy optical switches.
These optical switches register scaling levels of input (whether half-press or full-press) which gives you sixty-four controls at your fingertips. Other great additional features included in this board are an eight-way directional thumb pad, a scroll wheel, and a cushioned wrist and palm rest.