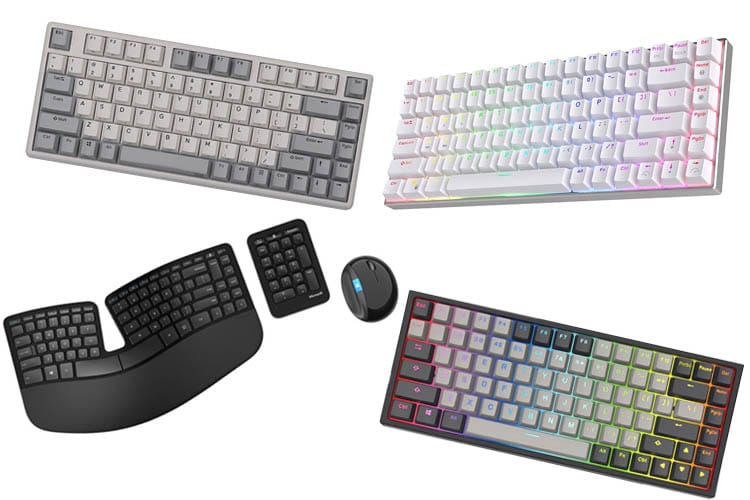 More and more hobbyists lean towards acquiring compact keyboard form factors, and it's no wonder why. A smaller keyboard can be easier to lug around, modify, and store. Likewise, it doesn't hurt that compressed keyboard layouts with smaller form factors are aesthetically pleasing to look at, too. Keyboard manufacturers have closely followed this trend in the keyboard hobby; on the production side, making a compact keyboard can be more cost-efficient than producing full-sized keyboards. Examples of brands that lean towards producing more compact keyboards include Royal Kludge and Akko. While they also have full-sized keyboards in their product roster, their bestsellers are their smaller form factor keyboards.
75% keyboards, in particular, are gaining traction because of their maximized portability and functionality. Their compressed layout gives maximum desk space without taking away any important navigation keys from the TKL keyboard. Moreover, users of the 75% form factor report better ergonomics because of reduced strain from less finger movement. 
Using a 75% keyboard, you'd get the best qualities from two highly-acclaimed form factors. You'll be rewarded with the ever-praised compactness of a 60% keyboard and the sought-after functionality of a TKL keyboard.
Still not convinced that you should get your hands on a 75% keyboard? Well, keep reading, because in this article, we will be giving you five reasons why 75% keyboards are so hot in the keyboard community.
Context – What is a 75% Keyboard
A 75% keyboard is composed of 80-84 keys. These keys include your function row, alphanumeric keys and modifiers, arrow cluster, and other special navigation keys, like home, end, page up, page down, and/or delete. What exact navigation keys and how many navigation keys are included depend on the brand and model of your 75% keyboard. 
This keyboard can come in two layouts, either compressed or exploded. The difference between the two comes from the sectioning of the keyboard. The compressed 75% keyboard would look more like your compact 60% keyboard, while the exploded 75% keyboard neatly sections the board into four with a bit of white space. The function row, the arrow keys, the navigation keys, and the alphanumeric keys with their respective modifier keys are sectioned into clusters that take up a little more space than the 75% keyboard's compressed counterpart.
Still, both these types of layouts are significantly smaller than your full-sized keyboard since it does away with the numeric pad. The 75% form factor is also lauded for being more portable than your standard TKL keyboard since the navigation keys are aligned in a single column rather than a 2×2 or 3×3 grid.
5 Reasons Why 75% Keyboards are so Popular
Added Desk Space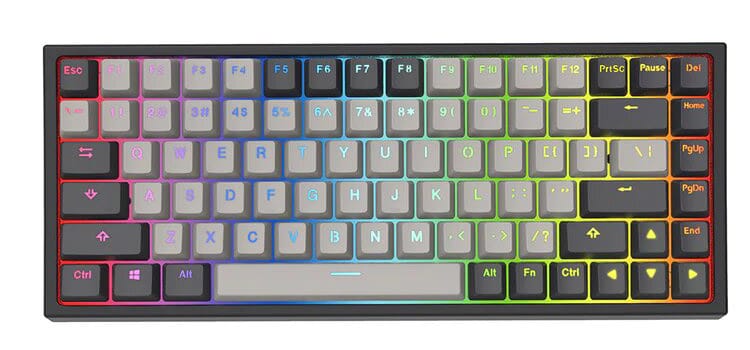 The most obvious reason why a keyboard enthusiast will opt for a 75% keyboard is its compact form factor which doesn't sacrifice functionality. Because of its space-saving design, the user of a 75% keyboard will ultimately have more desk space than if they used a full-sized or TKL form factor keyboard.
Added desk space can be beneficial for people who have smaller worktables and want to maximize their work area. The additional white space in your table can also be more aesthetic and thus more motivating to work in.
For gamers that play first-person shooting (FPS) games and other games which require a gaming mouse's precision and accuracy, the convenience of additional desk space can be a significant perk. Additionally, graphic designers and other digital artists can improve their performance with more desk space. This would give these professionals more freedom to play around with positioning certain elements in their digital masterpieces using their mouse.
Function Row on a Compact Form Factor

Another unique feature of the 75% keyboard is its additional function row, located just above the home row. For other compact layouts, the function row is done away with. But, this is one of the many unique selling points of the 75% keyboard.
The function keys are useful for productivity applications and select games. Some practical keyboard shortcuts also use function keys, like F11 for fullscreen and F5 for browser refresh. Additionally, specific professions like computer programming and finance management also utilize the function row frequently in their respective programs.
Cost
Building a 75% keyboard is cheaper than building bigger form factors, like the TKL and the full-sized keyboard. For one, manufacturing smaller form factors requires fewer construction materials and thus less production cost. Consequently, 75% keyboards retail less too.
Additionally, if you're going for custom builds or planning to change your keyboard's feel regularly, switches are the solution and this solution doesn't come cheap. Acquiring switches can eat a huge chunk of your allotted keyboard budget, especially for more premium builds. Each switch can range from $0.30 for budget switches, while enthusiast switches can go up to $1.00 each. Going for a 75% keyboard over a full-sized one can save you up to $20 in keyboard build budget.
Better Ergonomics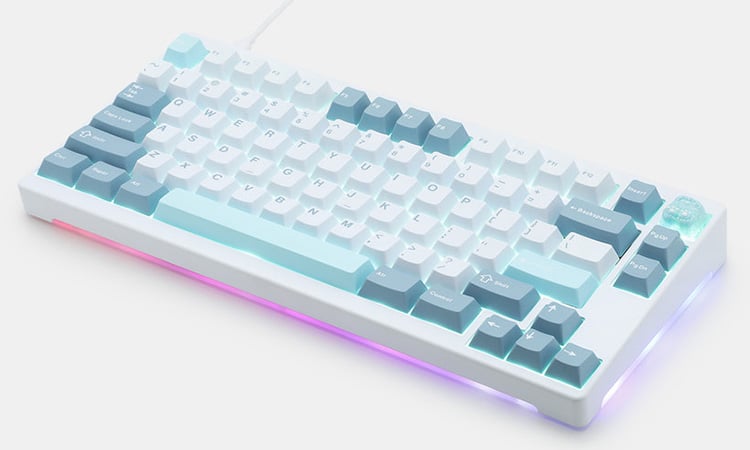 Users of the 75% keyboard form factor praise the board highly for its improved ergonomics compared to bigger form factors. The spacing of the keys of a 75% keyboard doesn't take up as much space compared to a full-sized keyboard or a TKL keyboard. And, because the keys are close together, you don't have to strain your hands from moving as much as you would for bigger form factors to access the function, arrow, and special navigation keys.
In general, the 75% keyboard has its arrow keys directly placed below the enter key. The special navigation keys are positioned above the arrow keys, besides the backspace, and enter keys. 
Adding to the 75% keyboard's ease of use is its lack of a numeric pad and straightly aligned navigation keys. The lessening of some keys and vertical alignment of special navigation keys makes it easier for your hand to travel from your keyboard to your mouse and vice versa. 
Unique Form Factor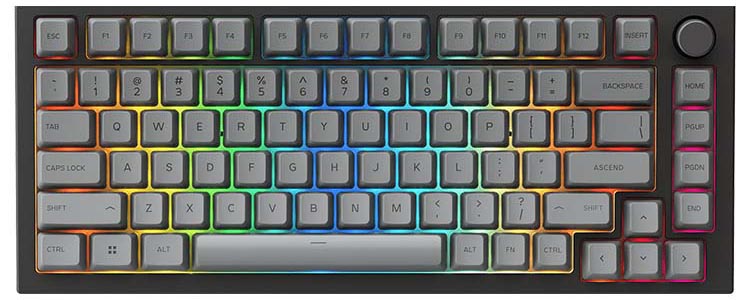 Because the 75% keyboard is relatively new to the market, there's no standardized way to do this layout. A 75% keyboard manufactured by different brands can vary widely in whether they are in compressed or exploded layouts, how much white space they utilize, which navigation keys they use in their builds, and their additional features.
Some 75% keyboards use the volume knob, like Glorious' GMMK Pro. Another unique feature of the GMMK Pro is its side glow, which is also present in KBDFans' KBD75. Others integrate an OLED screen for easier switching between different keyboard profiles and other integral keyboard updates. One example of a 75% keyboard with an OLED screen display is Satisfaction75 by CannonKeys.
Purchasing a 75% keyboard ensures that you have a personalized typing experience with distinctive features. Since its implementation may vary from brand to brand, your keyboard's case and plate materials depend on the versatility that its manufacturer offers. This can be great for keyboard enthusiasts looking to distinguish their keyboard build from other typists in the community. The 75% keyboard can also hit the sweet spot of members in the keyboard community wanting to add something unique to their growing keyboard collection.
Some 75% Keyboards that You May Like
Royal Kludge 84
Pro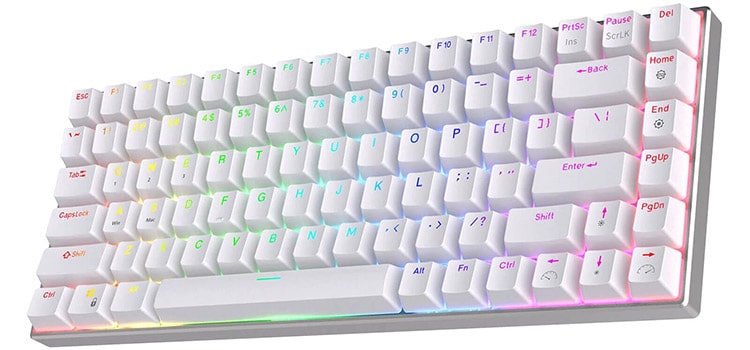 If you're looking to enter the mechanical keyboard scene, then Royal Kludge is one of the best brands to get started with. They offer to prebuild boards that are easy to mod and are very flexible to use. All their models offer a Windows and macOS mode and can be used either wired or wireless, and some models even present tri-mode connectivity with an additional Bluetooth dongle.
Their best 75% keyboard offer is the RK84 Pro model, with all the specs mentioned above. The RK84 Pro is a compressed 75% keyboard, supported by their own in-house software that allows for a plethora of customization options for remapping keys, activating light modes, and personalizing keyboard profiles. This prebuilt board comes with a hot-swappable PCB and an aluminum case too. 
Microsoft Sculpt Ergonomic Keyboard
for Business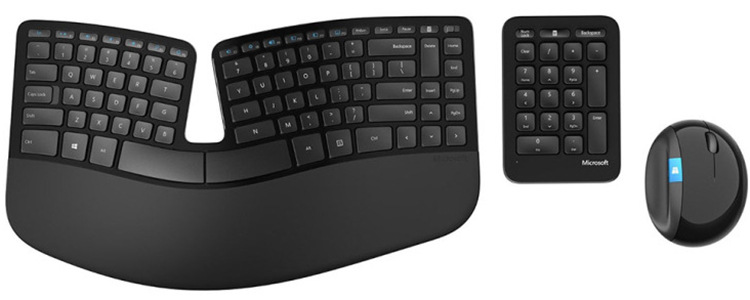 Another unique 75% keyboard is Microsoft's Sculpt Ergonomic Keyboard for Business. This 75% membrane keyboard improves on the already great ergonomics of a 75% build. Microsoft equips their 75% keyboard offer with an attached wrist rest and separate number pad for those who use it for work purposes. The listing also provides an option to purchase this keyboard with Microsoft's compatible work mouse.
Microsoft's unique selling point for this keyboard is its domed keyboard design which positions the user's wrists at a natural and relaxed angle. Aiding the employment of the most natural and comfortable wrist position is the keyboard's split keyset design. The natural arc created by the two features helps both the wrists and forearms to endure the long office hours in front of your work-from-home setup.
Microsoft's Sculpt Ergonomic Keyboard for Business doesn't shy away from its name. This board also includes Advanced Encryption Standard (AES) technology that encrypts your work data from potential hackers and other attempted private data information breaches by encrypting each of your keystrokes.
Epomaker NiZ Plum 84
Bluetooth 2021 Version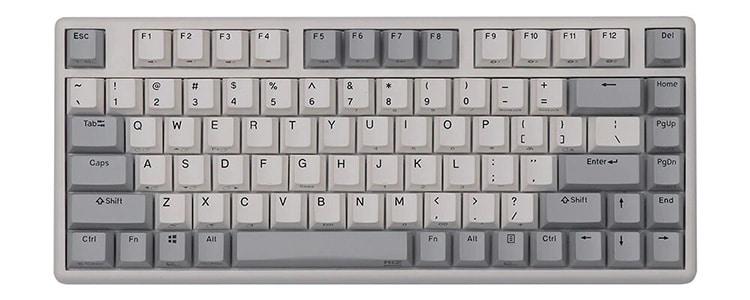 Epomaker employs a unique take to the 75% keyboard with their NiZ Plum 84. This wireless keyboard provides Bluetooth and 2.4Ghz dongle connections with unique electro-capacitive switches. This board is actuated through electro-capacitive force, which makes it comparable to a rubber dome keyboard in terms of sound but with the reliability and tactility of a mechanical switch. The Epomaker NiZ Plum 84 brings the best of both worlds for those who prefer a quieter typing experience while retaining the premium typing feel provided by the mechanical keyboard. 
Additionally, this 75% keyboard comes pre-built with PBT keycaps in a classic white and light gray colorway. This board is both durable and aesthetic, perfect to complement minimalist setups.
Epomaker also prioritizes its users' smooth experience with its anti-ghosting technology and six-key rollover. Moreover, should you run into issues in your first year of use, Epomaker offers a 1-year warranty for this keyboard and easy-to-reach customer service.