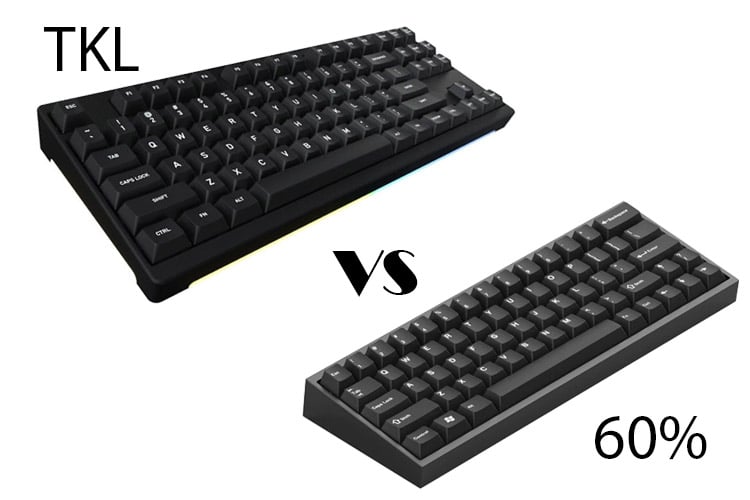 When starting your mechanical keyboard journey, enthusiasts and YouTubers often suggest getting a tenkeyless keyboard or a 60% keyboard. However, they often ask questions first, like what you will use the keyboard for or do you need specific keys to maximize your keyboard. Other questions would also be 'do you have enough desk space' or 'will you be traveling with your keyboard.'
Tenkeyless and 60% keyboards have a lot of differences, though they have similar functions. Tenkeyless keyboards have more keys, making them easier to use and navigate. However, 60% of keyboards offer a more portable design and require lesser desk space. Aside from those, choosing between the two will rely on the user's preference.
This article will look at the distinctions between TKL and 60% keyboards. We'll go over the advantages and disadvantages of each of these form factors. By the end of this comparison, our readers should clearly understand which form factor is best for them.
What are TKL Keyboards?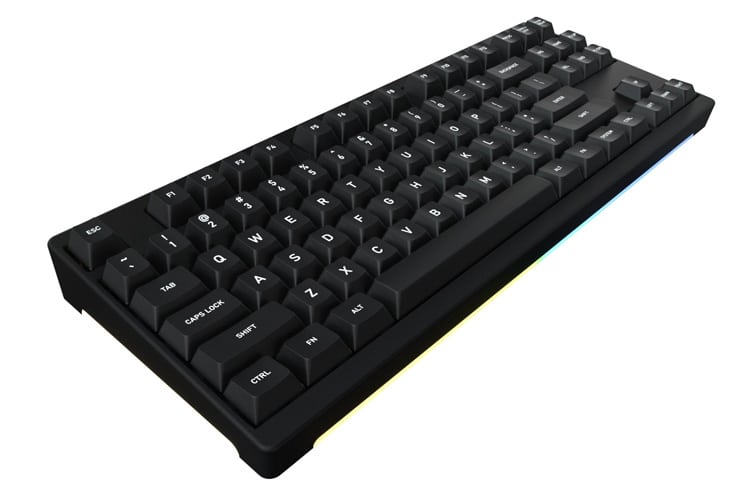 Tenkeyless keyboards, often known as TKL keyboards, are comparable to full-size keyboards. The only distinction is that the Numpad is missing. It features 87 keys and is also known as the "80% keyboard."
TKL keyboards are generally accessible in both custom and pre-built keyboards. This design has existed since the late 1980s and is a better alternative to full-size keyboards due to its compactness. Almost every pre-built keyboard manufacturer now offers a TKL version of their product.
Keyboards of this form factor are suitable starting points for individuals new to compact form factor keyboards. This is because TKL keyboards do not compromise productivity to obtain a smaller form factor. Users would not need to adapt heavily to this layout because it is identical to those seen on full-size keyboards and would only have to get used to not having a Numpad.
Pros of TKL Keyboards
Smaller than full-size keyboards without sacrificing functionality.

Retains all essential keys like the function row, arrow keys, and navigation keys.

Widely available in the keyboard market.

TKL keyboards both have pre-built and custom keyboard variants.
Cons of TKL Keyboards
Does not have a numeric keypad, which is essential for some work.

Still requires a lot of desk space compared to other compact keyboards.

Expensive, especially TKLs from group buys and custom keyboards.
Popular TKL Keyboards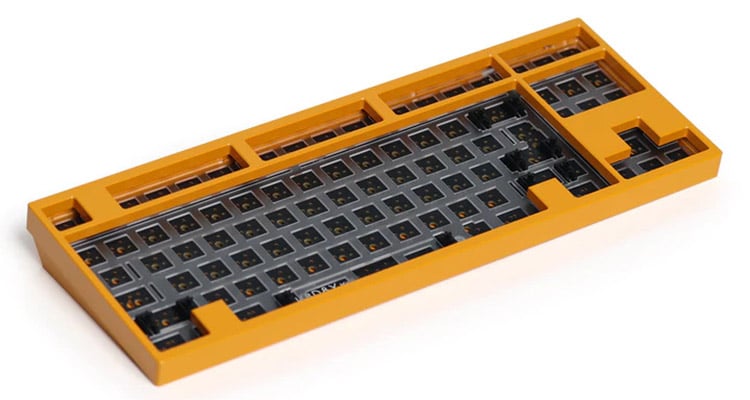 TKL keyboards are pretty popular with newcomers to mechanical keyboards and casual users and enthusiasts alike. In this light, a few have caught the community's attention, which you might want to consider if you are currently looking for a keyboard to try.
For example, take a look at KBDFan's KBD8X MKII. This is a custom keyboard that is used by an E-sports professional player in Valorant, Shahzam, in tournaments and his streams. For entry-level kits that are indeed within everyone's budget, you have the Drop's mechanical keyboard, the Drop CTRL, and Akko's Mod001. Both keyboards are custom kits as well that you can build according to your preferences. For high-end options, Owl lab's Mr. Suit will surely grab your friends' attention due to its luxurious aesthetic appeal. 
If you are a beginner or someone who is not into keyboard building, there are some pre-built keyboards that will cater to all of your needs, such as Ducky's One 3 TKL. This keyboard comes pre-built but is also hot-swappable, meaning you can swap out its stock CherryMX switches to Gateron, Kailh, or other premium brand switches. You may want to consider also Glorious' GMMK TKL since the same comes out of the box pre-built but is likewise hot-swappable. 
What are 60% Keyboards?
The majority of 60% keyboards feature 61 keys in total, 60 keys if it is in HHKB and WKL layout. They are significantly smaller than a TKL keyboard. Some physical keys are sacrificed to achieve this compact form factor, like the numerical keypad, function row keys, navigation keys, and arrow keys.
Regardless of the cons, users like 60% of keyboards for various reasons. The first feature is their compact and lightweight size. 60% keyboards are portable and can be easily carried to your workplace or compete in FPS competitions for gamers. It also provides a lot of space for your mouse to move, which has been a problem for TKL keyboards.
Even 60% of keyboards with an aluminum frame and brass weight are lighter than bigger custom keyboards. Furthermore, there is a lot of variety in the 60% keyboard market, which gives users many options. 
There are also Bluetooth keyboards with 60% form factors, which maximize the keyboard's size when traveling. Furthermore, there are also specialty keyboards with specific gaming switches for faster actuation, giving gamers a better option. There are also custom configurations that enable arrow keys to be included on 60% keyboards.
However, trying other configurations of this layout requires more time to adjust. Some keys, such as the right shift key, are generally compromised on 60 percent of keyboards with arrow keys, and backspace keys may also change from 2.25u size to 1.75u. Other keys, like the "?" keys, are frequently moved to other parts of the keyboard.
Although a bit complicated for beginners, 60% keyboards are mostly configured to access all keys with the help of the function keys. For example, the number row can be the function keys if paired with the fn key. Keyboards can also be remapped via QMK and VIA to fit the user's preferences.
Pros of 60% Keyboards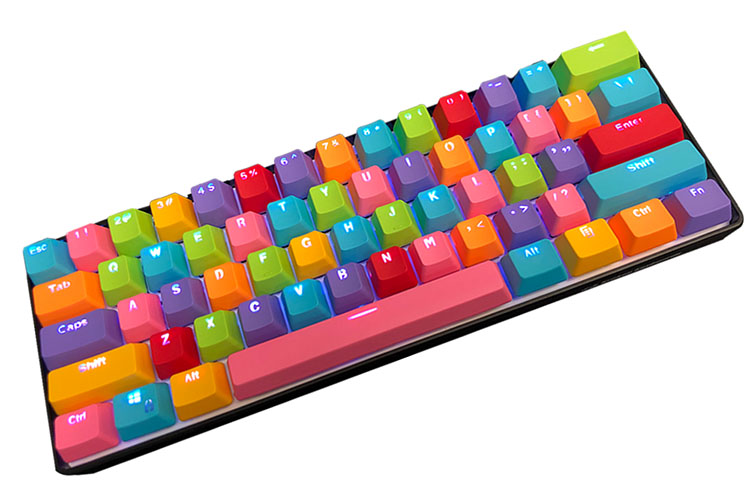 Portable and lightweight. Suitable for traveling.

Can be remapped, which gives a flexible layout.

Many options in the mechanical keyboard market, both custom and pre-built.

Requires a small desk space.

Great for gaming, especially for FPS games.
Cons of 60% Keyboards
Missing a lot of physical keys.

Needs a period of adjustment.
Popular 60% keyboards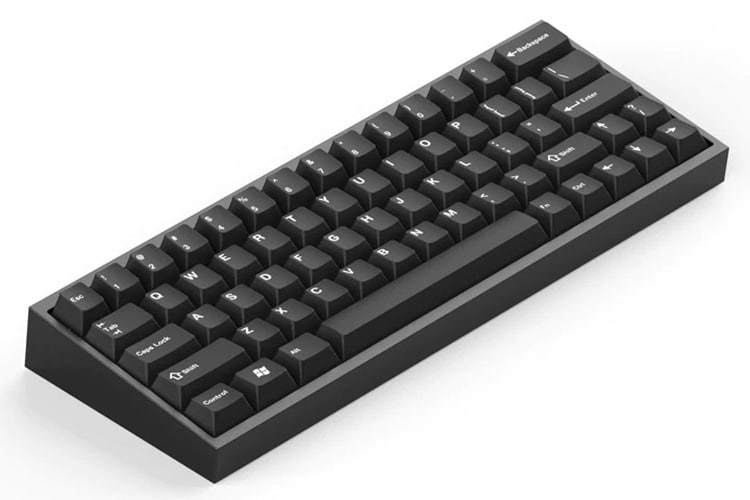 60% keyboards have started flooding the market ever since the early 2010s. This is no surprise, given that it quickly rose into popularity due to its compact size, convenience, and portability. If you are interested in getting yourself a 60% keyboard that you can bring into the office or in school for use, here are some that you may want to take note of. 
First on the list is KBDFan's Tofu60 and D60. Both keyboards are custom kits from popular Eastern Brand KBDFans that were loved by the community during its debut. Alternatively, you can consider Drop's Tokyo60 and Carina if you want a more premium-looking keyboard. 
If you are not interested in custom keyboards, don't worry, as there are some pre-builts that you may want to consider. Some examples include the widely popular Anne Pro 2 – a 60% pre-built keyboard with many desirable features such as Gateron switches and wireless connectivity. Another popular option is the the Royal Kludge RK61, which also has a very similar feature set.
In terms of prebuilt keyboards, there is the Ducky One 3 Mini that focuses on sound quality and customizability. Another good option is the Razer Hunstman Mini which features Razer's proprietary optical gaming switches. The only limitation with this keyboard is that it is not hot-swappable, meaning you are stuck with Razer's proprietary switches. 
TKL and 60% Keycap Compatibility
The TKL form factor is mostly compatible with all full-size layout keycaps in the market. There is no unique keycap size needed as all of the keys in the TKL are pretty standard. The 60% keyboard also has the standard keys. However, changing the layout or the board's configuration, such as putting arrow keys, may require a more complicated keycap set.
For example, installing a split space bar will require you to look for a keycap set with different spacebar sizes. The most common change would be a 1.75u right shift or a 1.5u backspace key.
Which is the Better Keyboard Form Factor?
The 60% and the TKL keyboard have similar functionality with a very different layout. 60% keyboards do not have various keys that TKL can offer, like the arrow keys. However, it provides a more compact design that is perfect for gamers.
Choosing between the two layouts would be based on the user's priority. Do you prioritize desk space and portability? If so, go for the 60% keyboard, as it will give you a lot of room for your mouse to move. You can also carry it around, making it easier to bring to work.
On the other hand, if you think you need the extra keys that TKL keyboards offer, it's better to look for TKL keyboards that fit your budget. This keyboard will require little to no adjustment period and will let you maximize the extra keys it provides.