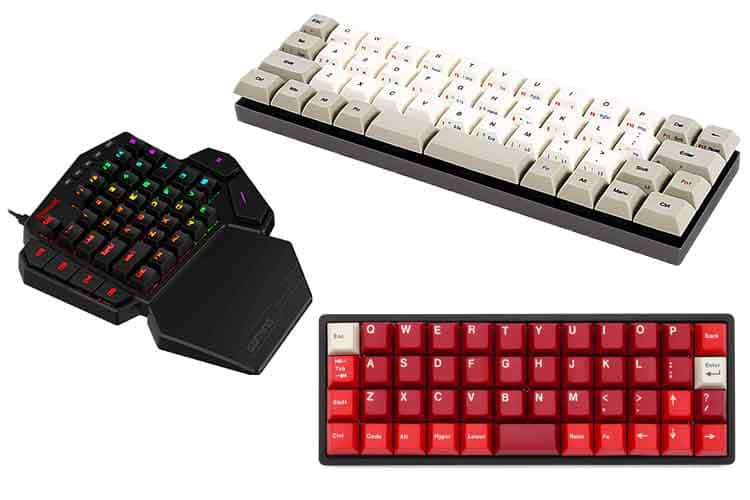 Compact form factors are currently hot in the keyboard community. The full-size keyboard cannot be maximized in their everyday use for many typists. Lessening your keyboard's footprint allows you to tailor-fit your keyboard based on your usage and desk space. Gamers usually prefer smaller form factors to utilize more desk space for accurate and precise mouse movements.
The smallest form factor you can acquire in today's custom keyboard market is the 40% keyboard. This form factor has no number pad, arrow, function, or number keys. Basically, only the alpha keys with modifiers are included. This keyboard can be great for gaming if you're fond of traveling and need maximum desk space.
In this article, we will be discussing the nuances of the 40% keyboard and how to use such a small form factor for gaming. If you're looking to enter the custom keyboard scene with a small budget and a lot of time to learn, then the 40% keyboard may be ideal. Gaming with the 40% keyboard can allow quicker gameplay if you know how to adapt the keyboard for your use. 
What is a 40% Keyboard?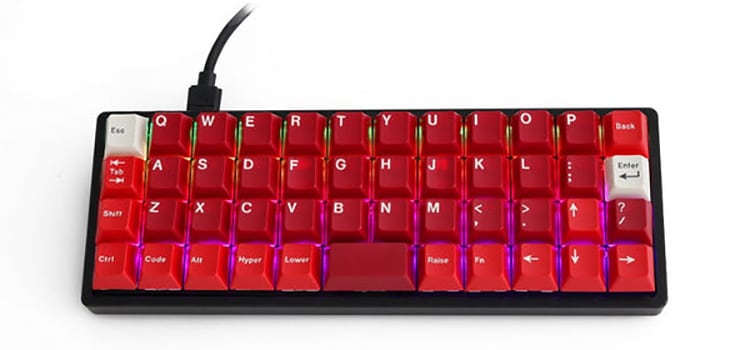 The 40% keyboard is your smallest form factor, just next to your separate numeric pad or tiny functional macropad. This form factor includes approximately 43 to 47 keys in one keyboard, and it primarily includes your alpha keys (the alphabet) with modifiers (shift, caps lock, control, etc.). Compared to other form factors in the market, the 40% keyboard is a show-stopper because of its compactness and is relatively new to the market (meaning you'd be one of the few to own it).
Adding layers to your keyboard would provide you the same functionality as bigger form factor keyboards. Using either the keyboard's in-house manufacturer software or third-party software (such as QMK or VIA), you can create custom layers for your 40% keyboard. For example, your top row (Q, W, E, R, T, Y, etc.) can also be programmed to provide you with your function or number keys, depending on your needs.
The 40% keyboard can come in either staggered or ortholinear layouts. Staggered layouts are your typical keyboard preset, where the keys are aligned diagonally. Ortholinear layouts, on the other hand, are aligned perfectly in columns and in rows, which can require an even steeper learning curve.
Perks of Using a 40% Keyboard
View this post on Instagram
After you get past the 40% keyboard's learning curve, there are a lot of rewards to be reaped. Users of the 40% keyboard report better ergonomics due to their fingers' smaller range of movement. Some 40% keyboards can also be used one-handed. 
Traveling with this keyboard is also a breeze. Its small and compact form factor is perfect for those who often move their gaming setups or stream their gameplay in unorthodox setups.
Moreover, using a 40% keyboard can provide a wide range of customizability that you may not think to do or use when having bigger form factors. Because of its compact form factor, maximizing keyboard profiles and layering keysets are of the essence when using this keyboard. You can also customize the aesthetics and feel of the keyboard for a cheaper cost since there are fewer materials to be used.
Using a 40% Keyboard for Gaming
View this post on Instagram
Gaming with a 40% keyboard can potentially be more rewarding than utilizing bigger form factors. For one, this compact keyboard takes up the least desk space, which can then improve your mouse movement's precision and accuracy.
Moreover, gaming requires a limited amount of controls, for which this small form factor can suffice. The only hindrance is that you would have to remap the keys to distinct profiles, depending on the game, which is initially time-consuming. 
But, the time could be well-spent after getting used to the keyboard form factor and its different layers/profiles. Because of the 40% keyboard's compact form factor, finger strain can be avoided since there is a smaller travel distance between the keys. Likewise, typing speed can be improved.
Using 40% Keyboards In MOBAs
View this post on Instagram
Multiplayer online battle arena (MOBA) games include the variations of DOTA 2 and League of Legends (LoL). This game genre focuses on developing strategy by forming two or more groups and having them battle each other on a pre-determined and specified battlefield.
Using a 40% keyboard for MOBA games can be difficult out of the box since you would need numbers 1 through 6, which is not the usual preset of this small form factor. Other than these number keys, alpha keys Q, W, E, R, D, and F are also commonly used. Moreover, some special keys may be utilized, too, depending on the character you are playing and their specific skillsets.
Should you not be fond of remapping keys in your keyboard settings or provided software, you may also reprogram the keys needed in this game genre through your game settings.
Using 40% Keyboards in FPS and Other Shooting Games
View this post on Instagram
Perhaps the most effective use of the 40% keyboard is for shooting games like Call of Duty (CoD), Player's Unknown Battleground (PUBG), Valorant, and Halo Infinite. These games use the W, A, S, and D keys for movement, while mouse movements typically perform other actions. Thus, the extra mouse space is quite useful for this game genre.
Using 40% Keyboards In MMORPGs & RPGs 
View this post on Instagram
MMORPGs (Massively Multiplayer Online RPGs) and RPGs (Role Playing Games) might just be the most difficult to play on a 40% keyboard because of their use of various keys, like 1 through the equals sign ('='), the function keys, alpha keys I, M, J, and Q. Depending on the game, either the arrow cluster or W, A, S, D will be used for movement as well.
Despite this, the 40% keyboard can still suffice while playing MMORPGs and RPGs. You can simply choose to create a specific gaming profile that has all these game controls preset for easy access when playing.
Examples of these games are Final Fantasy, Inferna, and World of Warcraft (WoW) for MMORPGs. Examples of RPGs include The Witcher, Elder Scrolls, and Outward.
Using 40% Keyboards In Other Game Genres
Multiple game genres typically use function keys, alphanumeric keys, and the arrow cluster for their controls. Because of this, it's best to fiddle with the customization options offered by layering keyboard presets or making your gaming profile.
Select vintage games such as the first generation of DOTA work with the numeric pad for controls, but this is usually remappable in-game.
40% Keyboards Recommended for Gaming
Redragon K585 DITI One-Handed Mechanical Keyboard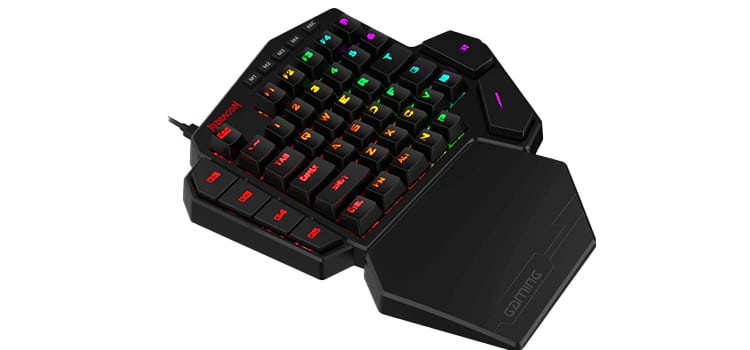 Redragon K585 DITI Highlights
42 Keys

Dustproof OUTEMU Switches (Blue, Brown, or Red)

Lightweight (1.34 lbs)

5 RGB Backlit Modes 

USB Pass-Through Port

7 Programmable Macro Keys

Ergonomically Designed with a Detachable Wrist-Rest Section
If you're looking for a 40% keyboard specifically designed for gaming, then look no further. The Redragon K585 DITI One-Handed Mechanical Keyboard allows you to focus on typing controls on one hand and mouse controls on the other hand. Furthermore, this small powerhouse keyboard is jampacked with great features such as a magnetic detachable wrist rest, a USB pass-through port, seven recordable macro keys, and full key rollover. You can also get this keyboard in a wireless variant.
Vortexgear Core 40% Keyboard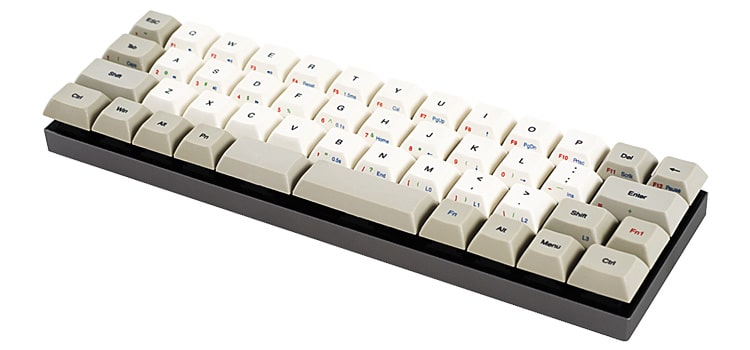 Vortexgear Core Highlights
47 Keys

Cherry MX Switches

More on the Heavier Side (2.2 lbs)

Durable and Shine-Resistant PBT Keycaps

Four Switchable Layers, Three are Programmable

LED that Shows Which Layer is Being Used

Aluminum CNC Anodized Case 
The Vortexgear 40% Keyboard makes two ends meet with its sleek design with a durable aluminum case and shine-resistant keycaps. The functionality of this keyboard is also astonishing, with four keyset layers, three of which are programmable. Plus, you don't have to worry about getting your layers mixed up since this board has a built-in LED showing what layer is currently being used.
DROP Planck 40% Mechanical Keyboard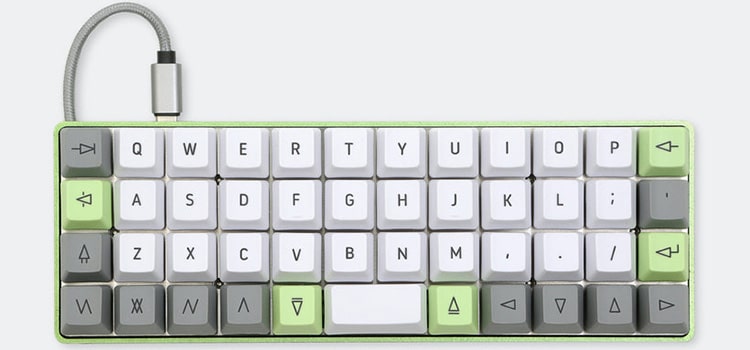 Drop + OLKB Planck Kit V6 Highlights 
47 Keys

Ortholinear Layout with Hot-Swappable Switch Seats

Mid-range Weight (1.1 lbs)

Double-Shot Keycaps

Fully-Programmable ARM/STM32 Processor with USB-C Connector

Four 3M Rubber Feet

Aluminum CNC Anodized Case in Six Colorways
The DROP Planck 40% Mechanical Keyboard V6 is your perfect 40% custom keyboard kit to get you started and sunk into the mechanical keyboard hobby. This keyboard also has many fun features, such as a fully programmable PCB, hot-swappable switch seats, and a small speaker driven by the MCU. Functionality-wise, the quality of this keyboard is superb due to its durable aluminum CNC case and double-shot keycaps that can last even daily wear and tear.
Conclusion
The very compact 40% keyboard can be good for gaming. This is especially the case with shooting games and other such game genres that require your mouse's precision and accuracy since the keyboard's small form provides a lot more desk space.
However, most 40% keyboards aren't equipped for gaming out of the box. You would have to fiddle with the customization options before your 40% keyboard can aid you in a great gaming experience. Moreover, time for learning the nuances of this keyboard form factor should be dedicated since this is not your typical keyboard layout.