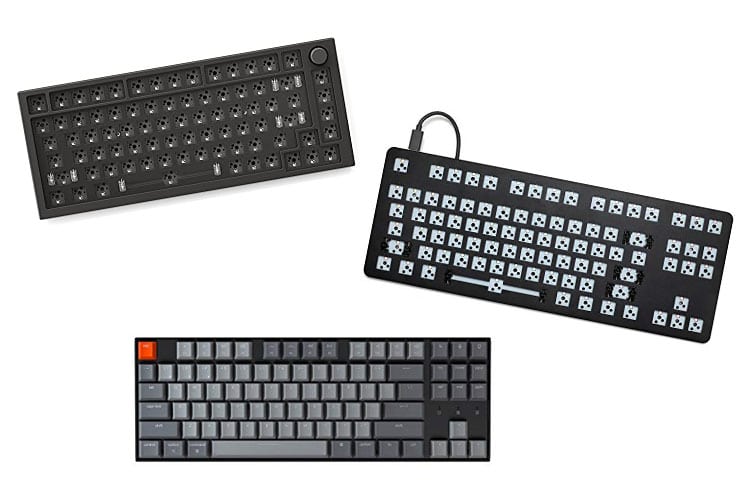 When it comes to buying entry-level custom mechanical keyboards, consumers generally have two options: Pre-Assembled Kits and Barebones Kits. To most people, the purchase decision can be very straightforward. However, there are some things that need to be considered, especially for beginners. 
Barebones kits are highly recommended over pre-assembled kits, even for beginners. They offer more flexibility in terms of keycaps and switch options and allows the user to modify them easily. While there are potentially some good pre-assembled deals out there, the barebones version of those kits is almost always the better option.
In this article, we will be discussing these two keyboard kits in more detail. We'll be giving some of the reasons to go with each kit. However, we will also be talking about which we recommend for those purchasing their keyboard kit for the first time. 
Barebones vs. Pre-assembled Keyboard Kits
In the current mechanical keyboard market, barebones kits refer to pre-built custom keyboard kits that do not come with switches and keycaps. Unlike with traditional custom keyboard kits, most of the assembly process is already done by the factory. All the user needs to do is to drop in the switches and the keycaps. 
In contrast, pre-assembled keyboard kits offer the same features and design elements as their barebones counterpart. The only difference is that the mechanical switches and keycaps are already attached to the keyboard right out of the box. 
Most companies, such as Drop, include both options for their products. This makes their products incredibly flexible since they now appeal to both users who want an already great product out of the box as well as users who want to tinker around their keyboard. 
Outside of those differences, the feature sets of these two keyboard kits are generally the same. Both tend to have hot-swap PCBs as well as an easy to disassemble chassis that is meant to be modified. 
Of course, with the additional components that preassembled keyboards have, the price is naturally going to be slightly higher. This is where the value proposition of these two kits comes in, which we will be discussing below. 
Why Barebones Keyboard Kits are Better 
Most enthusiasts highly recommend going for the barebones version of the keyboard kit. And the main reason why is because they offer more flexibility to the user. After all, the various customization features are what draw people to the custom keyboards in the first place. 
With barebones keyboard kits, the user does not have to go through the lengthy process of removing all the keycaps and switches one by one in order to modify the keyboard. They can immediately proceed to the disassembly process once they have taken the keyboard out of the box. 
Disassembling and modifying the keyboard is a must for most barebones and pre-assembled keyboard kits. The reason for this is because manufacturers cannot fine-tune the keyboard from the factory. 
The only exception is if a company or the store that stocks the keyboard has an in-house keyboard builder. But for most keyboard kits, tuning the stabilizers and the overall sound of the keyboard is something that the end-user has to do. 
In addition, most of the extra parts that you get with pre-assembled keyboard kits are quite unnecessary and do not add significant value to the keyboard. This is because manufacturers have to stay under a certain budget for their keyboard kits, meaning the quality of the keycaps and switches included in the bundle are possibly decent at best.  
What this ultimately means for the end-user is that they will inevitably toss aside the free switches and keycaps to buy something better. This is why it is better to buy your desired keycaps and switches right off the bat instead of paying extra for parts that you wouldn't likely use.  
In terms of switch selection, most pre-assembled keyboards offer very limited choices. Most come with the usual blue, red, and brown variations from brands such as Kailh and Gateron.
Of course, both brands produce high-end options such as the Ink V2 and Kailh Box switches. However, the ones that are offered in these kinds of keyboards are their entry-level switches, which are nowhere near as good as their flagship switches. 
Additionally, if a user chooses to modify these switches via switch lubing and filming, then they would have to take the switch out from the keyboard anyway. Purchasing the switches separately would be more beneficial, especially considering the fact that some vendors offer hand-lubed and hand-filmed filmed switches. 
In summary, barebones kits give an experience that is a lot closer to custom keyboard kits. They allow the user to get all of the aspects of the keyboard right and not rely on the job done by the factory. 
Why Pre-Assembled Keyboard Kits Can Be Better
Despite all of the great points of barebones keyboard kits, there are some instances where pre-assembled keyboard kits make more sense. Pre-assembled keyboard kits can be great for users who do not have direct access to local parts such as keycaps and switches. 
While most vendors, such as Novelkeys, have direct access to most of the switches that are popular in the community, there may still be some switches that they do not have in stock. During these instances, consumers have to outsource the switches via websites such as Aliexpress or the aftermarket.
Not only will the shipping process be expensive with these options, but the waiting time will also be a lot longer. For these cases, it makes a lot of sense to buy a pre-built keyboard kit that has some switches that can immediately be used while the user is waiting for their order to arrive.
In addition, some vendors offer exceptional deals on their pre-built keyboards. One of these is Drop who offers their Halo switches with their Drop Alt keyboards.
In addition, some GMK keycaps can even be bundled with the Alt series, making these deals pretty much worth it.
Another reason to get pre-built keyboard kits is for those who have joined keycap group buys. The fulfillment time for keycap group buys can take anywhere from a few months to an entire year. Having some stock keycaps to use while waiting is always better than having none at all.  
And lastly, pre-built keyboards can be great options for those who are purchasing a mechanical keyboard for the very first time. Beginners typically do not have a keycap or switch preference since they haven't tried anything yet. Having something that they can play with right off the bat helps them find their preference for future upgrades.
As a bonus, we also recommend beginners purchase pre-assembled keyboards from stores that offer building services. While it takes away some of the fun of assembling your very own keyboard, it can help you save some cash since these stores typically bundle all the parts together. You will also be assured that the keyboard you are getting has next to no flaws, especially in crucial areas such as the stabilizers.
Which Should You Buy? 
Both keyboard kits have their own strengths and weaknesses. And at the end of the day, you can't go wrong with these two keyboard types since they essentially do the same thing. One is just more expensive right off the bat due to all the freebies that you get.
With that said, if you are looking at something that can provide a similar experience to custom keyboards, then barebones kits are the way to go. They allow for easier customization and get rid of all the unnecessary components that you won't be needing in the long run.
However, if you manage to find a good deal on a pre-assembled keyboard or if you can get one professionally assembled for a reasonable price, then pre-assembled keyboards can also be viable. Again, it all depends on the user's needs.

The KBE team is dedicated to sharing our knowledge and creating useful resources about computer keyboards. This article was written as a team collaboration, combining our knowledge and years of experience using, building and modding keyboards. Meet the team here.