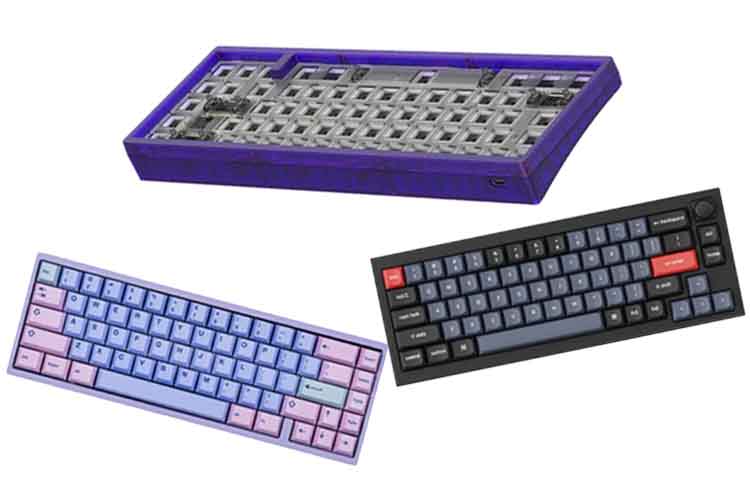 The KBD67 Lite was a massive game-changer in the custom keyboard market. It was the first keyboard that truly offered enthusiast-level features such as a gasket-mount design, south-facing switches, and VIA compatibility. And to top it all off, the KBD67 Lite had a nice thocky sound signature reminiscent of higher-end keyboards. 
But with that said, many keyboard brands are starting to catch up. Each month, there is a different brand that is trying to dethrone the KBD67 Lite to become the one true king of the budget custom keyboard market. With all this competition, we, the consumers, are the benefactors. 
In this article, we will be discussing some of the best alternatives to the KBD67 Lite. The models that we will discuss include the Keychron Q2, Akko Mod005, Ikki68 Aurora, the Bakeneko65, and the Zoom65.  We will discuss the features of these keyboards and tell you why they are great alternatives to the mighty KBD67 Lite. 
What Makes the KBD67 Lite a Good Keyboard?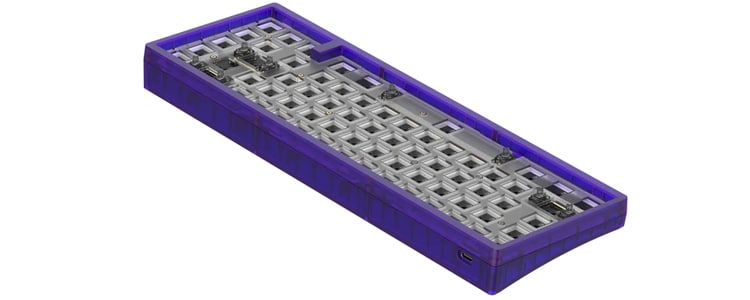 When the KBD67 Lite first launched, there weren't a lot of good entry-level keyboards. Its two main competitors at the time of its release were the Novelkeys NK65 Entry Edition and the TKC Portico. While those two keyboards were excellent, the KBD67 Lite was the true game-changer. 
Unlike the Novelkeys NK65 Entry Edition, the KBD67 Lite had a modified gasket mount design which allows for a soft and bouncy typing experience. It also supported PCB mount stabilizers, which many enthusiasts regard as the better keyboard stabilizer type. And unlike the TKC Portico, the KBD67 Lite had better availability and was less prone to quality control issues. 
Another perk that the KBD67 Lite that its competitors didn't have is upgradeability. The KBD67 Lite supported an upgraded Bluetooth PCB, which allowed wireless connectivity. It was also compatible with the KBD67 V3 aluminum case, which effectively turns it into a more expensive keyboard. 
But even in its stock configuration, the KBD67 Lite was already a solid keyboard. With its plastic case, it produced a nice thocky sound signature. Even without any major modifications, the KBD67 Lite already sounded and felt like a more expensive keyboard. And, of course, with mods, the KBD67 Lite can sound and feel even better. 
Why Look For Alternatives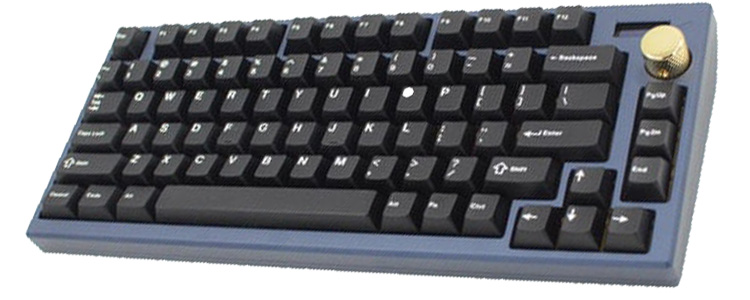 The KBD67 Lite is, without a shadow of a doubt, an excellent keyboard. However, it isn't the end all be all of budget custom keyboards. Many brands have proved that the sub $200 price point can be further improved. 
Lots of newer budget custom keyboard kits come with aluminum cases complete with proper sound dampening solutions. Some keyboards also come with knobs, which is a very popular feature introduced by high-end 75% keyboards such as the Cannonkeys Satisfaction75. 
And best of all, many of these budget custom keyboards are in stock options. So the bottom line is that the custom keyboard hobby is rapidly evolving to cater to a wider audience. 
Factors that We Considered When Choosing Alternatives
View this post on Instagram
Price
Given how budget-friendly the KBD67 Lite is, one of the main criteria for a suitable KBD67 Lite alternative is the price. All of the options in this list will be under $200. Of course, the price will depend on the local dealer of these keyboards. 
Design/Construction
Another major factor that we considered in the design and construction of the keyboard. We made sure to exclusively choose 65% keyboards. Also, we have selected keyboards that utilize a gasket mount structure or keyboards that exhibit a soft and bouncy typing feel. 
Typing Feel and Acoustics
The KBD67 Lite set a very high standard for typing feel and acoustics/sound profile. Therefore, we have made sure to pick custom keyboards that match or even improve upon the excellent typing feel and typing sound of the KBD67 Lite. We have also made sure that these keyboards are compatible with mods that can improve their sound profile. 
Overall Value
Lastly, we made sure to choose keyboards that have excellent value for the money. Consumers will be able to build these keyboards with different keycap and switch configurations, keeping them happy for a long time. 
KBD67 Lite Alternatives
Akko MOD 005

| | |
| --- | --- |
| Similarities to the KBD67 Lite | Differences From the KBD67 Lite |
| 65% Form Factor | North Facing Switches |
| Gasket Mount Design | Aluminum Case |
| Budget Price | FR4 and Aluminum Stock Plates |
| | Proprietary Akko Software |
| | USB Type-C Daughterboard |
Akko has always been known for making great value keyboards. They always manage to deliver highly-requested features in their pre-built keyboards. These include wireless connectivity, beautiful aesthetics, hot-swappable switches, and different keyboard sizes. But this time around, Akko has gone full custom with the Creator Studio Mod Series. 
Unlike the brand's previous offerings, these keyboards are fully customizable. They are sold as a barebones keyboard kit, allowing users to assemble and choose what kinds of parts and mods they will be using. Also, just like Akko's other keyboards, there are plenty of sizes and colors to choose from in the Creator Studio Mod series. 
The Akko MOD 005 is Akko's 65% offering in this series. It has plenty of features that make it almost directly comparable with the KBD67 Lite. Its layout is pretty similar, and most importantly, it is a gasket-mounted keyboard. 
Additionally, unlike the KBD67 Lite, the MOD 005's gasket mount implementation is closer to the ones found on higher-end keyboards. In other words, the MOD 005 can potentially feel more flexy and bouncy compared to the KBD67 Lite and other keyboards at this price point. 
The good things don't end there. By default, the Akko MOD 005 comes with a CNC aluminum case. Its hefty and solid construction will easily make it feel more premium than the KBD67 Lite, which features a plastic case. 
And best of all, the MOD 005 is priced similarly to the KBD 67 Lite. It is also readily available and will be shipped immediately, unlike many group buy only custom keyboards. 
Of course, like the KBD67 Lite, the Akko MOD 005 is not a perfect keyboard. It has north-facing switches, meaning Cherry profile keycaps will have interference. Also, the entire MOD series is not compatible with VIA and QMK and instead must be configured with Akko's proprietary software. 
But still, even with some of its shortcomings, the Akko MOD 005 is still a very impressive keyboard. It is a perfect alternative for those looking for a fully customizable and fully moddable custom keyboard with an aluminum chassis at the budget price point. 
Akko MOD005 Specifications
Case Material: CNC + Anodic Oxidation
Plate: Aluminum with An Additional FR4 Plate
Available in Four (4) Colors: Dark Night, Space Gray, Sakura Pink, and Ocean Blue
Gasket Mount
Available Both in Screw-in and Plate Mount Stabilizers
TTC 5-pin Hot-Swappable Socket
Comes With a Coiled Cable
Ikki68 Aurora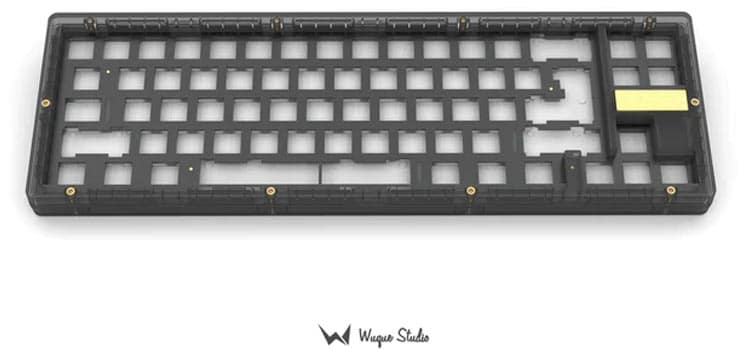 Similarities to the KBD67 Lite
Differences From the KBD67 Lite

65% Form Factor

More Customization Options

Gasket Mount Design

More Color Options

Silicone Internal Dampener

 

Customizable Badge

Budget Price

Polycarbonate (PC) Case
The massive success of the KBD67 Lite helped spawn many high-quality budget custom keyboards. But the keyboard kit that stands out among all these KBD67 Lite-inspired kits is the Ikki68 Aurora. 
It is designed by Wuque Studios, who are best known for producing great performing and aesthetically pleasing keyboards. Some of their most notable works include the Ginko65 and the Mammoth75. 
The Ikki68 Aurora is one of the brand's more affordable offerings. However, make no mistake. The Ikki68 is a fully-featured keyboard that will surely compete with the big boys. 
Just like the KBD67 Lite, the Ikki68 Aurora is a 65% keyboard with a gasket mounting structure. However, the similarities end here. Wuque Studios has decked out the Ikki68 Aurora to make it a truly premium keyboard at an affordable price tag. 
Let us start with the basics. The Ikki68 Aurora features a polycarbonate case and plate as well as an internal silicone dampener. PC is still technically plastic. However, it has better quality and acoustics compared to regular plastic cases. 
The PC plate also helps with creating a good sound profile as well as adding good flex to the keyboard. Speaking of flex, the Ikki68's PCB has flex cuts, which further help add to the bouncy feel. In addition, the user can modify the Ikki68's gasket placements to configure how flexy the board can be. 
What truly puts the Ikki68 Aurora in a league of its own is its customizable layout. Users can choose between different layouts, such as step CAPS Lock, full right shift, ISO and ANSI, etc. 
These kinds of layout customizations can usually only be done with a soldered keyboard. And to seal the deal, Wuque Studios includes a customizable badge to finish off the Ikki 68 Aurora's high-end look. 
To further sweeten the deal, Wuque Studios also includes lots of extras for the Ikki68 Aurora. Buyers can order additional PCBs with south-facing RGB LEDs, Bluetooth PCBs, aluminum top frames, extra badges, and many more. 
At this point, the Ikki68 Aurora already looks like a solid buy. However, there is a huge catch. The Ikki68 Aurora is only available through a group buy. Unfortunately, this means that it will be incredibly hard to get your hands on an Ikki68 Aurora. 
Wuque Studios does do multiple runs of the Ikki68 Aurora. There are many different colors, including limited-edition collaboration designs, to choose from. The Ikki68 is also usually available in the aftermarket. 
There are also some things that users have to take note of when buying the Ikki68 Aurora. To support its multi-layout design, some switches are north-facing. And as we have talked about earlier, this switch orientation can cause issues with Cherry profile keycaps, such as GMK's offerings. 
But overall, the Ikki68 Aurora is a solid alternative to the KBD67 Lite. It is perfect for those looking for more customizability options than the KBD67 Lite, which still maintains a pretty reasonable price tag. 
Ikki68 Aurora Specifications
Case Material: Polycarbonate, Frosted Case Finish (For Mint and Charcoal)
Plate Material: Aluminum
Available in Three (3) Colors: Charcoal, Mint, and Mizu (White & Blue)
Gasket Mount
Screw-In OA Stabilizers (For Mizu)
Hotswap PCB
Wired (QMK Support) and Wireless Version
Keychron Q2

| | |
| --- | --- |
| Similarities to the KBD67 Lite | Differences From the KBD67 Lite |
| 65% Form Factor | Rotary Encoder/Knob (Optional) |
| Gasket Mount Design | Aluminum Case |
| Budget Price | USB Type-C Daughterboard |
Keychron's first custom keyboard, the Keychron Q1, was met with a mixed reception. Some found it to be better than the Glorious GMMK Pro, while others still found it to be lacking in certain areas. Fortunately, Keychron took all that feedback to heart to create the Keychron Q2. Keychron is a brand that is very similar to Akko. They initially sold consumer-grade mechanical keyboards and later transitioned to making full-blown custom keyboards.
On the outside, the Keychron Q2 may just look like a 65% version of the Q1. However, on the inside, many of the Q1's shortcomings have been addressed. 
The Keychron Q2 no longer exhibits crazy case ping. Keychron installed their own version of the Force Break mod, creating a separation between the top and bottom portion of the case. 
The Q2 also has good flex, essentially fixing the main critique that reviewers and keyboard enthusiasts had with the stiff typing experience that the Keychron Q1. Also, with how decent its factory screw-in stabs are, the Q2 finally accomplishes its goal of appealing to both casual users who may want to just drop in some switches and keycaps as well as keyboard enthusiasts who want to mod the keyboard to suit their sound and typing preferences.
Overall, both beginners and keyboard enthusiasts cannot go wrong with the Keychron Q2. It has an aluminum case, an optional knob, a good amount of flex, south-facing switches, support for screw-in stabs, and QMK and VIA compatibility. And best of all, it is an in-stock option that can be bought from Keychron retailers. 
Keychron Q2 Specifications
Case Material: Aluminum
Plate Material: Steel
Available in Three (3) Colors: Carbon Black. Silver Grey and Navy Blue
Gasket Mount
Hot-swappable (5-pin & 3-pin)
Supports QMK and VIA
Screw-in PCB Stabilizers
Bakeneko65

| | |
| --- | --- |
| Similarities to the KBD67 Lite | Differences From the KBD67 Lite |
| 65% Form Factor | Aluminum Case |
| Budget Price | Gummy O-Ring Mount |
| | USB Type-C Daughterboard |
As its name suggests, the Bakeneko65 is the sequel to Cannonkey's version of the  Bakeneko60. It sports many of the same features and design elements found on the Bakeneko60. The Bakeneko65 isn't meant to be a direct competitor to the KBD67 Lite. Instead, it is Cannonkeys' take on a high-quality budget keyboard with a good typing feel, build quality, and acoustics. 
It features a Gummy O-ring mounting style similar to the highly acclaimed Singa Unikorn keyboard. The Gummy O-Ring mount allows the keyboard to achieve a bouncy and flexy typing experience without resorting to complex having complex construction similar to most of the traditional gasket-mounted keyboards on this list. 
The simpler Gummy O-ring mounting style of the Bakeneko65 also allows it to achieve a much lower price point. Also, like most of the options on this list, the Bakeneko65 comes with an aluminum case. 
However, to keep the costs low, Cannonkeys decided to paint the aluminum case instead of anodizing it. The results will be a bit mixed, with some units having more imperfections than others. 
The Bakeneko65 is also fairly customizable. The user can opt to experiment with different Gummy O-Rings to see how it affects the feel and sound of the keyboard. You can also choose between Zinc and Silicone weight. Both of these materials affect the sound and heft of the keyboard. 
Overall, the Bakeneko65 accomplishes what it has set to do. It provides a premium feeling keyboard with an aluminum case as well as good acoustics and a satisfying typing experience with its well-implemented Gummy O-Ring mount. 
Bakeneko65 Specifications
Case Material: Aluminum
Plate Material: FR4 Plate
Available in Five (5) Colors: Whitish, Black, Dark Gray, Lavender, and Navy
Gummy O-ring Mount
Hotswap PCB
Includes Cherry Clip-in Stabilizers
Zoom65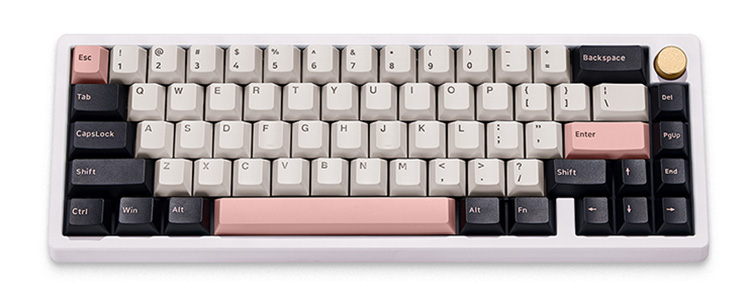 | | |
| --- | --- |
| Similarities to the KBD67 Lite | Differences From the KBD67 Lite |
| 65% Form Factor | Aluminum Case |
| Budget Price | Comes with Keycaps and Switches |
| Gasket Mount Design | Rotary Encoder/Knob |
On the outside, the Zoom65 looks fairly similar to most of the keyboards on this list. It comes with an aluminum case, gasket mounted design, and a rotary encoder/knob. However, it has a lot of tricks up its sleeve. This keyboard is manufactured by Meletrix, the sister company of Wuque studios. While the brand only has one product, they are entering the custom keyboard market with a bang. 
The Zoom65 has tons of foam included, which assures that the keyboard will not sound hollow or pingy. In addition, unlike most options in this list, the Zoom65 has PCB flex cuts to add more flex to the keyboard. The Zoom65 also features an aluminum weight to further add to the premium look and feel of the keyboard. 
However, the real selling point of the Zoom65 is the fact that it already comes with pre-lubed JWK switches and officially licensed PBT Olivia keycaps. What this means is that for under $200, you are getting a complete keyboard kit. 
This kind of deal is practically unheard of in the custom keyboard world. The choice of the officially licensed Olivia Dark and Light with a matching keyboard case further sweetens the deal. For those who are not familiar with the design of these keycaps, the GMK Olivia was one of the most popular keycap sets that GMK produced. Having an officially licensed version color-matched and approved by Olivia herself makes the Olivia keycap set accessible for everyone. 
The only catch with the Zoom65 is that Meletrix is currently selling it in small batches. The brand promises to increase production and periodically keep the Zoom65 in stock. Meletrix also has local dealers (Cannonkeys in the USA and Zion Studios in SEA/Philippines), meaning getting this keyboard kit will potentially be a lot easier in the future. 
Overall, while not a perfect keyboard, the Zoom65 shows that there is still innovation in the budget custom keyboard market. If you can get your hands on this kit, the Zoom65 is a perfect and more premium alternative to the KBD67 Lite. 
Zoom65 Specifications
Case Material: Aluminum Case
Plate Material: Polycarbonate
Gasket Mount
Available in Two (2) Colors: Light and Dark Version
Support QMK and VIA
WS Stabilizer Series

The KBE team is dedicated to sharing our knowledge and creating useful resources about computer keyboards. This article was written as a team collaboration, combining our knowledge and years of experience using, building and modding keyboards. Meet the team here.