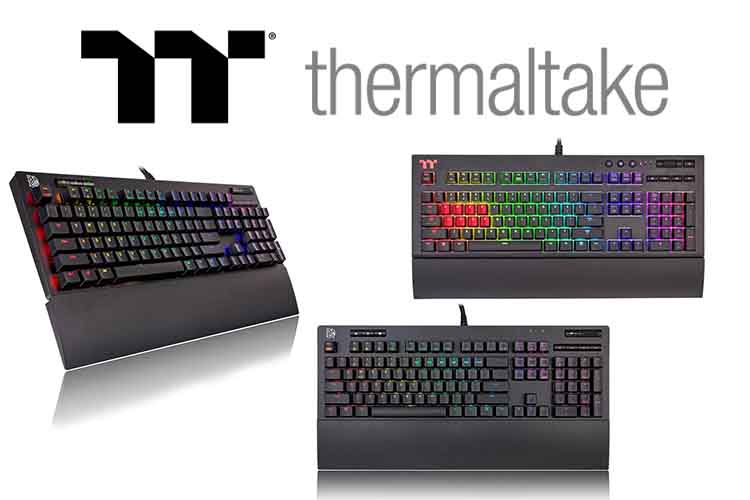 The eastern side of the globe has several brands that have successfully established their position on solid grounds. There's Ducky from Taiwan, KPrepublic, and KBDFans, and a lot more from China, to name a few. Objectively speaking, the competition in the East compared to how things in the west are, for lack of a better word, livelier and more "extreme." 
Coming from the East, Thermaltake has set forth to prove its expertise not only in manufacturing computer parts but also in creating our beloved mechanical keyboards. All things considered, their present product line can captivate the market's heart more so if the end-user is immersed with their ecosystem.
Thermaltake designed their mechanical keyboards in a way that they are fully integrated into their ecosystem. Unbeknownst to no one, Thermaltake is a big name in today's age due to its wide array of high-quality computer parts. To further solidify their success, they created a system that allows you to synchronize each of their products one way or another. 
Thermaltake: The Brand

The brand is subdivided further into three powerhouses – Thermaltake, TT Esports, and Luxa2. These three divisions cater to different specializations. Still, for purposes of the brevity of this article, we are going to focus on Thermaltake and TT Esports as these two are responsible for two different product lines for their mechanical keyboards. 
Objectively speaking, the brand's keyboards do not have the same popularity as their competitors like Republic of Gamers (ROG), Razer, Logitech G, even though they operate on the same design philosophies. Make no mistake. Thermaltake's position in the market rests on solid ground due to its constant offering of high-quality products to the market.
The same also applies to TT Esports, the brand dedicated to producing gaming peripherals. In fine, the brand's venture on mechanical keyboards cannot be discounted even if it is not one of the areas where they chose to specialize at initially. 
Thermaltake in E-sports
View this post on Instagram
As previously mentioned, the brand has its division dedicated to catering to those in need of gaming peripherals. Additionally, the brand also offers sponsorship to Esports teams and streamers alike. If you are a streamer or a member of an up-and-coming esports team, you might want to visit TT Esports' website to learn more. 
Thermaltake Keyboard Lineup
Both Thermaltake and TT Esports have two separate product lines. This might be confusing as those belonging to the former have "gaming" on their respective names. As to why the brand did that is a mystery. Let us settle on what is presently served to the market: their two separate product lines to make things easier.
What distinguishes Thermaltake's keyboards from TT Esports, among others, is what mechanical switches are equipped to each of them. Thermaltake's keyboards get Cherry MX Blues, Speed Silvers, and Razer Green Switches, whereas TT Esports' keyboards benefit from being equipped with either the brand's proprietary TTC switches or Cherry MX ones, depending on the keyboard you will choose.
Other than that, mechanical keyboards from both brands feature the same gimmicks, construction, and quality. Here are some models that you may consider:
TT Level 20 GT RGB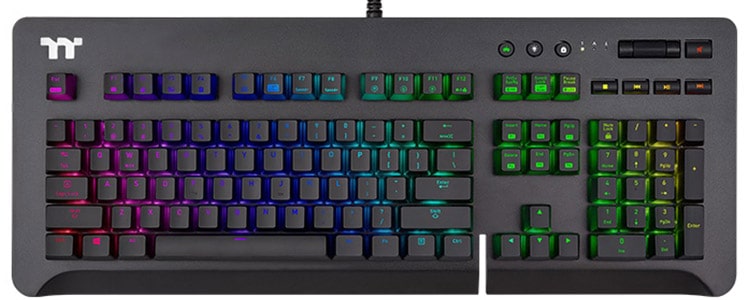 Level 20 GT RGB Highlights
Full Layout Non-Hot-Swappable Keyboard

Per-Key RGB Backlighting and a Wrap-Around LED Strip on the Body

Top Aluminum Case

Dedicated Media Controls

Choice of Razer Greens / Cherry Blues or Speed Silvers

AI Voice Control, Alexa Support, Virtual Game Controller, Virtual Keyboard

Dedicated Media Controls

TT RGB Plus Compatible and iTake Engine Software Support

And Many More
Yes, the Level 20 GT sports several features that are clearly dedicated for the convenience of its end-users. Not only that. It is enclosed with a top aluminum case to add further durability to the keyboard. 
One thing to also highlight in this keyboard is how you can endlessly customize the RGB backlighting effects on it. You can tinker with it through the iTake Engine and have it synchronized with other Thermaltake products equipped to your computer or use the Razer Chroma Software to showcase extraordinary lighting effects. Perhaps, this will help those who need RGB Backlighting to accent their personal setups. 
As to its heart and soul, the keyboard can be equipped with the market-approved Cherry MX blue or speed silver switches or Razer's Green switches. Unfortunately, the brand is yet to venture on hot-swappable keyboards. Level 20 GT is a pre-built keyboard in which you can choose to have it equipped with the aforementioned switches. 
TT Premium X1 RGB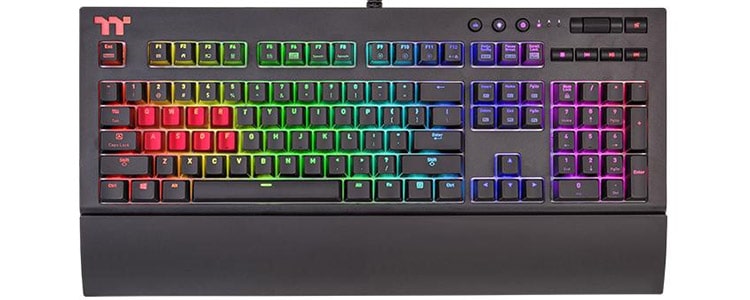 Premium X1 RGB Highlights
Basically has the Same Features as the Level 20 GT RGB Except for the RGB Wrap Around and RGB Strip on the Body

Plastic Construction

Dedicated Media Controls

Choice of Cherry MX Blue or MX Speed Silver Switches

Six Profiles that can be Customized and Switched On The Fly

It Comes with Eight (8) Additional Red Keycaps (Q, W, E, R, A, S, D, F)
What makes the Premium X1, premium is a mystery on its own. Be that as it may, the keyboard significantly costs cheaper than the Level 20 GT even if you get the same features that the latter has. If you are not concerned with the Aluminum construction of the Level 20 GT, then this keyboard is a logical choice. 
TT Esports Neptune Series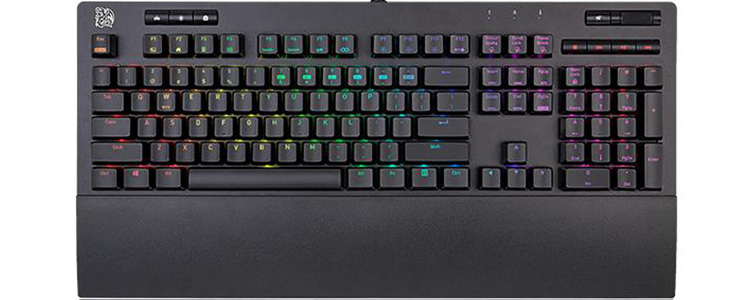 Neptune Series Highlights
Top Frame Aluminum Construction

Per-Key RGB Backlighting 

TTC RGB Dust Proof Mechanical Switches

Dedicated Media Controls

Eight (8) Additional Red Keycaps Similar to the Premium X1

Wrist Rest Included

TT Gaming Software Support
There are four (4) keyboards that belong to this series – two of which are equipped with TTK's proprietary switches. These two must be put into the spotlight, given that they feature what the brand is presently capable of offering to the market. 
TT Esports claims that their TTC switches are designed for gaming as they deliver superior speed and accuracy for maximum responsiveness. These switches can easily be attributed to other box switches currently out in the market. There is nothing special to it except for the claim that it is dust-proof, and it can last up to 50-million ticks.
Objectively speaking, the Level 20 GT seems a more logical purchase than their Neptune Keyboards because the former is more equipped with features that will cover the needs of its end-users on the keyboard. 
While the Neptune Keyboards is basically an outdated Level 20 GT, both of them are a delight to play with. Features such as the virtual controller, which allows you to use the keyboard through a phone which emulates a console controller, are seldom used anyway. 
Why Buy Thermaltake Keyboards?
View this post on Instagram
In general, Thermaltake keyboards or their peripherals are like keys that further maximize the brand's ecosystem to greater heights. While its peripherals' participation may be limited to synchronizing RGB effects with other PC components, this is a delight for PC builders who, at the same time, are mechanical keyboard enthusiasts as it accents their setup through the extravagance brought by RGB. 
Other than that, the keyboards themselves, especially the Level 20 GT, are a solid kit to play with. It's a full layout keyboard that has everything the end-user may need except for wireless connectivity.
Why Look for Alternatives?
View this post on Instagram
Perhaps, the only reasons why you should veer away from Thermaltake's keyboards are either its price or how space-consuming they are. Full-layout keyboards take a lot of space on your desk's real estate – more so if it does not have wireless connectivity. Should you have limited desk space, it is recommended that you be wise and consider looking for keyboards that have smaller form factors. 
Additionally, the brand's keyboards have hefty price tags compared to others in their competition. Them also being pre-built and, therefore, not hot-swappable is a concern that further supports why you should look for alternatives. Consider these factors as you decide whether you will opt for a keyboard from Thermaltake or not. 
Which Thermaltake Keyboard To Buy?
Should you consider buying from the brand, go with the Level 20 GT. No questions asked. The keyboard has everything you need in a full-layout keyboard with additional features to enhance its overall user experience.
Where to Buy Thermaltake Keyboards?
Thermaltake keyboards can be bought directly from Thermaltake's website. It will direct you to authorized dealers that you will choose from. Their products are also available in most mainstream online stores such as Amazon. You can also find them in most physical retail stores.
Thermaltake Keyboard Warranty
Thermaltake offers a 2-year limited warranty for their gaming keyboards. Check out Thermaltake's Official Website to learn more.