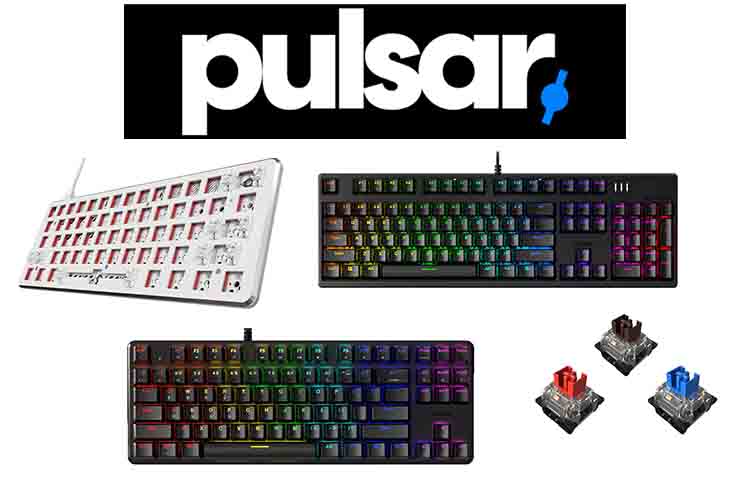 If you have been reading our articles, there is a high probability that you have already encountered several references to how the mechanical keyboard market behaves and how tough the competition is. There is an emphasis to this discussion to show how greatly beneficial this is for the end-users especially, us, consumers, and mechanical keyboard enthusiasts alike. 
Today's spotlight is shed upon Pulsar Gaming, a neophyte South-Korean brand that has the potential to make it to the top of the competition. Their current product lineup is relatively small in terms of quantity but edges other keyboards in the competition in terms of quality. 
Pulsar Gaming's debut can be attributed to the behavior of today's competition through relating the discussion as to how it affects the market's expectation of future mechanical keyboards to be offered by manufacturers. In this regard, Pulsar Gaming's understanding of today's competition is manifested on their keyboards that will undoubtedly captivate any gamer for its price and quality. 
Pulsar Gaming, The Brand

The brand is relatively young to the scene. It was founded in 2020 by veterans who have been in the gaming gears industry for over ten (10) years in South Korea – the land where many people are tagged as excellent in gaming. 
"Affordable innovation," they say, and indeed they have. This statement is Pulsar Gaming's philosophy as they move forward and bring keyboards to make gamers' lives better. Additionally, the brand is also a manufacturer of gaming mice and mousepads likewise engineered for the benefit of gamers. 
Pulsar Gaming in E-sports
View this post on Instagram
Pulsar Gaming is yet to involve itself in the esports side of things. While that may be the case, the brand offers an affiliate and streaming partnership program for those who wish to be part of their growing community. Check out Pulsar Gaming's website to learn more. 
Pulsar Gaming Keyboard Lineup
At present, Pulsar Gaming offers three mechanical (3) keyboards in their product lineup available in different layouts. The brand also has its proprietary mechanical switches available on the PMCK and the Lunar Alloy. Here are some notes that you may want to consider:
PCMK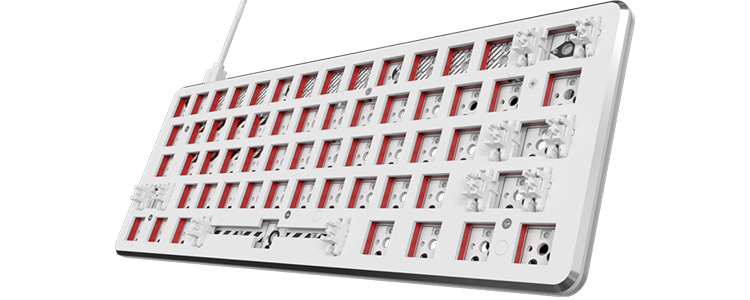 PCMK Highlights 
60% / TKL Form Factor Hot-Swappable Keyboard

Aluminum Top Plate

Dampeners Included

Clear Back Design

Per-Key RGB Backlighting with Software Support

Available with a Variety of Switches to Choose From, Including Pulsar Gaming's Lunar Switches
The keyboard that is indeed carrying Pulsar Gaming's product lineup is the PCMK. The PCMK's TKL and 60% form factor versions are available in ISO, ANSI, or JIS layout. It can also be fully customized on their website, which lets you have the freedom to choose what available switches and keycaps the keyboard will come with and an option to engrave your name on the keyboard itself — all of these for only a starting price of $69. 
The PCMK does not lag on the quality of construction either. Its exterior comprises an ABS clear back cover and an aluminum top plate topped with high-quality double-shot ABS keycaps. Taken altogether, the keyboard is clearly a bang-for-the-buck. 
Lunar Alloy / Lunar Alloy RGB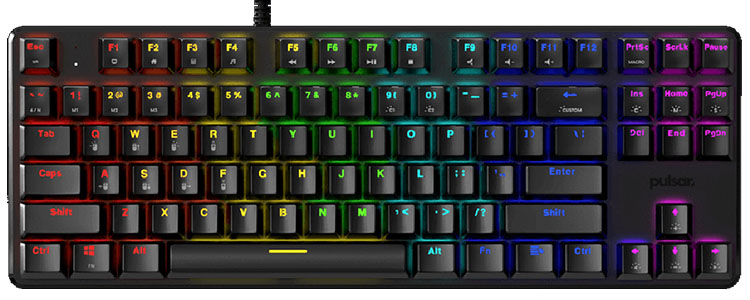 Lunar Alloy / Lunar Alloy RGB Highlights
TKL / Full Layout

Not Hot-Swappable (Lunar Alloy) / Hot-Swappable (Lunar Alloy RGB)

Pre-Lubed Cherry Stabilizers

Transparent Back Cover (Lunar Alloy RGB) / Black Back Opaque Cover (Lunar Alloy)

Per-Key RGB Backlighting with Software Support (Lunar Alloy RGB)
Confusing naming aside, both the Lunar Keyboards are a delight to play with. Note that the Lunar Alloy RGB is the hot-swappable one. It is also available either in a TKL or a Full-layout form factor.
Both keyboards retain the Aluminum top plate and ABS back cover construction of the PCMK. Unfortunately, the Lunar Alloy does not retain the per-key RGB backlighting and software support that the Lunar Alloy RGB has. 
Nova Optical Pro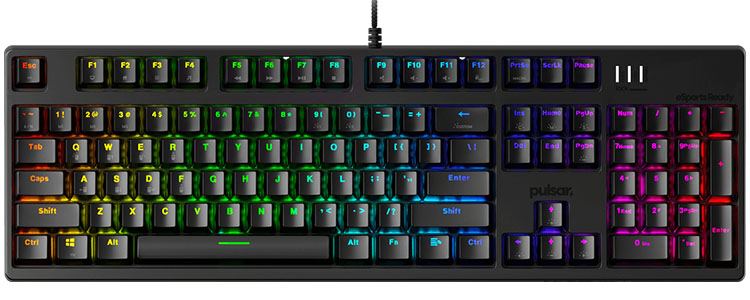 Nova Optical Pro Highlights
Full Layout

IP68 Water & Dust Proof

Hot-Swappable with Gateron / Kaihl Optical Mechanical Switches

Top Aluminum Plate

Per-Key RGB Backlighting with Software Support
This keyboard is the brand's iteration of an optical-mechanical keyboard. The venture must be given credit especially considering that Pulsar Gaming is still relatively young to the competition. 
The Nova Optical Pro is a full layout optical-mechanical keyboard that is hot-swappable with either Gateron or Kaihl Optical mechanical switches. It also sports the same features that its brother has, such as Per-key RGB Backlighting and a Top-aluminum plate design. The brand also markets the keyboard as certified IP68 Water & Dust Proof. It will undoubtedly contribute to the durability and longevity of the keyboard for a long time. 
Lunar Switches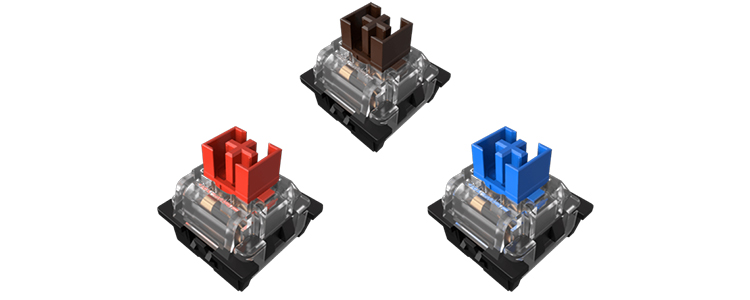 Pulsar Gaming's Lunar switches are architectured based on the budget Outemu switches. It is a box-type switch currently available in three (3) versions, namely the Red Linear, Blue Clicky, and Brown Tactile. 
Basically, the brand market's them similar to what a linear, clicky, or tactile switch ideally does and performs. 
Why Buy Pulsar Gaming Keyboards?
View this post on Instagram
What is impressive in the brand's initial product lineup is how they are closely priced. The PMCK is obviously their flagship. Be that as it may, the Lunar Alloy is also worth considering if you are not so particular about dampening the sound of your keyboard. 
Consider also that their keyboards (except for the Lunar Alloy) are hot-swappable with per-key RGB backlighting support in an aluminum-plastic body. For the price you are paying, this is one of the best that you can get. 
Why Look for Alternatives?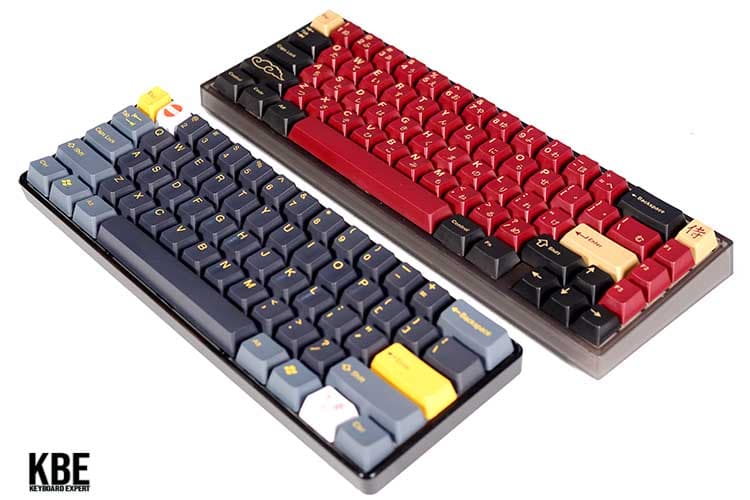 The only reason why you should look for alternatives is if you need wireless connectivity in your keyboard or if you are so constricted with your budget that you cannot find any keyboard on their current product lineup. 
There are still several decent keyboards out there that are cheaper than what Pulsar Gaming has. Even then, their keyboards' excellent price-to-performance ratio at a price of less than $100 is hard to pass upon.  
Which Pulsar Gaming Keyboard To Buy?
View this post on Instagram
Pitting the brand's keyboards with each other, the PCMK will quickly come out on top as the most logical purchase. You can have it either in a TKL or a 60% form factor with different layouts to choose from. Consider also that you can have your keyboard personalized with your name engraved on the top plate of the keyboard. 
If the price is not within your budget, you can still opt for the Lunar Alloy RGB. It significantly costs less, but you lose the benefit of having acoustic dampeners that the PCMK has. Either way, this acoustic solution can be remedied through alternative modifications that you can make with the keyboard. Careful though. 
Where To Buy Pulsar Gaming Keyboards?
Pulsar Gaming's keyboards can be bought directly from Pulsar Gaming's website. Their products are also available in most mainstream online stores such as Amazon. 
Pulsar Gaming Keyboard Warranty
Pulsar Gaming offers a 2-year limited warranty for their gaming keyboards and a 30-day return for factory defects. Check out Pulsar Gaming's Official Website to learn more.
Stephen is the head content creator of Keyboardsexpert. His mechanical keyboard journey began in 2014 when he got his Razer Blackwidow. Since then, he has been fascinated with all things mechanical keyboard-related. He later discovered the custom keyboard hobby and fell in love with the vast customization options. He is currently searching for his endgame and is very excited to share his journey and educate other keyboard enthusiasts.