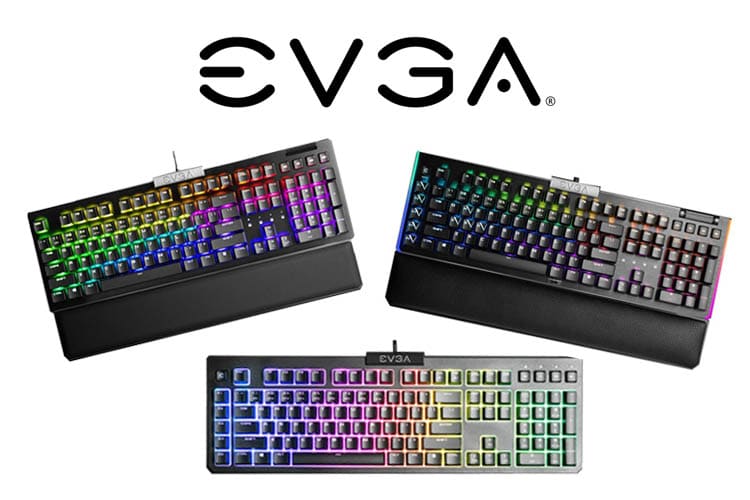 EVGA is easily one of the most recognizable brands in the PC parts industry. They are well-known for producing high-quality graphics cards in partnership with NVIDIA, motherboards, power supplies, CPU coolers, etc. Given their massive success, it only makes sense for the brand to further expand their offerings with gaming mice and keyboards.
In terms of mechanical gaming keyboards, EVGA's current product lineup is not as extensive as their competitors. However, even with just three keyboards, EVGA is already challenging more established brands such as Razer and Corsair. Their gaming keyboards show that they know what gamers and keyboard enthusiasts want and are willing to adjust their designs accordingly.
In addition, EVGA is showing that they are truly a veteran player in the PC parts industry. Their keyboards have many appealing design elements. And most importantly, the warranty of their keyboards shows just how confident they are with their products.
In today's brand review, we will be taking a deep dive into EVGA's gaming mechanical keyboard product lineup. And ultimately, we will help gamers decide if EVGA is a brand they should go with for their mechanical keyboard needs.
More About the Brand

In essence, EVGA is one of those top leading tech brands that decided to invest in keyboard-making. The brand originates from North America and is partnered with NVIDIA for its graphics cards. It has existed since the early 2000s but has only decided to create its keyboard division.
EVGA is a famous brand in its forte because of its unique approach to its target market. The brand has created a community for their patrons to showcase their respective PC builds, associates programs, and membership opportunities which entitle you to several discounts and first releases, effectively going away with the burden of falling in line to buy their products.
EVGA Keyboard Line Up
At present, EVGA only offers three (3) full-size mechanical keyboards with all the basic features you need in a regular mechanical keyboard, such as RGB, dedicated media keys, and more. For their hot-swappable keyboard, the Z15, EVGA also allows you to make a separate purchase of Kailh mechanical switches. Without further ado, here is EVGA's mechanical gaming keyboard lineup.
EVGA Z15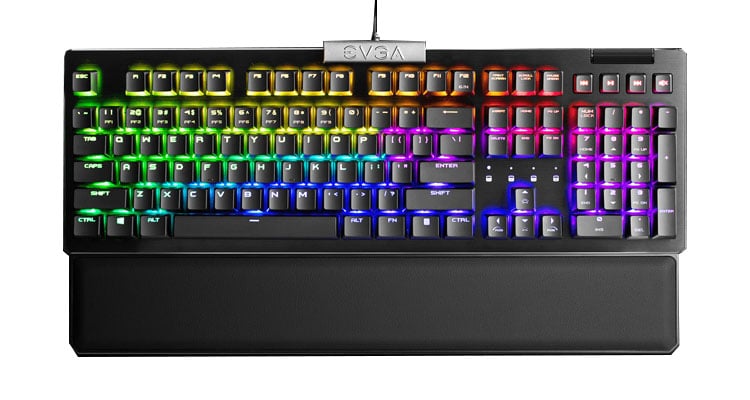 Z15 Highlights
Full-sized Hot-swappable mechanical keyboard

Kailh Mechanical Switches of your choice

Dedicated Media Controls

Per-Key RGB backlighting
The EVGA Z15 is currently the brand's most compelling offering. It features a full-sized layout making it perfect for both gaming and work-related tasks, dedicated media keys, per-key RGB backlighting, and most importantly, 3-pin hot-swappable switches. Of course, the standout feature here is its hot-swappable Kailh switches.
By default, the Z15 comes with either clicky Kailh Bronze switches or Linear Kailh Speed Silver switches. Right out of the box, both options are already high-quality switches. However, users can further customize their keyboards by replacing the stock Kailh switches with the upgrade kits sold by EVGA or by purchasing switches from third-party manufacturers.
The only downside here is the Z15's 3-pin switch design. By default, this keyboard will not be compatible with many of the premium 5-pin switches offered by brands such as Gateron and Novelkeys. Users can snip the two extra feet, but that is not recommended since it is an irreversible mod.
Outside of its customizable switches, the other features of the EVGA Z15 feel standard. Gamers coming from other gaming keyboard brands will still feel right at home with the Z15 with its standard layout, configurable macros, and dedicated media keys/shortcuts.
In addition, the Z15 is no slouch when it comes to performance, as EVGA is very proud of the low latency performance of the Z15. Lastly, the EVGA Z15's design language is very similar to the brand's other offerings. There is a pronounced logo on top, and the keyboard is overall a bit on the bulkier side. Overall, the Z15 is great for those looking for a feature-packed gaming keyboard with customizable mechanical switches.
EVGA Z20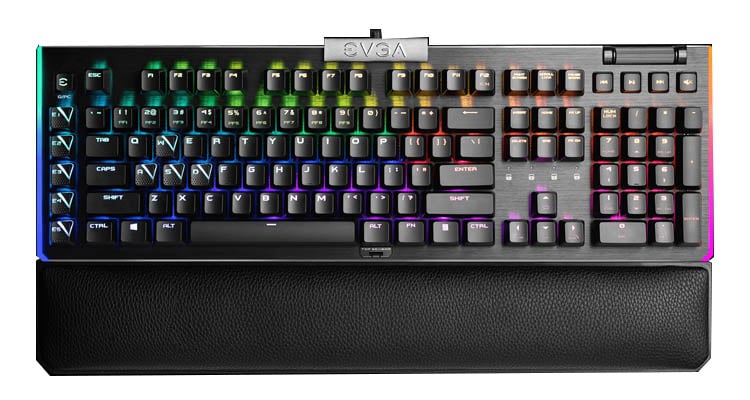 Z20 Highlights
Full-sized Pre-Built Optical-Mechanical Keyboard

Optical Clicky Mechanical Switches with low travel distance

Dedicated Media Controls

"Time of Flight" Sensor

Per-Key RGB Backlighting and RGB Light Bar on the sides

4000 Hz Polling Rate
The EVGA Z20 is considered to be an upgrade to the Z15. Most features and design elements are very similar to the Z15. The main difference is that the Z20 features optical-mechanical switches instead of the traditional 3-pin mechanical switches found on the Z15.
Optical keyboard switches have many perks over their standard mechanical counterparts. They are considerably faster and are not prone to wear and tear due to the absence of metal-to-metal contact. The main downside that they have is the lack of variety.
Unlike standard mechanical keyboard switches, there are only a few brands that produce optical keyboard switches. Some notable brands, such as Razer, have adopted this technology. But aside from these brands, optical keyboards haven't truly taken off.
The lack of variety is perfectly displayed in the Z20. Users will only have access to clicky and linear optical switches out of the box. And since this keyboard is not hot-swappable, there are no other options available.
Aside from its switches, some other notable features of the EVGA Z20 include the addition of a dedicated macropad, 4000 Hz polling rate, and a time of flight sensor. The time of flight sensor detects key movement, and it can trigger your PC to wake up or sleep depending on your activity.
Overall, the EVGA Z20 offers some unique features not found in competing gaming keyboards but also loses the customizability that the Z15 has. It is recommended for those who prioritize performance and features over keyboard switch variety and customizability.
EVGA Z12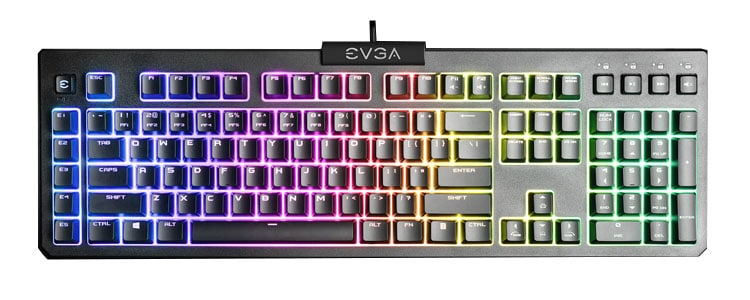 Z12 Highlights
Full-sized Mechanical Keyboard

Detachable Magnetic Palm Rest

Membrane Key switches but compatible with Cherry MX Style Keycaps

Added Macro Keys and Dedicated Media Controls

Per-key RGB Backlighting  
The EVGA Z12 is the little brother of the Z15. It aims to offer features found on the more premium Z15 at a much lower asking price. Of course, its budget price point means that it has to cut some corners.
In terms of design, the Z12 pretty much shares the same design elements, such as the RGB backlit keys, dedicated macropad, magnetic wrist rest, and the large EVGA branding found on top of the keyboard. What's different here is that the Z12 features membrane keys instead of the higher-quality mechanical keyboard keys found on the Z15. Essentially, what this entails is that the Z12 will have a mushier feel and an overall shorter lifespan compared to its more expensive counterparts.
In addition, the Z12 only features zone RGB backlighting instead of per-key RGB backlighting. The Z12 clearly has many limitations in terms of customizability. However, it still has some saving graces.
The Z12 still features MX-style switches, meaning it is compatible with third-party keycaps. In addition, it has dedicated macro keys which can be used for both work applications and games. Lastly, the Z12 is IP32 Certified Spill-Resistant, meaning it may be able to withstand some accidental spills that you may encounter upon usage. Overall, while not the most premium or feature-packed keyboard, the EVGA Z12 is still a very good option for gamers on a tight budget. 
What Makes EVGA a Good Brand?
While gaming keyboards are certainly not EVGA's field of expertise, their gaming keyboard offering is still very solid. It has all the right features that gamers are looking for. Plus, their keyboards are reliable and are not known to fall during regular use. And to further sweeten the deal, EVGA offers a three-year warranty giving their buyers confidence in their products.
Also, despite currently having a limited number of keyboard-related products, there is something for everyone here. The EVGA Z15 is perfect for those who want to tinker with their keyboards but do not want to fully commit to a custom keyboard. The Z20, on the other hand, is perfect for those who simply want raw performance and features. And lastly, the Z12 appeals to those looking for a budget-priced keyboard.
Overall, EVGA shows that they are an experienced manufacturer that knows how to do business in the computer parts industry. While there are many other manufacturers in the market, users can feel more confident by buying a product from an established brand.
Why Look for Alternatives?
Unfortunately, EVGA still has a lot of catching up to do in the mechanical keyboard market. These days, mechanical keyboards are moving away from the design trends and elements found on EVGA gaming keyboards. Most gamers and keyboard enthusiasts these days want custom keyboard like features such as a small form factor, rotary encoders/knobs, 5-pin hot-swappable switches, aluminum/high-quality keyboard cases, gasket mount design/bouncy typing experience, and many more.
Of course, EVGA is not the only one falling behind these keyboard trends. However, if EVGA wants to improve their standing in the market, they can certainly learn from brands that are accepting these changes, such as Glorious and Keychron. EVGA is so close with their hot-swappable Z15. So as long as EVGA keeps on innovating, they will certainly be a big name brand in the mechanical keyboard market.
Alternatively, if you are in the market for custom keyboards, we recommend checking out our brand reviews on KBDFans, Cannonkeys, and Novelkeys.
Which EVGA Keyboard To Buy?
For those interested in EVGA's gaming keyboards, we highly recommend the EVGA Z15. This keyboard is the most customizable out of EVGA's two mechanical keyboards, given that it has hot-swappable switches. And apart from the dedicated macro keys found on the Z20, the two keyboards are pretty much identical, meaning you are not losing any meaningful functionality with the Z15.
Where to Buy EVGA Keyboards?
EVGA gaming keyboards can be directly purchased from the EVGA's official website. Alternatively, their keyboards can also be purchased from various retailers and online stores such as Amazon.
EVGA Keyboard Warranty
EVGA offers a 3-year limited warranty for their gaming keyboards. Check out EVGA's official website to learn more.