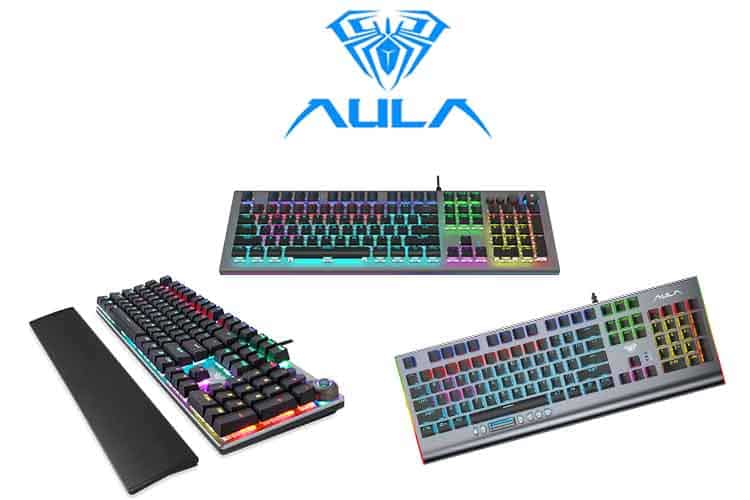 The budget mechanical keyboard market has become extremely competitive thanks to brands such as Royal Kludge, Ajazz, and Epomaker. These brands have helped redefine how much value buyers can get with entry-level keyboards. Newer brands, such as Aula, keep on emerging in this market and are trying to follow in the footsteps of these successful brands.
Aula is a Chinese manufacturer of gaming peripherals. They are best known for producing affordable gaming mice and mechanical gaming keyboards. While they aren't as innovative as their competitors, their products still present a lot of value for consumers. And for their price, their products are hard to beat. 
Of course, the concern of potential buyers is if these lesser-known budget mechanical gaming keyboards can deliver a performance that can satisfy competitive gamers. In this article, we will be aiming to answer that question. We will be going over Aula's history, reputation, and mechanical keyboard lineup. And ultimately, we will help buyers decide if Aula is a brand that they should use for their competitive ranked gaming sessions.
Brand History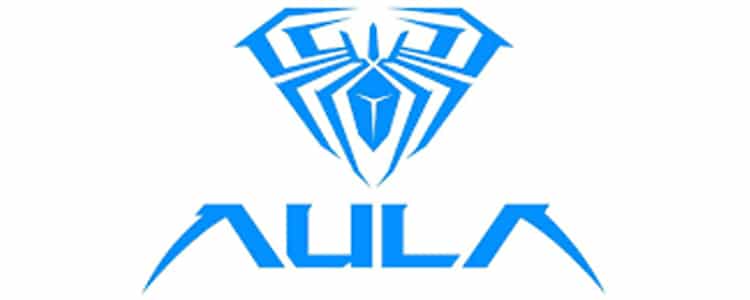 Aula was founded by Dongguan SOAI Electronics in 2013. The Dongguan SOAI Electronics is known for their leading research in computer peripherals and supplying these computer peripherals in the computer industry itself. 
Since then, the company has engaged itself in Esports gaming peripherals and was able to form different partnerships with some of the leading brands, which include HP, Philips, and AOC. This allowed them to expand the scope of AULA to major countries and regions in Asia, Europe, North America, South America, and Africa. 
The brand currently offers entry-level gaming peripherals such as gaming mice and mechanical gaming keyboards. The following section highlights some of their most well-known models.
Keyboard Brand Lineup
Aula currently produces many gaming mechanical keyboard models. The models listed here are currently their most popular offerings:
Aula F3068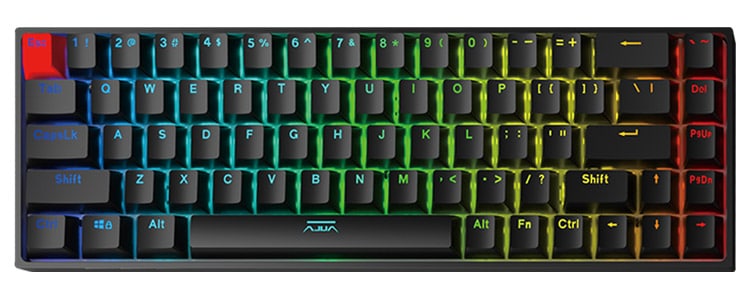 F3068 Highlights  
Compact 68-Key Layout

Full N-Key Rollover/Anti-Ghosting
Per-Key RGB
Hot-Swappable Switches
Bluetooth 5.0
USB Type-C Detachable Cable
PBT Keycaps
The Aula F3068 is arguably the brand's most modern offering. It features a 68-key form factor (65% layout), making it considerably more compact than the full-size and TKL keyboards that are normally seen in this price range. In addition, the F3068 features hot-swappable switches, which enables users to swap out the default switches with their preferred switches.
The F3068 also has other modern features, such as a detachable USB Type-C cable and Bluetooth 5.0. The rest of its feature set is pretty standard in more expensive gaming keyboards. These include per-key RGB backlighting and full NKRO.
Lastly, the F3068 has PBT keycaps, which are a step above the usual ABS keycaps found on entry-level mechanical keyboards. In many ways, the F3068 is similar to the GK61 in terms of features. And what this ultimately means is that the F3068 will provide plenty of value and customization to the end-user.
AULA F2088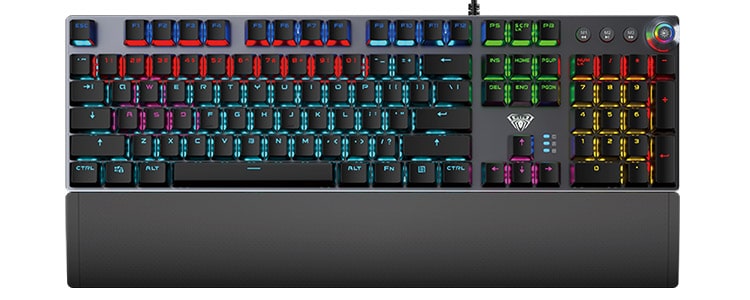 AULA F2088 Highlights  
Magnetic Detachable Wrist Rest

Full N-Key Rollover

Ergonomic Design

Wide Compatibility

Waterproof and Easy to Clean
The Aula F2088 is a gaming keyboard that takes inspiration from industry-standard gaming keyboards from brands such as Logitech G and Razer. The F2088 features a full-size layout, magnetic wrist rest, different mechanical switches, full NKRO, multimedia keys, and a knob that controls the lighting of the keyboard.
With the number of features that this keyboard has, it is aiming to provide all the key features of modern gaming keyboards at a fraction of their cost. Of course, this keyboard will be limitations. Its software will not be quite as polished as established brands, and its mechanical switches won't be as good as gaming switches or enthusiast-grade switches. But overall, the F2088 has everything that gamers will need in one affordable package.
AULA F2099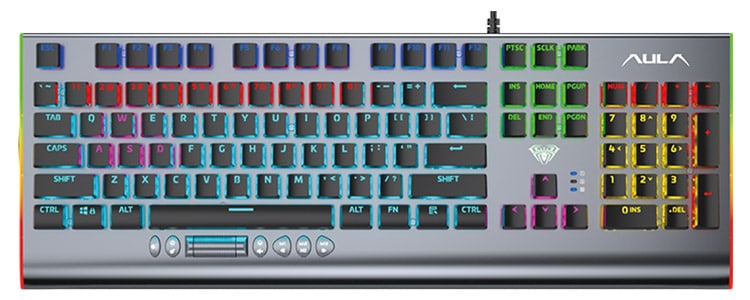 AULA F2099 Highlights
Multi-Function Rotary Button

One-Key Dual Mode

Luminous Symphony

21 Kinds of RGB Backlight Effects

104 Keys Anti-Ghosting

Widely Compatible

Ergonomic Design
The Aula F2099 is very similar to the F2088. The main difference is that the chassis of the F2099 is thinner, and the multimedia keys are located directly below the spacebar. The wrist pad is integrated into the unit since it houses the multimedia keys.
Aside from having different aesthetics, most of the features of the F2099 are very similar to the F2088. It has a full-size layout, per-key RGB, full NKRO, and full mechanical keyboard switches. This model is a perfect alternative for those looking for a gaming keyboard that can be easily transported or fitted into any gaming setup.
AULA S2096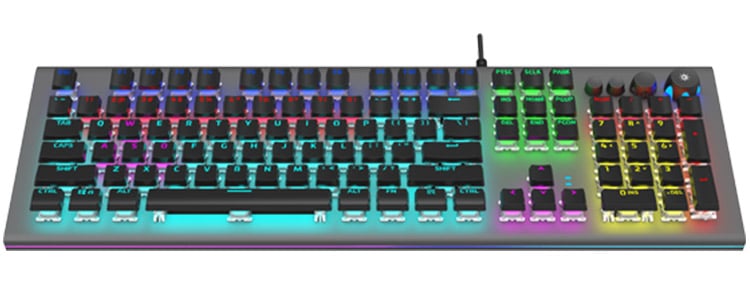 AULA S2096 Highlights
104 Keys Anti-Ghosting

Macro Programmable Keys

Multimedia Alloy Knob

21 Kinds of RGB Backlight Effects

Lightweight Keycaps
The Aula S2096 is a combination of the designs seen on the F2088 and F2099. It retains the slim form factor of the S2099 while retaining the placement of the multimedia keys on the upper right portion of the keyboard. The S2096 also now has a floating keys design that better showcases the mechanical switches and RGB backlighting of the keyboard.
AULA F3087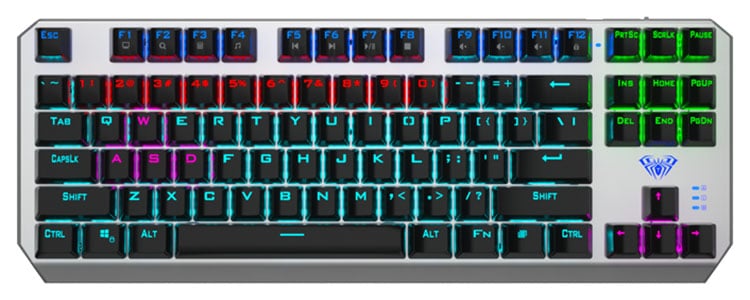 AULA F3087 Highlights
20 Kinds of RGB Backlight Effects

87 keys Anti-Ghosting

Ergonomic Design

Metal Panel

Wide Compatibility
The Aula F3087 is Aula's Tenkeyless (TKL) offering. It removes the Numpad seen on Aula's full-size keyboards in order to make more room for wider mouse movements. It is perfect for gamers who have a limited desk space or for gamers who will be taking their keyboards with them in different PC setups.
One thing to note is that the Aula F3087 does not have the extra media keys found on the other Aula models. However, multimedia functions can still be accessed via shortcuts. Overall, the F3087 is perfect for those who prefer a smaller form factor keyboard without sacrificing the home row, arrow keys, and the F-keys.
Why Buy AULA Keyboards?
View this post on Instagram
Aula keyboards are some of the most affordable mechanical keyboards that you can buy. They may be lacking in many enthusiast-specific features. However, one cannot argue with the value that they bring to the table.
All of their mechanical keyboards offer per-key RGB backlighting, N-key rollover, and mechanical switches. They are a perfect introduction to those who are curious to know how mechanical keyboards feel and how much they differ from standard membrane keyboards. They are also perfect for those who have a limited budget or for those who are trying to spend more on other gaming peripherals such as a gaming mouse or gaming headset.
In addition, Aula keyboards offer a diverse selection ranging from 60% keyboards to full-size keyboards. Some models even offer hot-swap switches, which can allow users to truly fine-tune their Aula gaming keyboards.
Why Should You Look for Alternatives?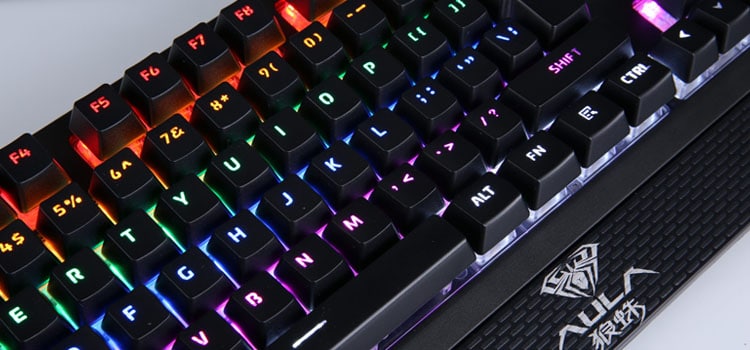 Aula keyboards are great options for beginners who are buying their first gaming mechanical keyboard. However, they are not the best for those looking for a suitable upgrade or for those looking for an endgame setup. Of course, this is to be expected given the entry-level price points of these products.
Some limitations that Aula keyboards have are their limited aesthetics and limited compatibility with mods. All Aula gaming keyboards feature a gamer-heavy look which may not sit well with some users or some professional work environments. Also, they are lacking some of the more recent popular keyboard sizes, such as 75% keyboards.
Also, Aula keyboards are not meant to be opened up and fine-tuned by the user. Aside from having hot-swappable switches on some models, the capability of these keyboards is quite limited. Users may not be able to fully customize the feel and sound of these keyboards.
And lastly, Aula keyboards are not known for featuring the best mechanical switches in the market. So unless you opt for the hot-swap model, you won't be getting switches as good as the industry-standard Cherry MX switches or enthusiast-level switches such as Gateron.
For brands roughly in the same price range, we highly recommend checking out our dedicated articles on Royal Kludge and Epomaker. And for those looking for a more high-end custom keyboard experience, we highly recommend checking out KBDFans.
Do Pros Use AULA Keyboards?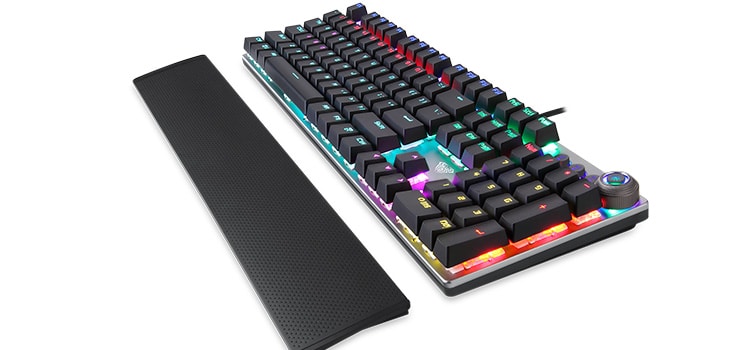 Aula keyboards are not as well known internationally as other mainstream gaming brands. However, they are used by professional teams in their domestic Chinese market. Only time will tell if Aula will be able to expand into the Esports scene of other regions.
Where To Buy AULA Keyboards?
Aula keyboards can be bought on most mainstream online platforms such as Amazon and Aliexpress.
AULA Keyboard Warranty
The warranty of Aula keyboards depends on the retailer carrying them. Refer to your local retailer to learn more.