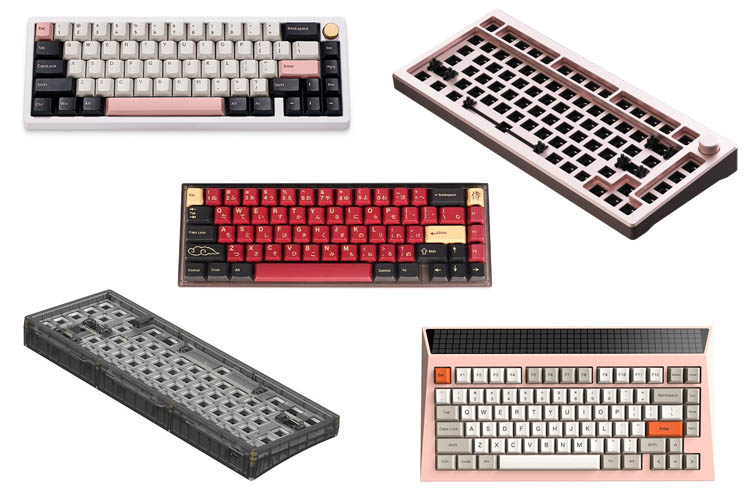 China has become an industry leader in the world of custom mechanical keyboards. They have produced some of the biggest and most recognizable names in the keyboard hobby. Chinese keyboard brands have also pioneered many innovative designs seen in today's custom keyboards. 
There are many well-known Chinese custom keyboard manufacturers. These include names such as KBDFans, Graystudio, and Percent Studio. There are also newcomers such as Owlab, Wuque Studio, and Angry Miao who have quickly made a name for themselves. Overall, there are no shortages of talented keyboard designers in the Chinese keyboard market.
In this article, we will be checking out some of the most recognizable Chinese custom keyboard manufacturers. This discussion will also focus on brands that primarily produce custom keyboard kits, and we will be learning the highlights and achievements of each brand and their most notable keyboards. So without further ado, here are some of the best Chinese custom keyboard brands.
Top Chinese Custom Keyboard Brands
KBDFans
Notable Keyboards: KBD67 Lite, Tofu Series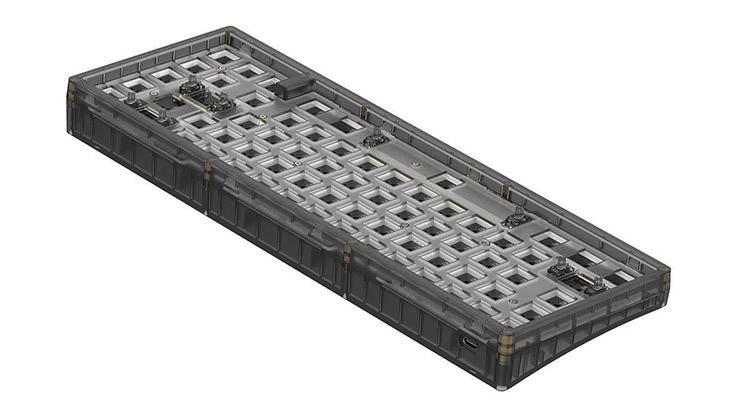 KBFfans is arguably the most recognizable name in the custom keyboard industry. They have singlehandedly helped develop the custom keyboard hobby by providing easily accessible custom keyboard kits and accessories at different price points. They were also one of the first international stores that exclusively sold custom keyboard related-items. 
Based on their social media accounts, KBDFans most likely began operating in 2017. At the time, KBDFans was selling both in-house produced keyboard kits and products from third-party brands. However, KBDFans truly blew up when they released their Tofu keyboards. 
The Tofu, specifically the Tofu60, was one of the first true enthusiast-grade keyboards. It was accessible, customizable, and came in different finishes. At the time of its release, many enthusiasts regarded it as the best entry-level option. 
Since then, KBDFans has expanded their lineup of keyboards. They have released more premium options, such as the KBD75. KBD8X and the D series use a gasket-mount structure. 
But despite their success in the high-end keyboard market, KBDFans did not stop their innovation in the budget price point. KBDFans released the KBD67 Lite 65% keyboard kit and D60 Lite 60% keyboard kit, which set another milestone for the brand. 
The KBD67 Lite, in particular, became the new standard for budget custom keyboards. It had the features that enthusiasts wanted and enough upgradeability to keep users happy for a long time. At its release, these kinds of features were only available for higher-end keyboards. 
The KBD67 Lite was so popular that it forced many keyboard manufacturers to start offering high-quality budget custom keyboard kits. Aside from manufacturing custom keyboards, KBDFans also carries other brands. 
They also host group buys for well-known products, such as GMK keycaps. With their portfolio of great keyboards and many patterns, KBDFans is easily the most known one-stop-shop for everything custom keyboard-related. 
Graystudio
Notable Keyboards: Space65, Think 6.5, Space80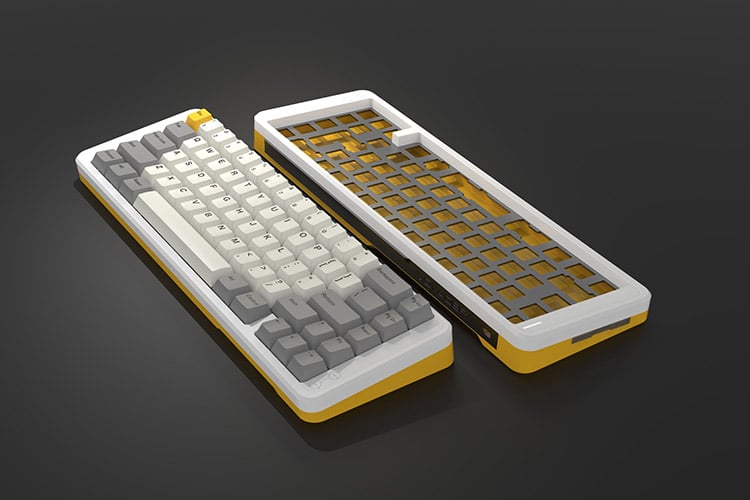 Graystudio is one of the most notable high-end keyboard manufacturers from China. The brand specializes in crafting futuristic-looking and space-inspired keyboards. Graystudio's keyboard designs have become iconic and are considered to be endgame-worthy keyboards in the keyboard community. 
Unlike other larger keyboard manufacturers, such as KBDFans, Graystudio has a smaller product catalog. The brand also seems to exclusively cater to the enthusiast-grade keyboard market, which is evident with their high pricing and limited availability. 
At the time of writing this article, Graystudio has three successful product lines: the Space65 Series, the Think 6.5 Series, and the Space 80 Apollo. The Space65 was Graystudio's first custom keyboard, a 65% keyboard based on the design of a spacecraft. 
The group buy for the Space65 launched in 2018. The Space65 immediately became a fan favorite since no other previous keyboard looked as striking and unique as the Space65. 
Graystudio later released a follow-up/improved version in 2020 dubbed the Space65 R2 Cybervoyager. With its pleasing aesthetics, variety in colors, and excellent build quality, the Space65 R2 became Graystudio's most notable product. 
After its group buy ended, the Space65 R2's price in the aftermarket skyrocketed due to its immense popularity. Graystudio later announced the Space 65 R3 to meet the demands of enthusiasts who wanted to have another shot at owning this highly sought out keyboard. The brand has stated that the gasket-mounted Space65 R3 would be the Space65's final iteration.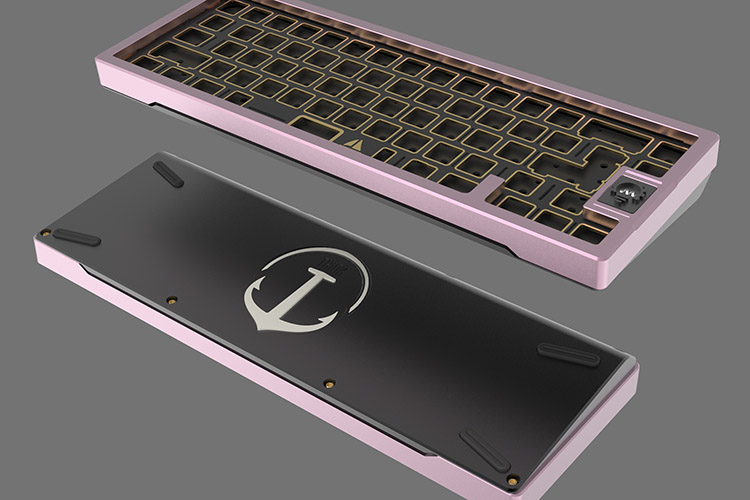 Graystudio's other products, the Think 6,5 V2 and the Space80 have also been massively successful. The Space80 shares many of the design elements and features found on the Space65, and the only difference is that the Space80 has a larger TKL form factor. 
Lastly, the Think 6.5 and Think 6.5V2 are Graystudio's premium 65% keyboards. These keyboards have a more traditional keyboard design. However, their gasket mount structure makes them special, which produces excellent typing feel and sound and the various customization options via badges and PC/aluminum case options. 
One thing to note is that Graystudio only offers its products through limited-time group buys and limited quantity drops. Buyers will also have to wait for several months for their orders to arrive. Thankfully, Graystudio regularly updates its customers through its official Discord server. 
Owlab
Notable Keyboards: Jelly Epoch, Mr. Suit
Owlab is one of the rising stars in the custom keyboard scene. The brand only started making keyboards in late 2020/early 2021. However, they have quickly amassed a huge following thanks to their well-crafted keyboards. 
The brand's first keyboard, the Voice65, was well received by the keyboard community. Many enthusiasts fell in love with its unique look, compact 65% form factor, complex structure, and good typing feel. The extra features, such as its rotary encoder knob, were also nice additions. In many ways, many enthusiasts saw the Voice65 as a good alternative to the Graystudio Space65. 
But despite how good the Voice65 was, it was only the beginning. Owlab would later release the Jelly Epoch 75% keyboard kit, which would forever change the custom keyboard scene. Upon its release, the Owlab Jelly Epoch had a unique sound signature that enthusiasts described as similar to the sound of marbles. 
The keyboard community then tried to replicate its sound, which led to the PE Foam Mod. The Jelly Epoch essentially helped give birth to the PE foam mod, which ushered in a new era for different keyboard typing sounds. 
Owlab later released the Mr. Suit TKL keyboard. The brand designed the Mr. Suit as a more premium and refined version of the Jelly Epoch. Both keyboards were instantly sold out during their limited group buy. 
With how successful Owlab is, the brand doesn't seem to be stopping anytime soon. The brand announced its next project, the Owlab Spring, which features an Arisu layout. With the success of their previous keyboards, Owlab's future releases look very bright. 
Wuque Studios
Notable Keyboards: Ikki68 Aurora, Mammoth75
Wuque Studios is another brand that is quickly gaining popularity in the custom keyboard scene. The brand entered the custom keyboard market in 2020 with the release of the Ikki68 Aurora. But since then, Wuque studios has released a number of different higher-end keyboards that show how good they are at designing keyboards.
Their first keyboard, the Ikki68 Aurora, was the brand's take on a budget 65% keyboard. Of course, the trend of creating high-quality budget keyboards was popularized by KBDFans with their KBD67 Lite. 
The Ikki68 Aurora became a smash hit thanks to its high-end features. These included the option to use multiple layouts, complex gasket mount design, the use of a polycarbonate (PC) case, different extras, and many more. Many notable content creators, such as Alexotos and Badseedtech, highly praised the Ikki68 Aurora. 
Since then, the brand hasn't slowed down. Wuque Studios has released multiple keyboards with a higher-end spec sheet. Their next major release was the Mammoth75 and the Mammoth20, these were significantly larger and more expensive keyboards than the company's past offerings. 
In addition, the highest-end option of the Mammoth75 features a full mirror bottom case which shows how expensive it is. With how innovative Wuque Studios' designs are, they are without a doubt a brand to watch out for in the custom keyboard scene. 
Meletrix
Notable Keyboard: Zoom65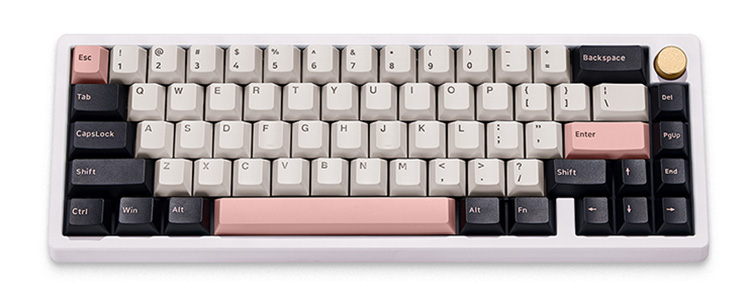 Meletrix is a sub-brand of Wuque Studios, established in late 2021 and produces budget-priced custom keyboards. Wuque Studios clearly stated that Meletrix would be a separate entity and would offer unique products. 
At the time of writing this article, the Zoom65 is the only keyboard that Meletrix produces. However, its impressive spec sheet has captured the interestest of many keyboard enthusiasts. 
The Zoom65 is a keyboard with higher-end features at an incredibly low price point. It has many standard custom keyboard features, such as an aluminum case and a gasket mount structure. However, the Zoom65 kit also includes keycaps and JWK switches. 
The stock keycaps aren't just regular keycaps, these are PBT keycaps with an officially licensed Olivia colorway. These licensed keycaps should ultimately look exactly like the original GMK Olivia keycaps since they have the original creator's blessing. 
What's crazy about the Zoom65 is that Meletrix aims to sell it for under $200. That price is out of this world, considering users get everything out of the box. 
The only catch is that Meletrix only sells the Zoom65 in small quantities, and the brand promises to ramp up gradually and increase production. But despite the challenges in getting these keyboards to consumers' hands, Meletrix's efforts easily make them a keyboard brand to pay attention to. 
Angry Miao
Notable Keyboard: Cyberboard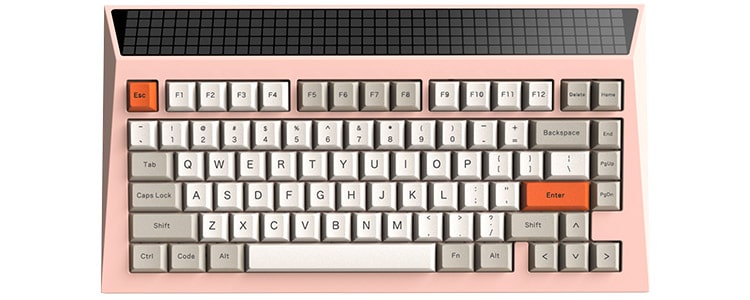 Angry Miao is one of the most talked-about brands in the keyboard community. The brand was founded by Li Nan, a former high-ranking member of Meizu. Angry Miao set to revolutionize the mechanical keyboard market by offering a product that has not yet been done before. 
The Cyberboard is the result of the brand's efforts. What made this keyboard so popular was the LED matrix found behind the keyboard. This LED Matrix singlehandedly took keyboard customization to a whole new level. 
On top of its extravagant features, the rest of the keyboard is also well designed. The overall aesthetics of the Cyberboard easily show the company's smartphone/consumer tech roots. Also, the Cyberboard is a full-blown custom keyboard. 
All standard features that keyboard enthusiasts have come to expect with a premium keyboard are all found on the Cyberboard. This meant that the Cyberboard was a fully functional enthusiast-grade keyboard and not just a gimmick. 
Despite having an incredibly high price tag and limited availability, the Cyberboard became extremely popular. It was so popular that it even reached far beyond the custom keyboard community. The Cyberbord became a hot topic in many tech news outlets and review websites, such as Linus Media Group's Short Circuit YouTube channel.
Since the initial success of the Cyberboard, the brand has done some revisions and has released more batches with more color options. Angry Miao also released other products, such as the Am Hatsu split ergonomic keyboard. 
Even with just a single product, Angry Miao has managed to capture the interest of both the keyboard community and the tech-enthusiast community. With their unique and innovative designs, many are looking forward to Angry Miao's next creation. 
Percent Studio
Notable Keyboards: Canoe Gen 2, Skog, Volt
Percent Studio is one of the first brands to produce high-end custom keyboards. They are best known for creating the Canoe Gen 1/Gen 2, Skog, and Volt keyboards. 
Just like many of the brands featured on this list, Percent Studio is a small keyboard manufacturer. Their products are exclusively sold via limited-time group buys. And once a project is completed, their keyboards are never re-released. 
Percent's Studio's early products included the Canoe and its improved version, the Canoe Gen 2. Thanks to their unique structure that utilized many parts, these keyboards were highly praised. The Canoe keyboards also gave a glimpse of what kinds of complex designs are possible, which are now evident with today's high-end custom keyboards. 
The Canoe was so popular that many Chinese brands were copying its design. The community dubbed these Canoe clones as Fanoe keyboards. 
Percent Studio later moved on from Canoe keyboards, and they started designing larger TKL boards which later became the Volt and the Skog. Both of these keyboards were smash hits and have become highly sought out in the custom keyboard market. 
With such an impressive portfolio, Percent Studio has become one of the most respectable brands in the custom keyboard community. Their elegantly designed keyboards and focus on the typing experience easily make their products worth a look.
KPRepublic
Notable Keyboard: KPRepublic BM Series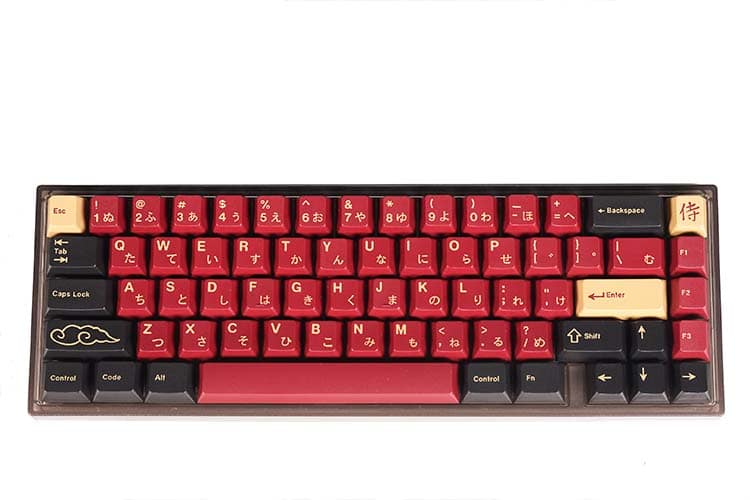 KPRepublic is a brand similar to KBDFans. They also sell custom keyboard kits, parts, and accessories to the international market. But unlike, KBDFans, KPRepublic mostly sells affordable entry-level custom keyboard kits. 
The brand is best known for its BM series keyboards. These keyboards are very similar to the KBDFans Tofu series. However, most have a lower price point and have more budget-oriented features. 
Most BM Series keyboards feature a plastic case and north-facing switches. However, some keyboards, such as the BM60, are compatible with third-party cases and PCBs. So despite being initially sold at a lower price point, the BM series can further be upgraded down the line into more premium keyboards. 
In addition, KPRepublic is well-known for bundling different items with their in-house keyboards. Users can buy many keyboards in the BM series with PBT keycaps and Gateron switches. Ultimately, the brand can bring a full-blown custom keyboard experience at a much lower price point. 
Lastly, KPRepublic seems to be one of the only Chinese custom keyboard brands to offer high-quality 40% keyboards. They sell both the BM43 and Daisy keyboards compatible with different case and plate materials. 
Overall, KPRepublic isn't as innovative as the other brands on this list. However, they still offer many affordable products that are perfect for beginners and consumers on a tight budget. 
Akko
Notable Keyboards: Akko Designer Studio MOD Series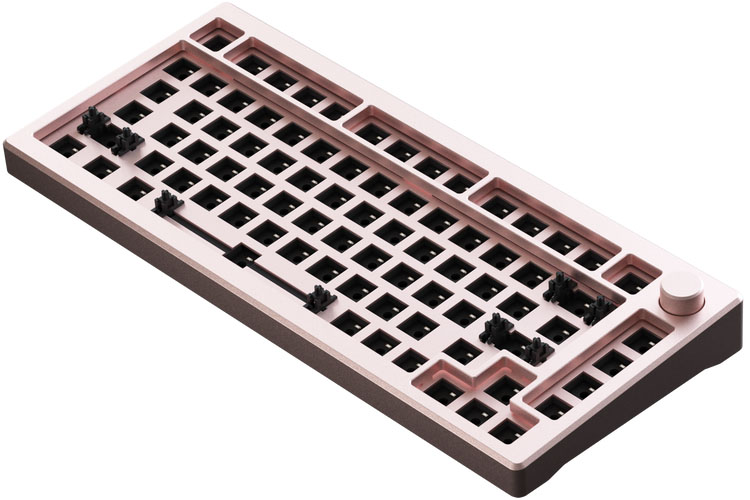 Akko is a brand that should be familiar to gamers and custom keyboard enthusiasts. The brand initially started as a competitor to high-end prebuilt keyboards such as Ducky and Varmilo. Just like those two brands, Akko put a large emphasis on releasing aesthetically pleasing keyboards that did not compromise on the typing feel. 
The brand eventually started offering hot-swap keyboards when custom keyboards started becoming more popular. And in 2021, the brand finally made the jump to creating full-blown custom keyboards with their Designer Studio Series. 
The Akko Studio Designer MOD series had features that appealed to more serious custom keyboard enthusiasts. These keyboards featured an aluminum case, gasket mount structure, hot-swappable switches and were fully compatible with keyboard mods. 
In addition, the MOD series was available in different sizes. Having different sizes allowed Akko to appeal to a wider audience and helped them compete with brands such as Glorious and Keychron.
Aside from producing pre-built keyboards and custom keyboard kits, Akko is also well-known for producing high-quality budget switches. Overall, Akko's wide product lineup and their ability to adapt to different changes and trends in the mechanical keyboard market easily makes them one of the best brands that China has produced. 
Epomaker 
Notable Keyboard: GK Series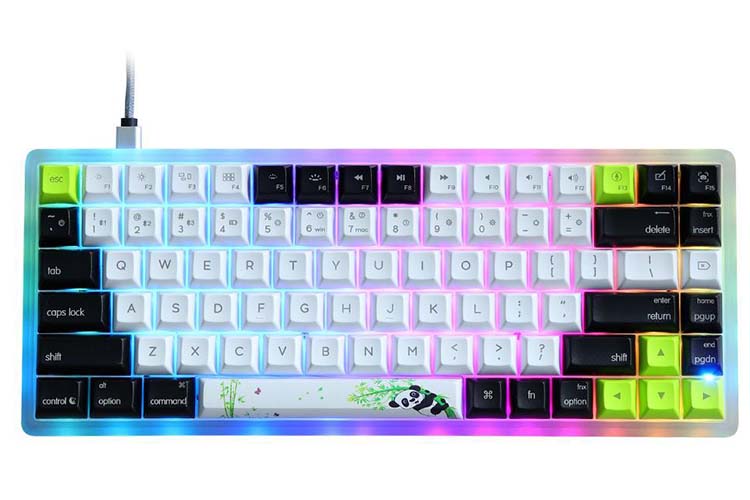 Epomaker is another China-based store that caters to the entry-level mechanical keyboard market. The brand is best known for popularizing the GK series keyboards and for promoting other Chinese brands such as Skyloong and Ajazz.
Just like KBDFans, Epomaker has been operating since the early days of the custom keyboard hobby. While their impact isn't as big as KBDFans, Epomaker has certainly helped many consumers have a taste of what custom keyboards have to offer. 
Epomaker's (epoch of makers)  original goal was to become a retailer of lesser-known Chinese brands. In addition, they wanted to turn DIY products into full retail products. They were an early adopter of the GK mechanical and optical keyboards, which were previously only available through Epathbuy. 
The GK61, which was one of the earliest available models in the GK series, became so successful since it was one of the only affordable hot-swappable keyboards in the market. Epomaker continued developing the GK series and currently offers many variations with different sizes. 
Unlike KBDFans and many of its competitors, Epomaker has maintained its focus on the budget-priced keyboard market. While they have some innovative products, they are not aggressively designing game-changing products. Instead, they mostly focus on what works for beginners and general consumers. 
Stephen is the head content creator of Keyboardsexpert. His mechanical keyboard journey began in 2014 when he got his Razer Blackwidow. Since then, he has been fascinated with all things mechanical keyboard-related. He later discovered the custom keyboard hobby and fell in love with the vast customization options. He is currently searching for his endgame and is very excited to share his journey and educate other keyboard enthusiasts.