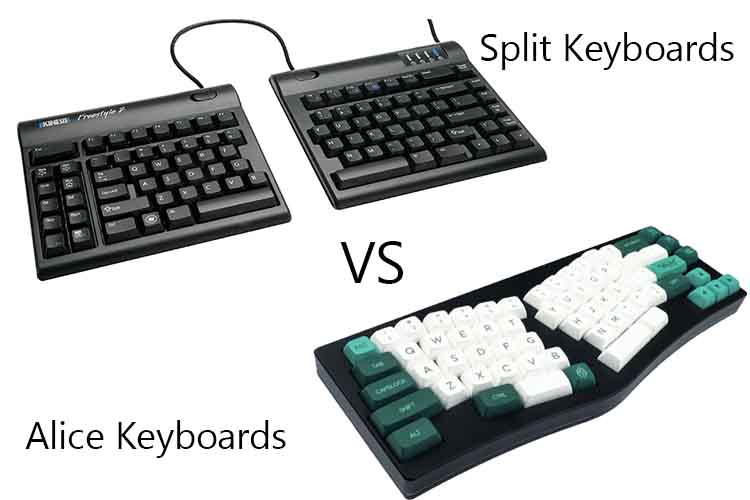 Long hours of typing can make multiple areas of your body ache, such as your wrists, forearms, and shoulders. That's why many enthusiasts are on the lookout for more ergonomic options that can help them comfortably type for extended periods of time. 
Famous ergonomic options in the keyboard community include the Alice or "Arisu" keyboards and split keyboards. Alice keyboards use a wingspan layout in a single keyboard case to improve a typist's experience. On the other hand, split keyboards usually utilize a cable connecting two modules to achieve better ergonomics.
Both keyboards cost relatively higher than your typical keyboard layout, but you may find that the steep costs are worth it after typing extensively using these boards. If you're looking to improve the comfort of your computer setup, then look no further. In this article, we will be discussing both the Alice and Split keyboard layouts. By the end of this article, you'll be equipped with vital information that will guide you on which ergonomic option you should acquire. 
What Are ALICE Keyboards?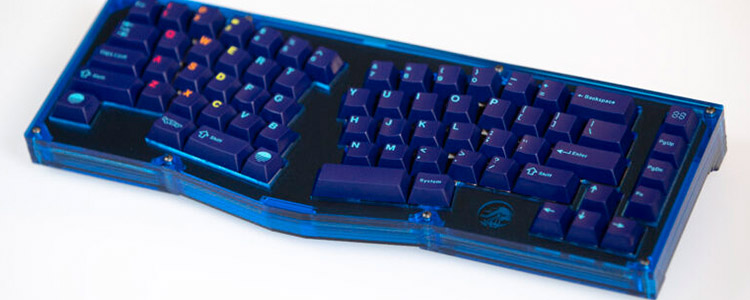 The origin of the Alice or "Arisu" layout keyboard comes from Malaysian designer Yuk Tsi's  TGR Alice mechanical keyboard back in April 2018. Only 40 units of this keyboard model were released, but other keyboard manufacturers have since then employed this ergonomic layout design through their own mechanical keyboard recreations.
Alice layout keyboards deviate from your typical rectangular keyboard. These boards apply a wingspan-inspired shape, separating the board into two halves in one case. The keys are tilted at a comfortable 10-degree angle that allows your fingertips to be positioned closer together while typing and aid a natural position of the wrist and arms. Likewise, the space bar is split into two halves for easier access for both hands.
Because of its unique layout, many users of this board report a steep learning curve to build your muscle memory compared to your regular keyboard. Yet, the healthy typing experience achieved after this hurdle is often seen as well worth it by Alice layout users.
These boards usually come in 60-65% form factors, employing the same style as the original layout by Tsi. However, some boards like the Adelheid that employs the 75% form factor can be in a smaller or bigger form factor, but they are more difficult to come by.
Pros of ALICE Keyboards
Aesthetics

Uniqueness and Collectibility

Customizability
Cons of ALICE Keyboards
High Cost

Limited Form Factors

Steep Learning Curve
Popular ALICE Keyboards
YMDK Wings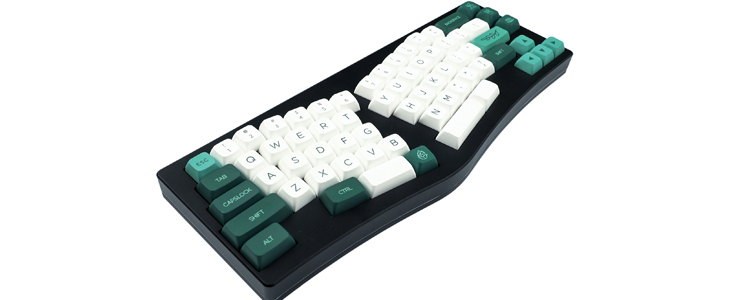 For a cheap and quick fix, the YMDK Wings keyboard can be your next typing companion. This 65% keyboard is a wired solder-only keyboard that can come with your choice of enthusiast-grade switches (Box Jade, Box Navy, Novelkeys Cream, Gateron Yellow, TTC Gold Pink). You can also opt for a barebones kit if you already have a soldering kit at the ready. 
The board is made of durable aluminum metal with eight colorways (Black, Dark Blue, Gray, Wine Red, Pink, Silver, Red, and Light Blue) to match your working setup aesthetic. The YMDK Wings keyboard kit also comes with a connecting cable, so you don't have to worry about cable compatibility. 
This kit, however, does not come with keycaps, so you have to purchase those separately. Yet, this is already one of the cheapest options to go by if you're looking to acquire an Alice board.
Switch Couture Alice
View this post on Instagram
Another budget-friendly option for an Alice layout keyboard is Switch Couture's iteration of the Alice layout. This board is supported by both VIA and QMK, making it really easy to program and customize to your needs. In terms of aesthetics, this board is perhaps the most versatile, with a total of twenty-two color and material options for your case. 
The plate can come in acrylic, aluminum, brass, or copper. You can opt to have a different color base plate or top plate too.
Nonetheless, Switch Couture Alice's best-selling feature is its option to have custom engravings on the case, making your very own personalized board without the trouble of going through multiple manufacturers.
Maja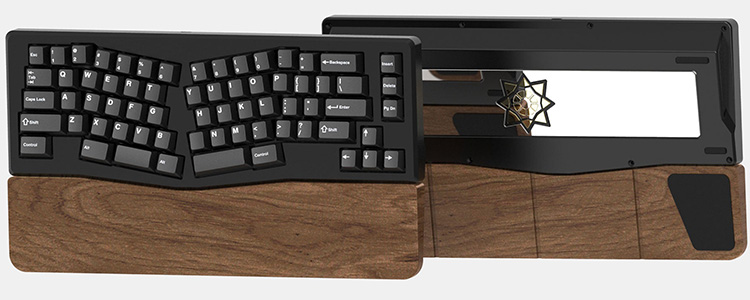 If you're ready to face some waiting time, then you can get the Vulcan x Kbdfans Maja V2 Mechanical Keyboard DIY Kit from other enthusiasts. This custom hot-swap keyboard is currently in production after its group buy acquisition. The case can be made in your choice of either aluminum or polycarbonate in six colorways (E-white, Pine Green, Black, Grey, Dark Blue, and Violet) with an accompanying brass or polycarbonate plate. 
The case of this board positions it at a comfortable typing angle of eight degrees through non-slip rubber feet. For a premium and bouncy typing experience, the keyboard uses a gasket-mount implementation using poron material and a bespoke walnut wrist rest. Other foams included in this kit (case and PCB foam) are also made from the same material.
Once assembled, this board provides a per-key RGB controllable with QMK firmware.
AVA
For enthusiasts looking for a board with a great deal for customization options, then Sneakbox's AVA keyboard model cannot be outperformed. This 65% Alice keyboard prioritizes aesthetics with a greatly symmetrical layout. However, this board does not sacrifice functionality at all. You have your choice of hot-swap or solder-only PCB, multiple materials (Aluminum, POM, Polycarbonate, Brass, and FR4) for your switchplate, wooden or acrylic wrist rest, and a solderable rotary knob.
This premium keyboard also comes with a weighted case badge (translucent polycarbonate, sandblasted brass, electroplated brass, and stainless steel). You can also acquire pre-cut foams for this mechanical keyboard, making it really easy to mod.
OwLab Spring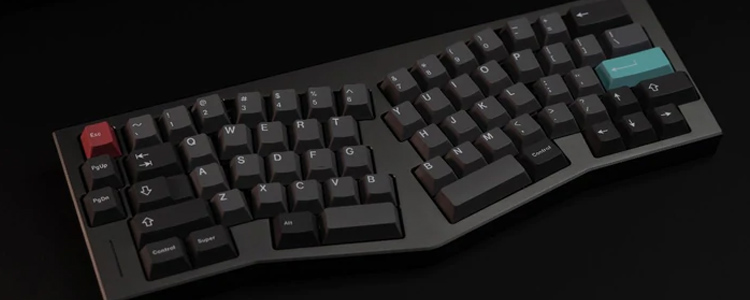 Another 65% iteration of the Alice keyboard is the OwLab Spring. The custom keyboard's unique aesthetic feature is its integration of a light strip (which is OwLab's homage to their first keyboard, the Voice65). Functionality-wise, this keyboard is great for keycap collectors since most standard base kits are compatible with this keyboard because of its implementation of two regular shift sizes (2.25u and 1.75u).
Additional exclusive features include its novel leaf spring mounting support, beautiful logo emblazoned on the back weights, and PCB flex cuts. 
The accessories in this kit comprise everything you need for a full build, including foam mods. Other great accessories included in this kit are separate positioning plates, silicone foot pads, a screwdriver, and a keyboard carrying bag.
What are Split Keyboards?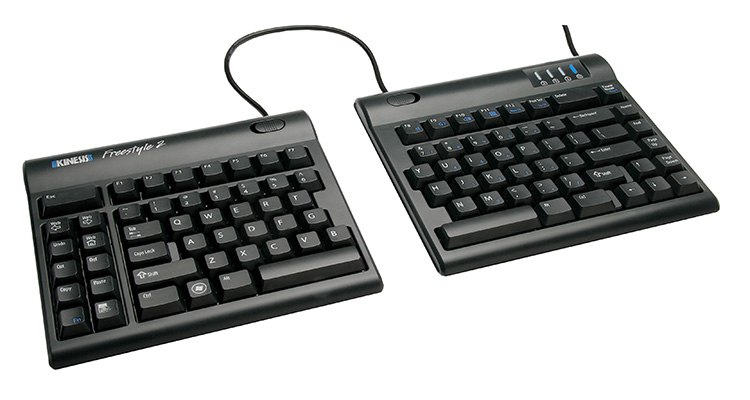 Split keyboards have the same goal as Alice layout keyboards; that is, to improve ergonomics. The striking difference between Alice keyboards and split keyboards is the split keyboard's use of a two halves layout, with or without the wingspan shape.
Most split keyboards are made with an adjustable split, meaning there are two modules connected by either a cable or Bluetooth connection. You can use an adjustable split keyboard in split positions (where there is a considerable distance in between the two modules) or splay positions (where the keyboard modules are rotated to a comfortable angled placement for typing).
There is also something known as the fixed split keyboard, where the arrangement of the two modules is fixed and is therefore not adjustable. In both of these types, though, tenting is employed; the keyboard modules sit diagonally (instead of laying flat) on the user's desk via a tenting kit or the natural positioning of the pre-built board.
The split keyboard layout targets the user's wrists and knuckles, aiding them to be positioned in a more natural way. This lets typists avoid cramped fingers and wrists and even more dangerous conditions such as carpal tunnel syndrome.
Because they have been in the keyboard market for longer than the Alice layout (with its origins untraceable), they are much more versatile and easy to look into—they come in a lot of form factors and can be seen in both mechanical and membrane keyboards.
Pros of Split Keyboards
Availability (Form Factor & Type)

More Ergonomic Options: Split, Splay, Tenting

Cheaper
Cons of Split Keyboards
Low Customizability

Not Readily Keycap Compatible for Mechanical Keyboards

Expensive Additional Kits
Popular Split Keyboards
Logitech Ergo K860 Wireles

If you're looking for a membrane keyboard to acquire, then the Logitech Ergo K860 Wireless Keyboard might just be your perfect pick! This full-sized keyboard is a fixed split keyboard that is reminiscent of the Alice-style layout found in many mechanical keyboards. It even has a number pad if you utilize that often for productivity.
This wireless keyboard can connect in two ways: fully Bluetooth or a Bluetooth dongle, perfect for both PC and laptop setups. Adding to its ease in use is it is battery-operated, meaning you don't need to charge this when you're busy using your board; you simply have to swap its two triple-A batteries. This board also has a limited one-year warranty if purchased directly from the Logitech website.
Kinesis Freestyle Pro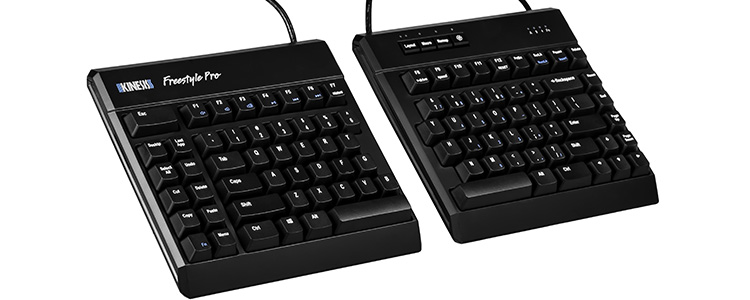 The Kinesis Freestyle Pro is a capable mechanical keyboard all-rounder with low-force Cherry MX switches and a zero-degree slope to avoid bent wrists. Moreover, its familiar standard key layout allows its users to make an ergonomic switch without needing to relearn one's muscle memory while typing, making it perfect for those who cannot afford to lose any productive time.
This keyboard comes with an adjustable linking cable that accommodates users of all shapes and sizes. Because of its adjustable cable, you can configure the separation until 20 inches.
You can also acquire additional accessories for this board, such as tenting accessory kits and palm supports.
Ultimate Hacking Keyboard UHK 60 V2

Another adjustable split mechanical keyboard is the Ultimate Hacking Keyboard UHK 60 V2. This hot-swappable 60% keyboard is known for accommodating both ANSI and ISO layouts (for both Europeans and Americans), with your choice of blank with small translucent dots or letter-engraved backlit double-shot PBT keycaps. Its case comes in a variety of colors too—black, dark red, mustard, navy blue, and white.
The UHK 60 V2 implements a functional per-key backlighting, meaning that colors have an associated function to them. Regular alphanumeric keys are white, modifiers are light blue, layer switcher keys are yellow, shortcuts are dark blue, mouse actions are green, macros are purple, keymap switch actions are red, and unused keys don't light up.
Another unique feature of this keyboard is its use of a braided coiled cable in between the two modules.
Zergotech Freedom Ergonomic Mechanical Keyboard

For those looking for a more unique take on the split keyboard, the Zergotech Freedom Ergonomic Mechanical Keyboard can be your new typing companion. Its best-selling feature is its innovative and novel sliding palm rests to prevent any wrist and palm pain associated with typing for extended periods of time. However, this is a little hard to find as you have to acquire it aftermarket since the product is sold out on the website.
This adjustable split keyboard supports both Windows and macOS, though you do have to choose on the website which operating system you're using. You also have a choice of Box Brown (tactile) and Box White (clicky) switches. Its symmetrical and familiar layout also provides for a short learning curve compared to other ergonomic keyboards.
ErgoDox EZ Glow Standalone

The last of our top five picks we'll recommend is perhaps our most reliable one. The ErgoDox EZ Glow Standalone has a two-year warranty and a thirty-day money-back guarantee.
Aside from being an ergonomic split keyboard, this keyboard also implements an ortholinear layout, meaning the rows and columns of the keys are aligned in a straight manner. The users of ortholinear keyboards tend to have less distance traveled in between key presses and can significantly improve endurance while typing.
This keyboard also has the most options when it comes to switch types out of all our split keyboard picks. You can get Cherry MX Brown, Red, Blue, or Silent Red in their RGB-compatible housings, or you can opt for Kailh switches (Copper, Thick Gold, Gold, Silver, Box Brown, Box Red, Box White, or Box Black).
Which is the Better Keyboard Form Factor?
Factoring in the issue of cost, a split keyboard is definitely the more cost-efficient option and is leagues better for many keyboard enthusiasts. Costs may rake up, though, if you factor in additional kits such as tenting kits and other accessories such as wrist rests and palm supports.
Aside from its price, the split keyboard design can be more efficient for gamers, especially in the shooting genre. You can opt to use one module at a time for adjustable split keyboards, providing more mouse space and allowing mouse precision and accuracy. However, if you can afford the price point of an Alice keyboard, then it is a better buy for keycap set collectors and those looking for a more unique build.