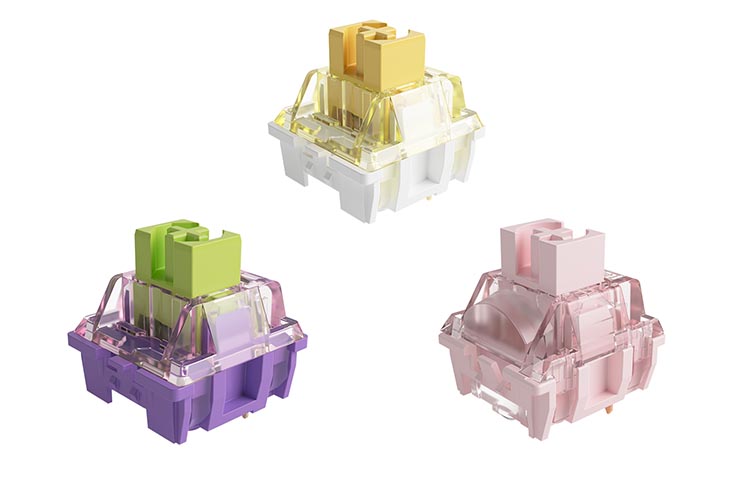 Globally, different brands and companies manufacture various mechanical keyboard switches loved by the community today. Most of the well-known brands producing their mechanical keyboard switches in the current market are Gateron, Outemu, and Kailh – all of which are in China. With the boom of Chinese companies in the keyboard switch industry, there is yet another budget-quality switch-manufacturing company claiming the hearts of keyboard enthusiasts, Akko. 
Akko is a Chinese company that produces both budget and premium quality mechanical keyboard switches. Akko switches are known for their deep and thocky sound profile, even in their stock configuration. Aside from their high quality, they offer these enthusiast-grade switches at a low price. Every switch from Akko is a bang for the buck purchase.
Due to Akko's several mechanical switch products, you may find it confusing where to start searching for the next switch for your build. However, look no further, as we will guide you through this article about the different mechanical keyboard switches Akko has to offer and an in-depth review on how they will fit your preference and use case.
Akko Mechanical Switches
Akko is a computer-peripheral manufacturing company based in China that debuted in 2016. Akko is known for its affordable products catering to the needs and desires of keyboard enthusiasts. Additionally, they offer a diverse set of lineups in their custom keyboards, accessories, keycaps, and mechanical keyboard switches. Most of their offered pre-built keyboards, unlike other brands, incorporate their self-manufactured mechanical switches – showing how versatile Akko is as a company in the keyboard market. 
However, if the customer wishes to purchase individual mechanical keyboard switches, they may choose the product from the variety of mechanical switches Akko offers separately from their keyboards. Their mechanical switch line consists of various switch types, as they produce tactile, linear, and clicky key switches without sacrificing the quality for their budget price. 
Aside from their self-designed switches, Akko also sells mechanical keyboard switches that they do not manufacture. Some Akko-marketed mechanical switches include the brands Gateron and TTC, wherein they co-developed or incorporated these mechanical switches in their pre-built boards. But, the charm of Akko doesn't end there because they also have limited mechanical switches marketed at an affordable price. To know more about Akko switches, read more about the well-known and premium choices of the keyboard community when it comes to the brand Akko. 
Popular Choices
Akko CS Linears
Akko CS Series is popularly known for the different and affordable variations of their linear keyboard switches. Akko CS Linears are smooth mechanical keyboard switches out-of-the-box with a hint of scratchiness. However, the affordable price makes it reasonable, and even worth it, for the quality of the switch– especially because lubing the switch can solve the scratchiness and enhance its typing feel and sound profile.
Akko Vintage White 
Operating Force: 35g 

Actuation Travel: 4.00mm

Mount Type: Plate-Mount

Sound: Low to Moderate
Starting from the lightest linear switch, we have the Akko Vintage White with a 35g operating force. Even though it has the lightest operating force when pressed, it has the longest spring out of most Akko CS Linears, with its spring being 22m long. Due to its spring's length, the feedback is snappier and notable compared to normal linears. The Vintage White is perfect for those who want a light, smooth typing experience for prolonged hours of typing.
Akko CS Sakura
Operating Force: 39g 

Actuation Travel: 4.00mm

Mount Type: Plate-Mount

Sound: Low to Moderate
Next up is the Akko CS Sakura switch with 39g operating force, a recent addition to the Akko CS Linear lineup. According to keyboard enthusiasts, the CS Sakura is basically a recolor of Jelly Whites and Jelly Pinks, but with a different operating force. Aside from that, it is also constructed with dustproof housing and a POM-material bottom case. However, it does enhance itself on the sound profile with reduced pings and its typing experience with little to no scratchiness when actuated upon.
Akko Matcha Greens
Operating Force: 50g 

Actuation Travel: 4.00mm

Mount Type: Plate-Mount

Sound: Low to Moderate
Akko Rose Red Switches

Operating Force: 43g 

Actuation Travel: 4.00mm

Mount Type: Plate-Mount

Sound: Low to Moderate
Other linears from the series include the Matcha Green and Rose Red switches. These two linear mechanical switches are the most well-received Akko CS Linears by the keyboard community. Matcha Greens and Rose Reds mostly get compared as they are both similar in typing feel and sound profile but with different actuation points. Their sound profile is a deep acoustic, or in other words, "thock." So, if you want thocky linear switches, get Matcha Greens for heavier operating force or Rose Reds for lighter operating force. 
Akko CS Tactiles
Akko CS Tactiles are keyboard enthusiasts' best picks for budget tactile mechanical switches. Currently, the Akko CS lineup features two tactile keyboard switches, namely the Lavender Purple and the Ocean Blue. First off, we have the Lavender Purple with a 45g tactile force and an operating force of 36g. The tactile bump of the CS Lavender Purple comes before its actuation point; once you feel the tactile bump, the keypress is registered, unlike other tactiles where you still need to bottom out. 
Akko Lavender Purples

Operating Force: 36g

Actuation Travel: 4.0mm

Mount Type: Plate-Mount

Sound: Moderate 
Additionally, Lavender Purple's structure is unique from other Akko CS tactiles because it uses an 18mm extension spring than a progressive spring. Due to this spring, the tactile feedback is more pronounced as it has more upward force after the keypress. Despite that, its tactility is on point for not making people feel underwhelmed by the mechanical switch's feedback. Regarding its sound profile, Lavender Purple creates a clacky sound acoustic than a deep thock click.
Akko Ocean Blue

Operating Force: 45g

Actuation Travel: 4.0mm

Mount Type: Plate-Mount

Sound: Moderate 
On the other hand, Akko Ocean Blue has a 50g tactile force with an operating force of 36g. According to most keyboard enthusiasts, the switch uses a progressive spring and has lesser tactility than the Lavender Purple. Ocean Blue's typing feel is suitable for keyboard hobbyists who want average tactility but still maintain a similar typing feel with Lavender Purple switches. The main difference between Ocean Blue with Lavender Purple, aside from its heavier tactile force and lesser tactility, is that its sound profile is deeper and thockier than the clacky acoustic from Lavender Purples.
Akko CS Jelly 
One of Akko CS's most popular distinct horizontal upgrades is the Akko CS Jelly switches. Akko CS Jelly switches are favored for the variety of the switch feels with different weight variants that they offer– all of the five standard switches in the lineup include tactile and linear mechanical switches. The key point of the switch structure of a general Akko CS Jelly is its box-type dustproof POM stem which enhances the mechanical switch's stability overall. 
Akko Jelly Pink

Switch Feel:  Linear 

Operating Force: 45g 

Actuation Travel: 4.0mm

Mount Type: Plate-Mount

Sound: Low to Loud
The first switches that we will discuss are the three Akko Jelly linears composed of the Jelly Pink, Jelly White, and the Jelly Black. The Jelly Pink and the Jelly White deliver a typing experience that highlights the smooth and satisfying keypress of the switch until you bottom out. It also has snappy feedback due to the conventional spring used for the switches. Regarding their specifics, the Jelly Pink has a heavier actuation force at 45g than the 35g of the Jelly Whites. 
Akko Jelly White

Switch Feel:  Linear 

Operating Force: 35g 

Actuation Travel: 4.0mm

Mount Type: Plate-Mount

Sound: Low to Loud
The Jelly White is said to be a modded and upgraded version of the Akko CS Vintage White switch, so you can expect the two to provide a similar typing experience. However, as it is an upgraded edition, the Jelly White will give a more enhanced adaptation of the Vintage White's typing feel. In general, for their sound profiles, both Jelly White and Jelly Pink have high-pitched clacky sound acoustics, but with lube, the pings of the switch will become subtle. 
Overall, if you wish to choose between the Jelly White and the Jelly Pink, especially if you are a light typist, you can opt for the Jelly White for a faster-actuated and lighter switch. Also, you can choose the Jelly Pink if you want a heavier mechanical switch than Jelly Whites that is still within the scope of lightweight switches.
Akko Jelly Black

Switch Feel:  Linear 

Operating Force: 45g 

Actuation Travel: 4.0mm

Mount Type: Plate-Mount

Sound: Low to Loud
Last up for the linears is the heaviest linear switch in the Akko CS Series, the Jelly Black. The Jelly Black is exceptionally smooth out of the box to the extent that some even say that the stock switches do not need any lube. Also, because of the switch's spring, it has distinct upstroke feedback when actuated by the user. The sound acoustics of Jelly Blacks is crisp and creamy, rather than deep thocks or clacks, delivering a refreshing and, some say, "delicious" sound profile.
The tactiles of the Akko CS Jelly switches, on the other hand, include the Jelly Purple and the Jelly Blue. The Jelly Purple is one of the recent tactile switches that may be familiar to Akko enthusiasts as it has the same typing feel as the Akko CS Lavender Purple. However, the Jelly Purple is distinct from the Lavender Purple for it has a heavier actuation force of 40g and a deeper clacky sound profile. Some reviews regarding the Jelly Purple particularly mention how the heavier actuation force than Lavender Purple highlighted the switch's tactility. Also, enthusiasts noted that the Jelly Purple switch might need lubing since some stock Jelly Purple switches are scratchy.
Last on the list is the second and last tactile of the Akko CS Jelly Switch, the Jelly Blue. The Jelly Blue switch features a dual tactile bump, wherein you will feel a tactile bump on the downstroke and the upstroke. Due to the dual tactile feature highlighting the bump, it may be overwhelming for average tactile users. Also, according to the reviews of enthusiasts, the Jelly Blue requires more effort to press than average switches, thus not suitable for long hours of typing in general. The sound profile of Jelly Blue is a high-pitched poppy-sounding clack– some say that these have more ping than linear Jelly switches but are resolvable through lubing the switches.
Special Options / Premium Choices
Akko x TTC
Unlike the TTC-only developed switches sold on Akko's website, like the TTC Gold Pink and the TTC Gold blue, TTC x Akko are mechanical keyboard switches co-developed by the brands Akko and TTC. Currently, the collaboration has two premium switches under its lineup– the Demon Switch and the Princess Switch. These premium switches are higher in cost due to the switch's material that enhances the stem stability and smoothness. Additionally, the TTC x Akko switches feature the latest condenser technique of TTC that highlights the LEDs of your mechanical keyboard. 
Akko x TTC Demon

Switch Feel: Linear 

Operating Force: 50g

Actuation Travel: 4.0mm

Mount Type: Plate-Mount

Sound: Moderate
Demon Switch is a linear switch with an operating force of 50g, a rather heavy linear compared to other Akko CS linear switches. It has a purple-colored housing with a box-type dustproof stem. The sound profile of the Demon Switch is similar to the Akko CS switches' sound profile as it also contains high-pitched clicks and poppiness of acoustics overall. However, unlike some of the Akko CS switches, even at stock, the Demon Switch does not have any spring pings and hollowness. Regarding the Demon Switch's typing feel, it is mainly described by enthusiasts as an ultimately smooth typing experience, especially if it comes factory-lubed. 
Akko x TTC Princess

Switch Feel: Linear 

Operating Force: 45g

Actuation Travel: 4.0mm

Mount Type: Plate-Mount

Sound: Moderate
On the other hand, the second switch in the TTC x Akko is the Princess Switch. The Princess Switch is a linear switch lighter than the Demon Switch with an operating force of 45g. The color of the Princess Switch's housing is a light shade of pink similar to the color of the Jelly Pink's housing. Its sound profile is poppier and high-pitched clackier than the Demon Switch's sound profile. However, both TTC x Akko switches feel smooth in typing feel and only differ in the actuation force. Thus, if you like a lighter and clackier mechanical switch than the Demon Switch, the Princess Switch is worth a shot.
Gaterons x Akko 

Switch Feel: Tactile / Linear 

Operating Force: 45g / 50g

Actuation Travel: 4.0mm

Mount Type: Plate-Mount

Sound: Moderate
On the official website of Akko, there are listings of Gateron-manufactured switches that Akko contributed to in development. The Akko x Gateron switches are the Gateron Pink, Gateron Yellow, and the Gateron Orange. The switch types of the Gateron x Akkos are linear and tactile; the Gateron Pink and the Gateron Yellow are linear switches, while the Gateron Orange is a tactile switch. 

According to their description on Akko's website, Akko mainly focused on improving the switch's typing feel by adjusting the structure of the mechanical switch and by providing factory lube to the mechanical switches. However, currently, all of the Gateron x Akko switches are discontinued. Thus, keyboard enthusiasts may not find these switches available to purchase anytime soon.
Akko CS Limited
The limited options of Akko CS currently have two switches under the lineup, wherein one is tactile, and the other is linear. These limited switches are the Akko CS Starfish and the Akko CS Sponge. However, don't be intimidated because even though these switches are limited options, they are still affordable for most budget keyboard enthusiasts. In fact, the limited Akko CS switches' prices are equal to the price rate of the Akko CS Jelly switches. 
Akko CS Limited Starfish

Switch Feel:  Linear 

Operating Force: 50g

Actuation Travel: 4.0mm

Mount Type: Plate-Mount

Sound: Moderate
Akko CS Starfish got its name from Patrick the Starfish due to the color scheme of the switch's housing, which is an iconic pink and yellow-greenish hue of the cartoon character. The Starfish is a linear switch with a 50g operating force that delivers a unique typing experience for its user. The Starfish Switch uses a two-stage spring in its material; it causes the switch to have a snappier return and a slight tactile feel from the spring when you bottom out. However, even with the unique typing feel, it maintains its exceptional smoothness throughout the keypress at stock. Additionally, its sound profile is similar to other Akko CS Switches as it also has a high-pitched poppy and clacky acoustic.
Akko CS Limited Sponge

Switch Feel:  Tactile 

Operating Force: 45g

Actuation Travel: 4.0mm

Mount Type: Plate-Mount

Sound: Moderate
Akko CS Sponge is a light tactile recolored switch of the Akko CS Jelly Blue switch with a 40g operating force. The Akko CS Sponge has a yellow and white housing with the standard box-type dustproof stem and polycarbonate bottom. The Sponge also features the same dual tactile bump of Jelly Blues, wherein the user will feel the switch's bump and a snappier return both on keypress and release. Regarding its sound profile, again, the Akko CS Sponge also shares the same acoustics with the Akko CS Starfish, a poppy and clacky sound profile.
Akko Switches Recommended Switches for Gaming
View this post on Instagram
The Akko CS switch that you should opt to check out for gaming is the Akko Rose Red switch. With an operating force of only 43g, you can expect a fast gaming experience with these light linear switches. However, if you wish to purchase a lighter mechanical switch than Rose Reds, Akko Jelly White is also a viable switch option for gaming. 
Jelly White is perfect for gamers with light hands or those who game for more than 6 hours because the light actuation force of 35g will not fatigue your fingers. Another suitable choice for a mechanical switch for gaming is the Jelly Pink, a smooth linear but slightly heavier than Jelly White to increase your accuracy and speed in gaming.
Akko Switches Recommended Switches for Typing
View this post on Instagram
For typing, Akko Lavender Purples are number one in the recommendation list. The clacky sound profile and perfectly satisfying tactility of the Lavender Purple switch make it a highly loved switch for typing purposes. Aside from Lavender Purples, we recommend checking out Jelly Black, a smooth linear switch on the heavier side of linears with a creamy sound profile. 
Suppose you want a mechanical linear switch with a similar clacky sound profile as Lavender Purples. In that case, we suggest getting Matcha Greens, an affordable linear switch with an actuation force of 50g. As it is on the heavier side, it increases accuracy when typing, which is crucial when typing using a linear switch. Also, we recommend getting an Akko Starfish switch if you have a slightly higher budget. Because of its two-stage spring, it has a snappier return, increasing your typing speed.
Akko Switches Recommended Switches for General Use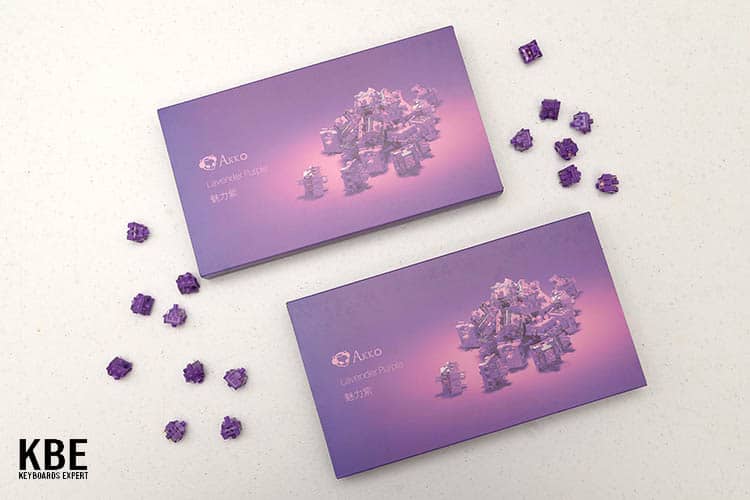 We recommend the Lavender Purples for an Akko mechanical switch suitable for everyday use. As mentioned earlier, it has a poppy and clacky sound profile and an average but satisfying tactile bump fitting for new and early tactile enthusiasts. The Akko Sponge switch is also a capable mechanical keyboard switch for general use. It is a light tactile switch, but it also has a dual tactile bump and snappy spring that can cater to the tactile typing experience you are looking for.  
Other than those two, if you want to spice things up or if you're on a higher budget, the TTC x Akko Demon Switch is a premium clacky switch fit for general use. It has a decent actuation force of 50g that can be more suitable for people with heavy hands to use during long periods. But, if you want to stick with the budget classics, we suggest buying Matcha Greens having the same actuation force and clacky sound profile as the Demon Switch.
However, keep in mind that all Akko switches have a moderate to loud sound profile. Thus, they may not be suitable for quiet and professional environments. For this reason, we recommend using Akko switches for personal use only.
Modding Akko Switches
Some Akko switches come factory lubed, and mostly, it does the job quite well. Since out-of-the-box Akko switches are smooth and have little to no pings, lubing Akko switches, in general, is optional. However, if you want to deepen the clacky sound profile, we suggest that you apply a moderate amount of lube. 
However, regarding filming, we recommend that Akko switches should not be filmed. There is no need for filming Akko switches because of their Kaihl Box-type housing, making it too tight to film. Additionally, it already has no stem nor housing wobble present.