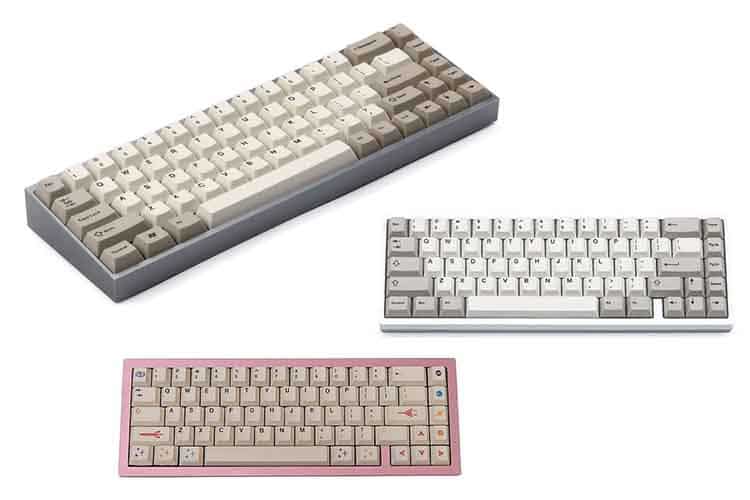 The KBDFans Tofu65 was considered by many to be one of the best premium 65% keyboards in the past. The Tofu65, along with the Tofu60, became two of KBDFans' most popular products. These two products have singlehandedly made KBDFans a very successful custom keyboard manufacturer. But with that said, times have changed, and many new premium 65% keyboards have come to dethrone the Tofu65. 
Many brands have tried their hand in the 65% custom keyboard market. Competitors such as Cannonkeys have created products that have arguably surpassed the Tofu keyboards. There are also newer players, such as Meletrix, that are trying to disrupt the market by offering features unheard of at its price point. And, of course, KBDFans themselves have developed newer keyboards that bring something completely new to the table. 
With that said, the fact that the Tofu65 is being dethroned by other keyboards is not a bad thing. It means that the keyboard hobby is continuously progressing and that companies are continuously innovating and pushing the boundaries of custom keyboards. And, of course, the benefactor of all this fierce competition is us, the consumers. 
In this article, we will be giving our readers the best alternatives to the KBDFans Tofu65. We will be going through keyboards produced by brands such as Akko, Cannonkeys, and Meletrix. We will also check out newer offerings from KBDFans. 
This list aims to give users an idea of which keyboard to get rather than the older Tofu65. It also aims to give existing Tofu65 owners some options if they want to upgrade their keyboards. Without further ado, let's head straight into our discussion.
What Makes the Tofu65 a Good Keyboard?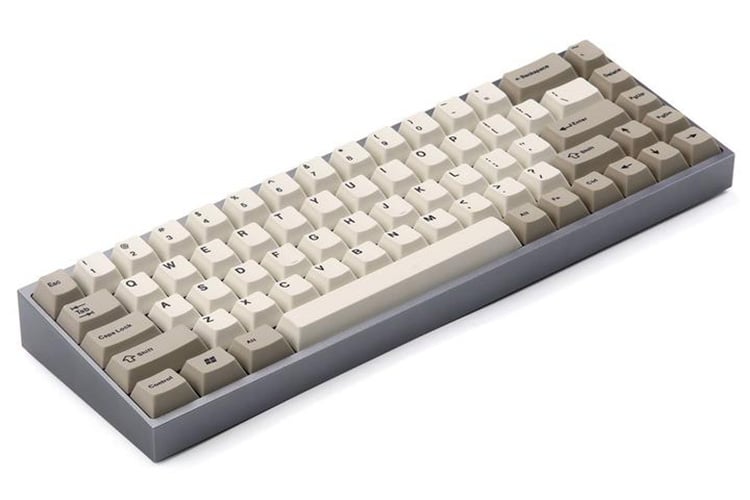 Back when the Tofu65 first launched, there weren't any real alternatives. Most competitors were focusing on 60% keyboards which were more popular at the time. Also, the Tofu65 was one of the only 65% custom keyboard kits that were regularly in stock. Most alternatives that had similar specs could only be acquired by joining a lengthy limited keyboard group buy. 
Speaking of the specs, the Tofu65 is no slouch even by today's standards. Like the Tofu60, the Tofu65 came with an aluminum case giving it its hefty and premium feel. In addition, the Tofu65 featured a brass weight, a design element that is pretty much mandatory with today's high-end custom keyboards. 
Lastly, the Tofu65 is relatively affordable. Sure, it's still pretty expensive, considering you'd need to spend at least $200 for a fully built kit. But compared to many newer custom keyboards, the price that the Tofu65 comes in is a steal for what it offers. 
Sure, it has many limitations, especially compared to newer options. However, it is still a fully functional keyboard that allows you to dip your toes in the custom keyboard world. The Tofu65 is compatible with hot-swap switches and is compatible with programs such as QMK and VIA. 
In addition, you can install mods such as the Gummy O-Ring mod to further improve the typing feel of your keyboard. Lastly, buyers who are on a tight budget do not have to purchase the entire Tofu65 kit. The aluminum case can be bought separately, meaning users can opt for a plastic case first and then later upgrade to the aluminum case.
Also, the fact that the case can be bought separately gives users the assurance that if anything goes wrong with their current case, they can simply swap it out with a new one. In summary, while it is no longer the king of 65% keyboards, the Tofu65 still offers a lot of value, especially for beginners. 
Why Look For Alternatives?
View this post on Instagram
Despite all the good points of the Tofu65, it has many shortcomings for its price point. It uses an outdated tray mount design that gives it a pretty stiff typing experience. Compared to many newer offerings in the same price range, the Tofu65 is a pretty basic offering by today's standards. 
Most newer keyboards offer better customizability, a softer, more consistent, and bouncier typing experience through the use of a top mount or a gasket mount design, a better sound profile, and arguably better aesthetics. 
Again, the Tofu65 is still not a bad choice. But unlike when it first launched, there are plenty of other options in the 65% keyboard market. 
KBDFans Tofu65 Alternatives
KBDFans KBD67 Lite (With Optional KBD67 V3 Upgrade)

| | |
| --- | --- |
| Similarities to the Tofu65 | Differences From the Tofu65 |
| 65% Form Factor | Modified Gasket Mounting Structure |
| Compatible with QMK and VIA | Different Typing Feel and Sound Profile |
| Compatible with Hot-Swap PCB | Plastic Case with Optional Aluminum Case Upgrade |
| In Stock Keyboard | Significantly Lower Price than the Tofu65 |
The first keyboard that we are taking a look at is nonother than KBDFans' own KBD67 Lite. The KBD67 Lite is currently one of the brand's most successful products. It singlehandedly revolutionized the budget mechanical keyboard market and forced other companies to step their game up. 
Compared to the Tofu65, the KBD67 Lite is less premium. It only offers a plastic case and does not feature any kind of weight. However, the real magic of the KBD67 Lite is found in its sound profile and satisfying typing feel. 
The KBD67 Lite uses a modified gasket mount structure, making it feel significantly softer than the Tofu65. And paired with its stock plastic case, the KBD67 Lite can produce some pretty deep thocks even with minimal keyboard mods. 
In addition to its sound profile and typing feel, the KBD67 Lite has many features that are desirable to keyboard enthusiasts. It has south-facing switches making it compatible with high-end keycaps such as GMK, QMK, and VIA compatibility, optional Bluetooth-ready PCB, and the ability to upgrade the case to an aluminum case (KBD67 V3 case).  
Overall, the KBD67 Lite manages to pack a lot of features in a very affordable package. In many ways, it does what the Tofu65 did back in the day. If you are a beginner who wants a competent custom keyboard that can be later modded and upgraded, the KBD67 Lite is the perfect starting point. 
KBD67 Lite Specifications
Plastic Case
Available in Black, White, Transparent (Orange, Ink Green, Dark Purple, Light Blue, Deep Blue) for R3
Hot-Swap PCB
Gasket Mount
South Facing Switches
QMK and VIA Compatible
Wired and Wireless (Bluetooth) Versions
Cannonkeys Savage65

| | |
| --- | --- |
| Similarities to the Tofu65 | Differences From the Tofu65 |
| 65% Form Factor | Top Mount/Burger Mount Structure |
| Aluminum Case  | Solder-Only PCB (Stock) |
| Compatible with QMK and VIA | No Brass Weight |
| In Stock Keyboard | |
Cannonkeys is a well-respected keyboard manufacturer and keyboard store in the United States. They are the creators of the highly sought-after Satisfaction75, which kicked off the modern 75% keyboard revolution. But aside from their high-end keyboards, Cannonkeys is also well known for their Brutalist series of keyboards. 
These keyboards are very similar to the Tofu series. They come in different sizes and share similar design elements, such as their signature Burger Mount (Modified Top Mount design) and their aluminum cases based on Brutalist architecture. The best-known model in the Brutalist series is the 65% Savage65. 
What sets the Savage65 from its competitors is its sound profile. The Savage65 is able to produce both that signature thocky sound as well as a clackier signature. And when paired with different mods such as the PE Foam mod, users can truly tune the Savage65 to their liking.  
Upas, Cannonkeys' designer, totally nailed both the sound profile and case design of the Savage65. Speaking of the case, the Savage65's aluminum case is surprisingly heavy at 2.5 lbs, even without a built-in weight. Test builds from Cannonkeys' website indicate that the Savage65 can go up to 3 lbs. 
Despite the good things that the Savage65 offer, there are some things that potential buyers have to take note of. The first one is that this keyboard only comes with a soldered PCB. The Savage65 is, however, compatible with Cannonkeys' hot-swap PCB or third-party PCBs such as the KBD67 PCB. Users can also opt to install mill max sockets on the stock soldered PCB. 
Another thing to take note of is that the Savage65 only comes with an FR4 plate. Users will have to source alternative plate materials such as POM from third-party manufacturers. Lastly, the Savage65 is not always in stock. 
Yes, the Savage65 and all Brutalist keyboards are meant to be in stock offerings from Cannonkeys. However, the Savage65, in particular, is often sold out. Some colorways can be harder to find since they are made in limited batches. 
Cannonkeys always update their fans in regards to restocking so the Savage65 can still be acquired brand new, and the situation can possibly improve in the future. Overall, the Savage65 is a very good value custom keyboard. With its solid build quality and excellent sound profile, the Savage65 is easily a worthy upgrade to the Tofu65. 
Savage65 Specifications
Aluminum Case
Available in Black, Navy, Rose Gold, Aquamarine, and Lilac
Soldered PCB
Burger Mount

QMK and VIA Compatible

Wired
Meletrix Zoom65 (Olivia Colorway)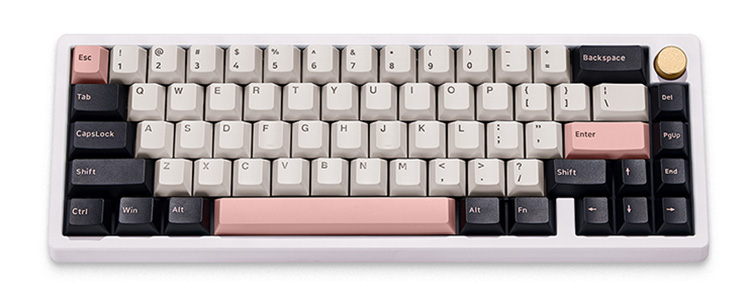 | | |
| --- | --- |
| Similarities to the Tofu65 | Differences From the Tofu65 |
| 65% Form Factor | Rotary Encoder |
| Aluminum Case | Comes with Keycaps and Switches |
| Hot-Swap PCB | Gasket Mount Structure |
| | Rotary Encoder/Knob |
| | Aluminum Weight  |
| | Released in Batches |
Meletrix is one of the newer companies on this list. They are the sister company of Wuque studios, which are well known for heavy hitters such as the Jelly Epoch and the Mr. Suit. With how much reputation their sister company has, many have been paying attention to what Meletrix can offer. 
And with the release of the Zoom65 family of keyboards, fans are not disappointed. The Zoom65 disrupts the custom keyboard market by offering one of the best deals in the custom keyboard world. 
The Zoom65 Olivia offers many high-end custom keyboard features such as an aluminum case, a gasket mounting structure, a built-in aluminum weight, internal sound dampening foam, a rotary encoder/knob,  and a PCB with lots of flex cuts. 
However, what makes the Zoom65 truly special is the fact that it already comes with switches, keycaps, and stabilizers. What this means is that for its asking price, you already have a complete custom keyboard. 
These accessories aren't just throwaway accessories either. The Zoom65 comes with pre-lubed JWK switches and officially licensed PBT Olivia keycaps. For the uninitiated, the GMK Olivia was one of the most popular GMK keycaps. 
Their prices have gone through the roof in the aftermarket since the GMK Olivia did not have additional group buys. So having PBT keycaps officially color-matched and approved by Olivia as well as a color matching case further sweetens the deal. 
Meletrix has further expanded the Zoom65 lineup through the essential edition. They have expanded the available colorways and have added a stainless steel weight option. However, as its name implies, the essential edition no longer comes with switches or keycaps. 
The only catch with the Zoom65 series of keyboards is that they are not readily available. Buyers would have to pre-order them through Meletrix's official dealers. They are released in batches which are periodically announced through the brand's dealers. 
Overall, the Meletrix Zoom65 ushers in a new era for custom keyboards. With their premium design and value offering, they are a considerable step above the Tofu65. Of course, that is if you can get your hands on these keyboards. 
Zoom65 Specifications
Aluminum Case
Gasket Mount
Rotary Encoder/Knob
Hot-Swap PCB
Available in Two (2) Colors: Light and Dark Version
Support QMK and VIA
Akko MOD005

| | |
| --- | --- |
| Similarities to the Tofu65 | Differences From the Tofu65 |
| Aluminum Case | Comes with Aluminum or FR4 Plate |
| In Stock Keyboard | Gasket Mount Design |
| 5-pin Hot-Swap PCB | North Facing Switches |
| | No VIA or QMK Support |
| | Comes with Accessories such as Case Foam, Plate Foam, and stabilizers  |
| | Plate Mount stabs (stock) and compatible with PCB Mount stabs  |
The next keyboard on this list is more of an alternative instead of a true upgrade to the Tofu65. The Akko MOD005 is the brand's take on a full-blown 65% custom keyboard. The brand has mainly focused on pre-built mechanical keyboards in the past. But with the release of the MOD series, Akko has shifted their efforts towards enthusiast-grade custom keyboards and custom keyboard accessories. 
The Akko MOD005 is very similar to most of the keyboards on this list. It features an aluminum case and a gasket mounting structure. However, compared to most budget custom keyboards, it has some tricks up its sleeve. It comes with an aluminum plate as well as an optional FR4 plate. 
It also has a slimmer profile that is lighter than most aluminum cases in the market but still has some heft. Its lighter weight easily allows it to be a more portable keyboard. 
Also, since it has a gasket mount structure, it has the potential to be a flexy keyboard. However, unlike keyboards such as the KBD67 Lite, modding the Akko MOD005 is pretty much mandatory to achieve optimal bounce/flex and sound profile. 
Unfortunately, given its budget price point, the MOD005 has some shortcomings. The MOD005 PCB comes with north-facing switches, which limits its compatibility with certain keycaps. Also, the MOD005 is not currently compatible with QMK and VIA. 
The current Akko software is not bad, but it is nowhere near the performance and customization potential of VIA. Akko has stated that they are working on VIA support in the future. Overall, despite its limitations, the Akko MOD005 has the potential to perform better than the Tofu65. It is perfect for beginners who want a premium custom keyboard at a budget price point. 
Akko MOD005 Specifications
Aluminum Case
Aluminum Plate with An Additional FR4 Plate
Available in Four (4) Colors: Dark Night, Space Gray, Sakura Pink, and Ocean Blue
Gasket Mount
Available Both in Screw-in and Plate Mount Stabilizers
TTC 5-pin Hot-Swappable Socket
Comes With a Coiled Cable
KBDFans Blade65

| | |
| --- | --- |
| Similarities to the Tofu65 | Differences From the Tofu65 |
| 65% Form Factor | Gasket Mount Structure |
| Aluminum Case | Different Badge Design |
| Compatible with Hot-Swap PCB | More Stylish Case |
| In Stock Keyboard | Skull-Shaped Brass Weight |
The final keyboard that we will be talking about is the KBDFans Blade65. The Blade series was originally an experimental concept by KBDFans. The main appeal here is the unconventional geometric case design that was unlike anything the keyboard community has seen. 
The first keyboard in the series, the Blade60, was a tray mount keyboard that was pretty similar to the Tofu60. It was sold via group buy and didn't seem like a mainstay in KBDFans lineup. However, the design proved to be successful despite its limited tray mount configuration. 
KBDFans later released the updated Blade65, which featured the KBD67 Mark II V3 PCB, as well as an all-new gasket, mounted design. While it is priced considerably higher than most keyboards in this list, it is a true update to the Tofu65. 
In addition to its unique case design, the Blade65 also offers a skull-shaped brass weight on the bottom. It also comes with lots of different finishes as well as polycarbonate and brass plate options. 
In many ways, the Blade65 is very similar to the KBD67 V3. However, the case design of the Blade65 is like no other. Even group buy keyboards from other brands have not experimented with this kind of crazy case design. 
Overall, the Blade65 is a keyboard that manages to offer great aesthetics without compromising on its typing feel. And since this is an in-stock keyboard, it is pretty much an easy upgrade over the older Tofu65. 
Blade65 Specifications
Aluminum Case
Gasket Mount
Compatible with Hot-Swap PCB
Available in Top Gray & Bottom Black, Top E-white & Bottom Black, Top Black & Bottom E-White Colors