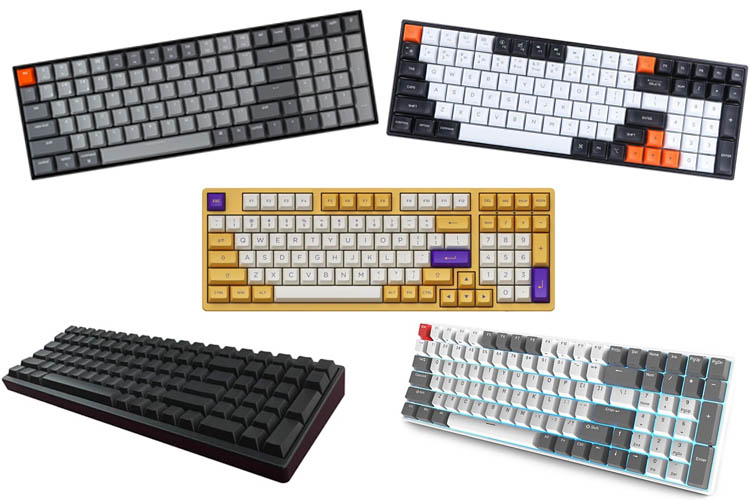 With more compact form factors on the rise, users of the number pad for productivity may feel left out in their quest for the perfect keyboard. This factor is where the 96% form factor, also known as the 1800 Compact Keyboard, can come into play. This keyboard size is a minimalist's take on the full-sized layout, where keys are jampacked with little to no white space in between keys.
The 96% keyboard gives you the full functionality found in full-sized keyboards without taking up too much desk area. Using a 96% keyboard is excellent for those who do data entry and need a numeric pad. Moreover, this keyboard allows users to utilize their desk effectively for other means too.
In this article, we will discuss why people favor the use of 96% keyboards. We will also be recommending our top 96% keyboard picks if you wish to acquire one yourself.
What are 96% (1800 Compact) Keyboards?

1800 Compact Keyboards, more commonly known as 96% keyboards, are keyboards with 96-104 keys. These keyboards reposition the number pad and special navigation keys closer to the alphanumeric cluster. This is done by doing away with the box-type arrangement of the home cluster and eliminating as much white space as possible. Sometimes, some special navigation keys are also done away with or put onto another functional layer. The result is a compact version of a full-sized keyboard (sometimes called "alternative full-size keyboard") that saves up massively on desk footprint.
Why Do People Like 96% (1800 Compact) Keyboards?
Save up to 35% on Desk Space
One of the reasons why the 96% form factor has gotten popular is the fact that it saves up so much desk space. Epomaker, in specific, boasts that their iteration of the 96% keyboard saves up to 35% desk space compared to the full-sized layout.
This acquired desk space can be extra helpful for gamers who need precise mouse movements or professionals like designers who need extra mouse space. Likewise, added desk space can also be useful for those who use their desks for other activities outside the computer.
Full Functionality Comparable to a Full-sized Keyboard
Another plus of the 96% keyboard is its great deal of functionality. As aforementioned, the 96% or 1800 Compact keyboard is also an alternative to a full-sized keyboard. This is because there are a minimal number of keys (if there are any at all—it depends on the manufacturer or brand that makes its take of the 96% keyboard) that are sacrificed by acquiring the 96% keyboard, compared to smaller builds such as the 60%, 75%, and even the TKL (Tenkeyless) form factors. The 96% keyboard still has a number pad and other special navigation keys that you might already be used to, coming from a 100% or full-sized keyboard. 
Unique Form Factor
Unlike other form factors, which have already gone mainstream, the 96% keyboard has a limited number of iterations in the market (especially in the custom keyboard scene), making it fun to collect and store. In addition to this, this form factor currently runs exclusively to the mechanical keyboards as of this time in writing.
Popular 96% Keyboards You May Want to Try
Epomaker GK96

GK96 Highlights
Pre-Built Mechanical Keyboard with Hot-Swap PCB

Left-Handed (southpaw) Version

Wired and Wireless Connectivity

Equipped with Bluetooth 5.1 for up to 4 Devices

Powerful 4000 mAh Long-Lasting Battery
Left-handed typists can rejoice with Epomaker's GK96, available with a southpaw version. In this version, the number pad is placed on the left side of the keyboard for easy access instead of the usual right-hand side. (A regular right-hand version is a default for the standard market.) However, this is not the only functionality perk of this board.
The Epomaker GK96 comes with a long-lasting 4000 mAh battery, one of the biggest capacity batteries for wireless keyboards. Moreover, the brand gives you a choice of ABS or PBT keycaps with multiple Gateron switch options (Black, Blue, Brown, Red, Yellow, Silver, White, or Green). This keyboard is also fully programmable, save for its standard mode, which is meant to be a backup mode in case you get lost while customizing your keyboard settings.
Royal Kludge RK100 Tri-Mode Keyboard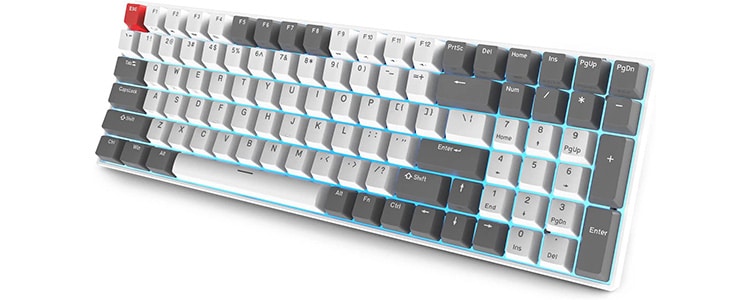 RK100 Highlights
Pre-Built Mechanical Keyboard with 100 Keys

Hot-Swap PCB

Wired and Wireless Connectivity

Oil-Resistant PBT Keycaps

Two Style Options: Carbon and Classic
The Royal Kludge RK100 Tri-Mode Keyboard is a great entry-level budget hot-swap keyboard for those looking to practice modding. This keyboard is easy to disassemble and modify because of its use of tray mounting and hot-swappable switch seats, compatible with both 3-pin and 5-pin switches. You can use it in either wired (type-C-USB 2.0 wired) or wireless mode (2.4GHz wireless with dongle and wireless Bluetooth 5.1 connectivity) in both Windows and macOS setups.
AKKO 3098 LA 

Akko 3098 LA Highlights
Pre-Built Mechanical Keyboard with 98 Keys

Hot-Swap PCB

Akko Switches: Rose Red, Ocean Blue, Matcha Green

ASA Keycap Profile Made from PBT

Unique Design with LA Lakers as Inspiration
Niche keyboard collectors can also acquire the 96% form factor with the AKKO 3098 LA Keyboard offered by Akko. This keyboard is creatively designed as a tribute to the LA Lakers basketball team with great hues of purple, gold, and white. 
This keyboard model is a great display of Akko's fun brand combined with a high-quality build. The board's keycaps are made of durable PBT in Akko's unique take on the high-profile keycap shape, ASA. You can also choose from three Akko switches: Rose Red, Ocean Blue, and Matcha Green. The case also integrates an adjustable two-stage foot with three different angles to suit your typing posture.
In terms of software, this keyboard uses the infamous N-key Rollover, registering multiple keypresses without any conflict. It's also compatible with both Windows and Mac operating systems.
IDOBAO96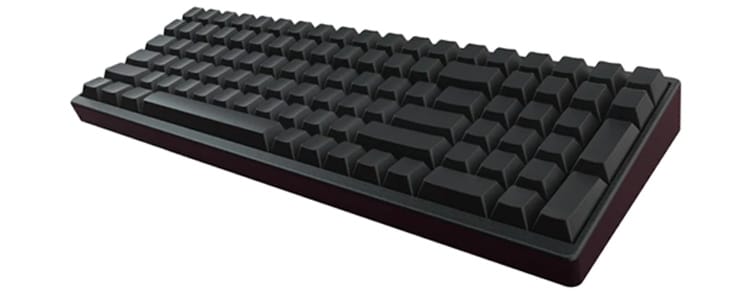 ID96 Highlights
96% Custom Mechanical Keyboard Kit with 96 Keys

Solder-Only PCB

QMK Compatible

Anodized Aluminum Case with Top Mounting

Sound Insulation Foam
If you're looking to enter the custom keyboard scene, then look no further because the IDOBAO96 is here for you. This keyboard employs an anodized aluminum case with a top mounting style.
This keyboard maximizes a premium typing experience for you, with its solder-only PCB making switches fit snugly with the daughterboard. Moreover, this custom kit includes sound-dampening foam materials for a holistic sound experience. For personalization concerns, you can program this keyboard directly using the QMK software.
TKC1800
TKC 1800 Highlights
96% Custom Mechanical Keyboard with hot-swap PCB

Treated to high-quality automotive finishes

Carbon fiber plate

QMK firmware support

1-year warranty
Our most expensive pick is the TKC1800 custom kit, which provides the most premium build aesthetic-wise. This keyboard is treated with an automotive quality finish in unique colorways named Viola Matte, Candy Blue, and Lizstick Red. Moreover, this custom keyboard will surely get your hands in the nitty-gritty of the keyboard hobby since it requires you to assemble the PCB yourself, with two available positions for its USB cable connection. To get your hands on this unique, high-quality build, you'd probably have to look long and hard in the aftermarket as it was made available last April 8, 2022, and is currently sold out on their website.