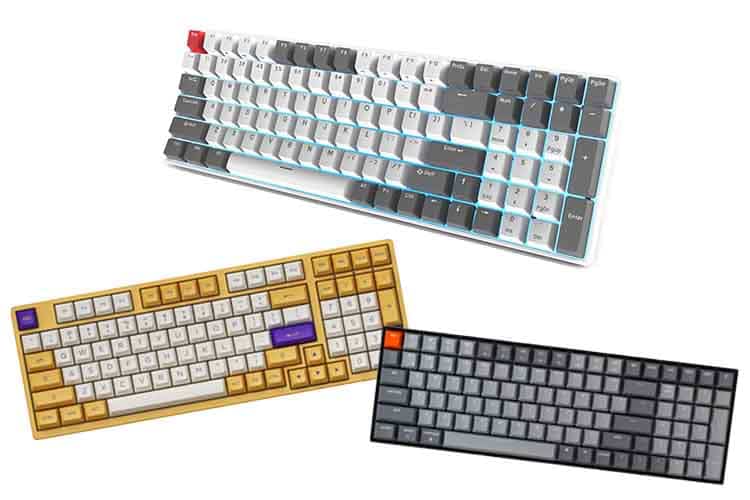 The rise of compact keyboards revitalized the acquisition of keyboards. More and more users continue to opt for smaller form factors that take up less desk space. Consequently, the market for full-sized keyboards seems to grow smaller as time passes. But what about users who prefer the feel and function of full-sized keyboards? To answer this question and to make ends meet, 96% keyboards (also known as 1800-compact keyboards) were produced by manufacturers. 
The 96% keyboard is the most compact keyboard you can go for if you need the functionality of a full-sized keyboard but want a smaller footprint on your desk. If you play games that require the number pad, then the 96% keyboard's the perfect fit for your gaming experience.
We encourage you to read further if you're interested in buying a 96% keyboard for your gaming needs. In this article, we will be taking you through the experience of using a 96% keyboard for gaming. We will also be giving you our list of 96% keyboard favorites.
What is a 96% Keyboard?

A 96% keyboard is a more compact take on the full-sized keyboard. This keyboard form factor is usually considered as an alternative full-size keyboard. This keyboard includes 100-104 keys, depending on the brand and manufacturer. (Usually, it's the special navigation keys that may be done away with in some models.)
By acquiring a 96% keyboard, you'd get a minimal change in the typing experience with an extra inch or two of desk space. To make the keyboard more compact and reduce the white space, the arrow keys are placed below the enter key, while special navigation keys such as home, insert, and delete is placed above the number pad.
Of course, the change in positions of these keys might take some getting used to, but it may not even affect your gaming experience. The keys that the 96% keyboard repositions (other than the arrow cluster) are not typically used in gaming.
Perks of Using a 96% Keyboard
View this post on Instagram
Getting a 96% keyboard allows you to win access to a compact form factor without sacrificing any important keys. If you're already used to typing with a numeric pad, this is an excellent alternative to buying a bulky full-sized keyboard.
This form factor is more portable and lightweight than a full-sized keyboard. It can save you up to 35% desk space compared to a full-sized keyboard since it does away with the pesky white space that can limit your mouse movements.
There is also a minimal learning curve when using a 96% keyboard since only the special navigation keys or home cluster is repositioned at a substantial distance.
Speaking of distance, the elimination of white space can also cause you to gain typing speed. The arrow keys, the numeric pad, and the navigation or home cluster are now integrated with the alphanumeric keys and the function row. Finger strain can likewise be lessened due to the shorter travel distance between keys.
The 96% keyboard is also great for those who use their keyboard for both work and play. Since the numeric pad is not done away with, data entry can be a breeze for 96% keyboard users.
Using a 96% Keyboard for Gaming
In essence, using a 96% keyboard for gaming is very similar to using a full-sized keyboard. If you're looking to upgrade your gaming setup and are satisfied with the feel of a 100% form factor keyboard, then the 96% form factor will be a great fit.
The 96% form factor offers the option of using the numeric pad, which is recommended by many pro gamers. Playing Massively Multiplayer Online RPGs (MMORPGs), in particular, can benefit from having a numeric pad since you can remap their various game controls to the Numpad for easier memorization and shorter travel distance between different commands.
Moreover, some older mainstream games, such as Final Fantasy VII, DOTA 1, and Arma 3, use the number pad for their main controls. Enthusiasts of these games may not be ready to commit to smaller form factors.
More compact form factors can be the way to go for other gamers. But, for those already used to the feel of a full-sized keyboard, the 96% keyboard is their best bet. The integration of a compressed layout without sacrificing the versatile numeric pad is great for those who want to have more desk space.
96% Keyboards In MOBAs
View this post on Instagram
Some examples of multiplayer online battle arena (MOBA) games are Heroes of the Storm, League of Legends (LoL), and the multiple iterations of DOTA. MOBA games are strategy video games with rival groups playing against each other on a predetermined battleground.
The most commonly used keys in this game genre include the letters Q, W, E, R, D, and F, and/or the numbers 1 through 6. Other game control keys may be used depending on the character you're currently playing. 
Using a 96% keyboard to play MOBA games does not need key remapping unless you prefer using the ortholinear layout for game controls. In which case, you can use the numeric pad for game controls by using the in-game control settings.
96% Keyboards In FPS/Shooting Games
View this post on Instagram
Player's Unknown Battleground (PUBG), Call of Duty (COD), Overwatch, and Valorant are among the most played shooting games in the market. The game controls of shooting games customarily use the arrow cluster or W, A, S, and D keys. Other actions are performed by mouse movement and mouse clicks.
Because of the maximized use of one's mouse, the large form factor of the 96% keyboard may be a detriment while playing shooting games. To remedy such, you may also remap some mouse actions to other keys in-game.
96% Keyboards In MMORPGs & RPGs 
View this post on Instagram
Famous examples of RPGs (Role Playing Games) include Fallout, The Witcher, and Dark Souls. Some well-known examples of MMORPGs (Massively Multiplayer Online RPGs) include World of Warcraft (WoW), Phantasy Star, and Final Fantasy. 
These game genres make the most use of your keyboard. Typical game controls include keys 1 through the equals sign ('=') and all the function keys for the Hotbar. Alpha keys I, M, J, and Q are also routinely used. Arrow keys and/or the letters W, A, S, and D might be used for movement depending on the game. 
Because of the MMORPGs and RPGs' tendency to use many keys, some gamers prefer remapping the game controls to the numeric pad for easier access and rote memory.
96% Keyboards In Other Game Genres
Game genres not specified in this list, such as puzzles and other casual games, typically use the same kinds of keys (function keys, specific alphanumeric keys, and the arrow cluster or letter keys W, A, S, and D for movement).
Some older games may also use the number pad for game controls.
Recommended 96% Keyboards for Gaming
Royal Kludge RK100 Tri-Mode Keyboard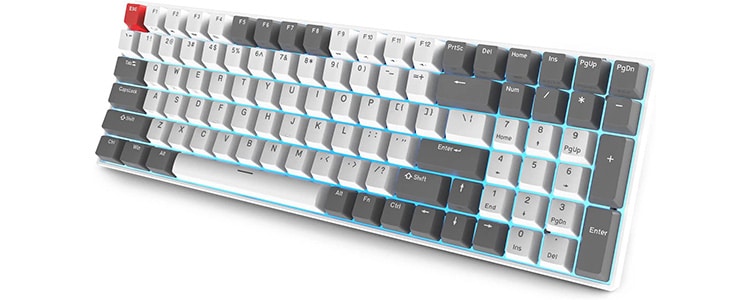 RK100 Highlights
Pre-built Mechanical Keyboard with 100 Keys

Hot-Swap PCB

Wired and Wireless Connectivity

Oil-Resistant PBT Keycaps

Two Style Options: Carbon and Classic
The Royal Kludge RK100 Tri-Mode Keyboard is a great entry-level budget keyboard for gamers. You may use it in Windows or Mac interfaces with three modes of connection: 2.4GHz wireless with dongle, Type-C-USB 2.0 wired, and wireless Bluetooth 5.1 connectivity. The board is made of durable oil-resistant PBT keycaps that prevent shining even as your daily driver. Moreover, this keyboard is easy to disassemble and modify with its hot-swappable switch seats (that support both 3-pin and 5-pin switches) to get your desired distinct sound profile.
YUNZII AKKO 3098 LA 

YUNZII AKKO 3098 LA Highlights
Pre-built mechanical keyboard with 98 keys

Hot-swap PCB

Akko switches: Rose Red, Ocean Blue, Matcha Green

ASA Keycap Profile

Unique design with LA Lakers as inspiration
If you're looking to add a unique 96% keyboard to your collection, Akko has the board for you! The YUNZII AKKO 3098 LA Keyboard is meticulously designed to adopt the theme of the LA Lakers basketball team. This keyboard doesn't shy away from function either, as it uses a type-c cable connection with adjustable two-stage feet with three different angles for typing comfortably. This board also integrates N-key Rollover, which supports simultaneous key presses without conflict and optimizes your gaming experience.
IDOBAO96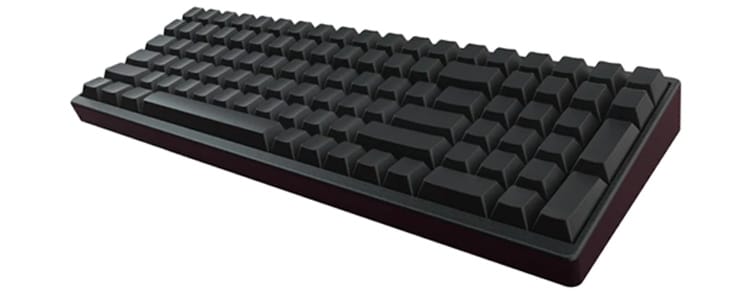 ID96 Highlights
96% Custom Mechanical Keyboard Kit with 96 Keys

Solder-Only PCB

QMK Compatible

Anodized Aluminum Case with Top Mounting

Sound Insulation Foam
You can also enter the custom keyboard kit scene with Idobao's 96% kit, the IDOBAO96. Despite having a solder-only PCB, this board has the best build quality of all the aforementioned options. The combination of an anodized aluminum case with sound insulation foam results in a holistic sound quality and premium typing feel. You can also venture into more enthusiast-grade switches and keycaps in building this keyboard since it doesn't come pre-built.
Conclusion
The 96% form factor is quite unconventional in the sense that it is nearly near to a full-size keyboard in terms of the number of keys but is significantly smaller in size – which is essentially the deciding factor in a dilemma between a full-size keyboard and a 96% one. Since the latter basically has all the keys you need, your decision will ultimately be based on what can fit on your desk. 
The removal of the so-called "white space" in a full-size keyboard gave birth to its 96% version. It does seem cramped at first sight but considers that a number of people are used and are more comfortable in this setup wherein the Numpad is relatively closer to the base keys of the keyboard. 
All things considered, a 96% keyboard is good for gaming, given that you do not need to look for keys any longer, and its "airless" design will be beneficial if the game you are playing uses keys from the Numpad. This form factor is best for those who are used to using a full-size keyboard for their gaming and productivity tasks.